And now for my monthly feature, where Cindy from Edith and Evelyn shows us how she does it! Today she is showing us how to paint a faux finish. 
There are two things that always get the most ooh's and aah's in our kitchen renovation.
One is the planked ceiling, and the other is the blue French buffet.
When we knocked down the wall to open up the kitchen, we were left with one long wall between the family room and the formal dining room. Knowing it was going to need a long piece of furniture to go there, I started looking for a piece that would fit in that space, and also, one that I could paint for an added splash of color in the neutral kitchen.
We found the perfect piece at an estate sale, a French Provincial dresser. These old dressers are great to repurpose for use in areas of the home other than the bedroom. This one was the perfect length to go along the wall, had lots of drawers for storage, and was in wonderful condition. The original finish was a very yellowy, golden color, which was fine since I was going to paint it anyway.
I've learned that when painting furniture, if you want a little bit more "depth" to the piece, you need to add color in layers, which gives the finished piece more of a deeper, aged over time, look.
I layered five colors on this buffet, starting with our base color of Annie Sloan chalk paint in Aubusson Blue. Once it was dry, I gave it a wash of ASCP Provence.
To make a wash, just add some water to the paint to make it a bit thinner . I let the Provence dry, then added a wash of ASCP Duck Egg, this time taking a dry soft cloth and wiping back some of the paint as I went.
After the Duck Egg was dry, I dry brushed a coat of ASCP French Linen just randomly here and there all over it, especially on the details of the wood and let it dry.
The final coat was dry brushing ASCP Paris Gray over the details of the wood as a highlight. To do a dry brush coat, just slightly dip your brush in the paint, and wipe off the excess so there's not much paint on the brush.
Once the dresser was completely dry, I distressed it with a sanding sponge, bringing out some of the original golden finish.
The final step is waxing. I use clear wax first, and then a combination of clear and dark over it.
I find that the dark wax straight out of the can is hard to work with. For me it's not "user friendly", but I like the way a dark wax will bring out the details in a piece of furniture. So I always have a separate container that I mix three parts clear wax to one part dark wax and this is what I will use to "antique" and bring out some of the carvings and details.
I also don't use a wax brush to apply the wax. I find it much easier to apply the wax with a soft cloth like an old tshirt, and "massage" the wax into the wood. It seems to keep me from applying too much wax, which then turns into a problem when it's time to buff.
After waxing, I let the dresser cure for 24 hours and then I buffed it with a soft cloth. I put the original hardware back on it, because the old brass had some wonderful patina.
I love the way it turned out, and it fits perfectly on the large wall. It's turned into the centerpiece when you walk into our kitchen door.
I have an old cement bird bath that I found at an estate sale that fits perfectly in the center, and it usually stays there. I just change out the contents seasonally.
The French Provincial bedroom dresser has new life, as a French kitchen buffet!
Cheers,
Cindy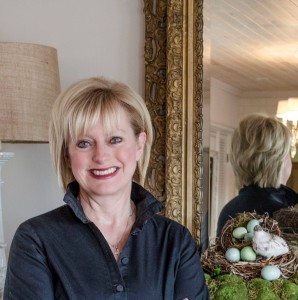 Thanks Cindy for another fantastic idea!! You can find me at Bali Blinds Blog today where I'm a contributor. I'm talking about what to put on the wall above your bed today. BALI BLINDS BLOG