Before I show you the latest, let's start at the beginning. I originally had these cabinets painted in a dark gray, although they don't look too dark here.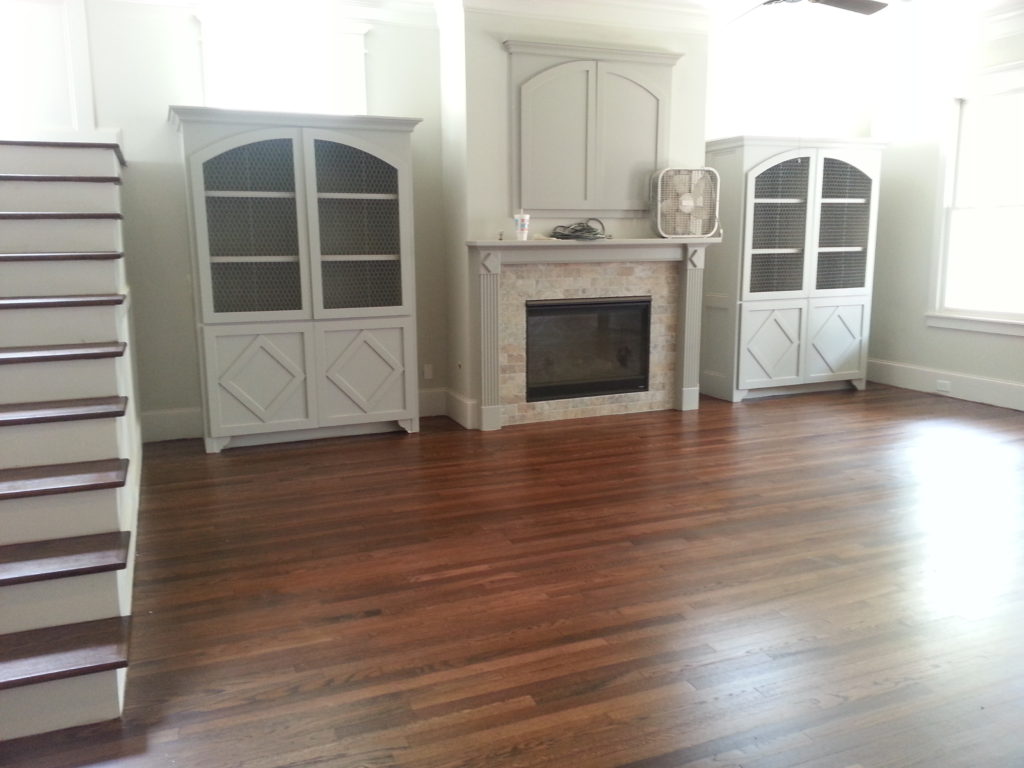 They looked too flat, so I added a dark brown wax. You can find the story HERE.  You can see just how different the color looks when you add wax. I liked the change.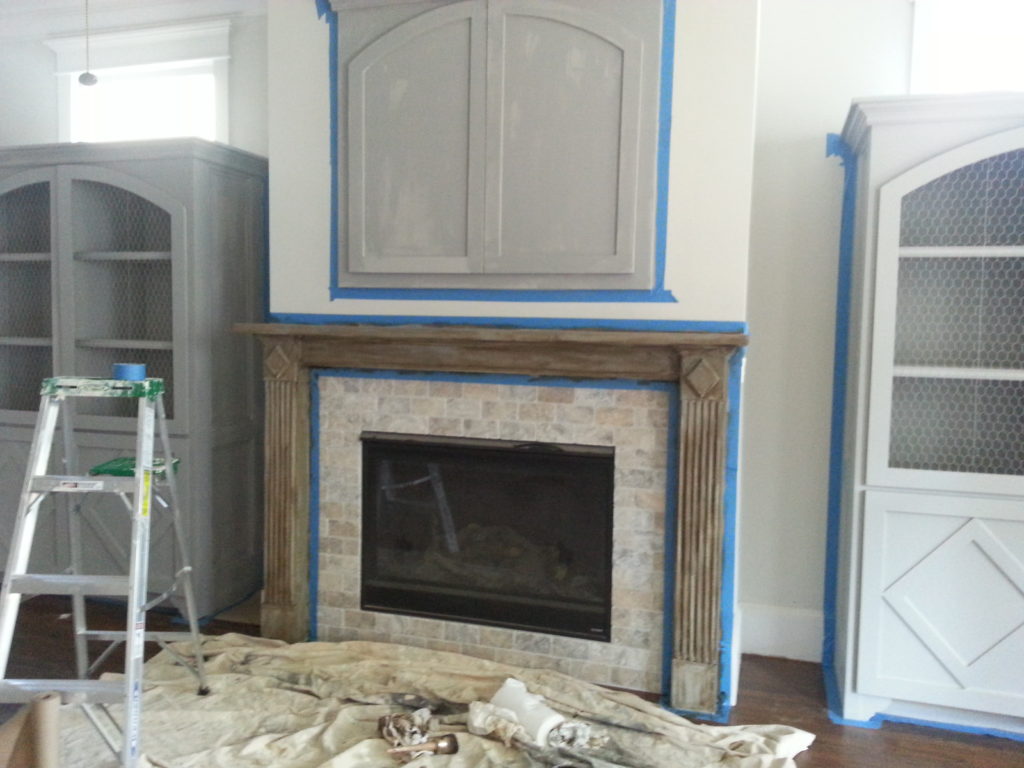 I thought it looked great. It was a bit streaky, but I really loved it.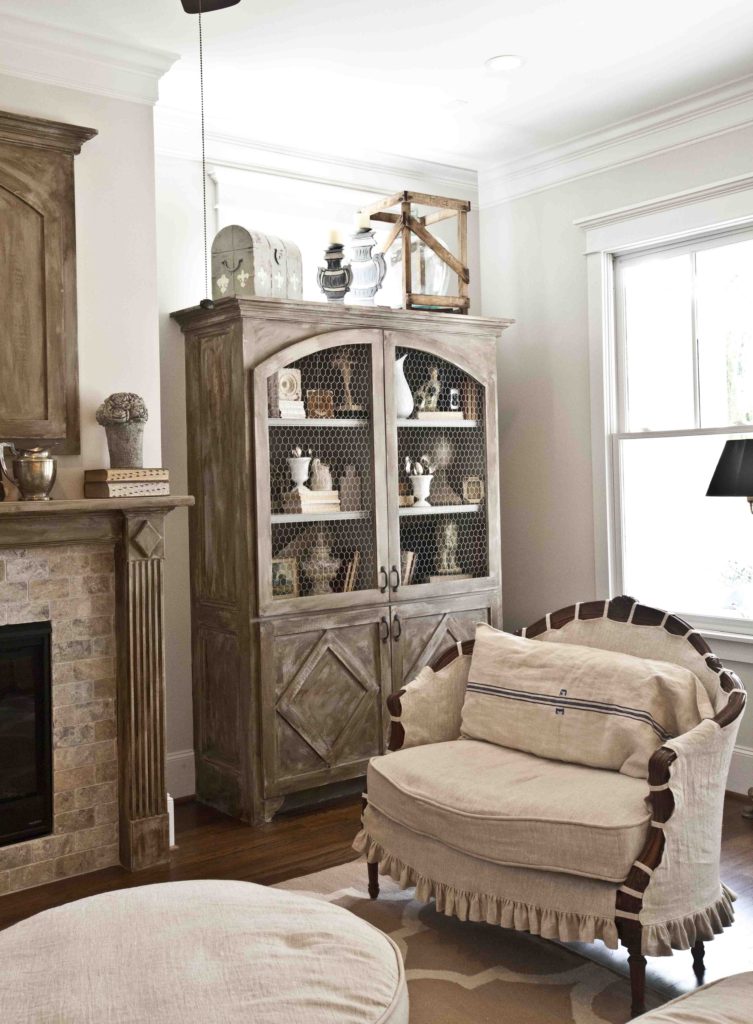 The darker color went with the beams on the other side of the room.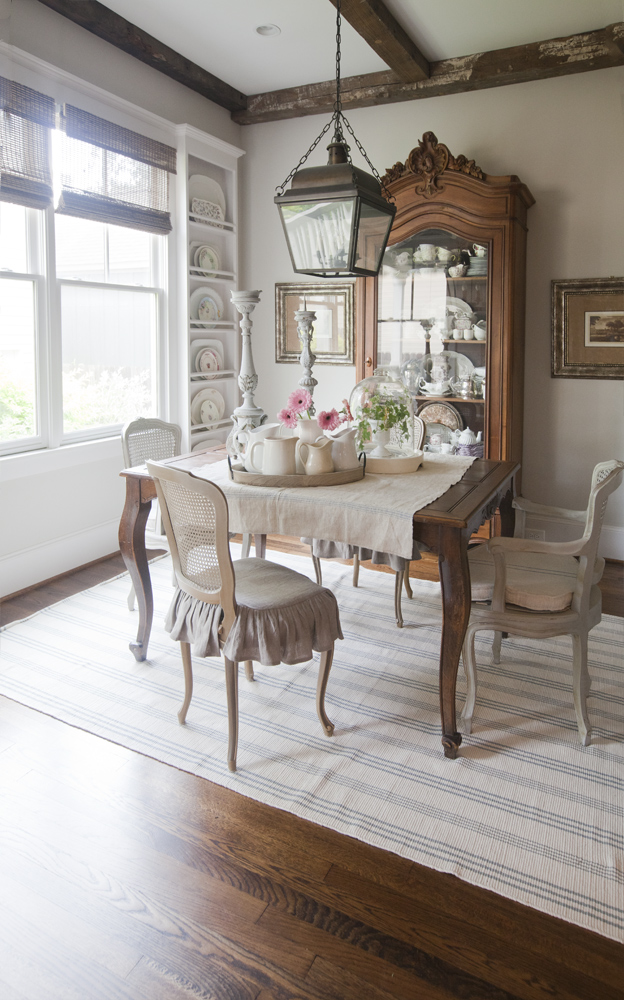 The cabinets ended up in several magazines including Country French magazine just exactly as you see them above.
Well then, I decided they were too dark and splotchy, so I added some liming wax, which lightened the cabinets, but made them look even more splotchy. See the full story HERE. Of course every time I make changes I have to do the fireplace, the TV cabinet and both armoires, so it's no small chore.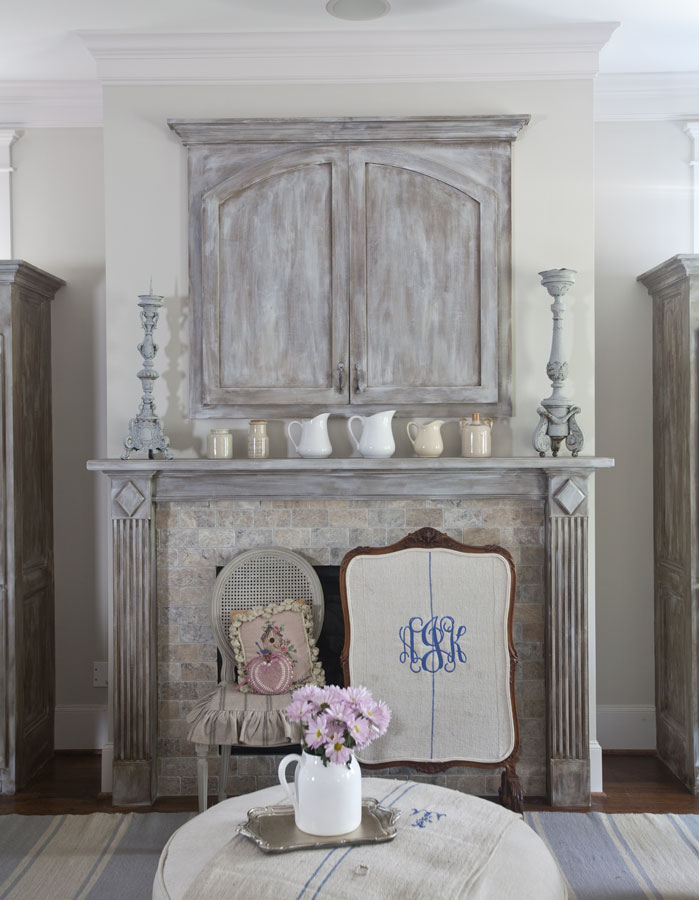 So really didn't like the look then I got the Segreto book to review. Seeing all of those amazing finishes, I set down the book and decided to add a layer of blue/gray milk paint to the cabinets. "What?"  Yes you heard me correctly. Sometimes I might be a bit impulsive. 
I decided to add a layer of blue/gray milk paint.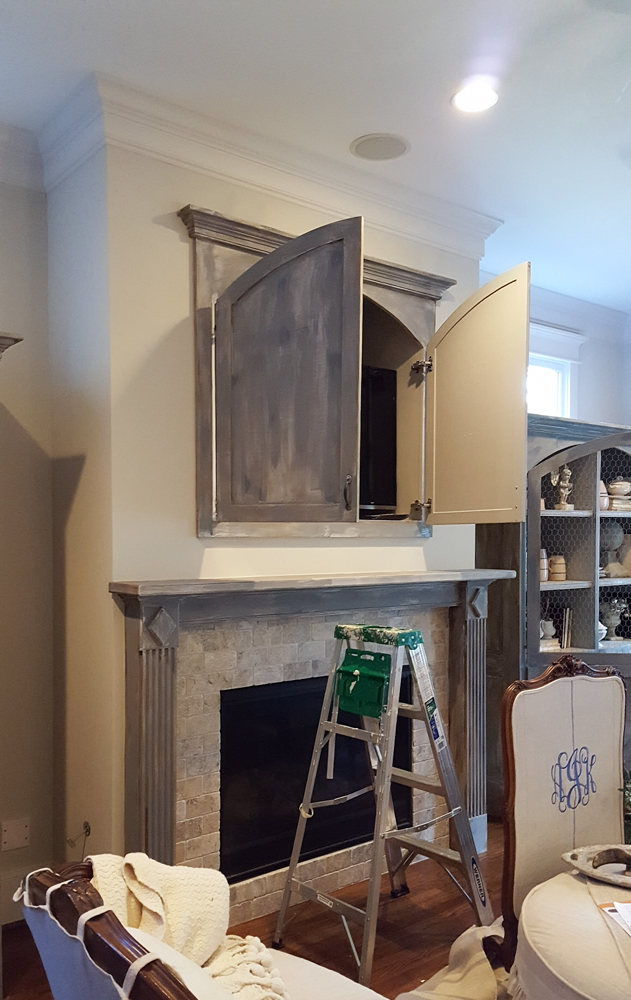 I was now at the 'What have I done?' point.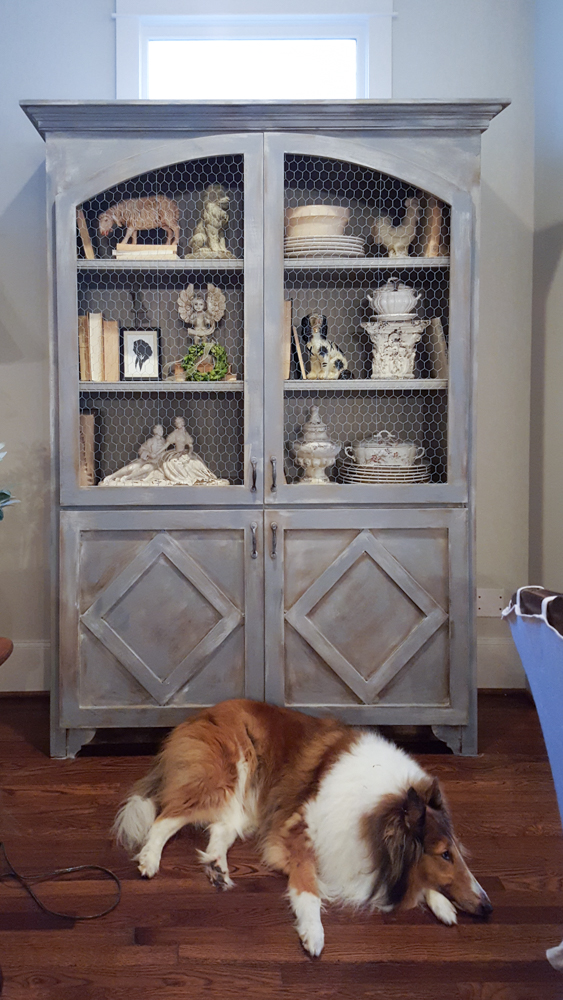 Molly said, "Here we go again. Mommy, just paint around me."
I hated it. I was wondered why I even picked up a paint brush because now my cabinets were ruined and I had to fix them right away. My husband didn't bother to say anything, smart man. I basically painted around him and the dog. The cabinets looked flat again.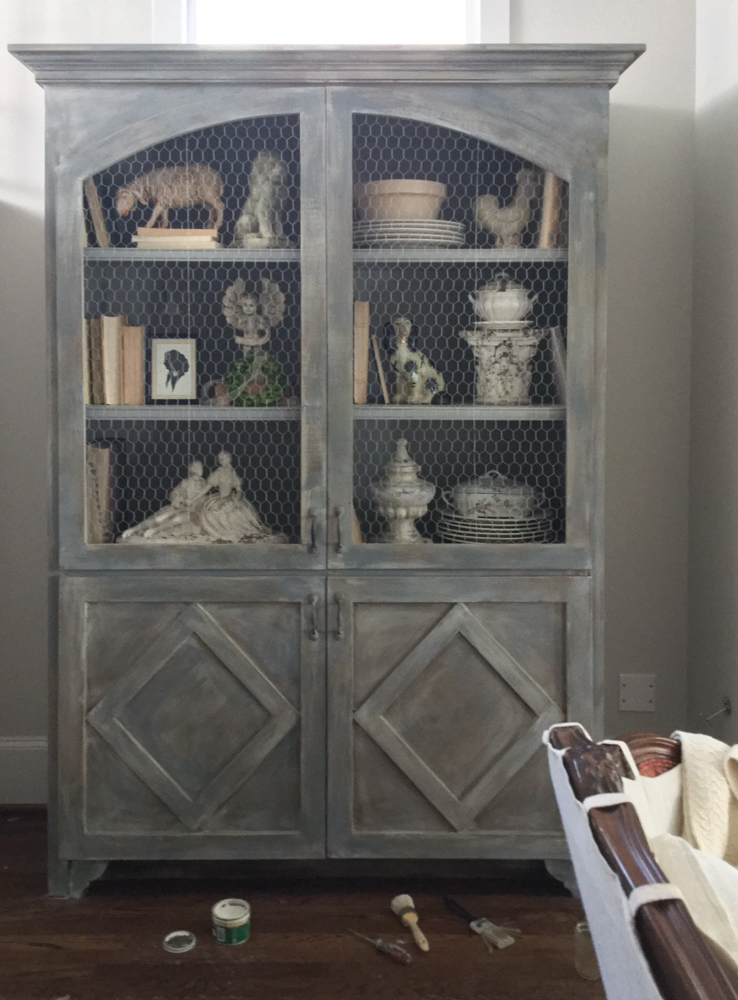 It looked TOO FLAT. So now I was rubbing away some of the milk paint and adding a bit liming wax and some light antiquing wax, hoping I could fix things without having to add yet another layer. See below I started to remove the paint? The left side has the paint slightly removed, while the right side still has all the milk paint on it.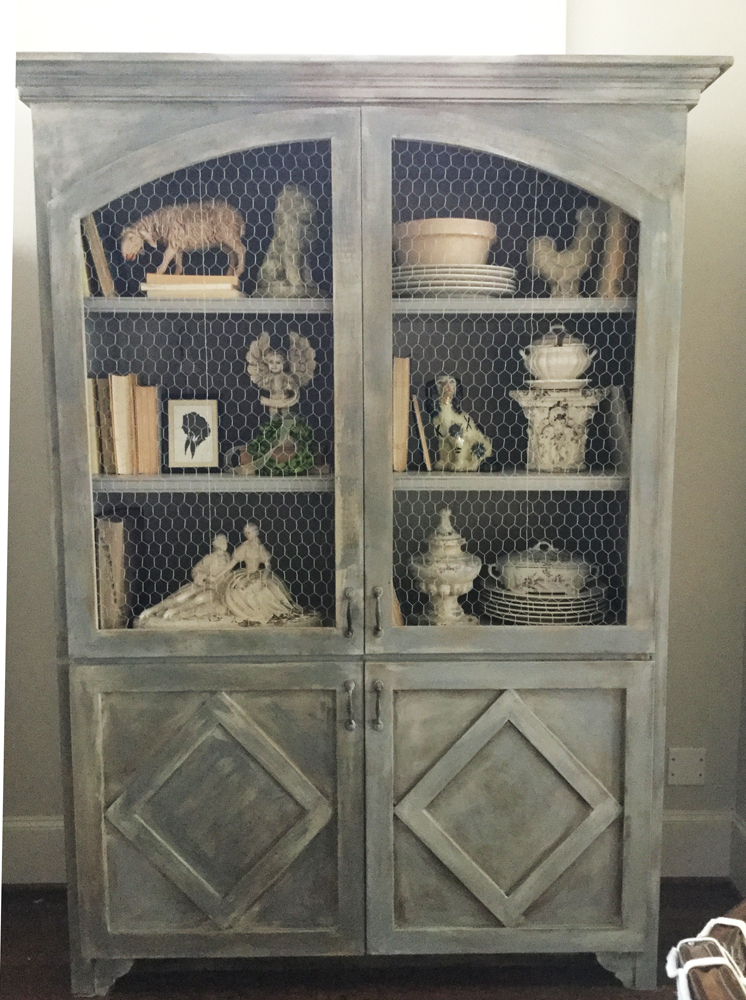 There's only a few days left to enter my giveaway!! Details here.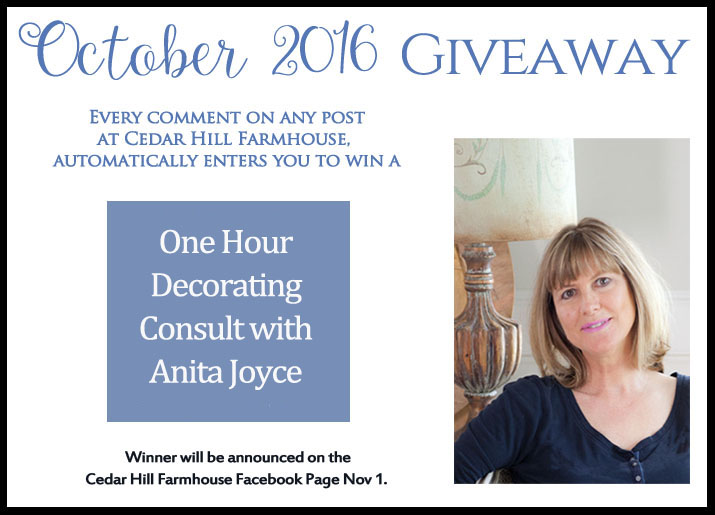 I also moved the pediment from my kitchen from here,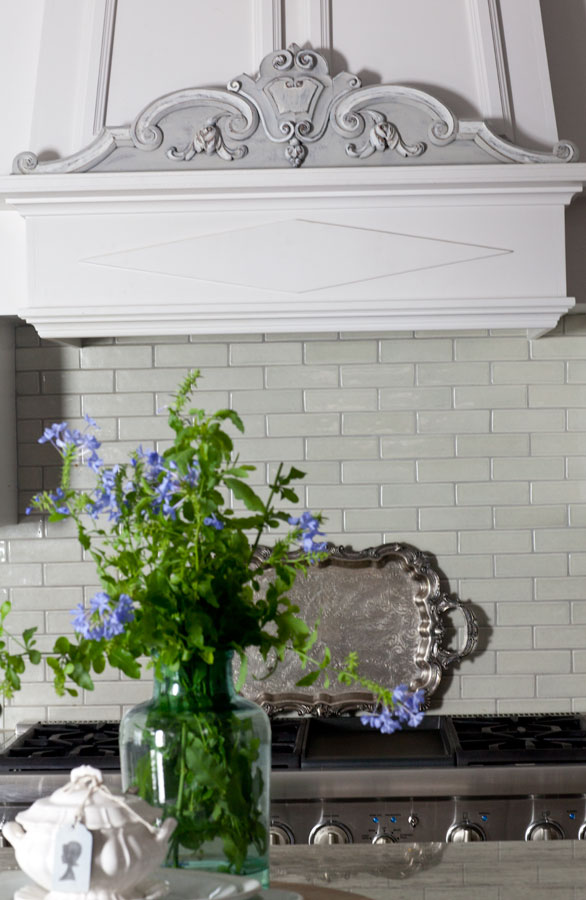 to here, because why not add even more work to my weekend? Yes I roll my eyes at myself.. a lot!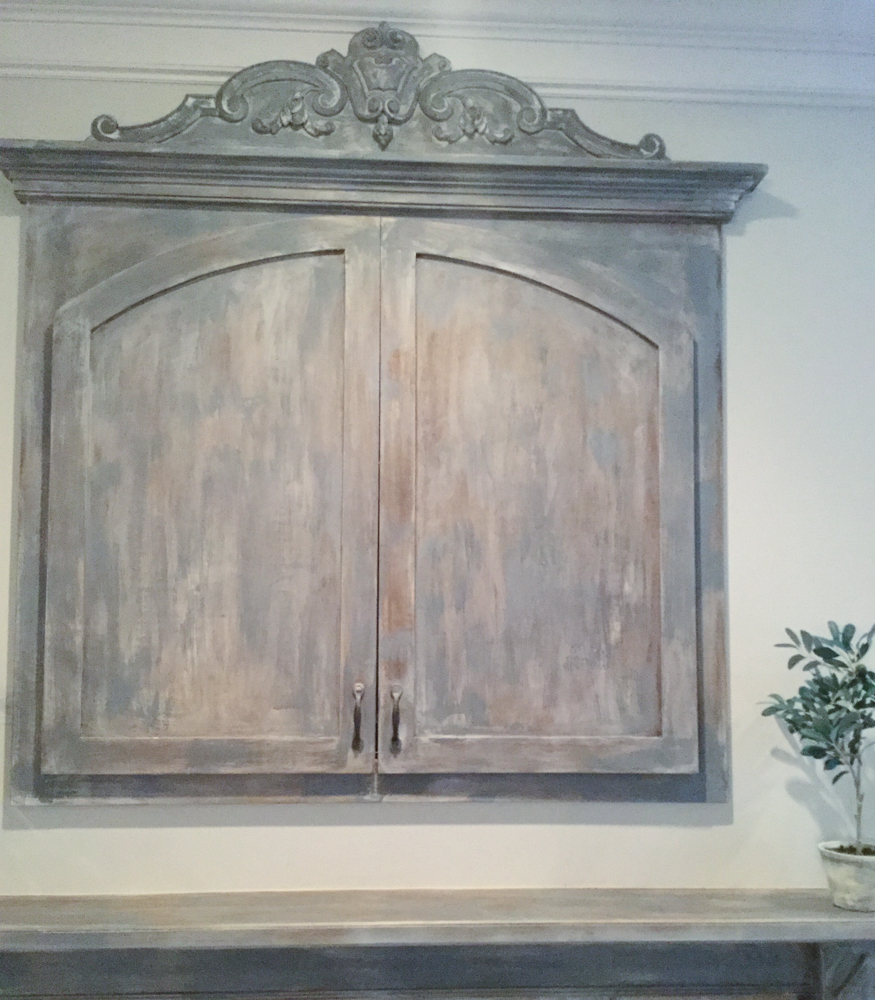 This was difficult explaining to my husband that I wanted it distressed but not blotchy. Too little variation and it looks flat, too much and it looks uneven.
He just dutifully nods as needed.
I've highlighted what was done with each stage.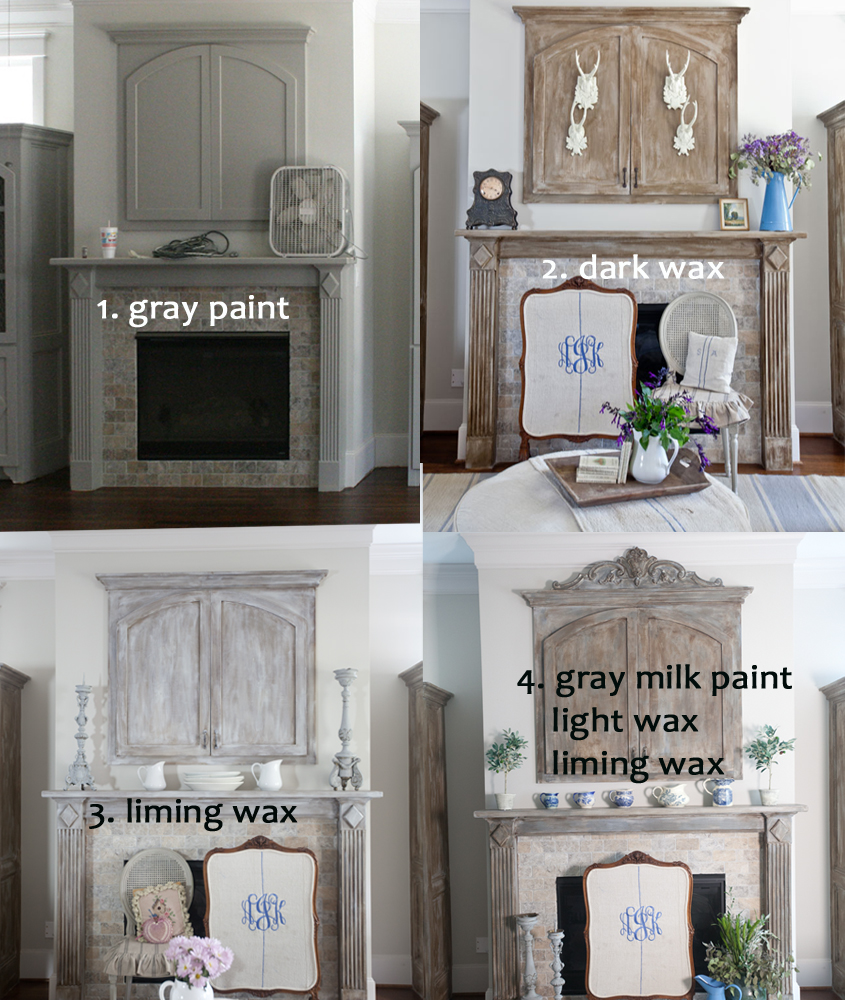 At first I feared it just looked like #2 again after I spent an entire weekend working on it. But now that I see it all side by side, the newest look is much more subtle, and that is what I wanted. I wondered if you could see the difference in the photos, and that's why I put them all together.
I actually like the new look, but I don't know if I would have started it, had I known it would take an entire weekend.
So my lesson to you is
Do as I say, not as I do.
MAKE SURE TO USE A TEST BOARD! Don't just start painting a big piece of furniture if you don't have your technique figured out.
It turned out okay, but I think I'll forever refer to it as my 'lost weekend.' It reminds me of the weekend years ago that I spent outside stripping the finish off some antique chairs. Occasionally I would peer through the windows to see my housekeeper in the air-conditioning,  happily cleaning away, laughing with my family,  while I was miserable outside.