I'm pretty excited about this project. So here's the behind the scenes conversation you didn't see. Karianne of Thistlewood Farms sent me this fabulous fabric to work with. I figured I'd make some cute but basic pillows, you know something quick. Then Yvonne of Stone Gable was telling Karianne that I was a fabulous seamstress. Face palm. Now could I just phone it in after that? No. Now I had to make something awesome or at least try.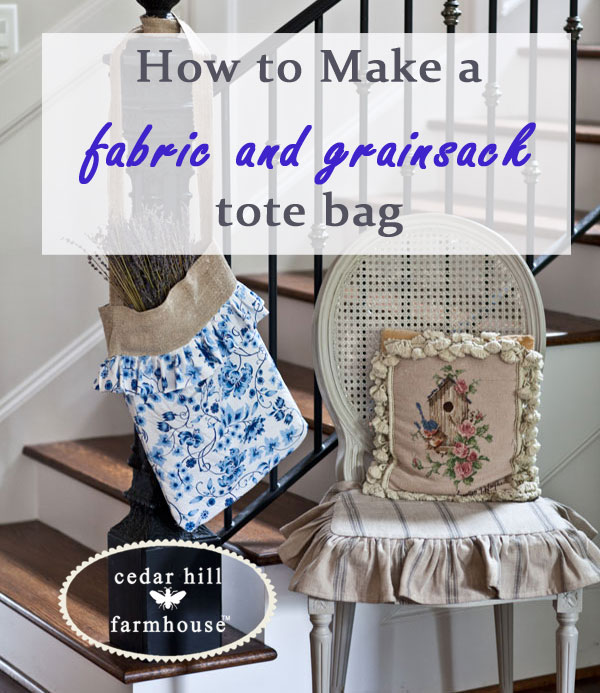 Before we get to the project, I need to tell you that the fabric was provided to me by Hoffman Fabrics. There will be a link at the end where I'll show you were you can buy the fabric for yourself. I also need to tell you, that my full disclosure can be found HERE.
I stared at the fabric for days willing it to tell me what I should do with it. In the end, my inspiration came from the past. How about something mixing fabrics I wondered. What about making a very rustic looking pillow from grainsack material with a frilly, soft ruffle? How about if the pillow as reversible? Yes!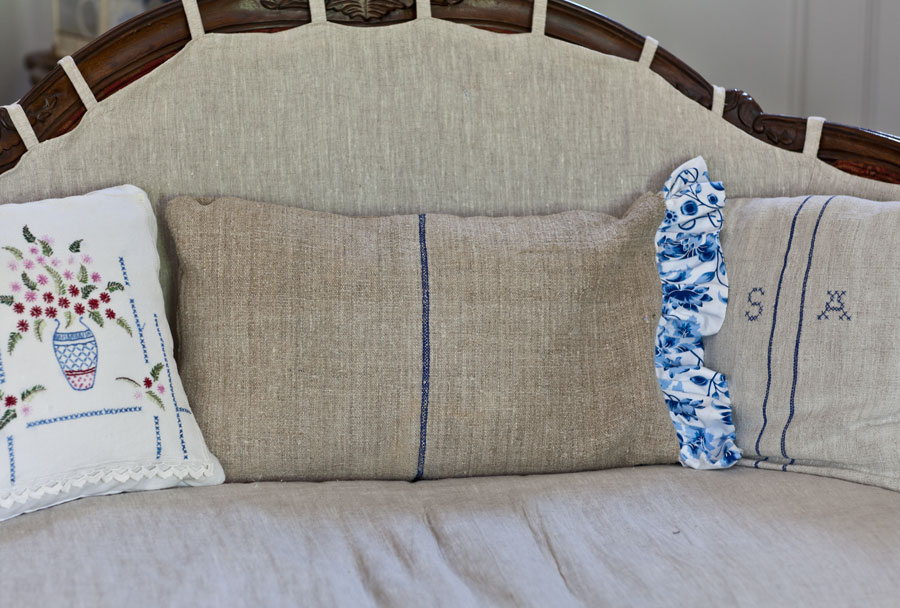 After I made the reversible pillow I decided it would be even more awesome if it were a tote bag. So I kept at it, and made it into a bag. Come on, I'll show you how I did it.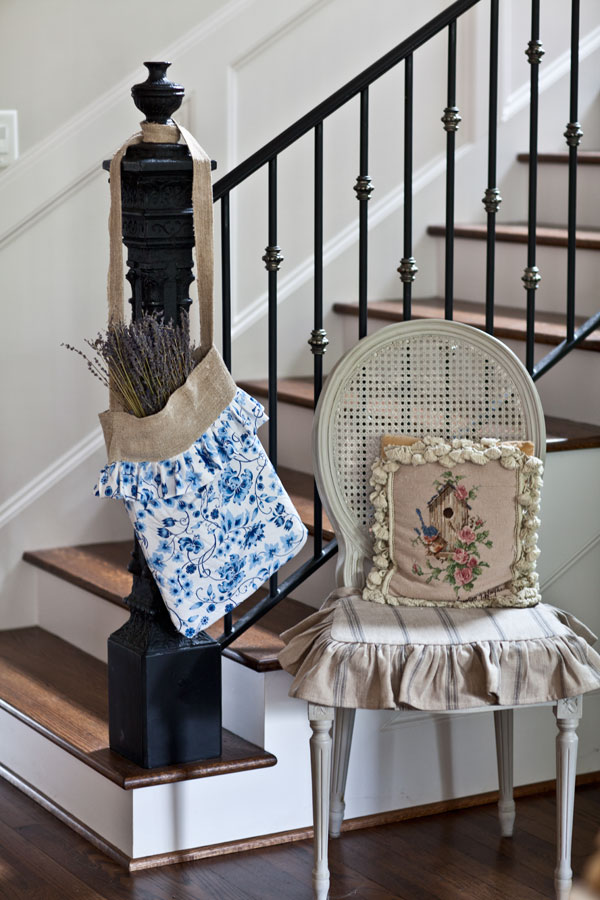 I am going to show you how I made the pillow first. If that is what you want, then stop when you have the pillow done. If you want to make the tote bag, then you can continue to the end.
I have never made a reversible pillow before, so I was just making it up as I went along.
I started with this.
1 20×14 pillow (not needed if you make the tote bag)
1 piece Sweet Tea fabric 28″x24″
1 piece of grainsack fabric 28″x24″
Two pieces of fabric cut the width of the fabric x7″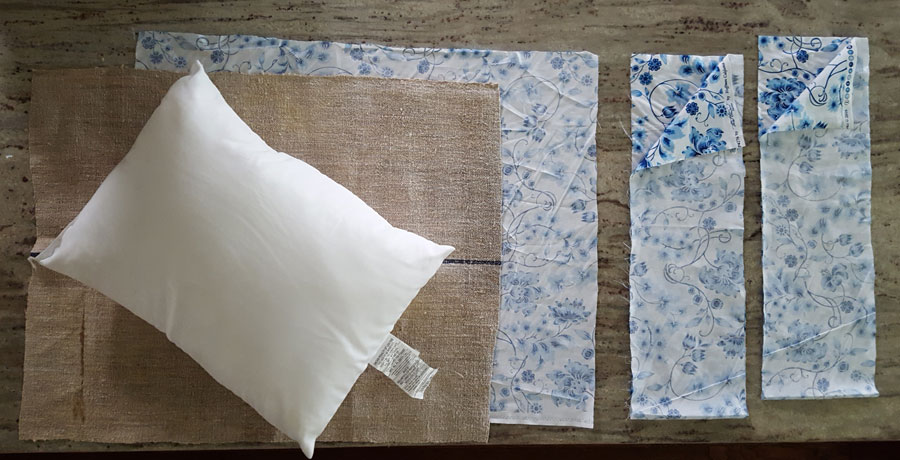 Sew two long pieces together. Then fold over with wrong sides together. Press.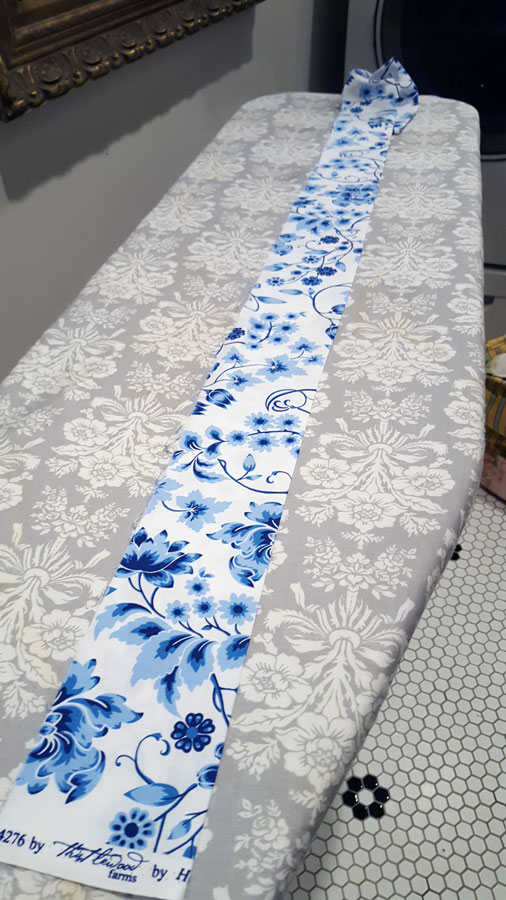 I highly recommend you use a ruffler to make the ruffle. It looks complicated, but boy does it make short work of a ruffle.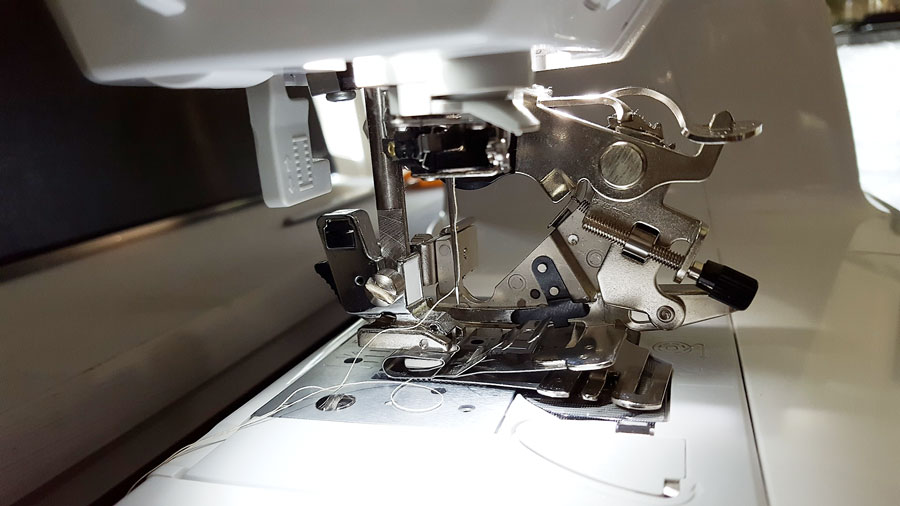 Here's my ruffle.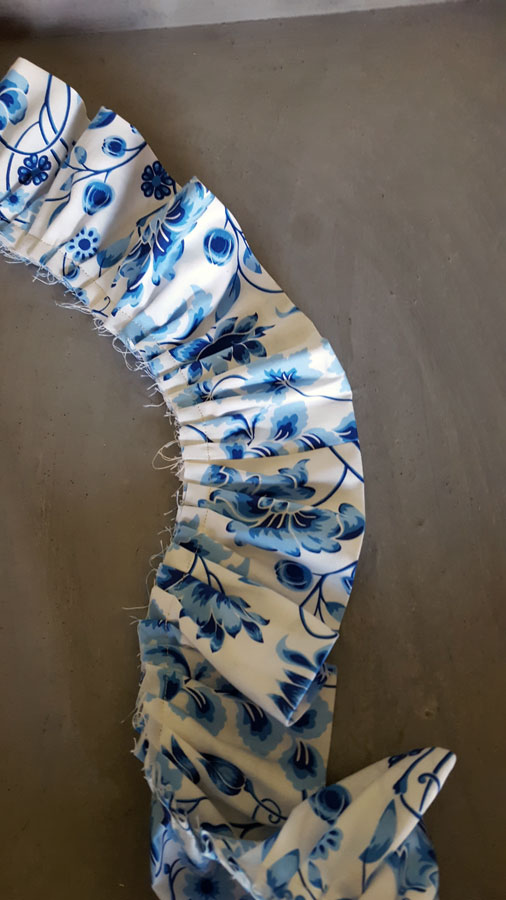 Take the Sweet Tea fabric and fold it over right sides together so that the folded size is 14″x24″. Sew the long side and one short side. Then sew the ruffle on the end with right sides together. As you finish try to put one end of the ruffle inside the other end and sew them closed. It's hard to explain without a video.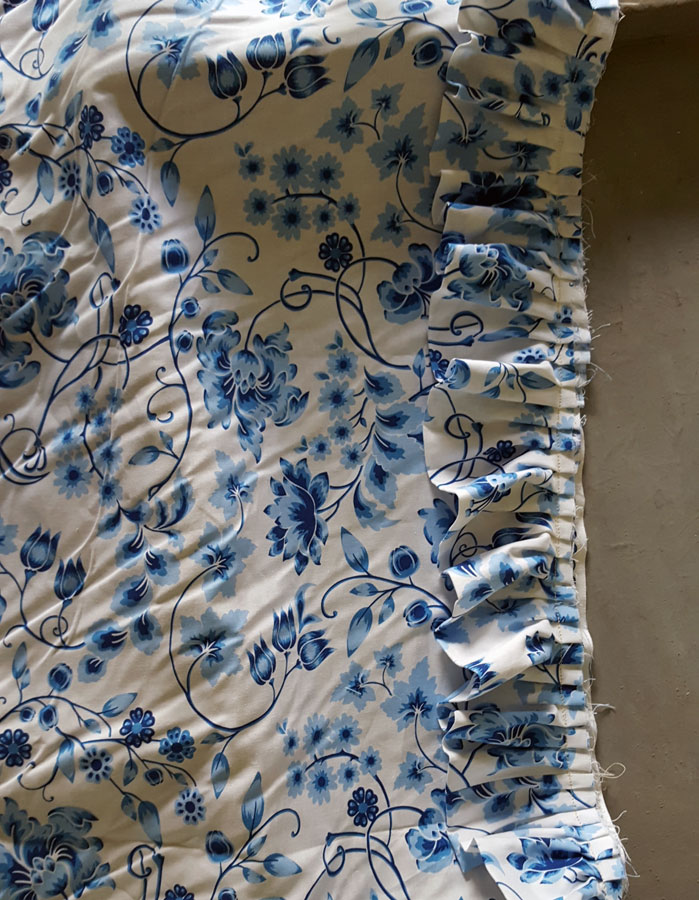 Take grainsack fabric and fold it over right sides together so that the folded size is 14″x24″. Sew the long side and one short side. Now you should have two bags, one grainsack bag and one Sweet tea bag with a ruffle.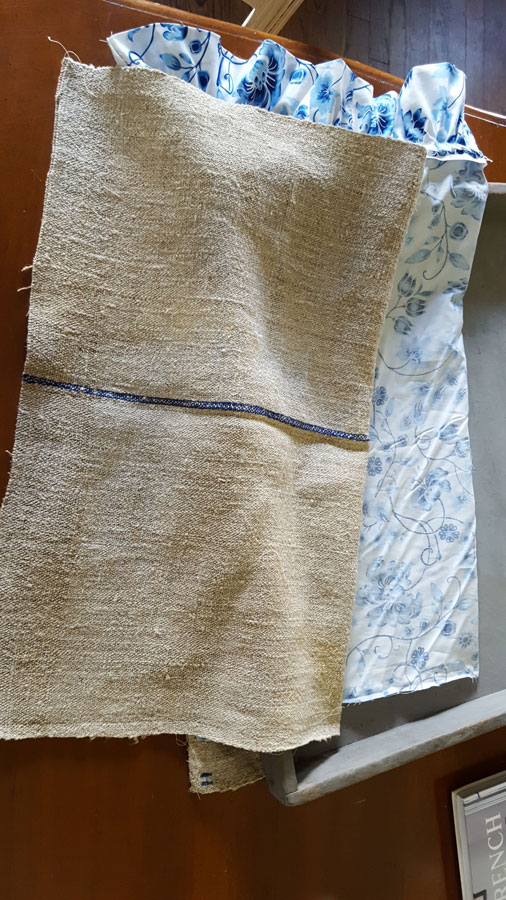 Now turn the grainsack bag so it is right side out, and make sure the Sweet tea bag is wrong side out. Slide the Sweet Tea bag inside the grainsack bag. Make sure the ruffle is sitting outside the bag.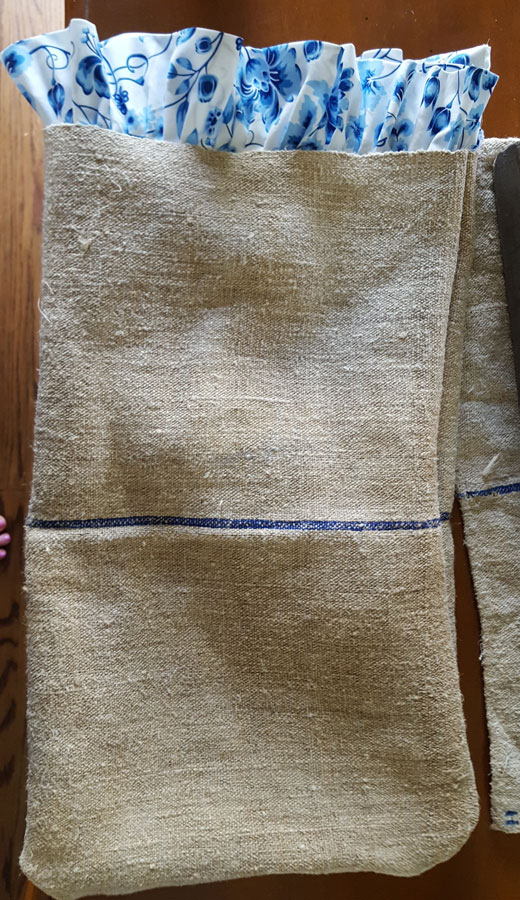 Try to line up the two bags as much as possible. Sew as close to the edge as possible, all the way around.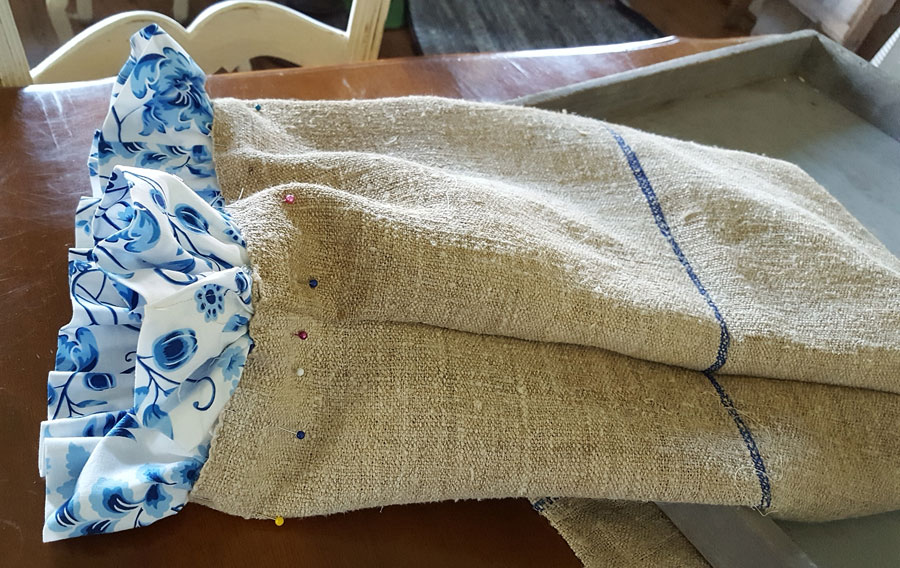 Once you finish sewing, you are done with your pillow cover. You can use it with the grainsack out, or the Sweet Tea fabric out. Simply insert a pillow form and you are done.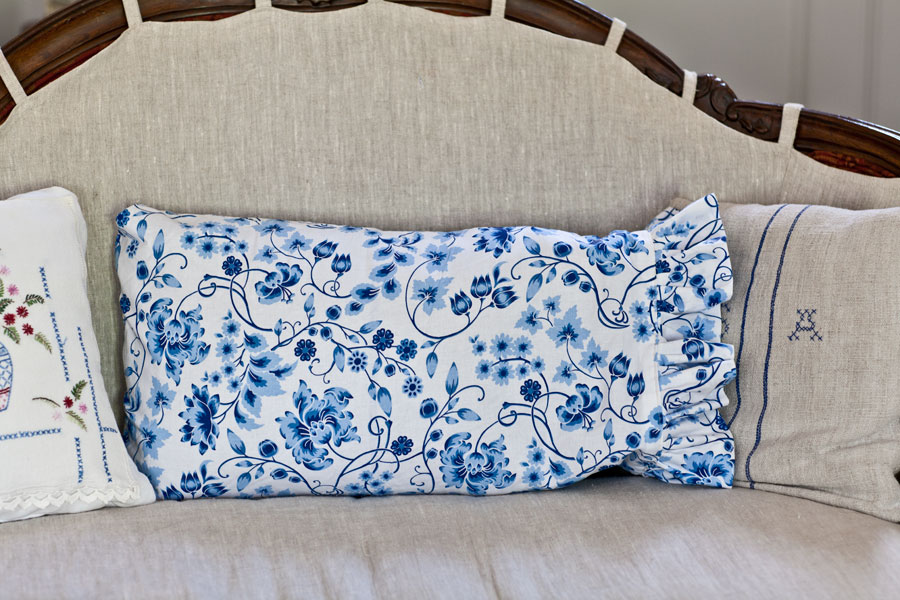 Now if you want to have the tote bag instead, keep going. If you decide to make the tote bag, I don't think you can use it as a pillowcase also. So decide which one you want.
Make sure the Sweet Tea fabric is on the outside and turn down the sides about 7″ plus the ruffle. Cut a strip of grainsack fabric to work as the strap. I had two pieces so I sewed them together. Then fold the strap fold long ways and press. You are going to use a zig zag stitch on the strap edges so it does not fray.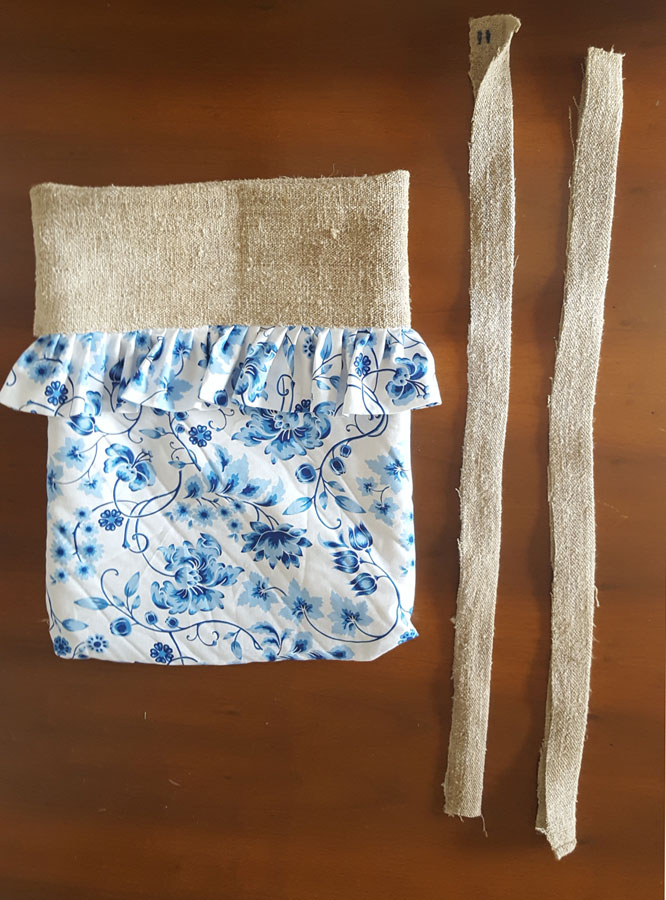 Sew all along the top edge of the bag so it will stay folded down.
All that is left to do it to attach the straps. Stick them down inside the bag and sew them in place. You now have a tote bag. I had to lift up the folded down part when I sewed on the strap. If you don't, the fabric will be too thick to sew through.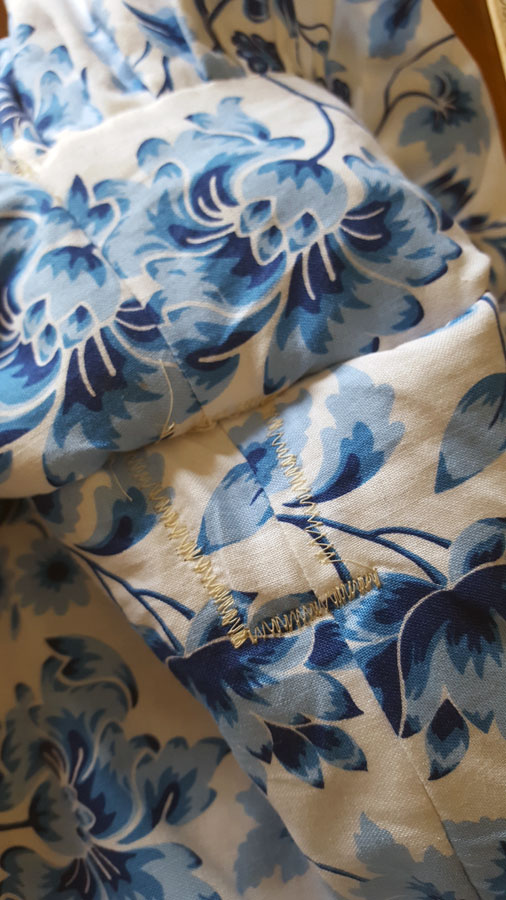 And now you have a lined Sweet Tea/Grainsack ruffled tote bag.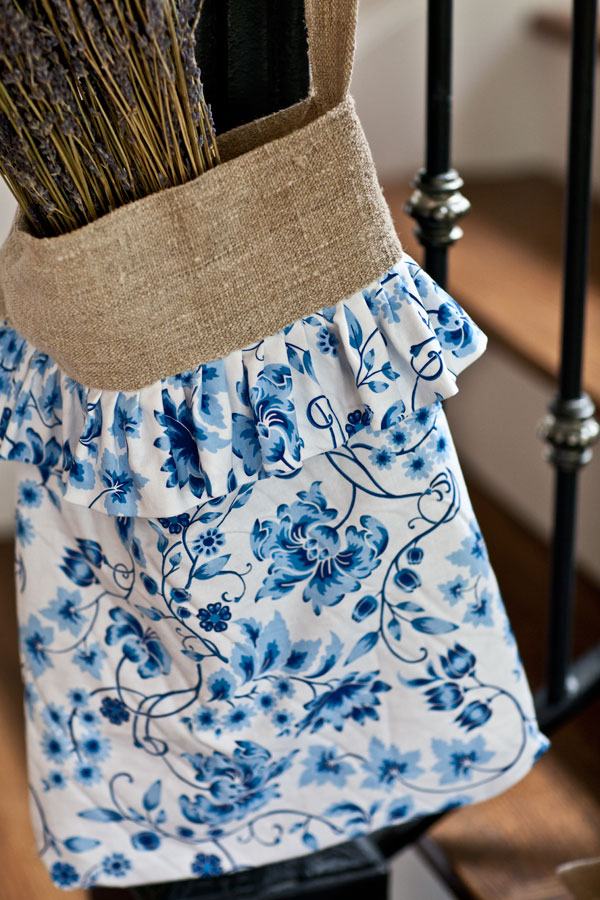 You can find the fabric HERE.
This is part of my DIY TIPS AND TRICKS SERIES.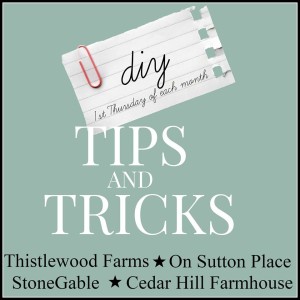 Please check out the other fabulous features this week.