Today's post is sponsored by hayneedle. At the end, I have links to all of the products featured. I love the look of a potting bench on a porch, but also they are great for potting plants, and you can also use them for serving food if you have a party.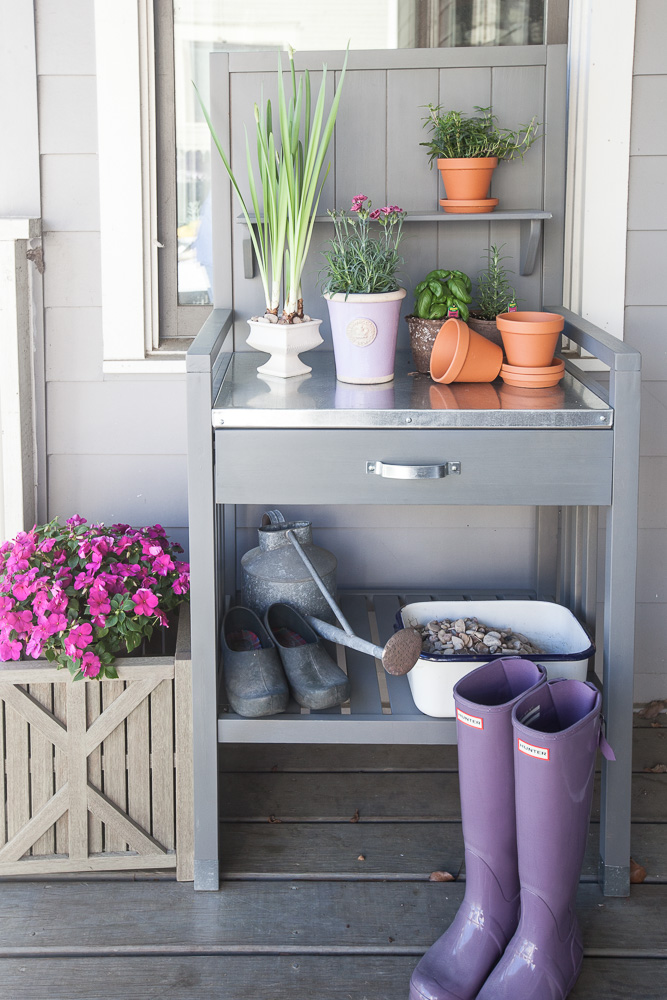 The one shown above is small, so it will fit on a small porch like my city porch. There's a shelf below and even a drawer, which is very nice to have. I love inpatients and the pink ones are my favorites. They look great in these generously sized gray planters. They have an adjustable shelf in the bottom.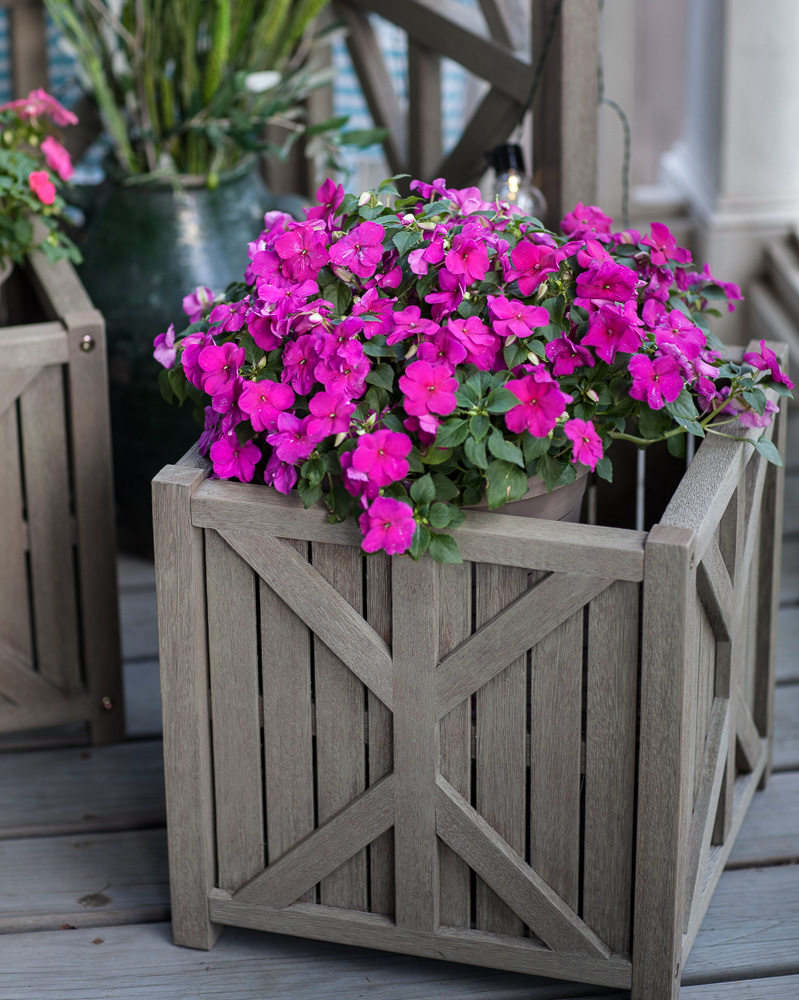 We also have a podcast episode today on outdoor living today. You can listen below.
OUTDOOR LIVING


I have a love affair with small little greenhouses. I actually have 3. This one is SO PRETTY!!! It has a plastic liner for the planting in the bottom, but my favorite feature is this little window that opens or closes.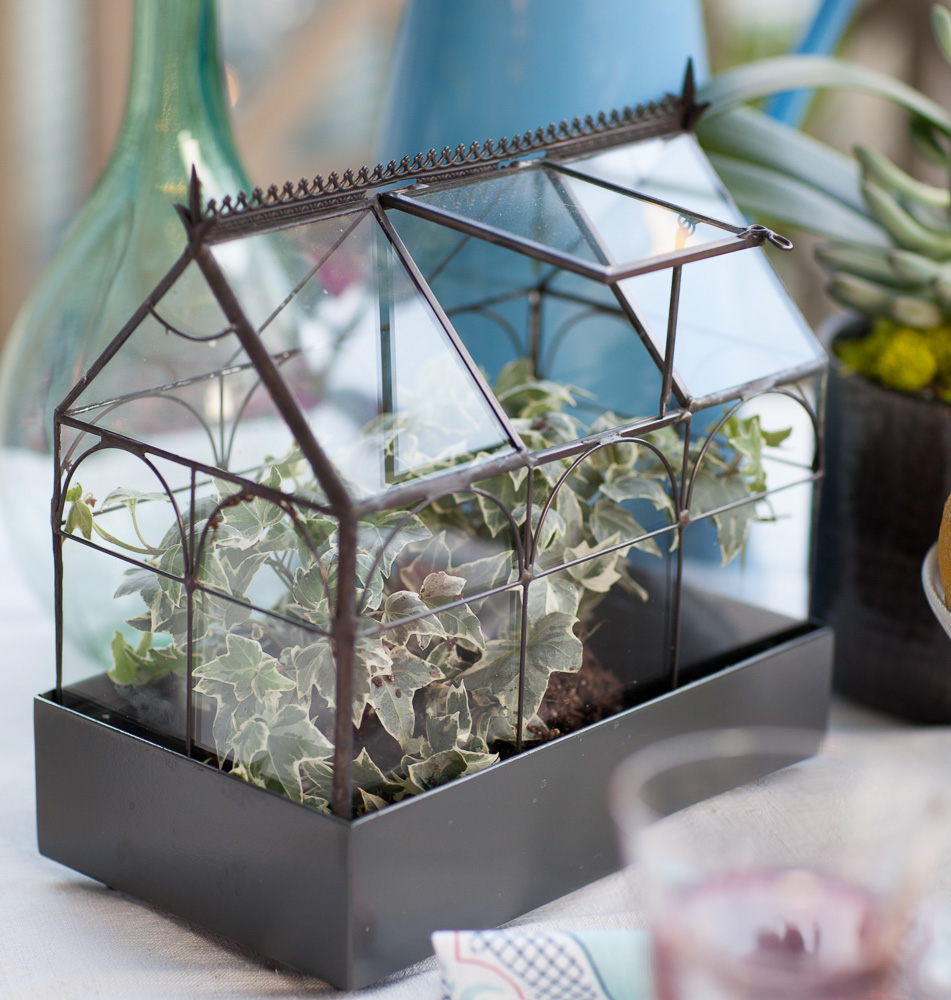 I had so much fun buying some plants this week at the nursery.  I don't think I've ever seen an unhappy person at the nursery.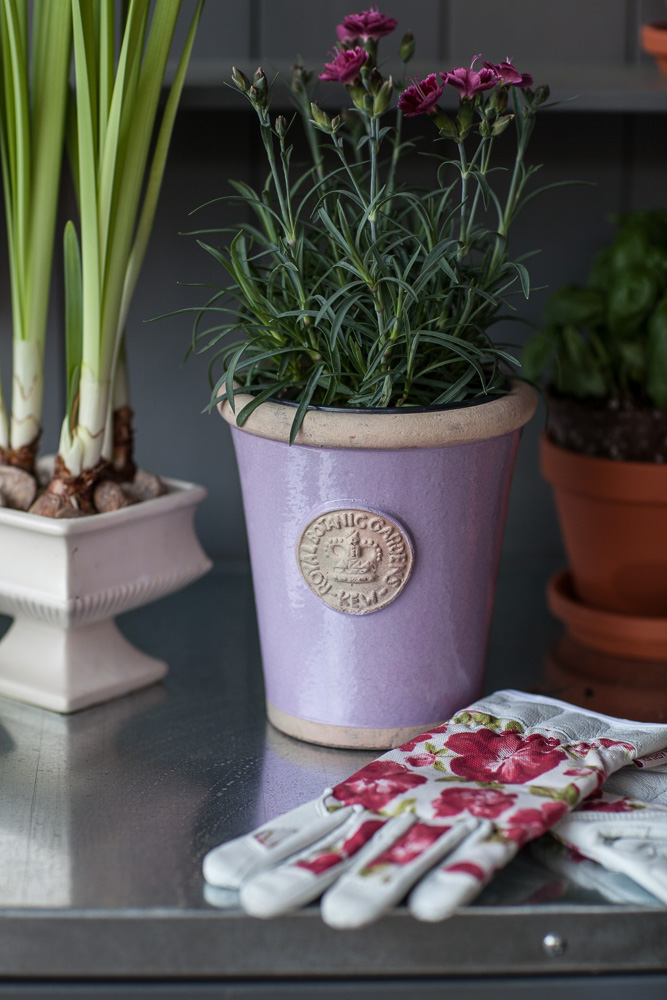 Our house in the Heights (where we live, not our farm) is smack dab in the middle of Houston. The neighborhood is historic. These houses were built for working class people, back then, that meant a two bedroom, one bath, no garage. Then as some of the houses fell apart, they were torn down to make way for new construction. The new houses tend to be 3 bedroom, 3 bath with a garage. The houses that weren't torn down were renovated, adding bedrooms, bathrooms and a garage. The houses got larger, but the lots didn't. All of that to say, we are really, really close to our neighbors. I think you could easily jump from our rooftop to theirs. So we stare at the side of their house when we are on the back porch. I wanted a bit of something interesting to break of the boring view. I added some throws to the railing and then these beautiful trellises. Then we added these lights!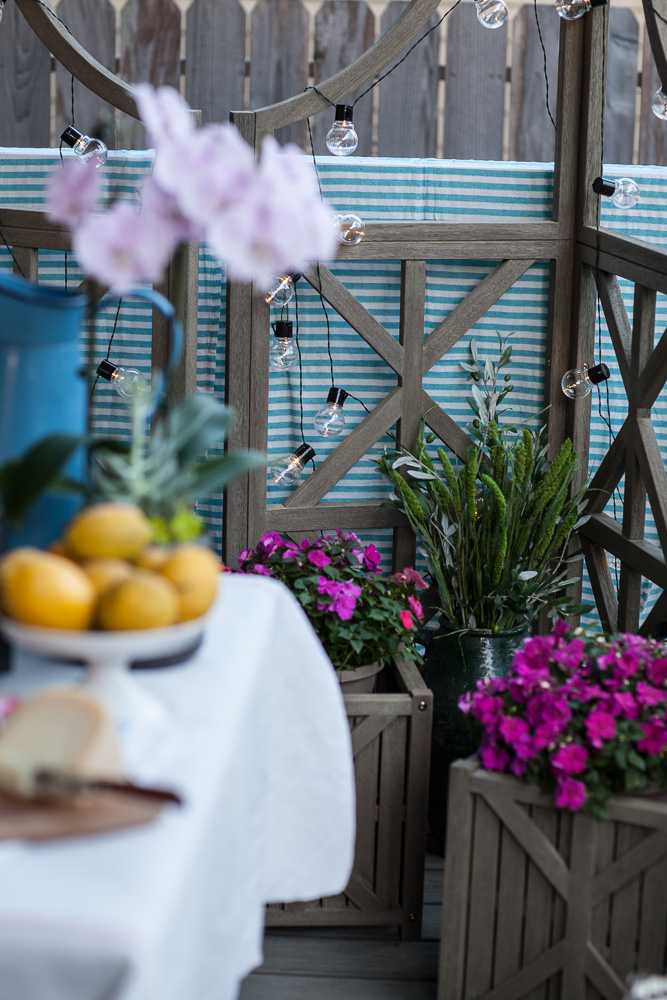 You can see our neighbors house in the photo below. See how close they are?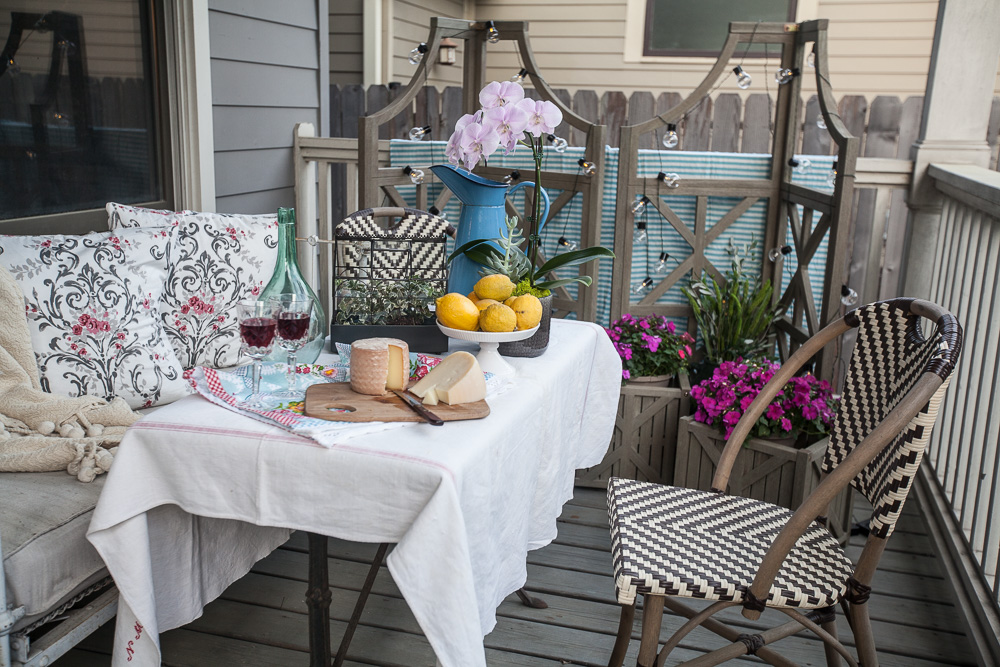 But the lights are so pretty and festive.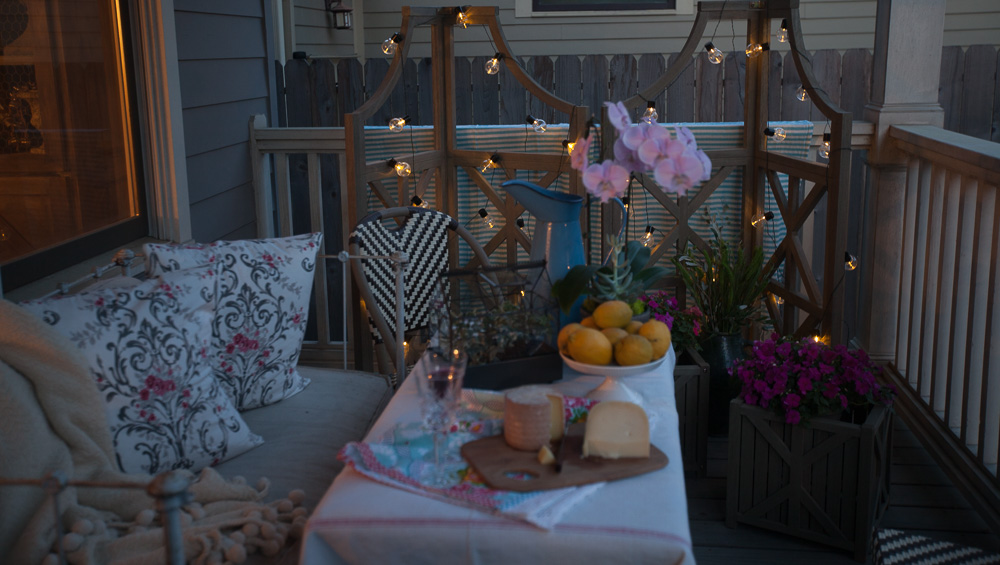 Here I moved the potting bench to the front porch to see if I preferred it here. It looks nicer, but I think I'll do more potting on the back porch.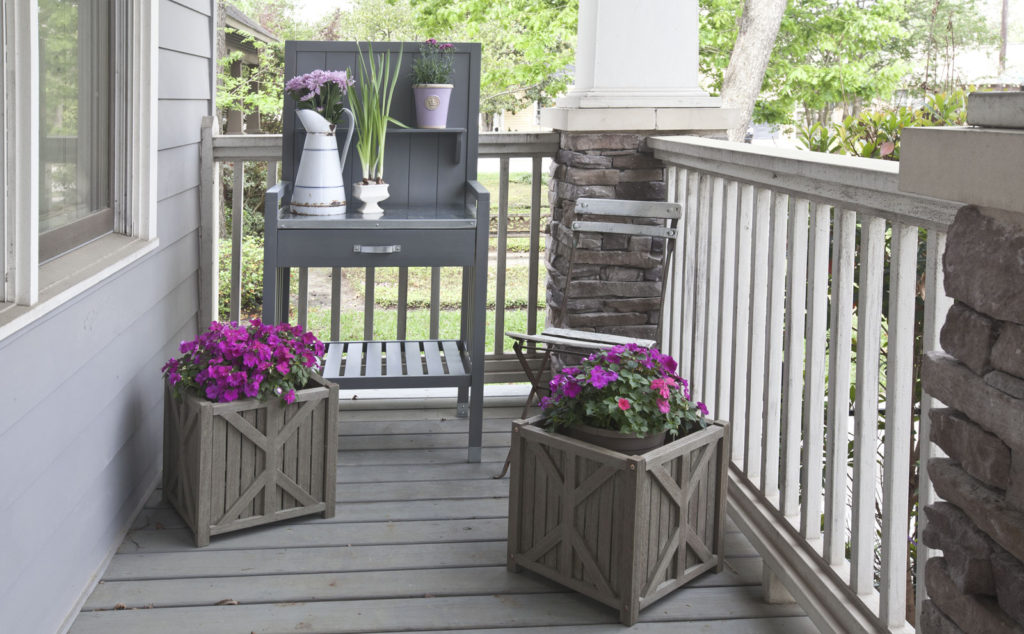 So this is the configuration I ended up with. So even though the porch is quite small, the potting bench and the trellises work quite well here.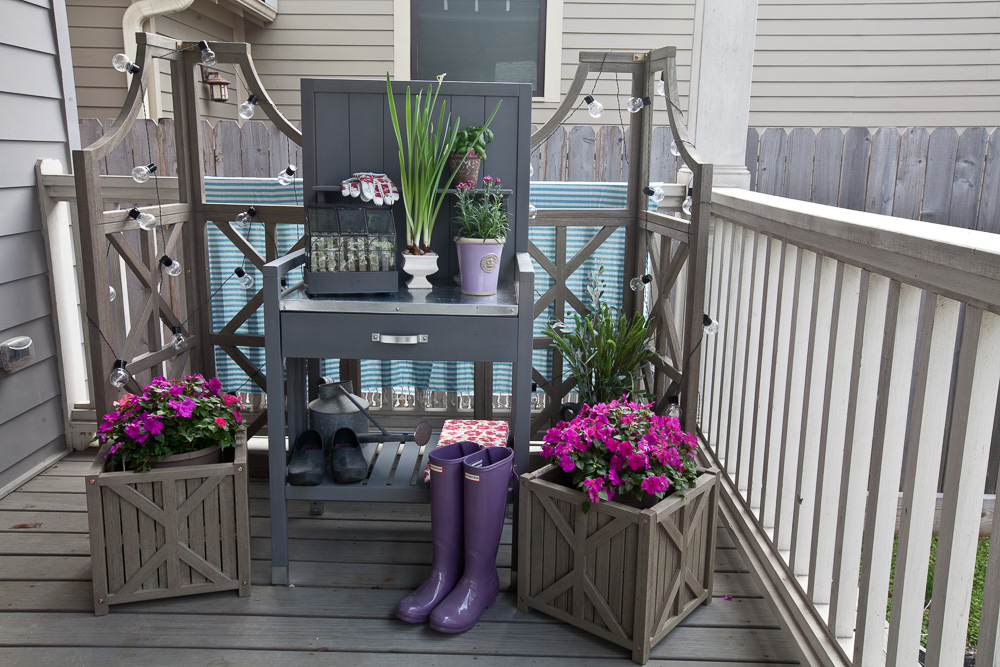 H. Potter Plant Terrarium CLICK HERE.
Belham Living Potting Bench, CLICK HERE.
Belham Living Trellis, CLICK HERE.
Belham Living Planter, CLICK HERE.
Solar lights, CLICK HERE.