Design should be fun. It's serious business alright, but sometimes I think I spend too much time trying to find exactly the right thing for a room, when really I should have a bit more fun with it.
If it's a big ticket item, then I'm not going to take chances I can't afford. But with small things, why not play with pattern, color and texture?
So today I thought I would share something fun I did in my dining room. It was zero cost because I already had the fabric, and since it's just a tablecloth, there's no commitment to this change. As soon as I get bored with it, off it goes.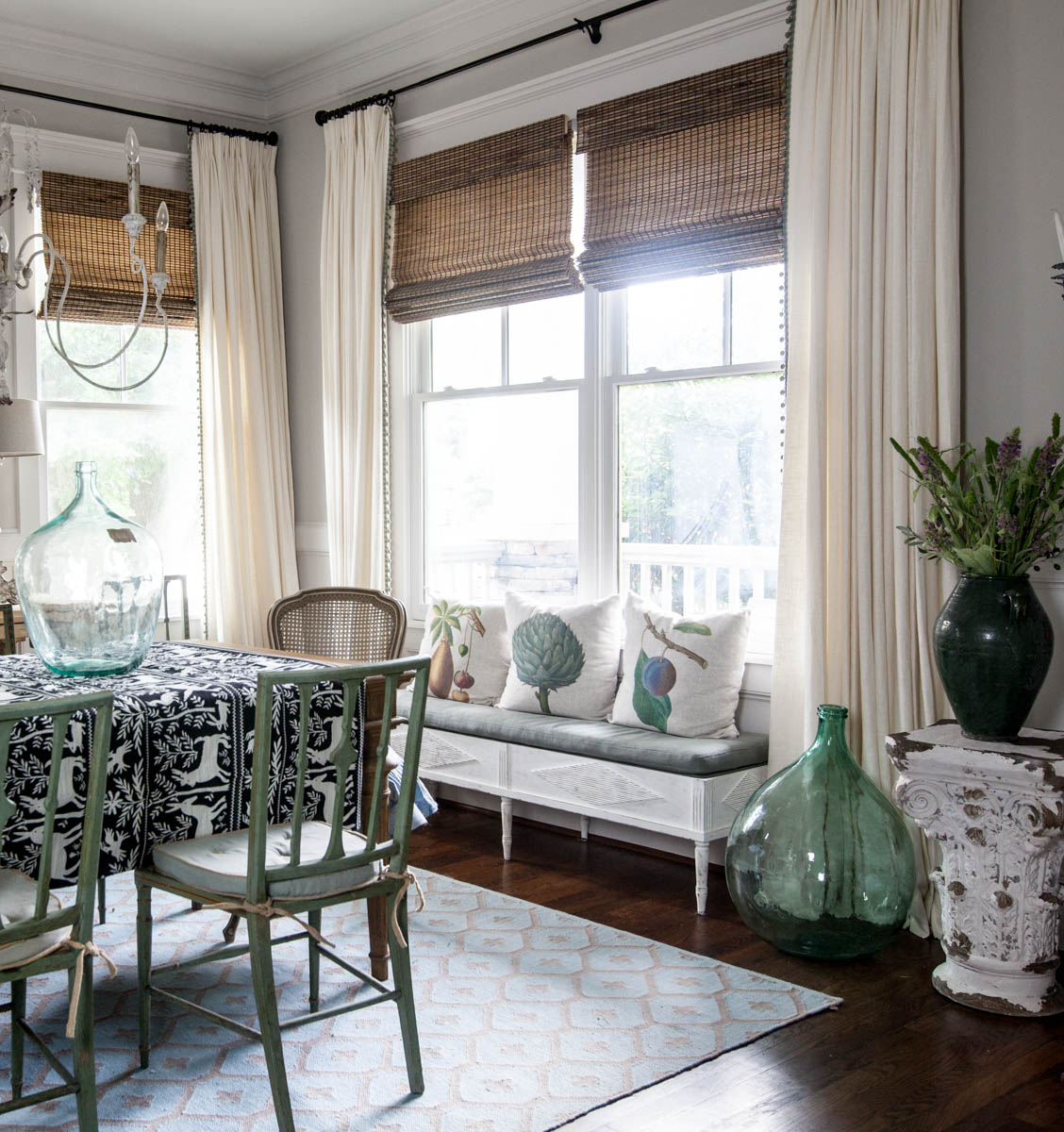 The fun change is the black and white patterned tablecloth. There are a few other changes to the room as well. I scrolled back to see the last time I shared a photo of the table. (It's been awhile) Here it is below.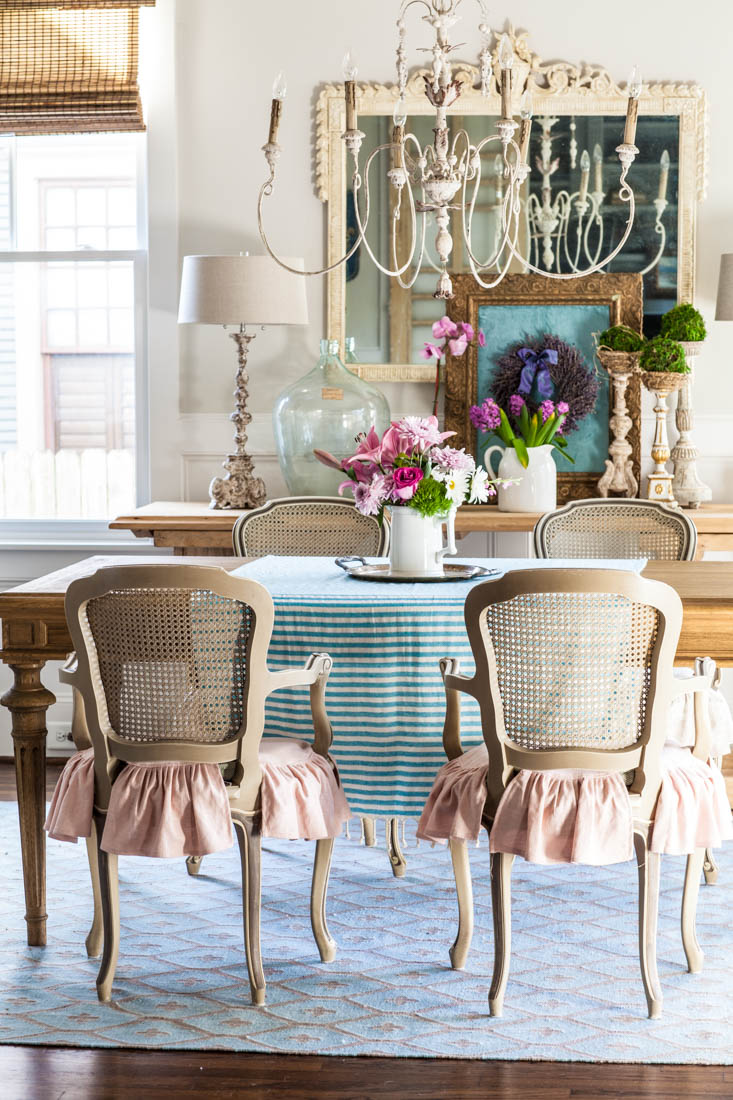 The pink slipcovered chairs are still here; they are just moved to the breakfast room. I moved my 200  year old chairs into the dining room recently. They are very unique, which is why I love them. They are actually American, not French. I recently went to see my friend Peggy and brought her a few things, and she gave me this beautiful large demijohn glass bottle, so that's new as well.
Why did I decide to add this tablecloth that really doesn't 'go' in the room? Because I've been loving the gorgeous rooms at House and Garden magazine, CLICK HERE. Many of the homes in the UK have pattern layered on pattern, layered on pattern. I thought it would be fun to try something more bold in my home, and that's where I got the idea. This is actually a great way to add pattern and color to your room because it's very reversible and can be low cost. Check out the fabric remnants at the fabric store and see if you find something you love.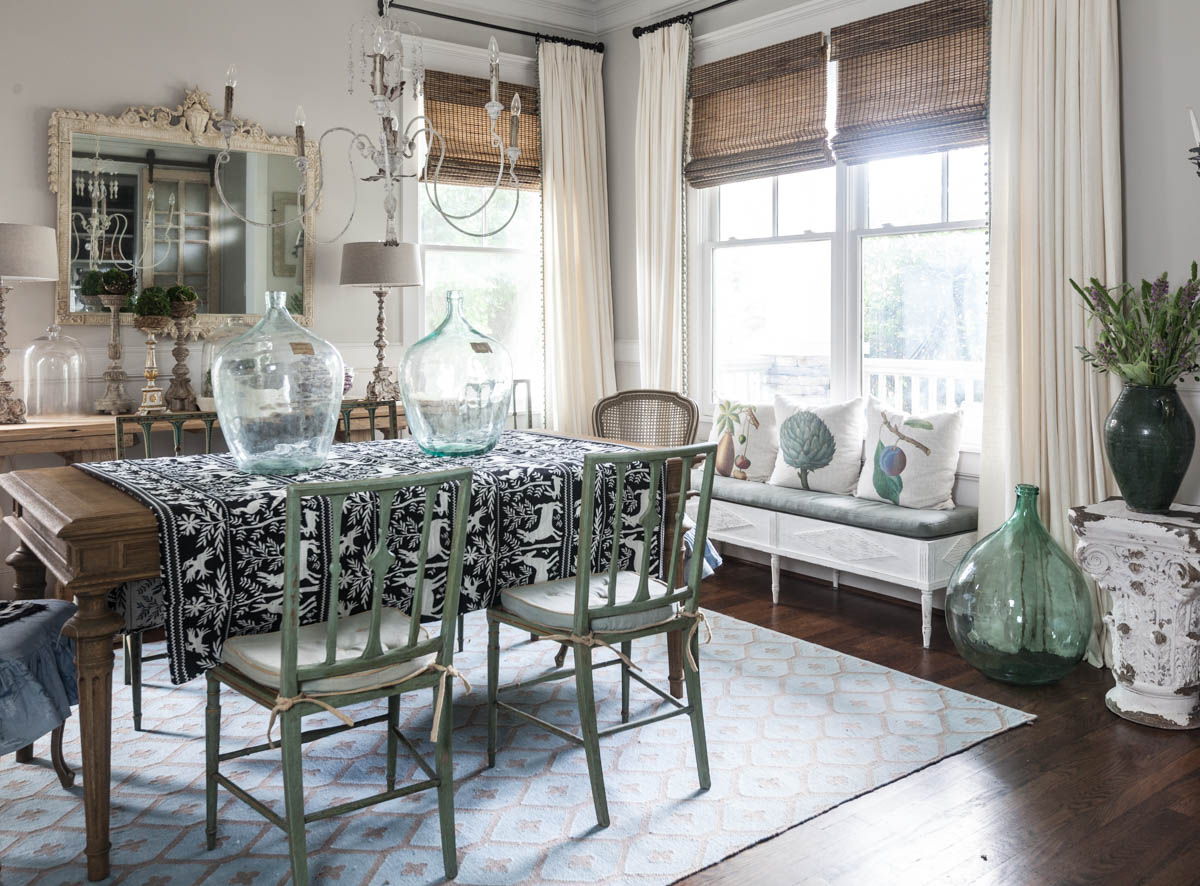 You can hem the ends with your sewing machine, or simply use a simple iron on tape instead. Here is an affiliate link to some popular hemming iron-on hemming tape, CLICK HERE.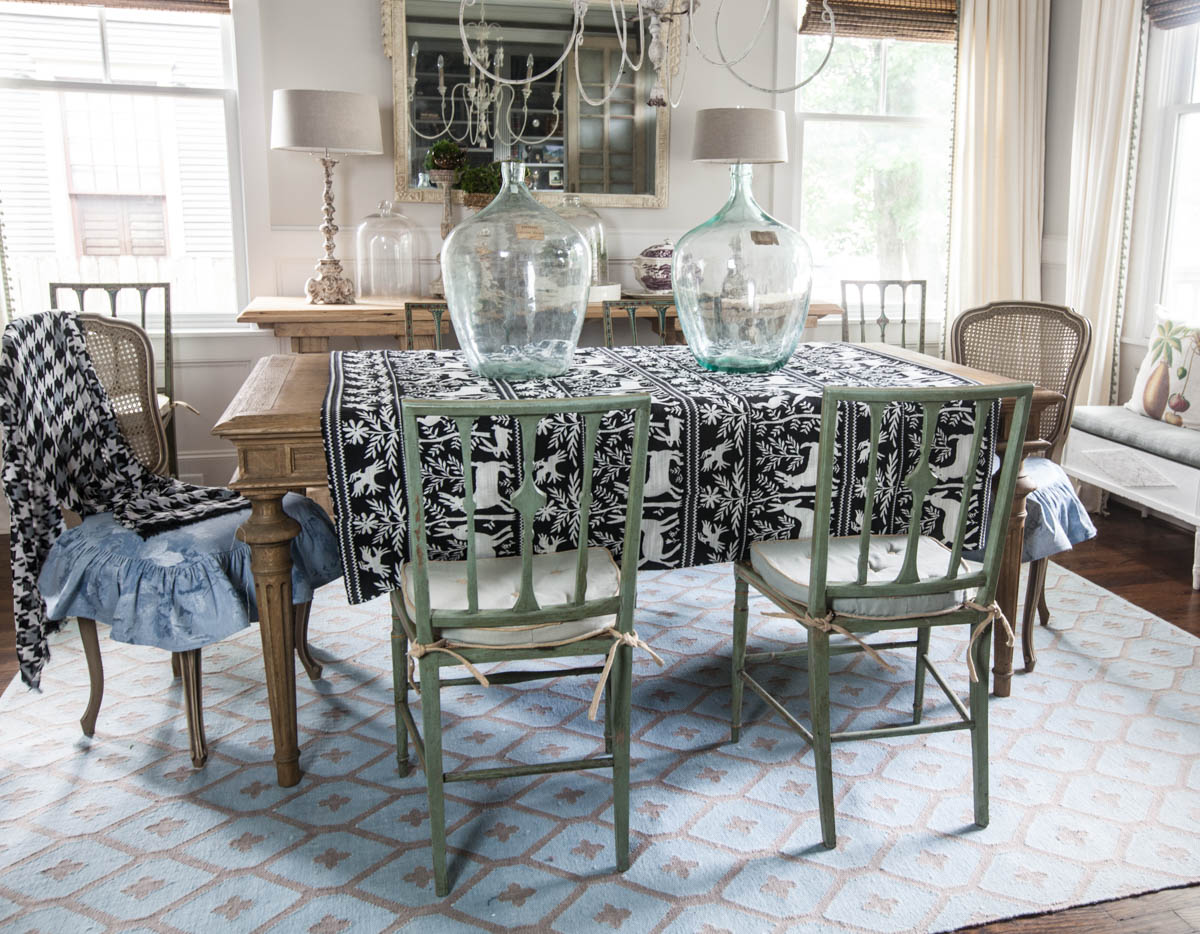 I also tried this fabric remnant for the table. I actually just switched to this blue patterned fabric. I'm enjoying the dark fabric against the table.  The room is mostly done in blues, greens, and aqua.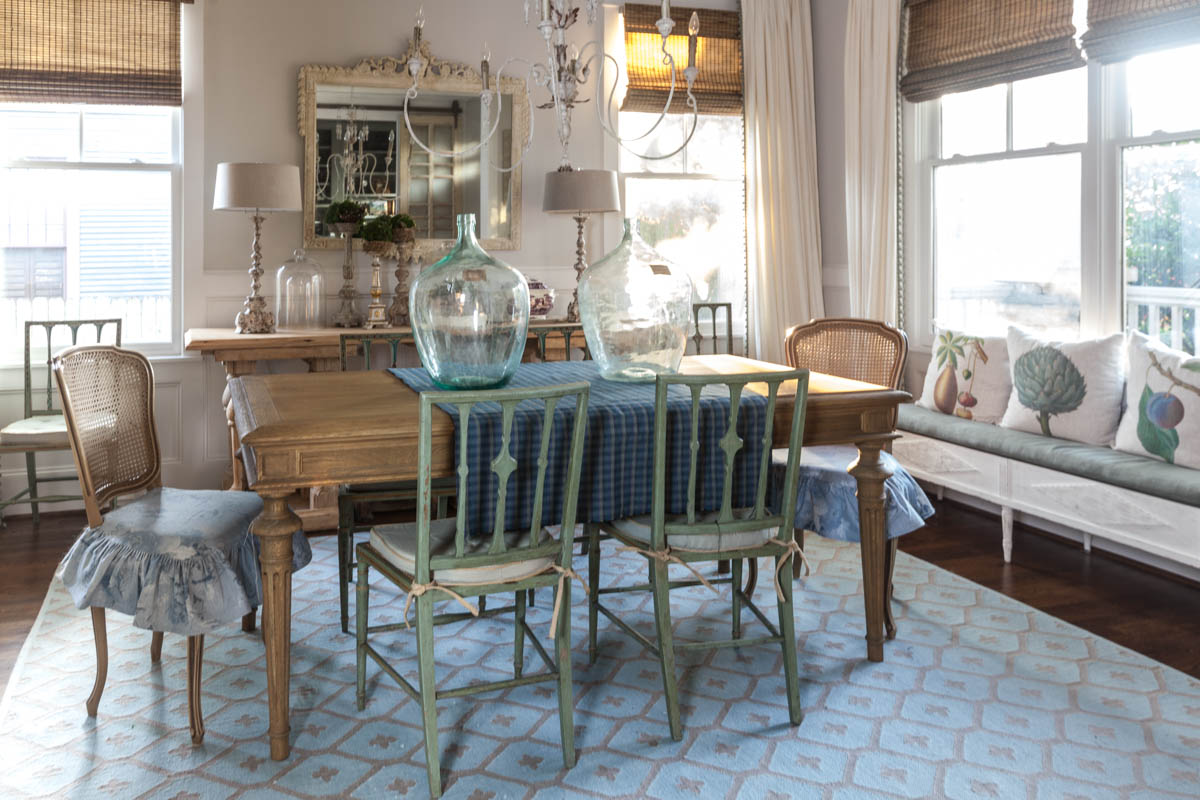 I tried about 20 different fabrics on my table before selecting the two I've just shown you. I had fun with it, and it was free. One trick with layering patterns is to go with simple patterns. The simpler the pattern, the more likely it will work with other patterns. Another thing you can use for a tablecloth is a Turkish towel or a throw blanket. I use them all the time on the table. The striped fabric shown at the beginning of the post is a Turkish towel.
I'll show you other fabrics I've used on the table in the past.
Below I used an antique linen sheet as a tablecloth. They work very well for this purpose.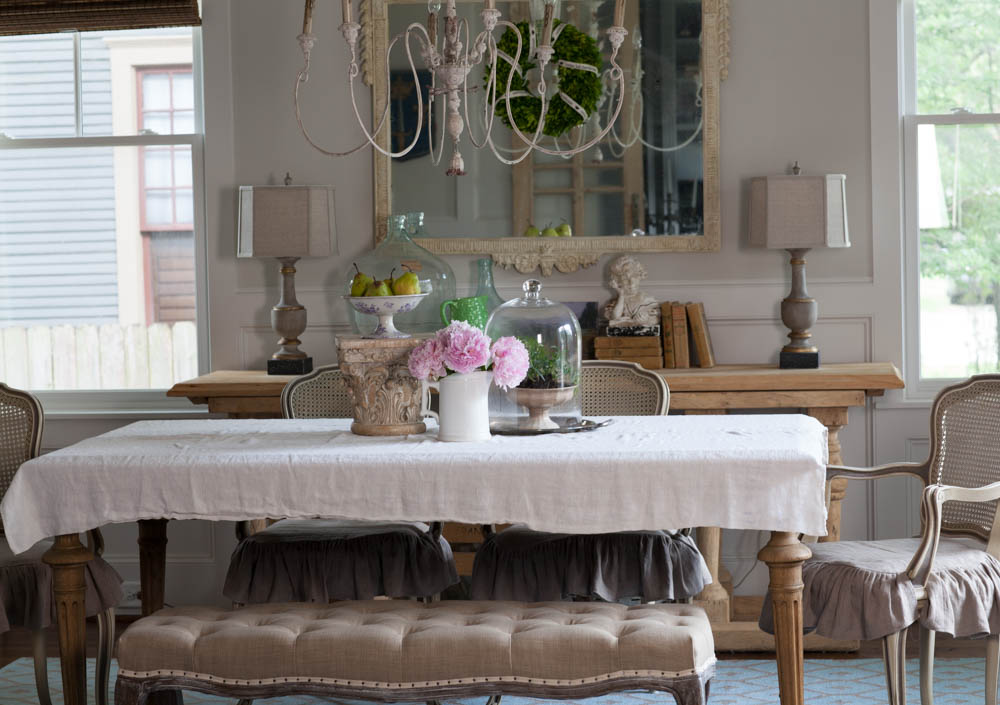 Here's a floral yellow tablecloth I once used. I wasn't crazy about the look, but wanted a change that day.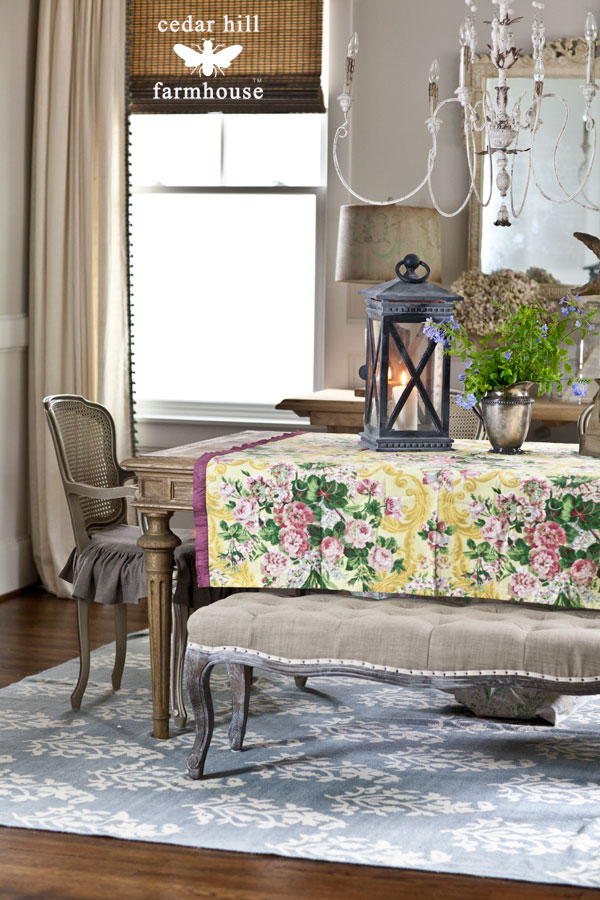 Here's another antique linen piece that oddly enough was really meant to be used as a tablecloth.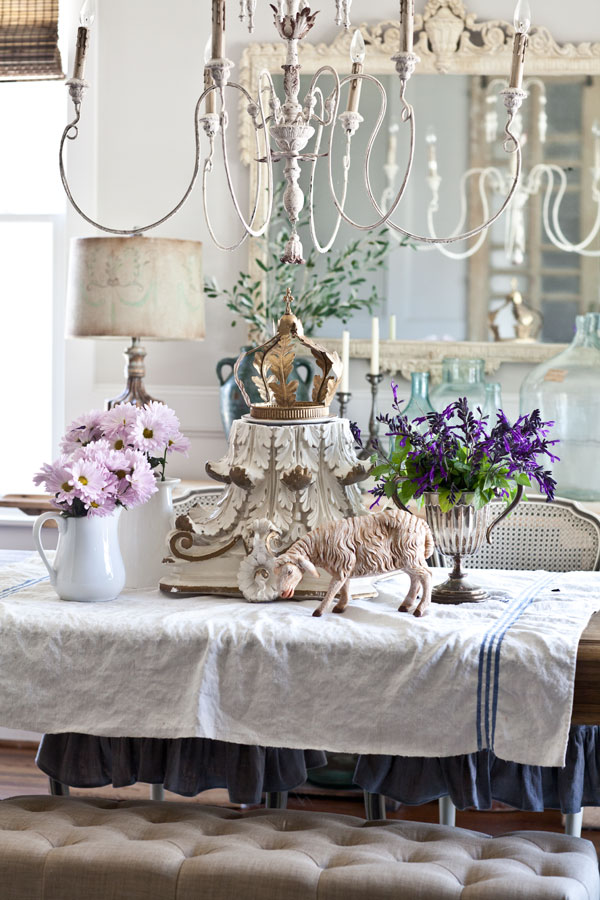 Next, here's a lively  brightly colored French tablecloth. It's new, not vintage.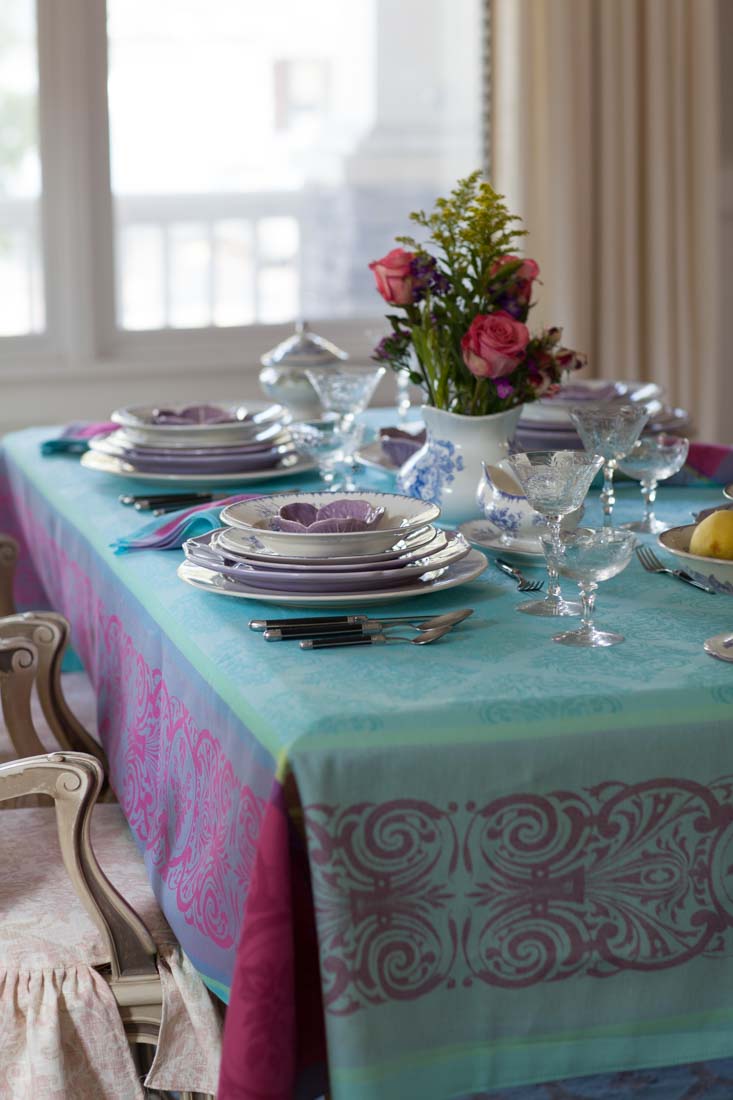 Here's a table runner I made.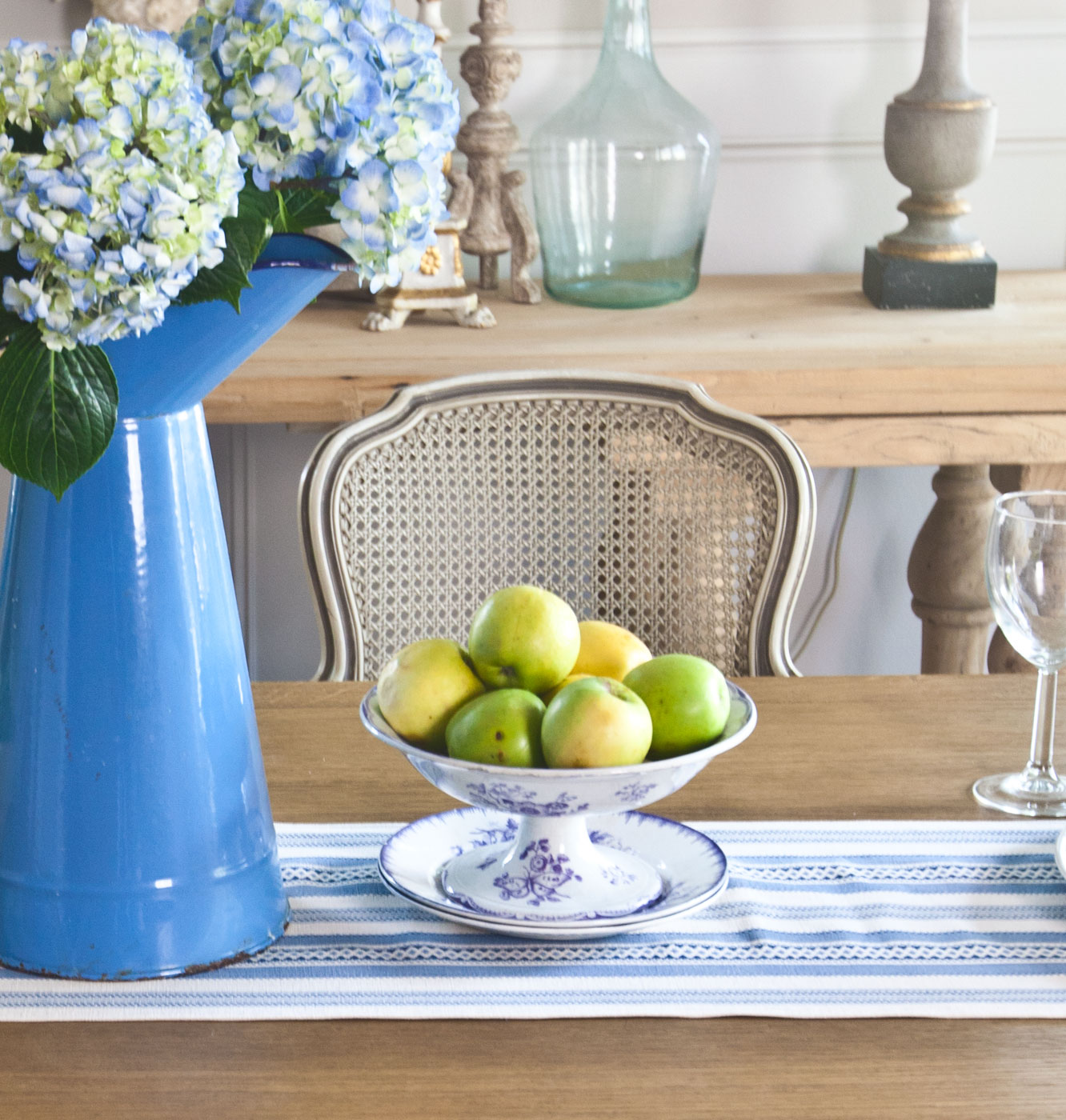 I've mostly used white tablecloths, so it's definitely time for a change. So do you use fabric on your table? I am curious to know what color it is, and if it is patterned.