I'm pretty excited that Cindy of Edith and Evelyn will be a contributor to Cedar Hill Farmhouse. You are going to LOVE her!! Here she is!!! Her first post is about grain sack chairs, my favorite!!!
There are two things that I dearly love and that's grain sacks and french chairs. It's even better when I can combine the two. I use antique grain sacks in a lot of upholstery projects, with the most recent being a set of french dining chairs. I found this great set of four chairs at an estate sale several months ago, but with all the renovations going on at our house, I hadn't gotten around to updating them. But now that our dining room is nearing the end of it's renovation, I decided that I had better get them finished!
The chairs were in great shape, they just needed a little updating! When buying used chairs, always make sure that they are sturdy, that you can sit on them, and turn them over to make sure that the springs are all intact. I've learned this the hard way! I have a couple of chairs that I picked up at estate sales that are beautiful……but you can't sit on them! I didn't do my due diligence, I just grabbed them because they were so pretty and a good price, but once home, realized what a mistake I had made. I now place books on them to deter someone from sitting there!
Here is what the four chairs looked like when we found them at the estate sale.
And here is what they look like after their transformation! It's amazing what paint and new upholstery can do to bring a chair back to life! You can now see all the details in the wood.
I love how they turned out! I started by stripping the upholstery, and then giving them a couple coats of Annie Sloan Old White chalk paint. I also did some distressing and then waxed with clear and dark wax to bring out the details.
I keep a stash of vintage grain sacks that I try and pick up whenever I find them at a reasonable price, so I went through what I had and picked out two that had the look I wanted.
Using the old upholstery as a pattern, I cut out the new pieces for both sides of the back of the chair. To be on the safe side, I always cut about 1/2″ larger than the pattern and then trim off the excess once it's stapled onto the chair. You can always cut too much fabric off, but you can't add more if it's too small. I know this from experience!
I love the graphics on antique German grain sacks that have the farmers names and dates stamped on them. But they are extremely expensive and rarely have I ever taken the leap to pay what they are going for. I knew that I could get the same look by using a stencil and stamping the graphic onto the vintage grain sacks.
I got the stencils from Maison de Stencils. They have a huge selection of stencils and they are extremely well made. Mine have lasted a long time and I've used them over and over with no issues.
Using a black fabric paint from Hobby Lobby and a stencil brush, I placed the stencil in the correct position and stamped it with the fabric paint. I then carefully lifted the stencil and waited a few minutes for the paint to dry, then stapled the grain sack into the back of the dining chair.
Once it was stapled into the back of the chair using a staple gun, I trimmed off the excess fabric.
Using a drop cloth for the seat, I cut out the pattern, again using the old upholstery as a guide, and stapled it onto the seat of the chair.
Once everything was stapled and trimmed, I covered the raw edges and staples with gimp trim, again from Hobby Lobby. I used a hot glue gun to adhere the gimp.
I love how they turned out, all of them being just slightly different.
The backs also received a stamped number, and one of the grain sacks was monogrammed with "VI" which also shows on the back. I love all those little details.
The vintage grain sacks aren't terribly difficult to find, but they can run the gamut on prices. You can find lots of them on Ebay and Etsy, and at most of the larger antique shows such as Scotts in Atlanta and Roundtop in Texas. I usually buy mine from an European importer in Alabama, who seems to have the best prices of any I've seen. The only issue is that he does not ship so you have to actually go there to buy them.
The same look can be created by using reproduction grain sacks from Online Fabric Store or upholstery grade burlap from Save on Crafts. Using drop cloth and painting the stripes on, would also give a similar look.
I placed the four chairs around my old farm table in the breakfast nook to see how they looked, but they will eventually be going into the dining room, once that room is ready for furniture.
I have a weakness for French chairs and find it difficult to walk away from any that I find at a good price, so the garage seems to have quite a few stacked up out there! Those will be getting some updates over the next few months. Getting this set finished has inspired me to get started on the rest of them!
I hope you have enjoyed this little transformation! I would love to hear from you so let me know if you have questions!
Cheers,
Cindy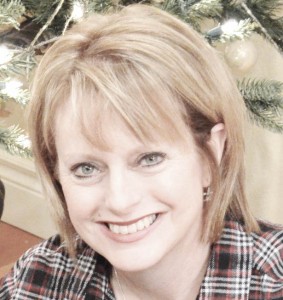 This was written by Cindy of Edith and Evelyn.