Today's French event is about French fabrics.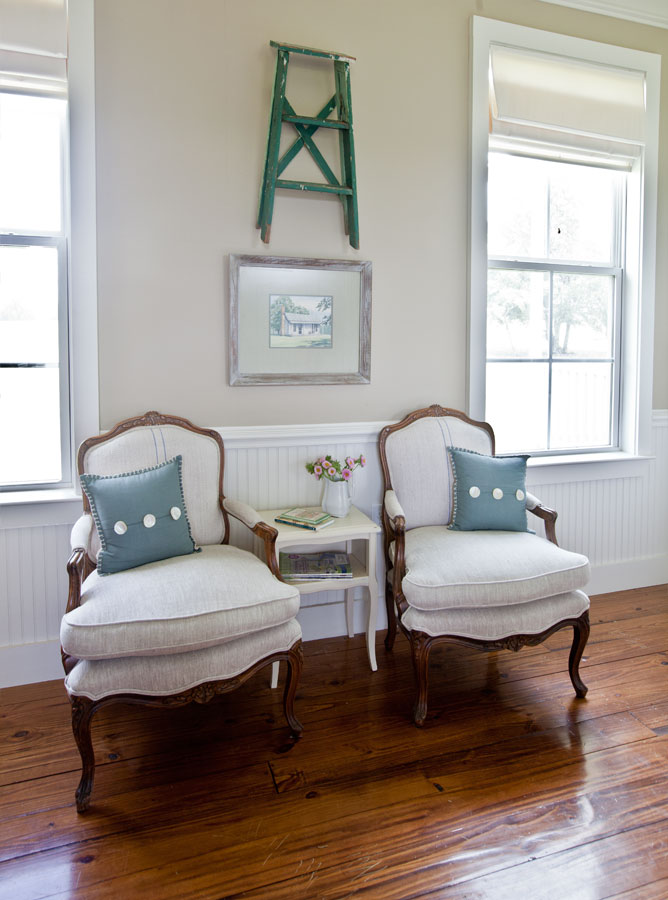 So how can you give your home a French accent using fabric?
NOTE: Most traditional French fabrics are vibrant and colorful, but today I'm talking more about how to give your home a French feel using neutral fabrics.  Go to the blogs mentioned at the end of the post, if you want to see more vivid colors. Now onto the post.
TIP 1: The fabric doesn't actually have to be from France to look French.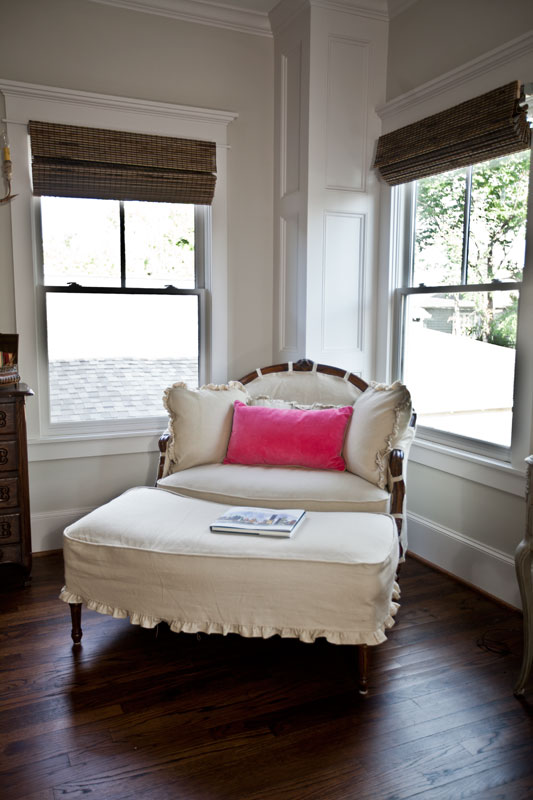 It just needs to evoke a French feeling. Not many of my fabrics are actually from France.  Much of the linen fabric I use for my slipcovers came actually from Italy.
TIP 2: Tapestry
French fabrics include a range of fabrics from rustic, simple homespun linen to fine silk and tapestries. That is why often country French design is completely different look from refined French style .  On a recent trip to Paris, I didn't see any rustic fabrics on furniture, everything was shiny and shimmery. And in the South of France, the Provencal colors are bright reds, blues, and yellow.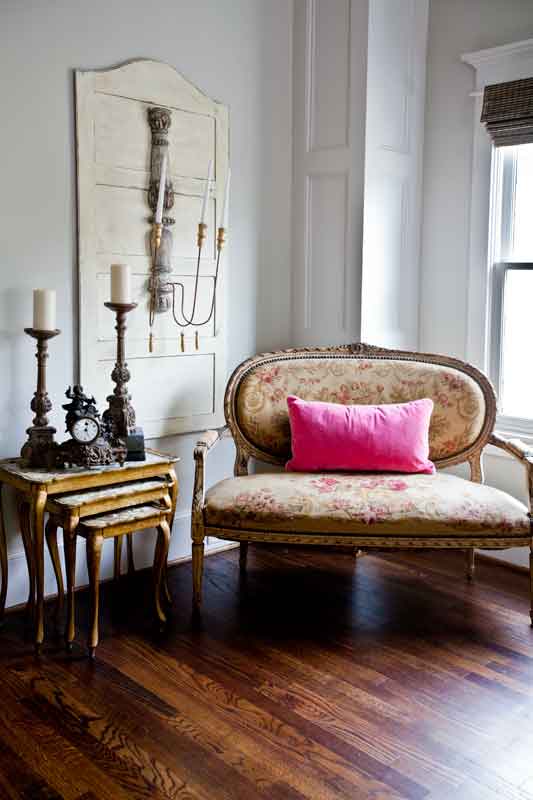 TIP 3. Drop cloth
I like to use homespun linen, and some cottons when sewing.  If you are on a budget, drop cloth fabric (from the hardware store) works in a pinch. I used drop cloth fabric for the bedding at our tree house. Why waste linen there, when the animals might tear it up?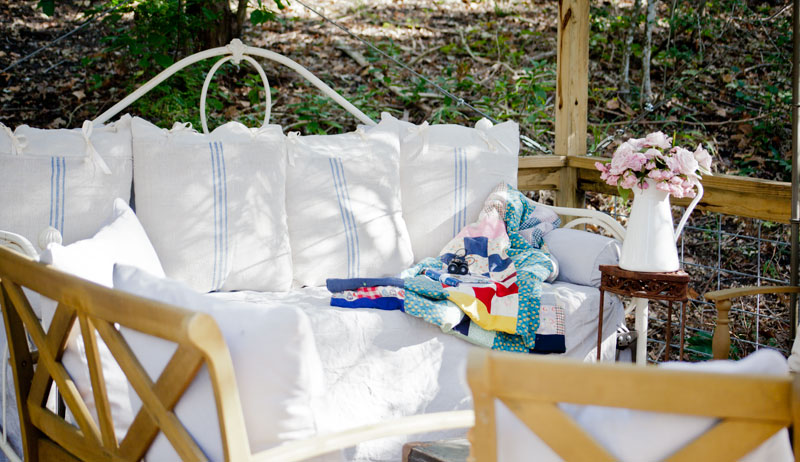 TIP 4: Linen.
Linen is my favorite type of fabric to work with.  It has a look that is impossible to replicate with other fabrics. Yes it wrinkles like crazy, but those wrinkles are what tell you it's the real deal. If the fabric content includes synthetics, I prefer to keep moving. I grew up forced to wear polyester, because it 'didn't wrinkle' and I hope to never see it ever again.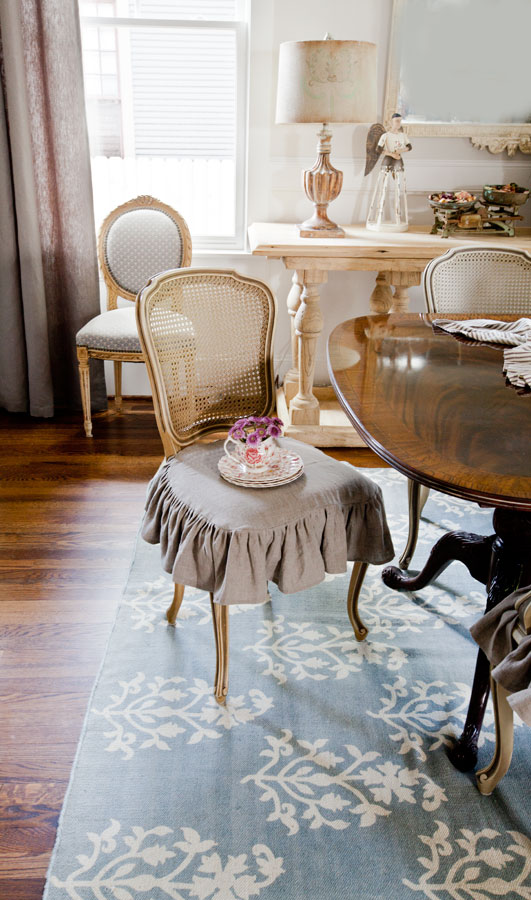 TIP 5: French ticking
So what is French ticking?  It's striped cotton or linen fabric that looks like it could have been used on a mattress. Remember it doesn't have to actually be on a mattress or actually French.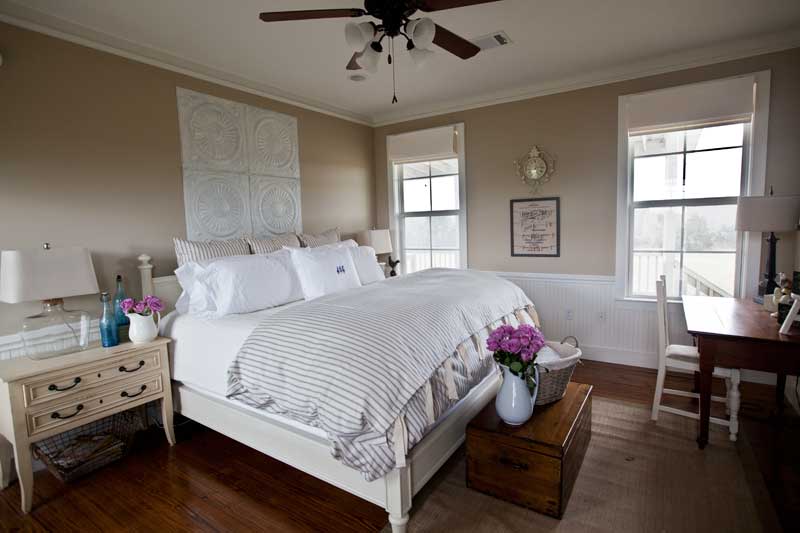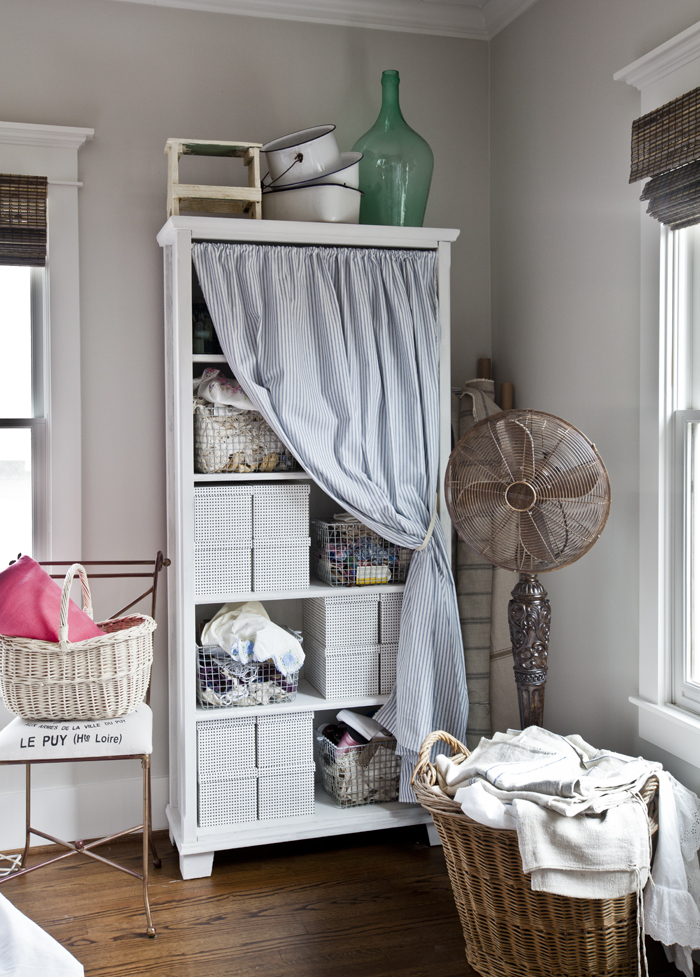 TIP 6: Toile
I don't really think I need to explain this one. Toile screams French.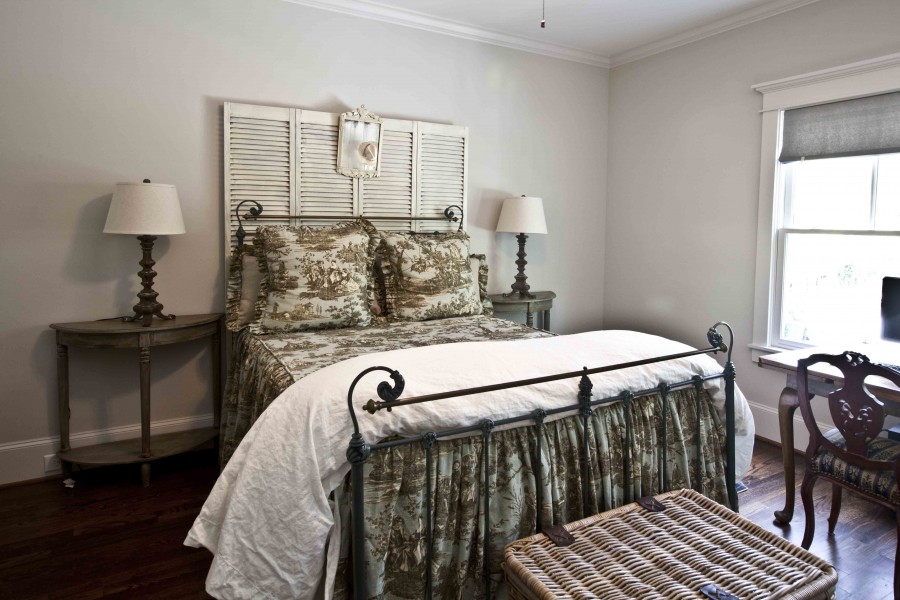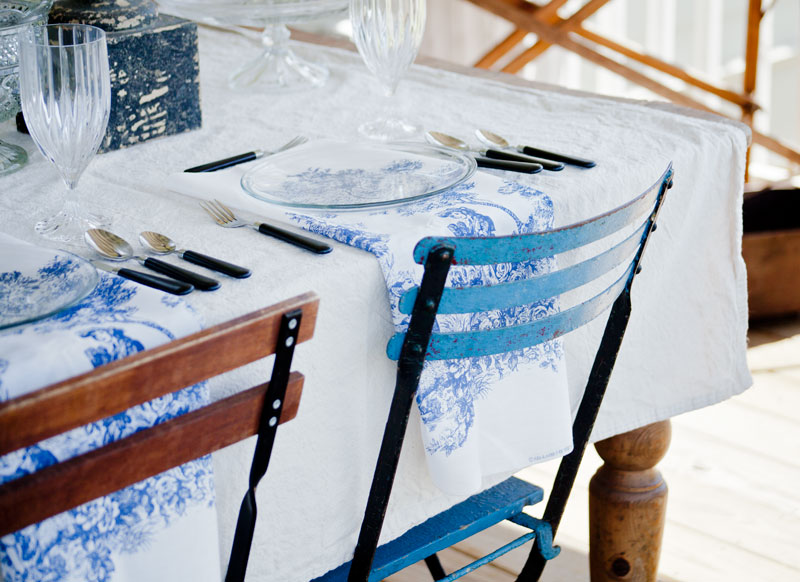 TIP 7. Use textiles from France.
As I said before, the fabrics don't have to be from France, but if you can find a few to use, they are a lovely addition. The bedding rolled up at the foot of my bed is an antique French coverlet.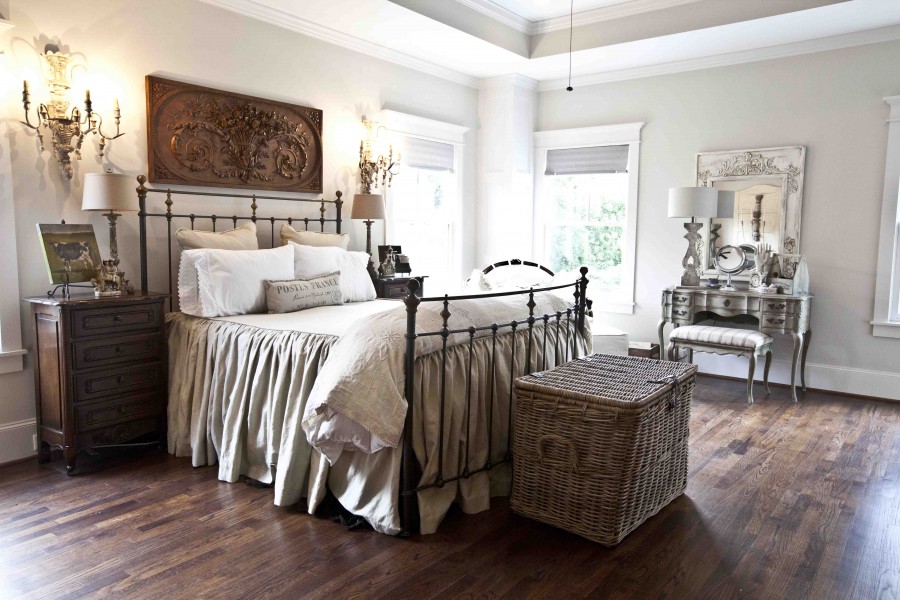 See the beautiful embroidered detail?  And it is linen!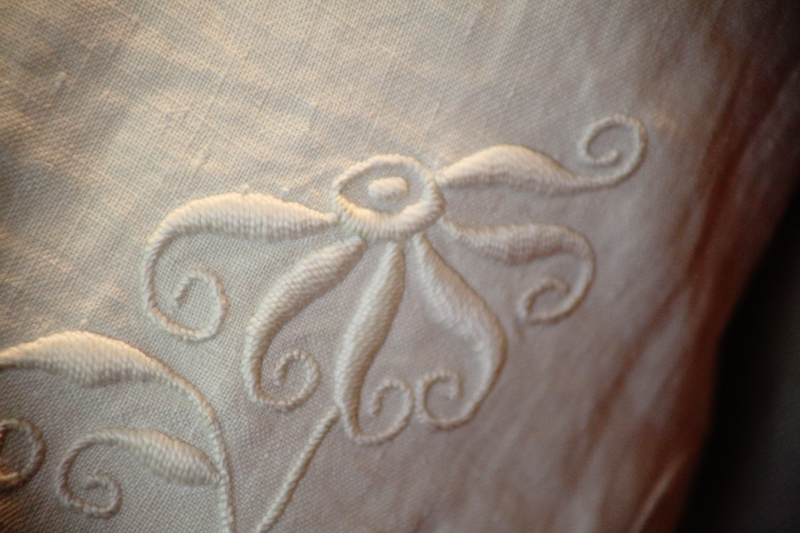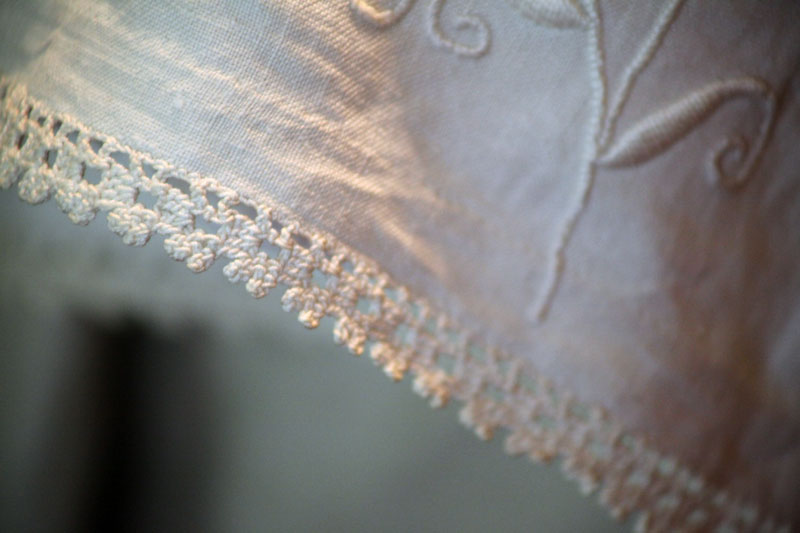 TIP 8. Lace
I love lace and it does give a room a quiet elegance. Just… don't use too much.  We don't want so much lace in a room, that a man would be uncomfortable there.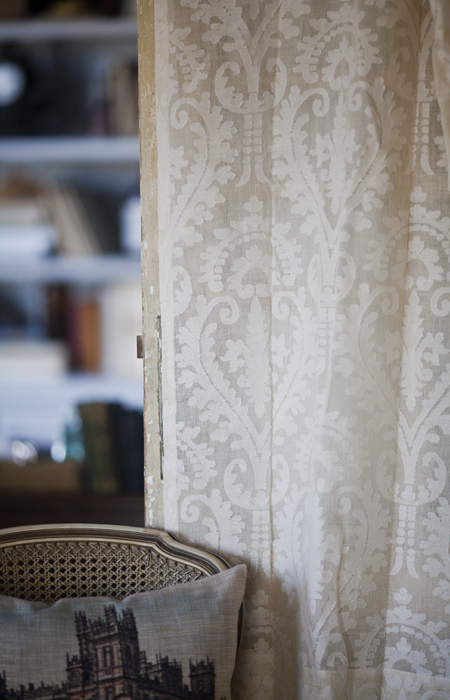 TIP 9. Grain sacks
Some may see them as trendy, but I don't. They are a classic in my book. The rustic fabric has so much character, especially the ones with a monogram. They look fabulous stuffed with a pillow, or used to make a chair cushion or for upholstering a chair.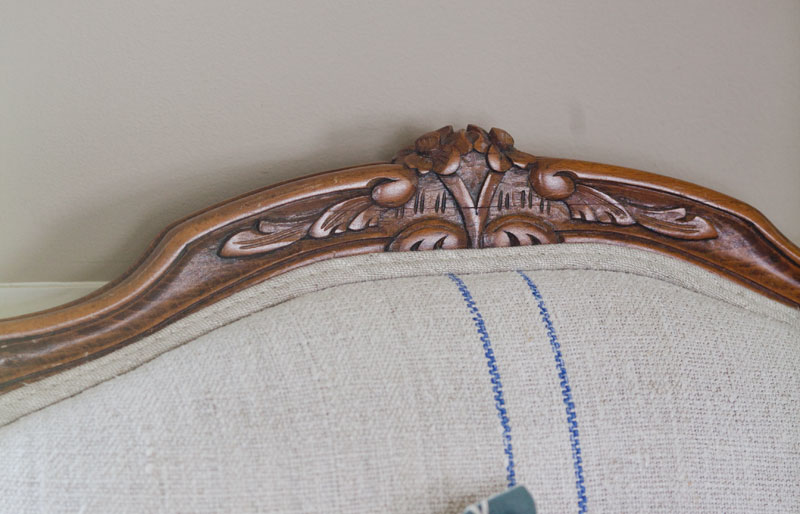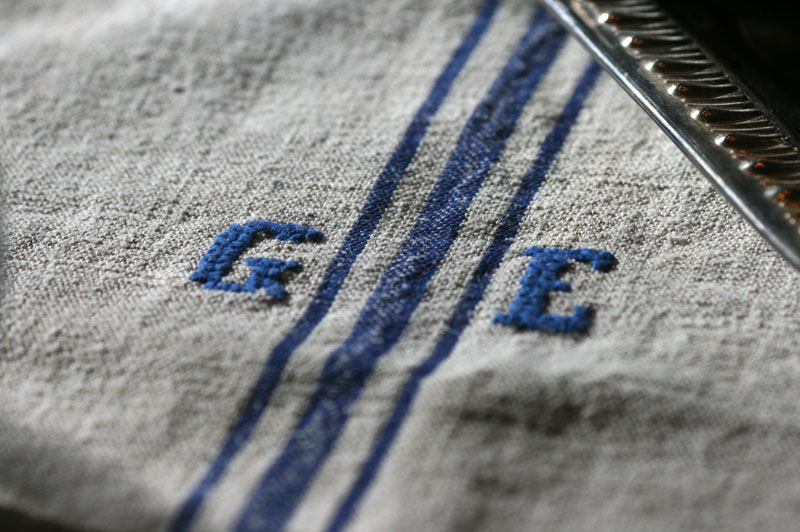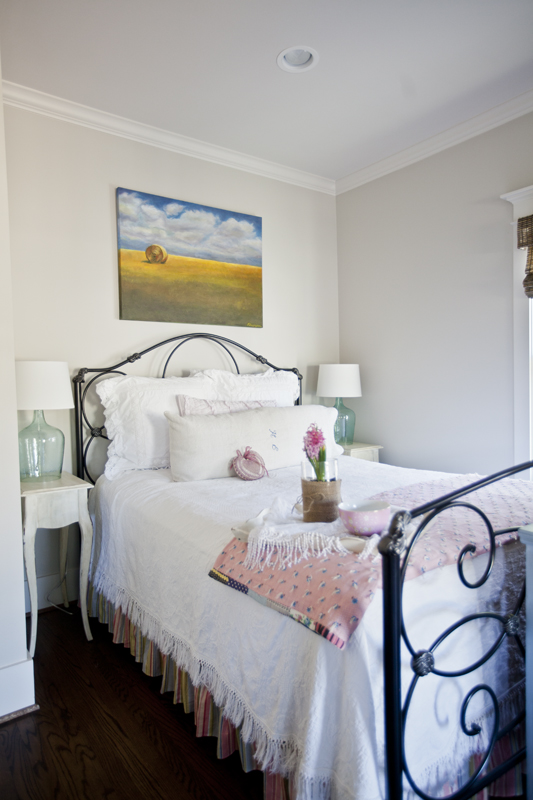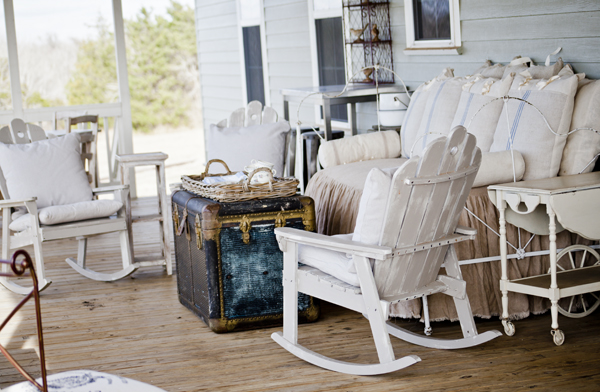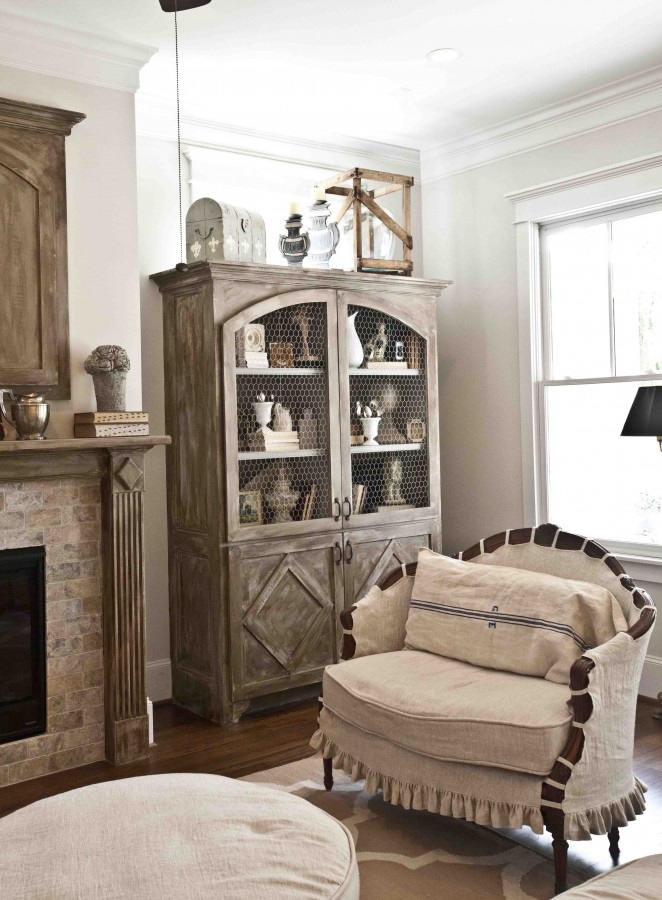 I hope this gave you lots of ideas for your home.
Please join the other blogs on the tour today.