I'm pretty excited about this post. This is our mountain house in Black Mountain, NC. It sits on top of a mountain with amazing views. Well the views were amazing when we bought the house in January. The best view is behind the bare tree. Note the pine tree; you'll see that again.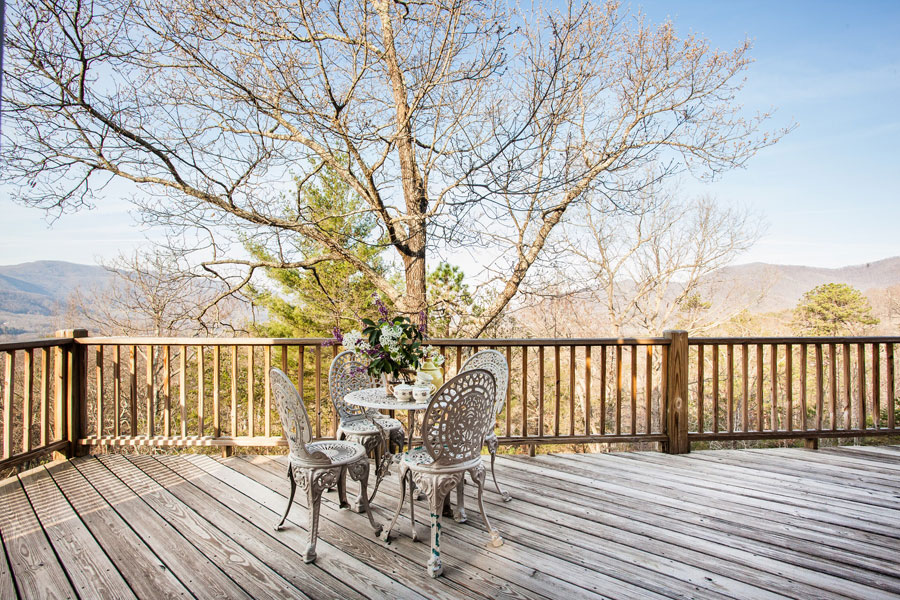 photo credit: Greybeard Realty
We came back in August, and well the view was a bit different. See the pine tree on the left? No view of the mountains (insert sad face.)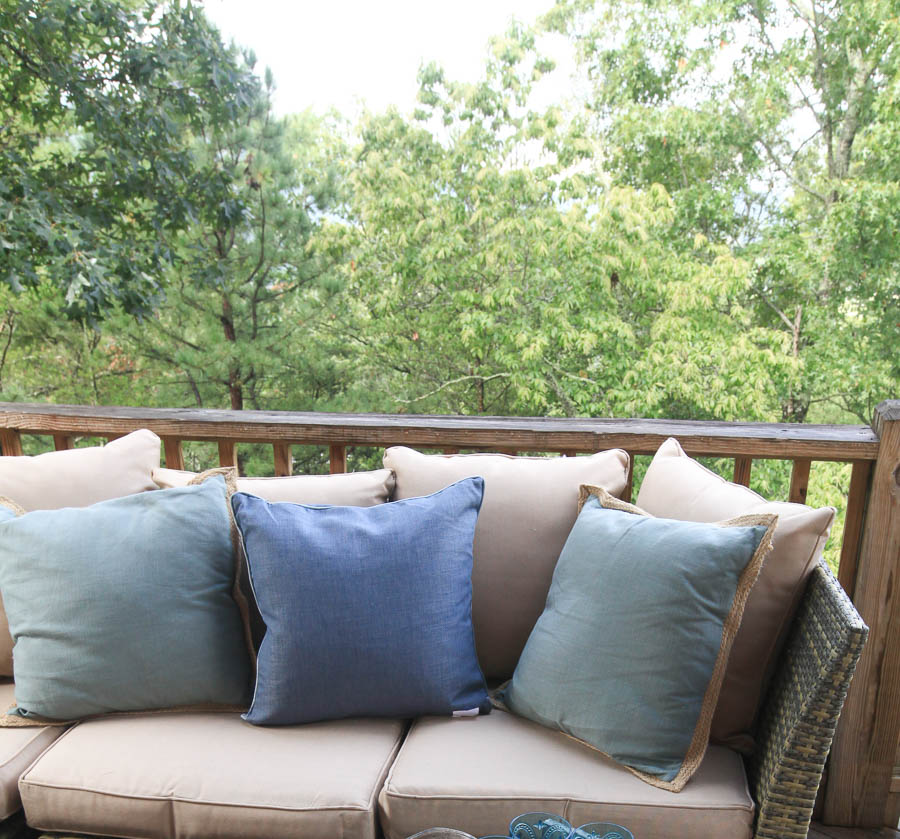 You can see the mountains through this way, but that was about the only open spot through the trees.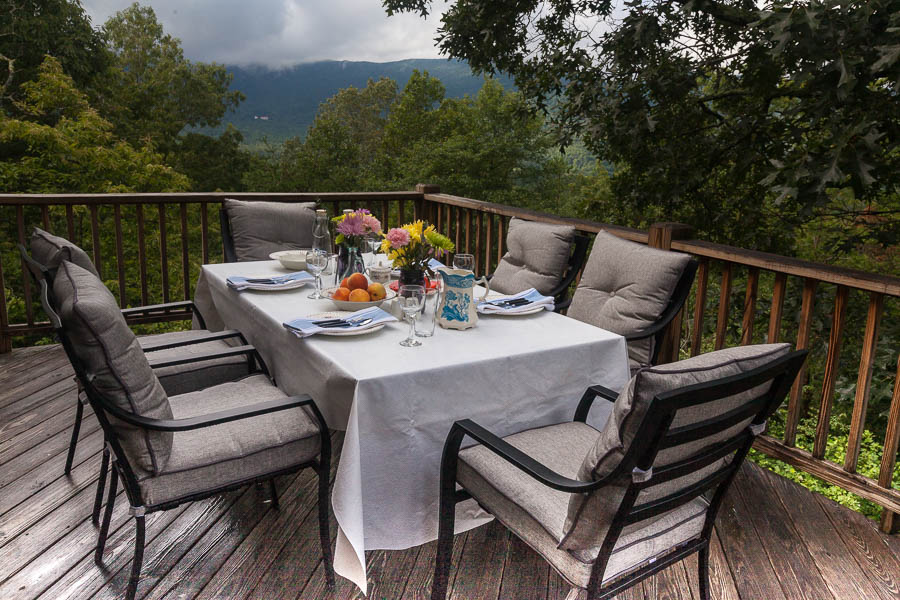 I wanted my view back, but my husband didn't want the trees trimmed. We had what I can only describe as a 'lively discussion' because we DO NOT have fights. In the end, he agreed to a 'controlled tree trimming'.
Here are the photos our tree guy sent after this trimming.. Note the pine is still there blocking my view.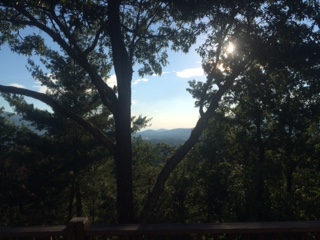 This direction was better.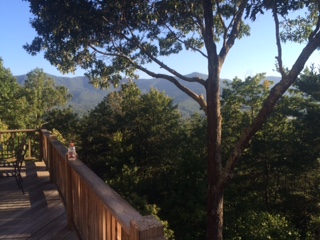 I called the tree guy to go back and do a tad more trimming. I wanted to see the mountains.
This time he trimmed that pesky pine tree. The view is all the way to Asheville and beyond.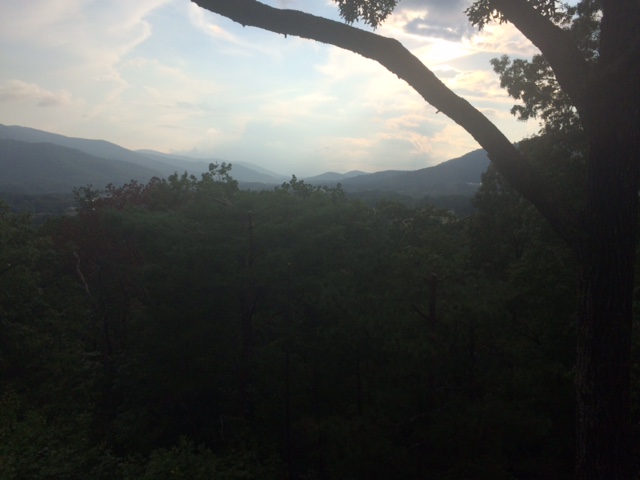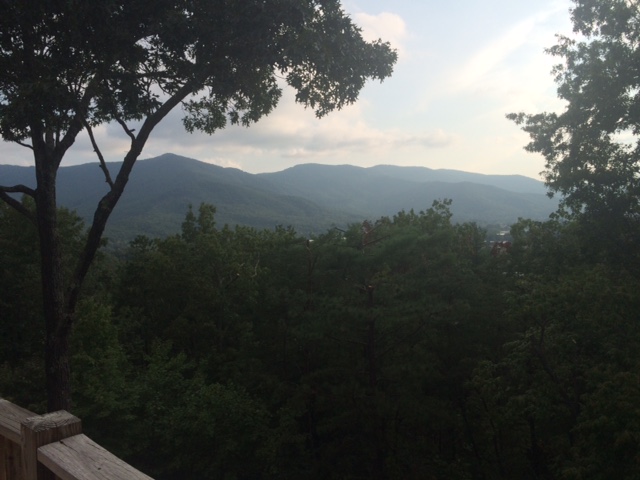 This makes me so happy. We're back in Texas, but I look at these photos a lot. We're going back in October to see the fall foliage. I'm so excited.
Well, we've spent enough time on the deck, let's go inside, shall we?
Yesterday, I shared the changes we made in the dining area, CLICK HERE.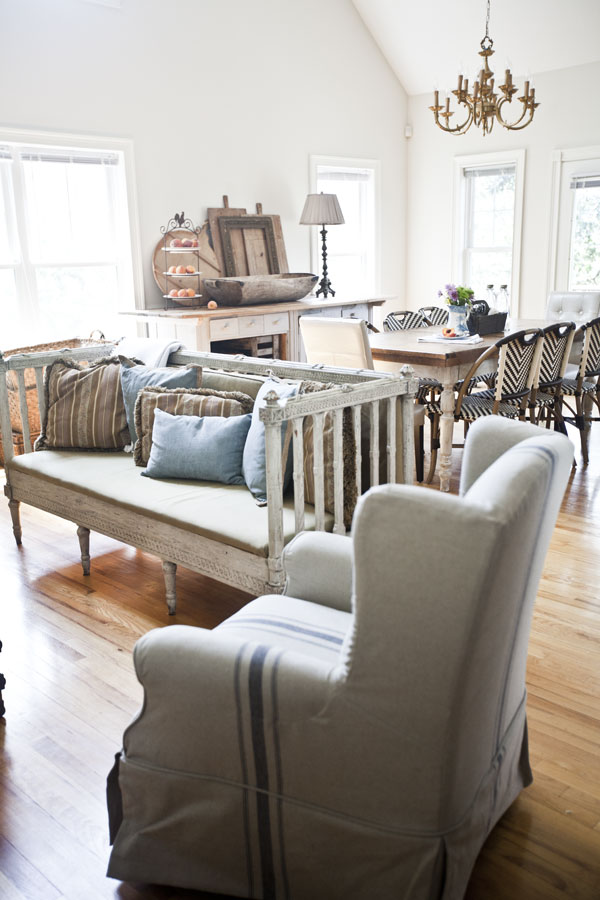 This tour is sponsored by Soft Surroundings in partnership with Romantic Homes Magazine.
Thanks to ShabbyFufu for organizing this fun and fabulous tour. (affiliate links)
Now let's take a look at the changes in the seating area.
We have new chairs!! Not just any chairs… comfy husband-approved chairs. Well I did have the trees trimmed so I owed him some comfy semi-manly chairs.
These chairs are from Soft Surroundings and can be found HERE.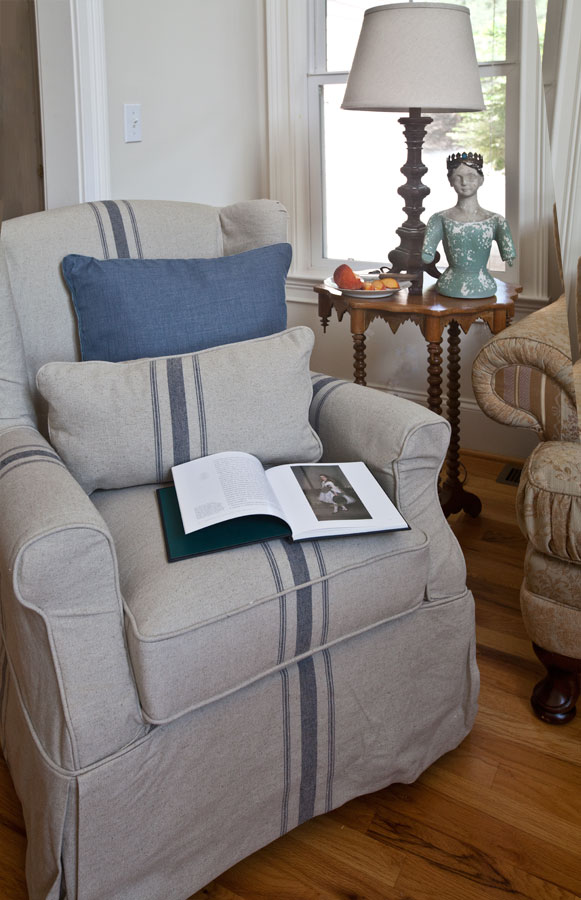 Even better, you can sit here and look outside or watch the big game (while you snack on milk and cookies.)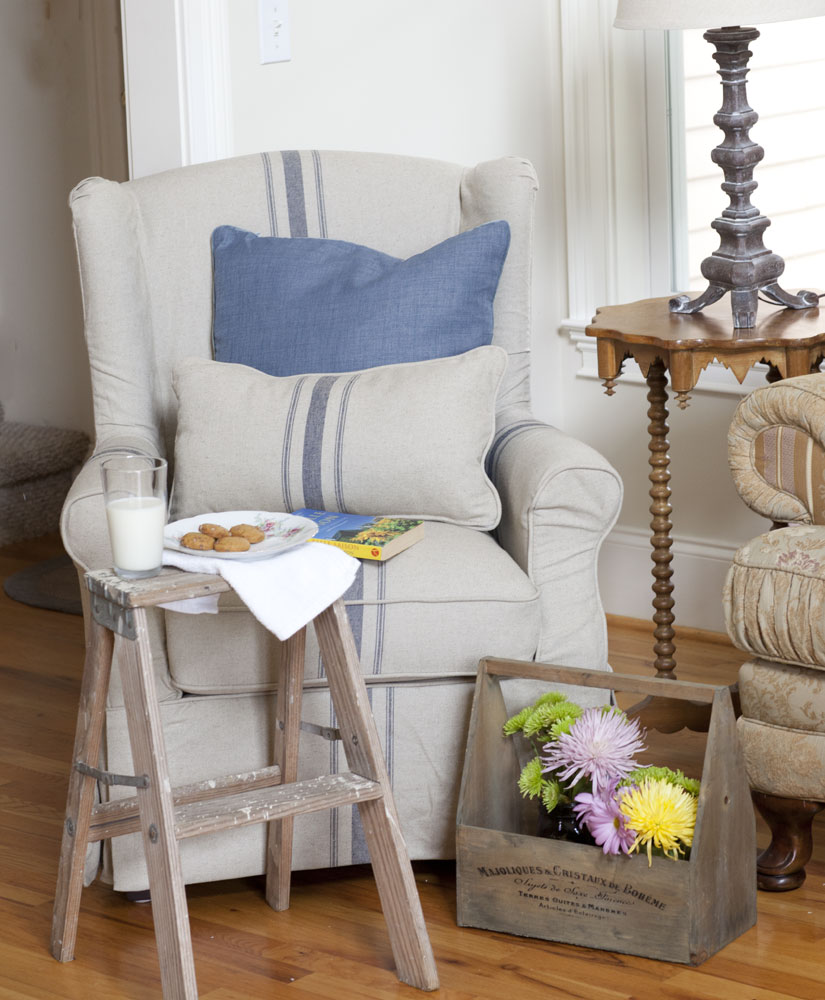 In case you are new here, let me explain. We don't live here, this is where we hope to retire. For now, we are visiting as much as we can, and using it as a vacation rental when we aren't here. So… this is where we brought our leftover furniture. The sofa and much of the furniture in the house are not new. I'll probably replace the sofa later, but for now it has to do.
Here's an example of what I've discussed before. The sofa is a khaki, but the new furniture I'm buying for the space is going to be blue or neutral. For the best look, I should have bought chairs to go with the khaki green sofa, but I am not in a khaki phase any more. So we are transitioning to blues. I have to make my new color and my old color work in the same room at least for now. This is not easy to do. I have new gray and blue chairs and a khaki sofa. So how did I make it work? I added blue pillows and a blue throw to the sofa. The blue throw and pillows pull repeat the blue in the chairs. It's not perfect, but it's one of the best things to do when you are transitioning from one color to another.
I also added artwork to the wall that has some blue in it. I also brought some lamps from home and some tables.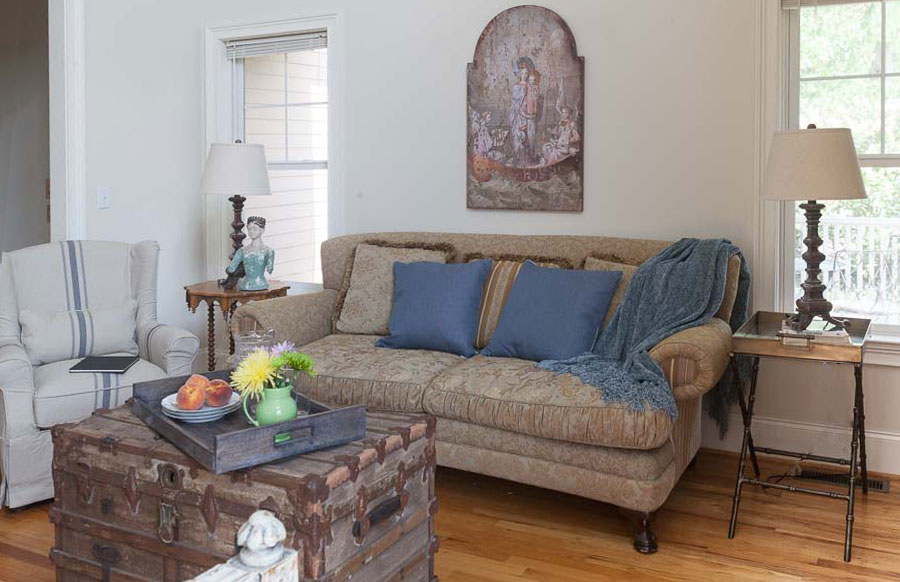 The table on the right is from Soft Surroundings and I featured it at our Texas house CLICK HERE.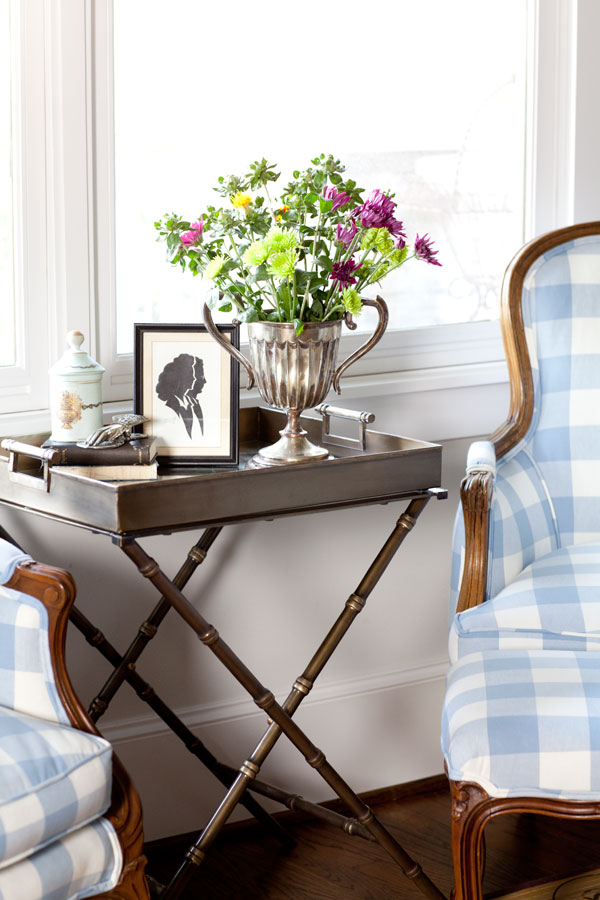 Here we are upstairs overlooking the living keeping room. It's a fun shot. This is a very casual place for hanging out and relaxing.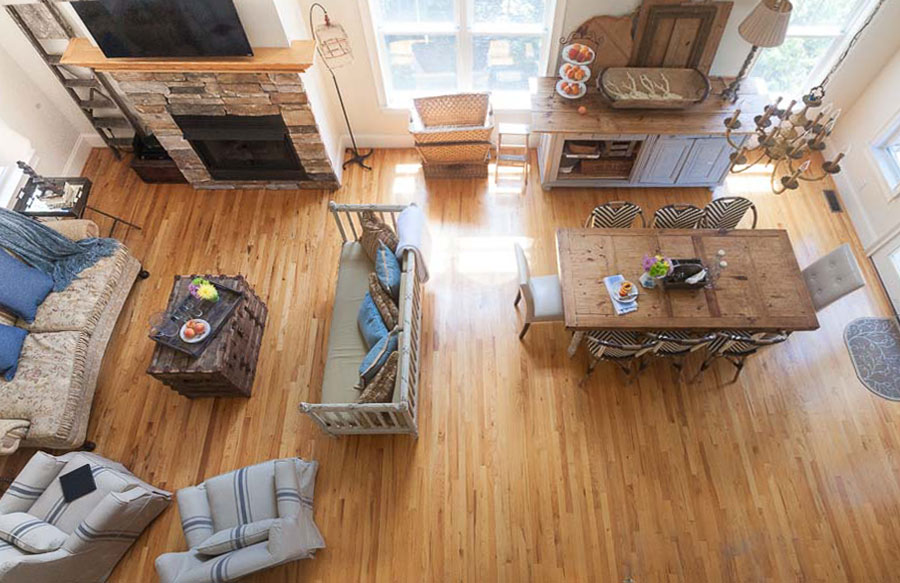 The view below is in the dining area looking toward the front of the house. The chandelier is an antique European one I found in Round Top. I had it rewired to work with US wiring. I've still go so much I want to do to this house, but we so excited about the new chairs (and the improved view.)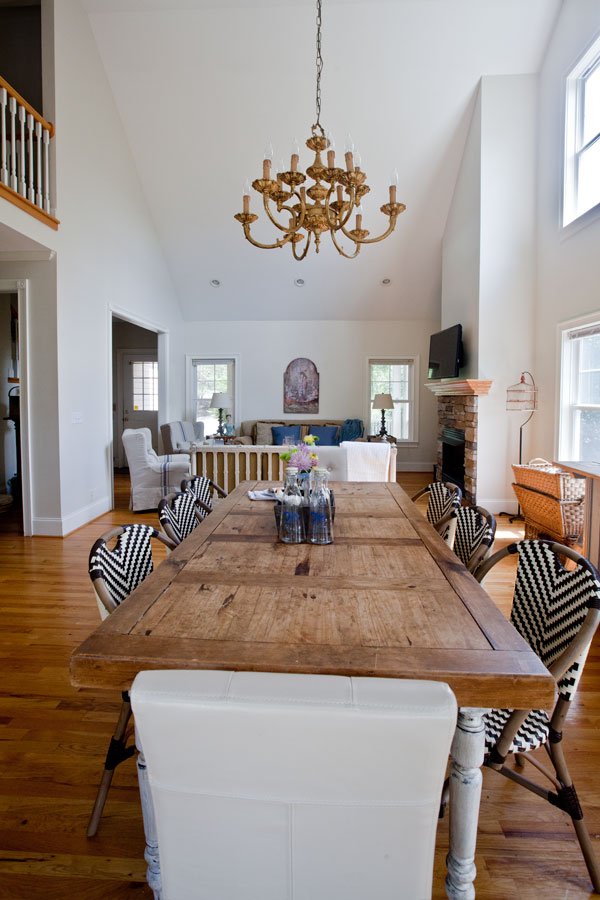 The painter is coming soon, so I'll have new photos to share soon of our bedroom and the bathrooms.
Don't forget my giveaway going on all month. Every comment automatically enters you to win. Details here.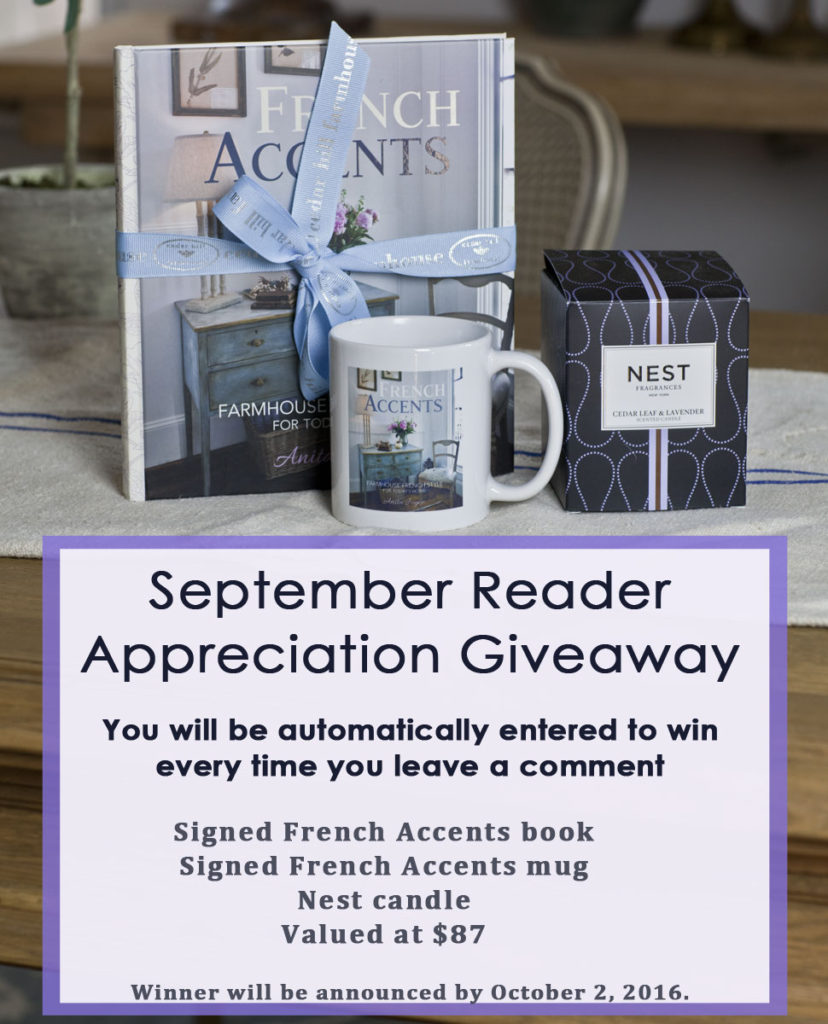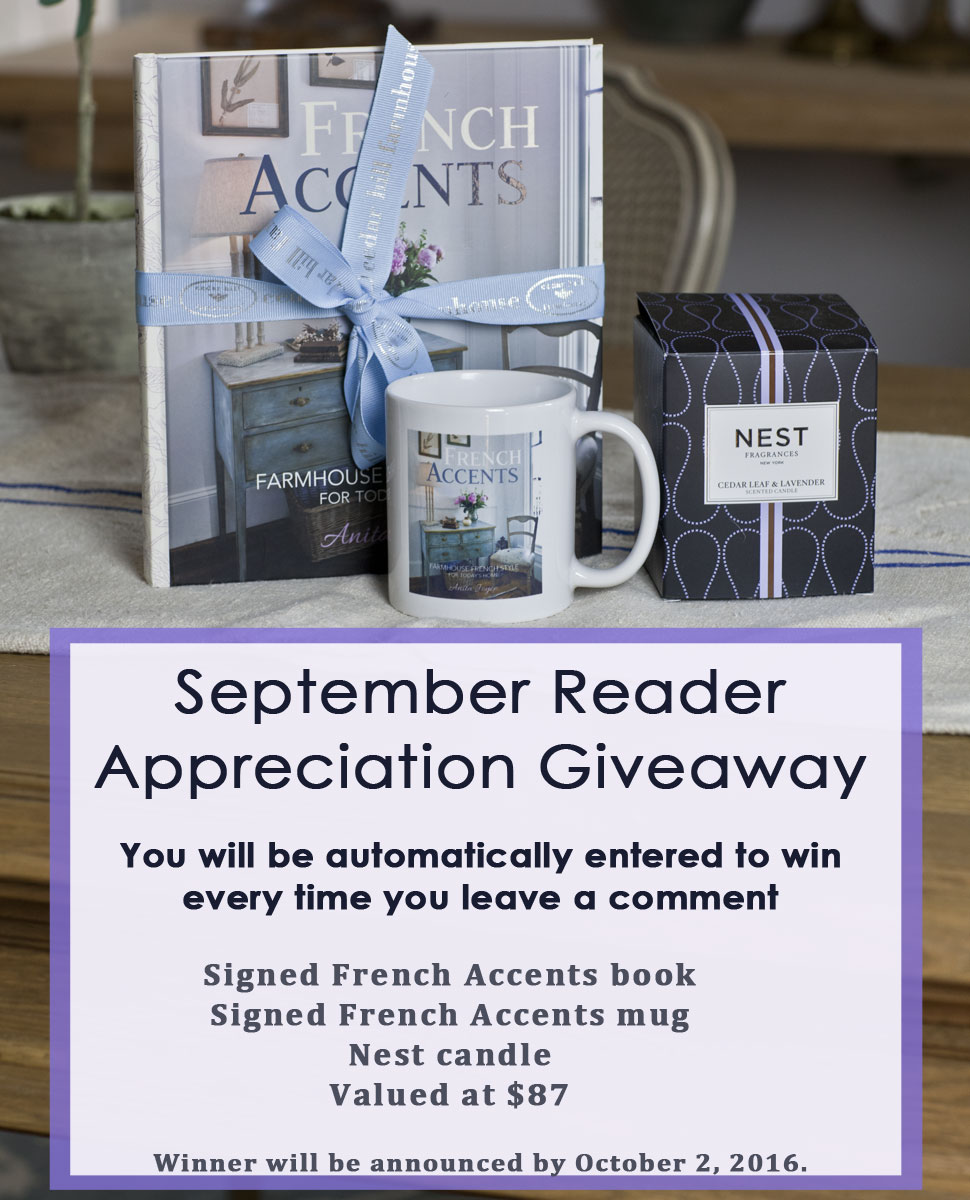 I have more information on the chairs below. I've also curated some things I think would work beautifully with the blue stripe chairs. Just click on the photo for more information. (Affiliate links)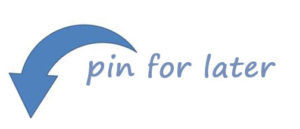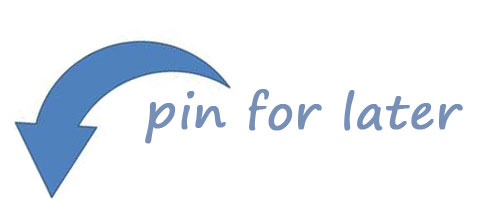 Be sure to check out the other blogs that joined me on this tour!