I'm mentioned before that we have limited space for a Christmas tree, and that's why I'm so excited about this gorgeous French Christmas tree. This post is sponsored by BALSAM HILL. All opinions are my own.
This new tree is 42″ at its widest. That means it fits in our dining room. This is the first time I've been able to get a Christmas tree in our dining room.
It's about 6.5 ft tall. I was quite taken with how gorgeous it was.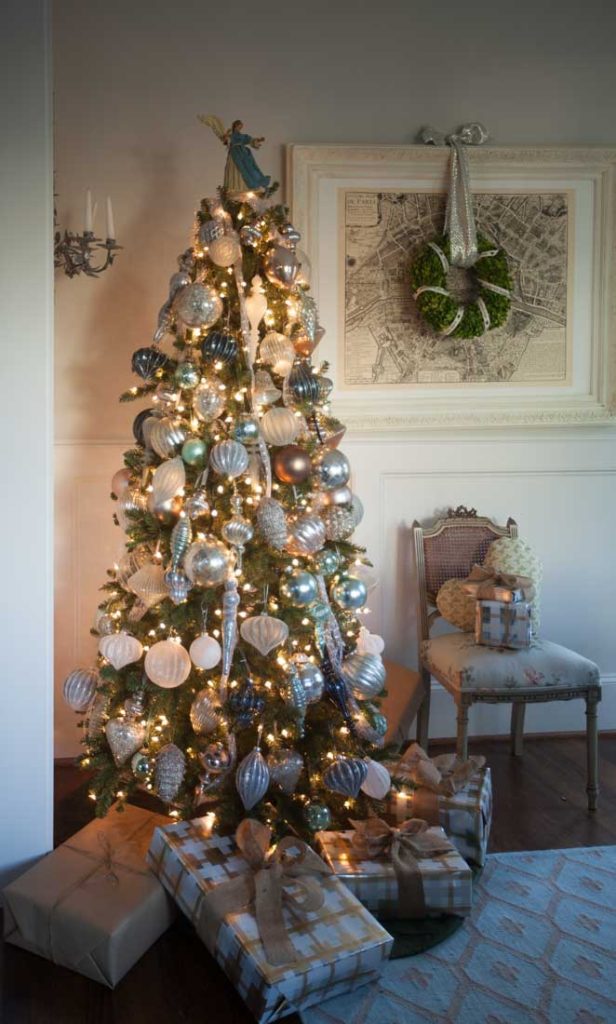 I opened the box and found very simple, easy to follow instructions and my tree in 3 pieces. I was seriously impressed that the box included 2 sets of gloves to use for assembling the tree, a wrench and a nice box of extra bulbs and fuses. Bravo Balsam Hill!!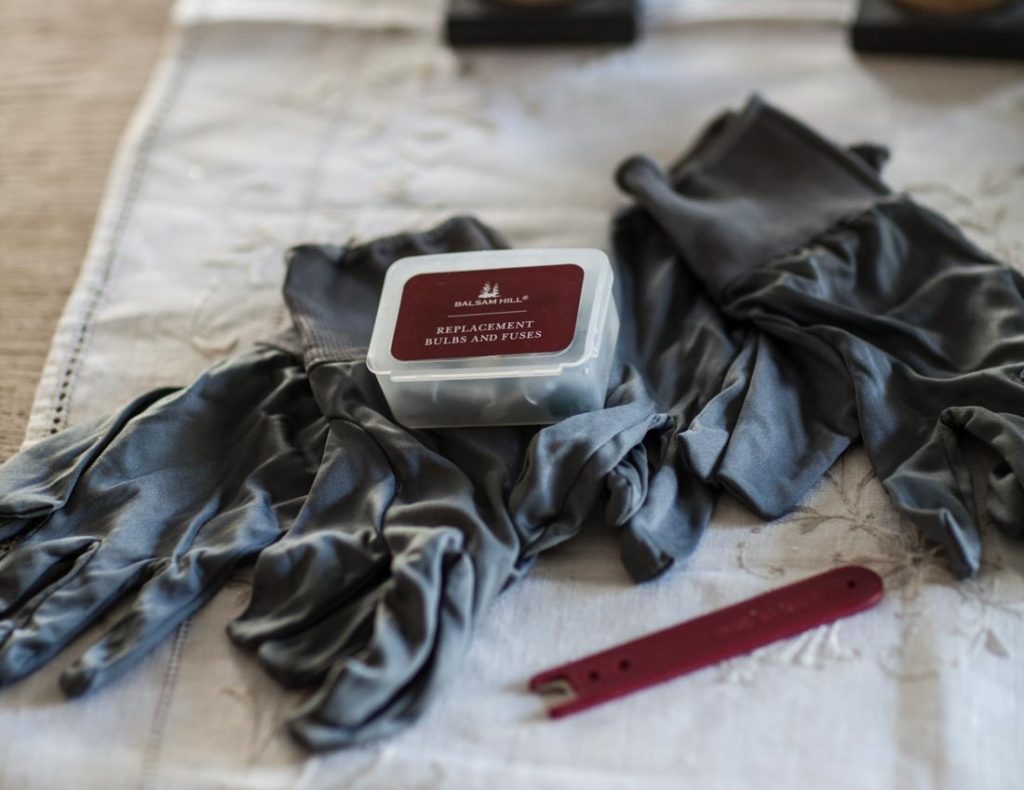 If you're putting your tree up, you might want to listen to our podcast today
21 DAYS TO A HAPPIER HOME.

First I put the base of the tree into the stand and removed the ribbon so that the branches relaxed into place.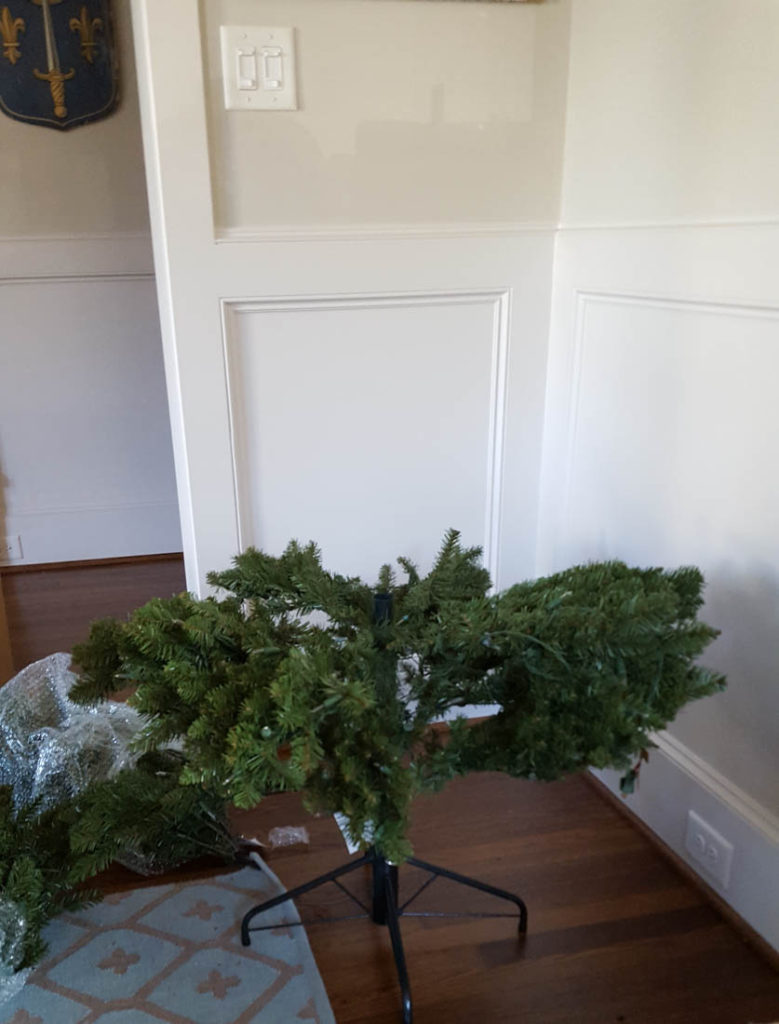 The tree branches fall into place as you remove the red ribbon. Then I inserted the middle section.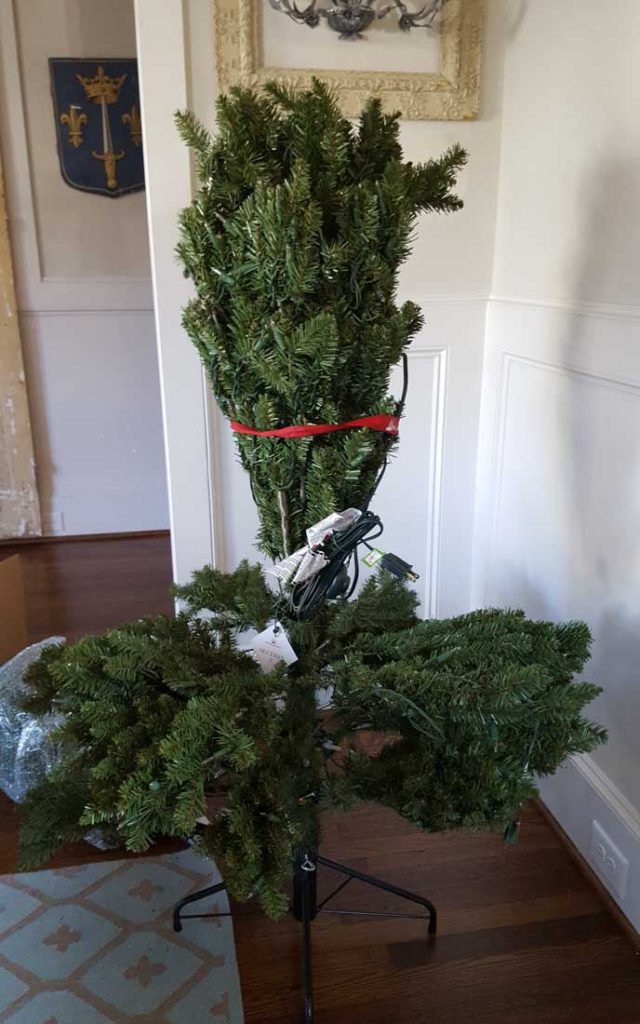 Lastly I inserted the top piece and plugged the lights together, then plugged it into the wall. Here is the tree 'pre-fluff'.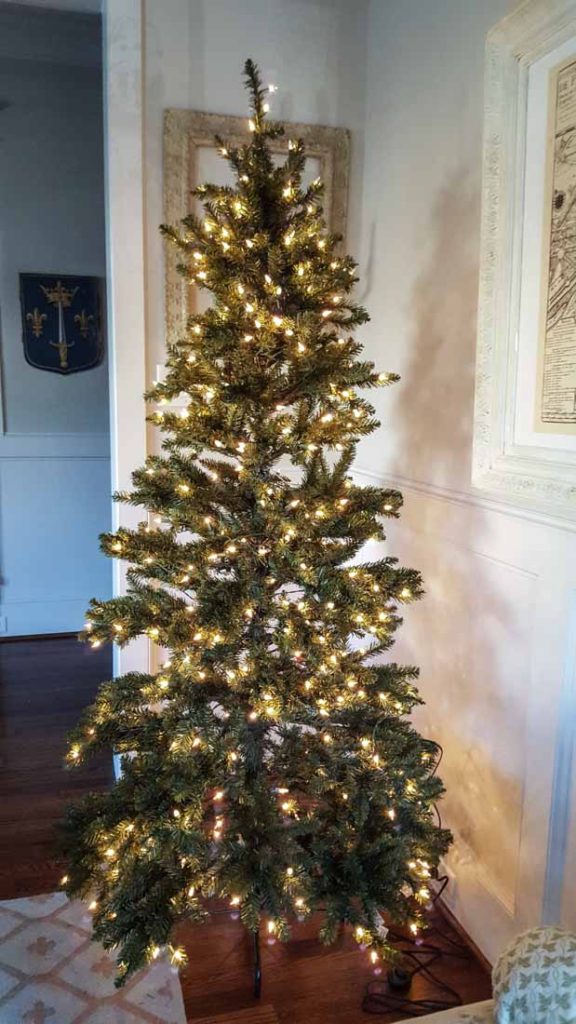 Here is the tree 'post-fluff'. I fluffed it some more after I took this photo. I added the ribbon first. This is the silver stretch net ribbon. Links to all of the products are at the bottom of the post.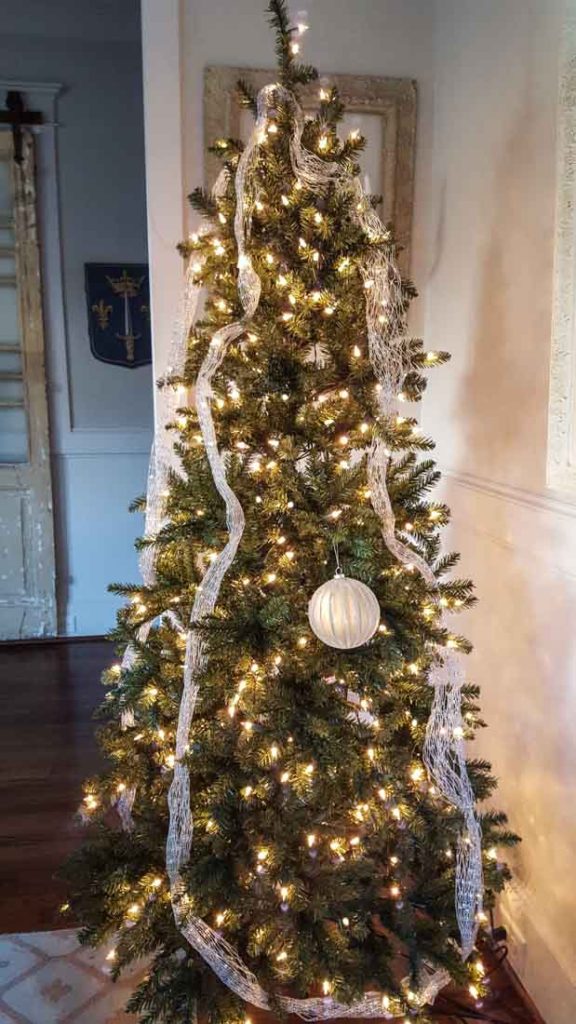 I started with the largest ornaments first. The tree itself is not French, but with this assortment of ornaments, I believe we achieved a French Christmas tree look.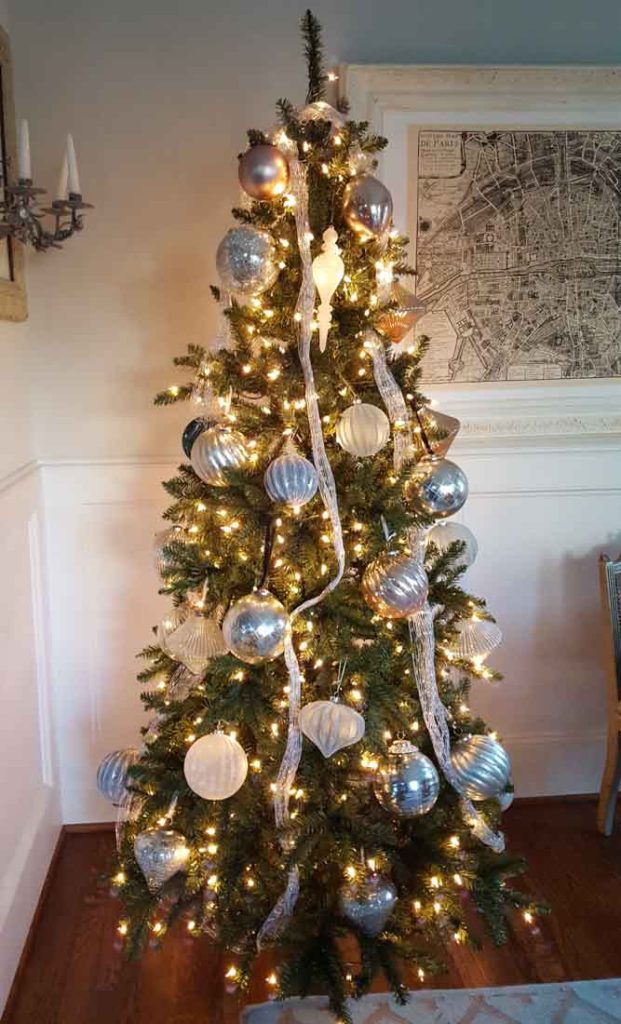 I love these over-sized ornaments! They are spectacular in person.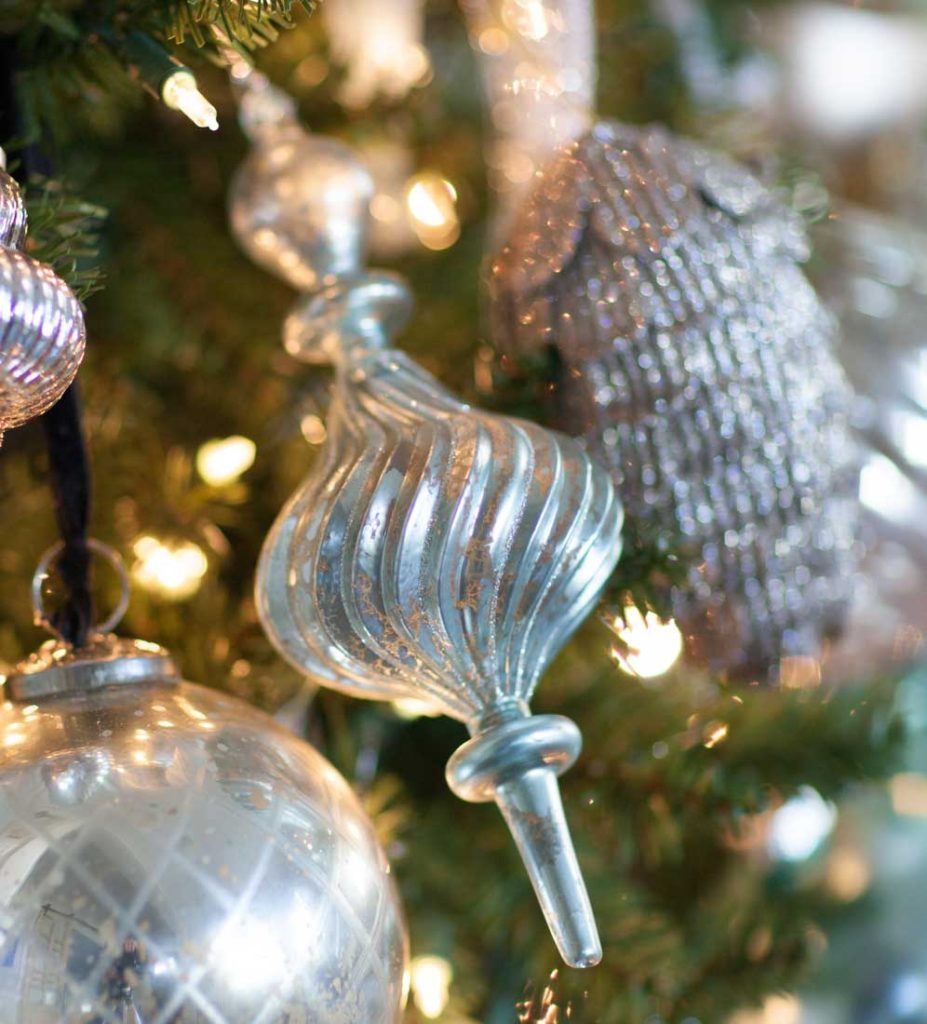 Many of them have a mercury glass look.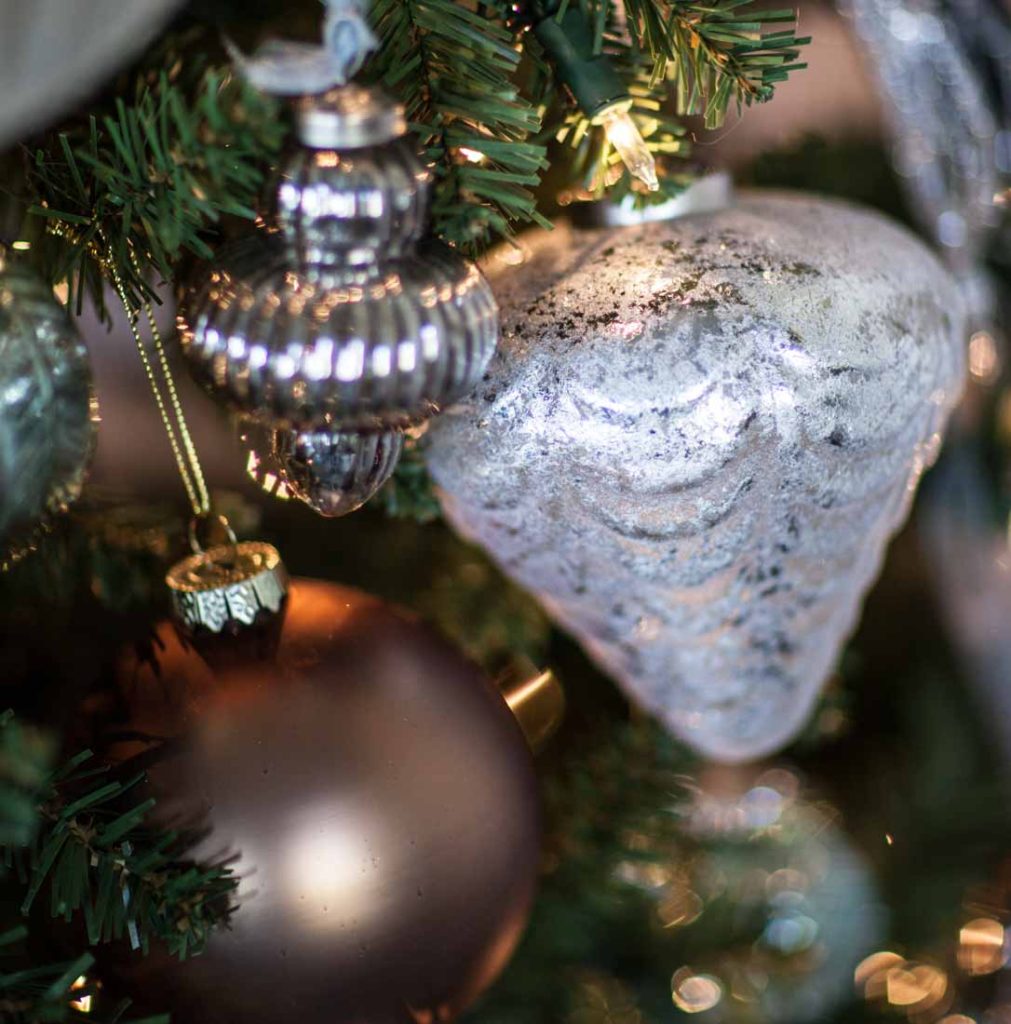 The crazed finish is my favorite.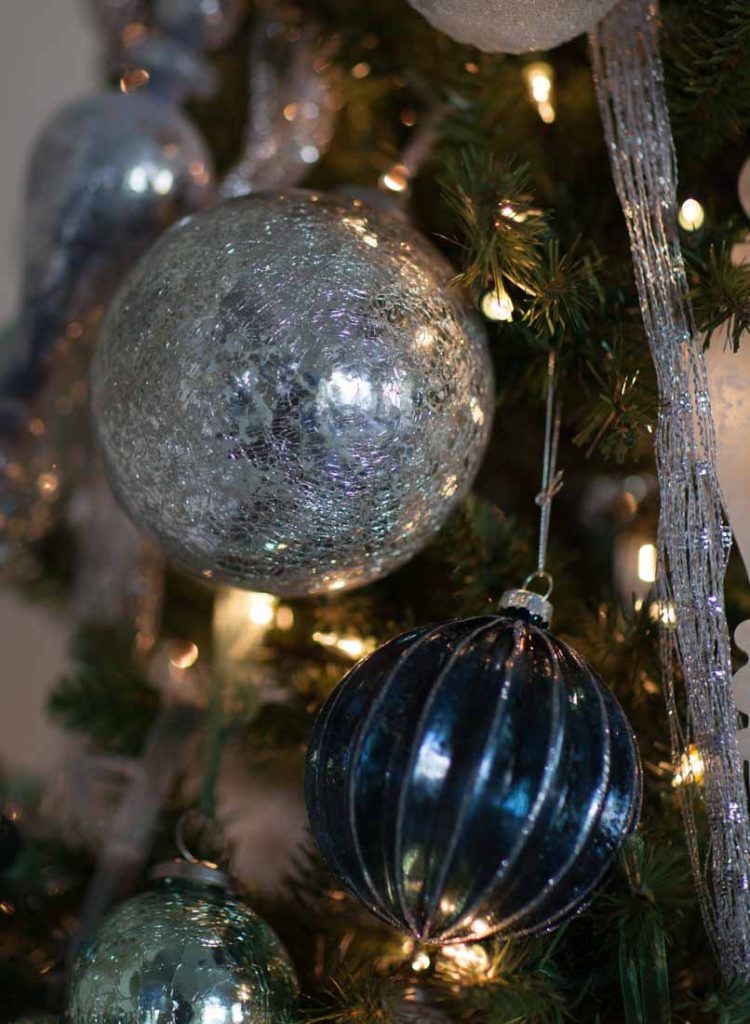 I thought it was so beautiful when I finished.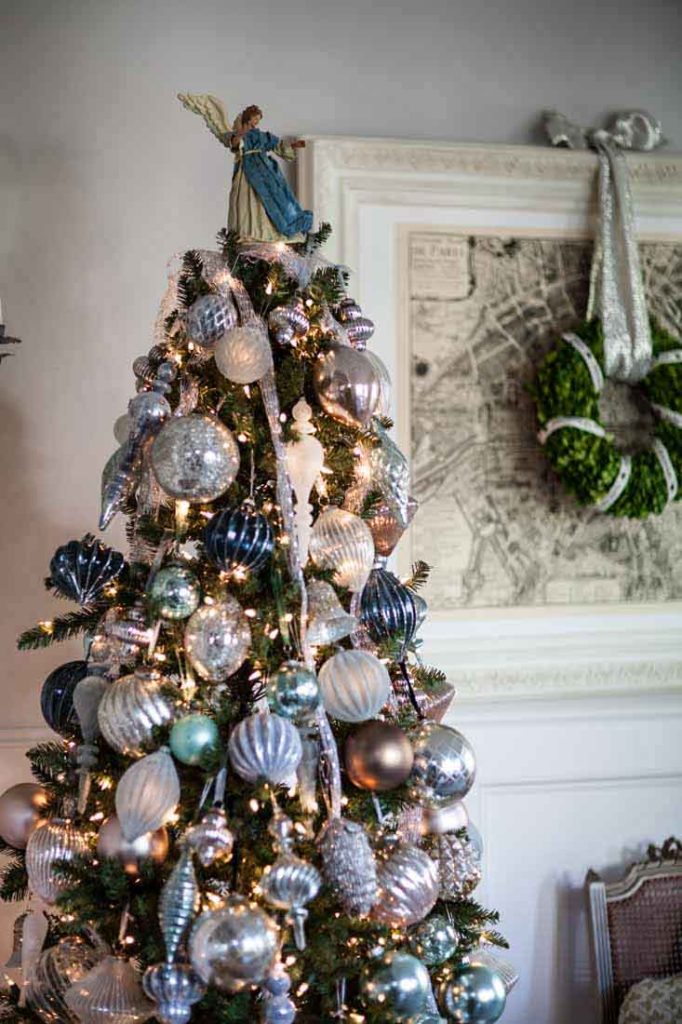 Balsam Hill also sent several types of ribbon. I used Balsam Hill silver basketweave ribbon to hang my boxwood wreath in front of my Paris map.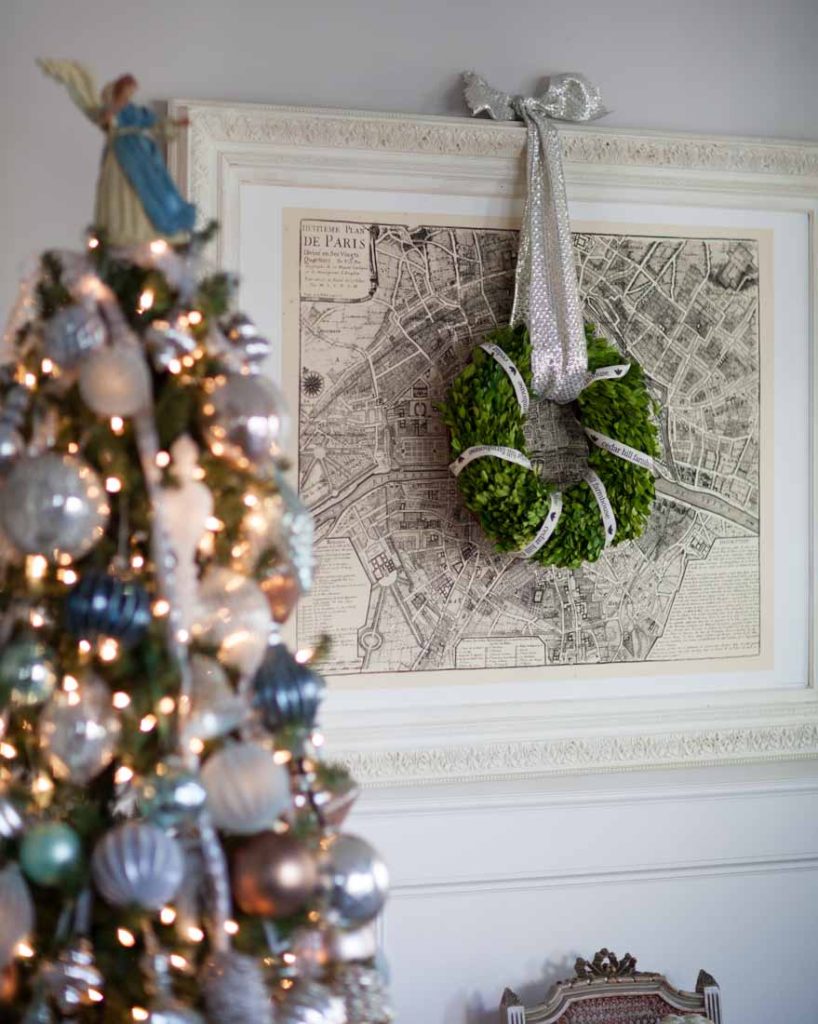 The ribbon is 4 inches wide, so it's perfectly sized to use most any where. Here I used the same basketweave ribbon on my staircase.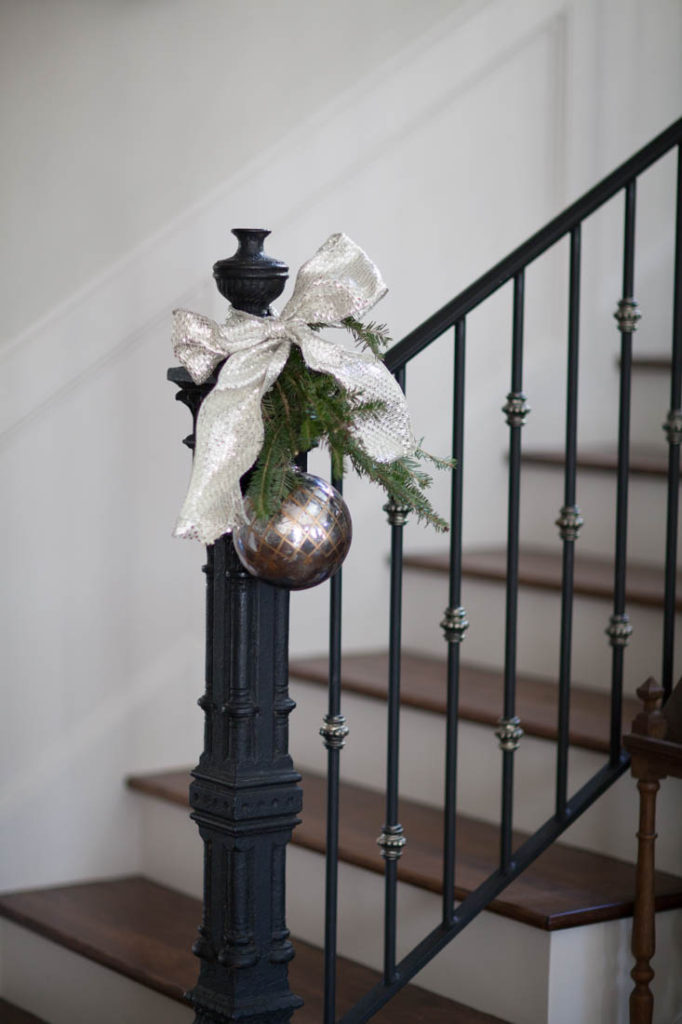 This ribbon is absolutely my favorite, hands down. It's a very ornate 4 inch wide pearl ribbon.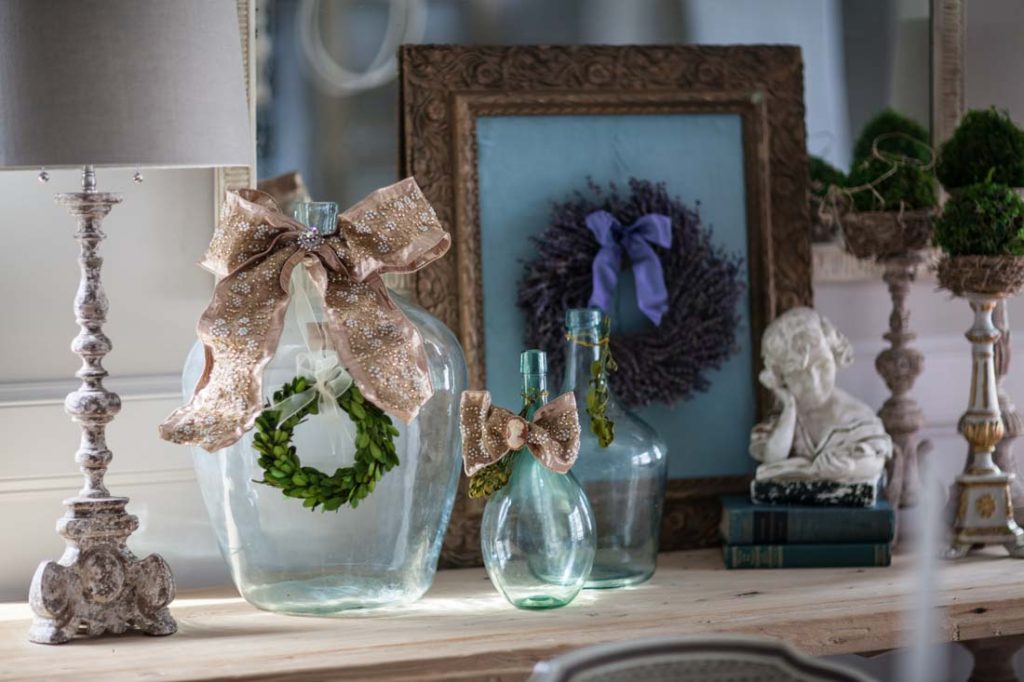 It's a rose gold color that's so beautiful.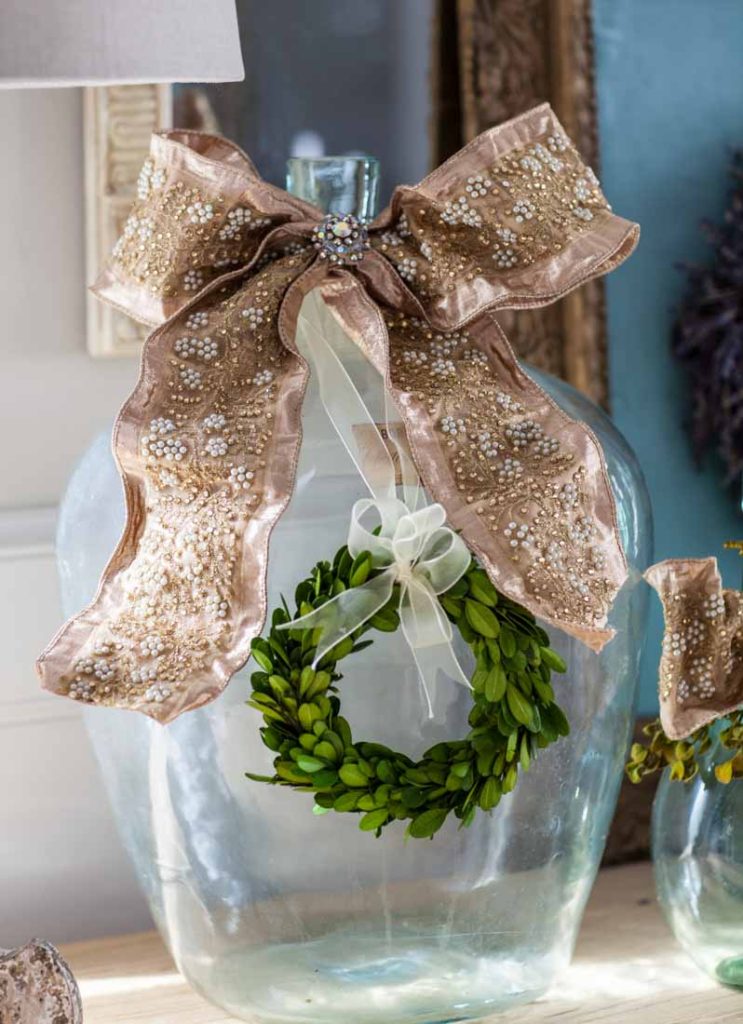 I used a small piece on this bottle with an inherited cameo from Italy.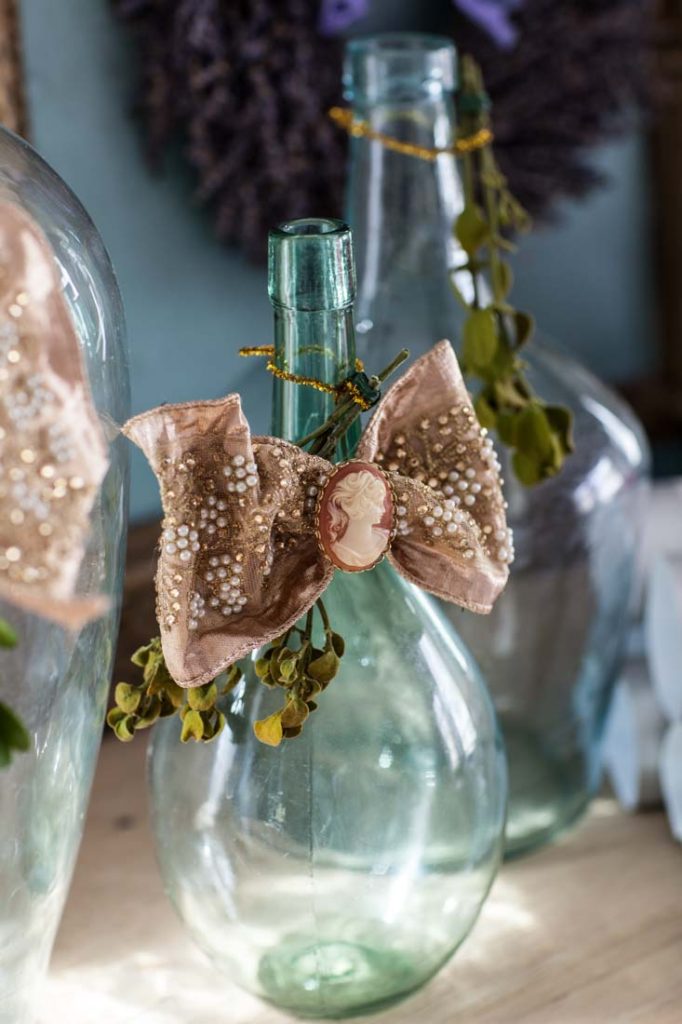 I used an inherited rhinestone brooch on the other ribbon.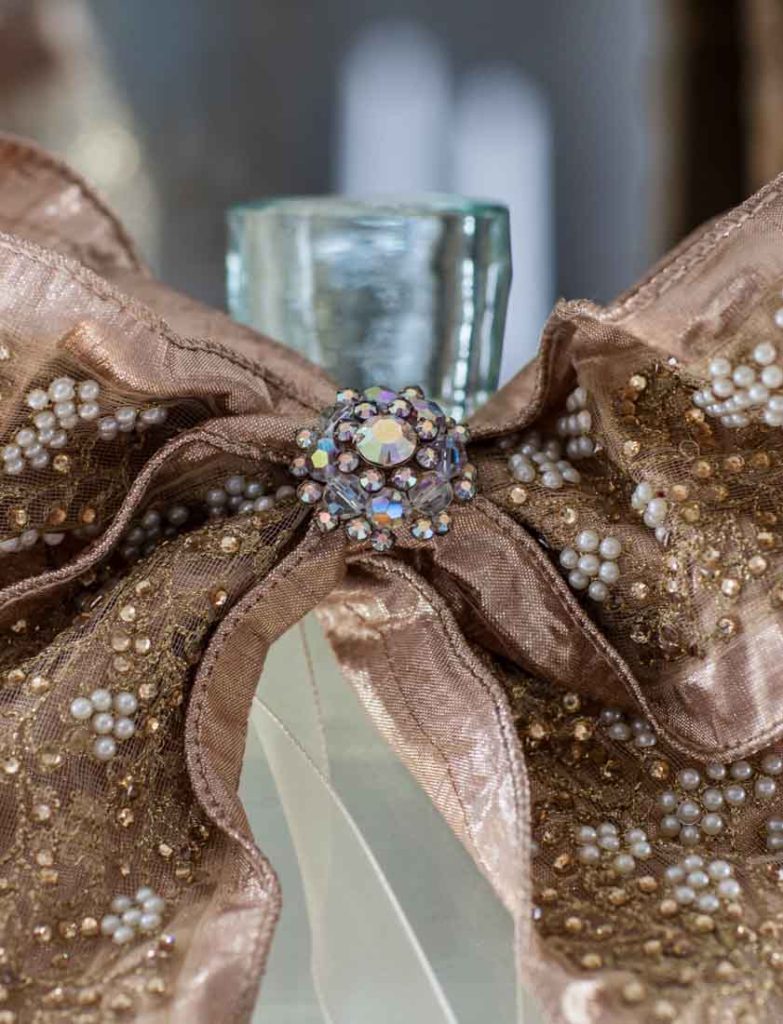 I used the same ribbon on my fur pillows in the dining room.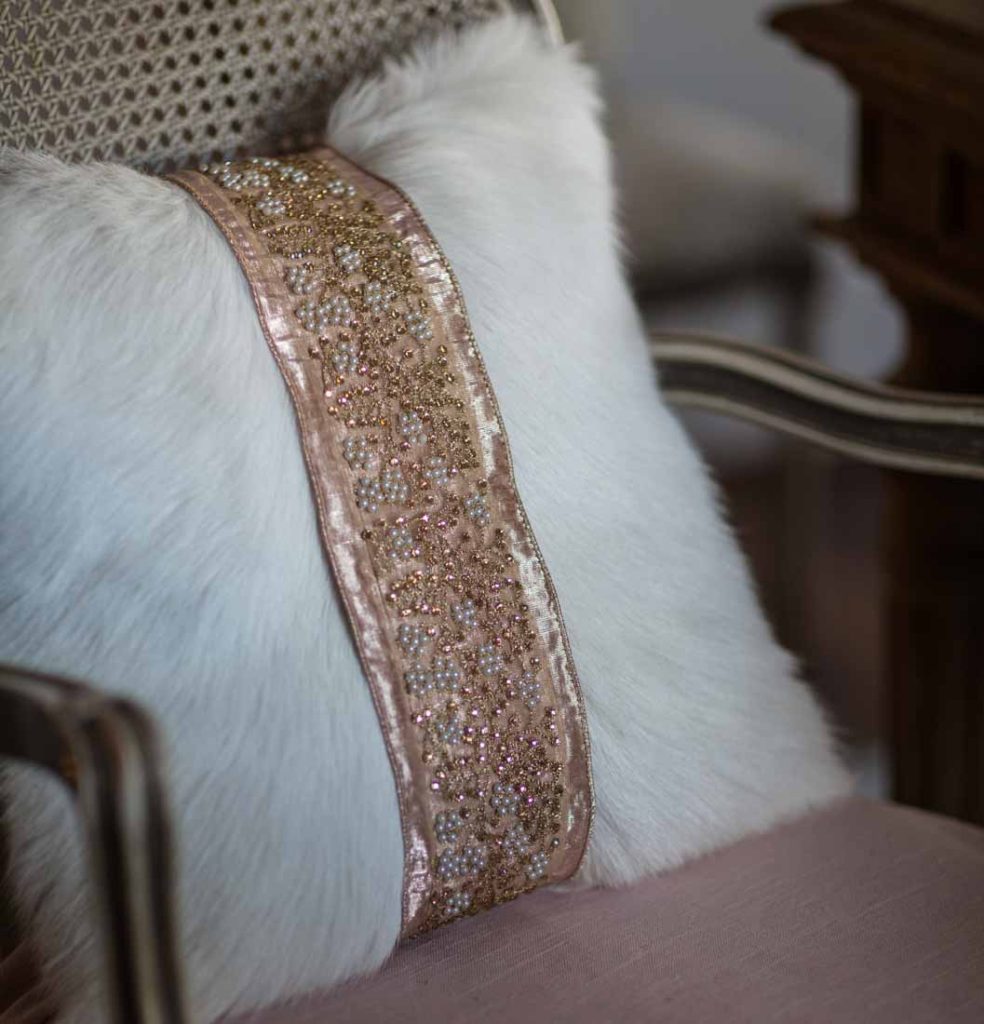 It's hard to tell from the photos, but the ribbon works beautifully with my pink linen chair slipcovers. I used a simple silver and tan plaid wrapping paper to go with my French Christmas tree.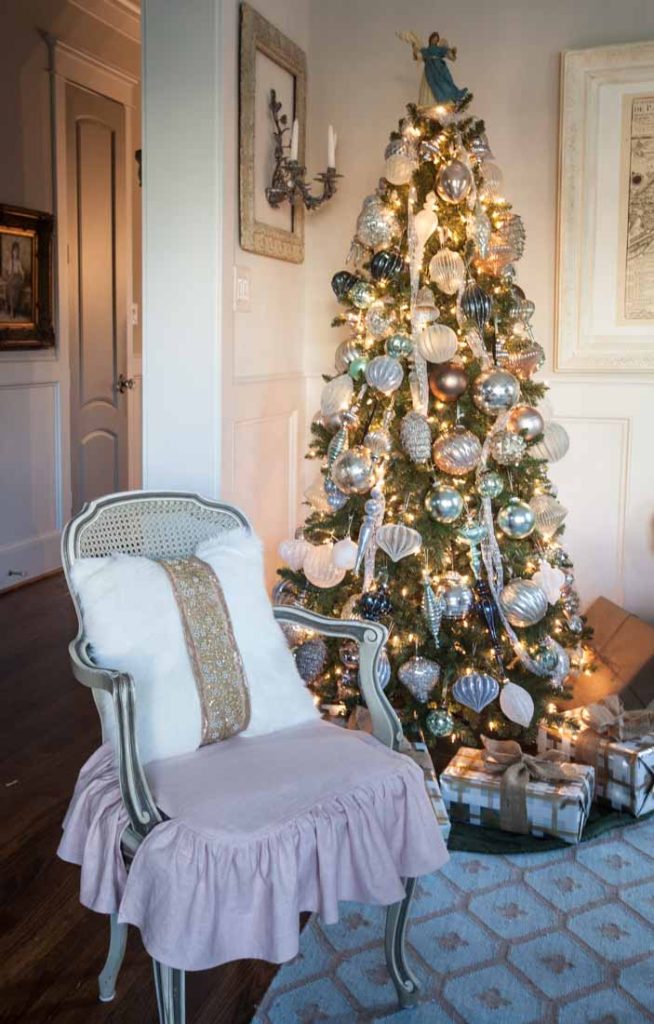 I used the platinum pleated lame ribbon as a 'wrap' for the chairs. Once again, I turned to a vintage rhinestone brooch to hold it in place.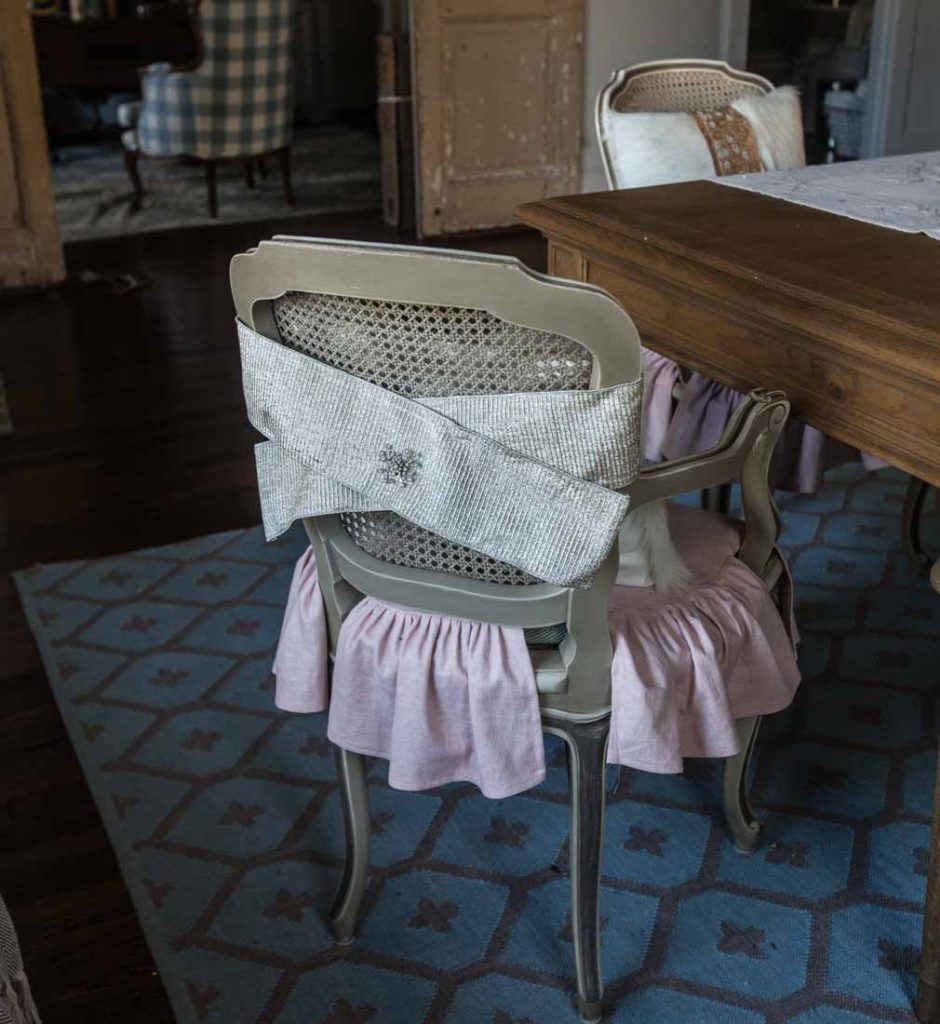 Thank you Balsam Hill for the gorgeous Christmas decor this year!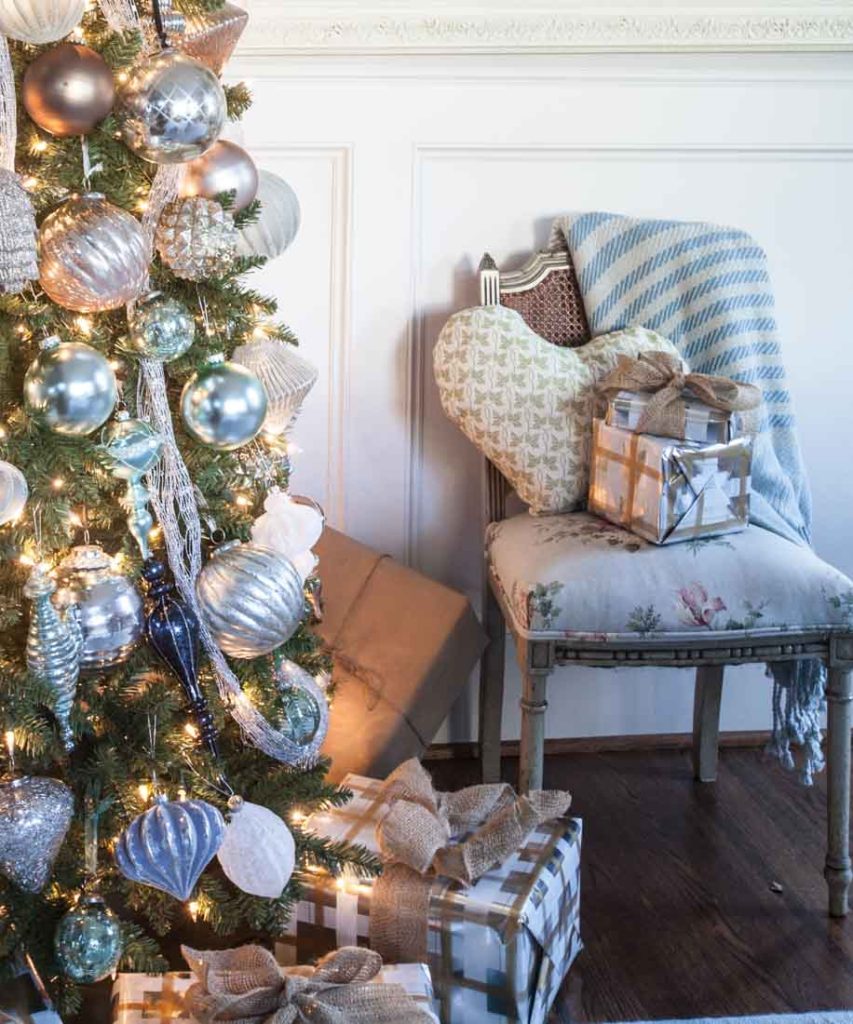 For a list of products I used, see this list. Click on item below and it will take you to the product page.
Berkshire Mountain Fir Tree | 6.5′ High | Narrow 42″ Wide | Clear Lights
Winter Frost Glass ornament set, 35 pieces
Jumbo French Country ornament set, 12 pieces
Midnight Frost ornament set, 35 pieces
4″x5 yards Rose Beaded Dupioni ribbon
4″x10 yards Platinum Pleated Lame ribbon