The fabric used for this project was provided by Hoffman Fabrics and Karianne from Thistlewood Farms . Hoffman Fabrics sent me some of the fabrics and I have several projects to share with you. This is the first one. For my full disclosure policy, CLICK HERE.
I never use patterns for my sewing projects and I usually make the whole thing up as I go along. Okay I admitted it, and I feel better. I just figure it out as I am making it.
My pillow for this project is a 18″x18″. I decided to make an envelope (super easy) pillow cover so I cut one piece of fabric that was 18 inches by 46 inches. That way the fabric overlaps on the back and you don't have to add a zipper or button. The pillowcase is removable for cleaning.
After I cut the fabric, I finished the edges on the short ends. Basically, I folded the end over 1/2 inch, pressed it, then folded it 1/2 inch again, and pressed it again. I finished it with a straight stitch. I repeated that process on the opposite end. Actually the selvage edge shown on the right (below) was not going to fray so I just folded it once. The other side I folded over twice.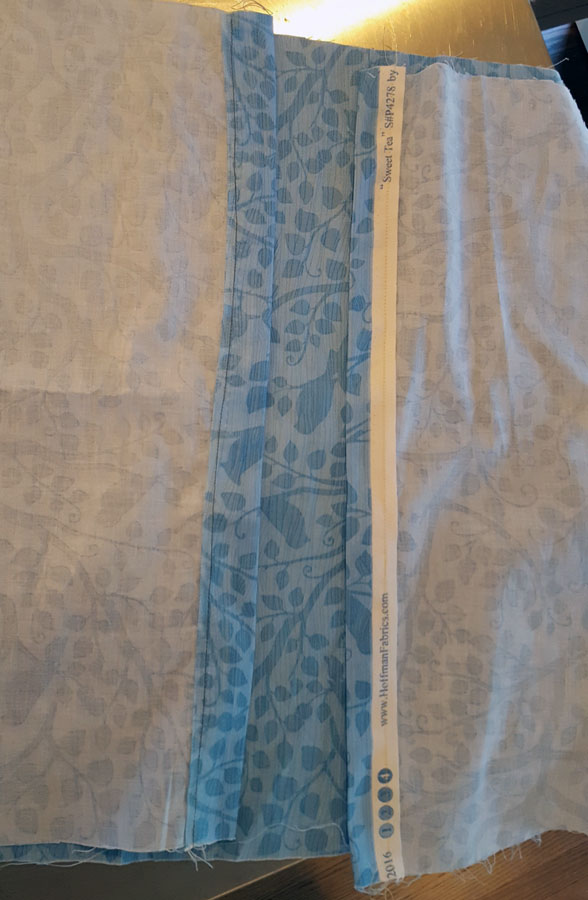 Now I placed the fabric right side up. Then folded over the long sides. I folded the fabric so that the width of the pillowcase would be 17 inches.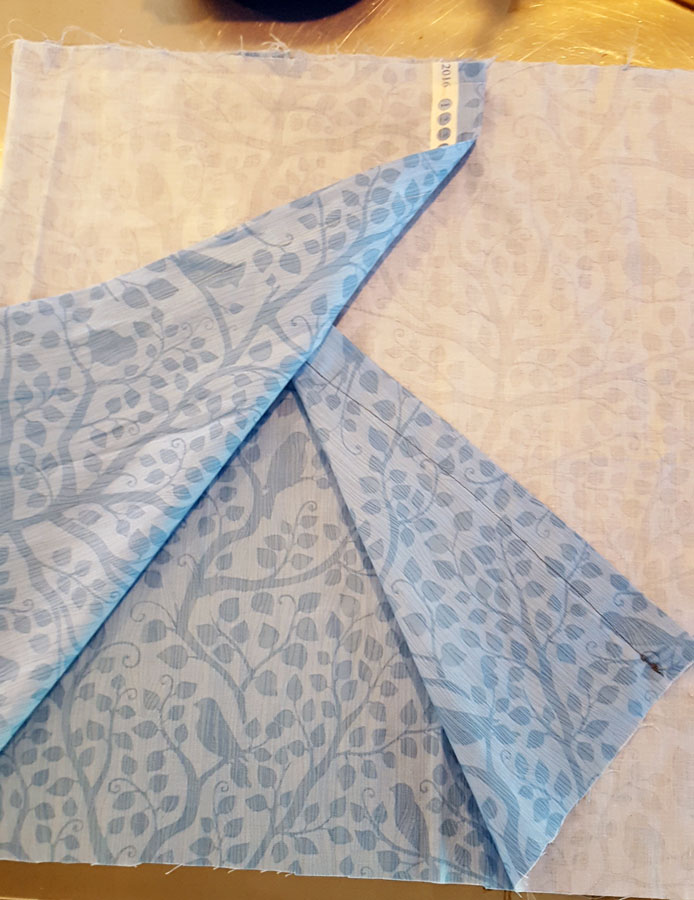 I sewed a seam at the top and bottom 1/2 inch wide. The standard is 5/8″ but I always use 1/2″. That's just me.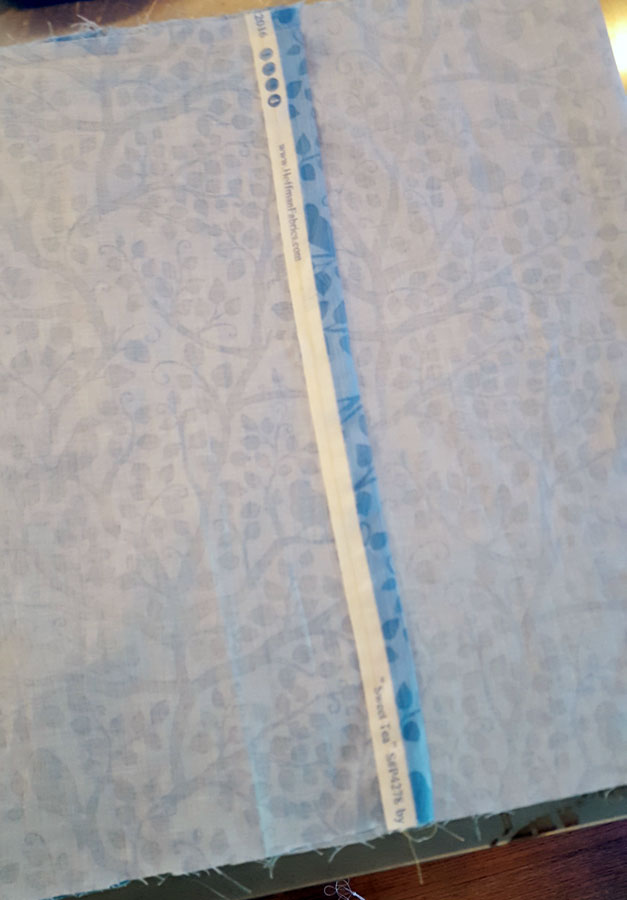 After sewing, I trimmed the threads, and turned it right side out.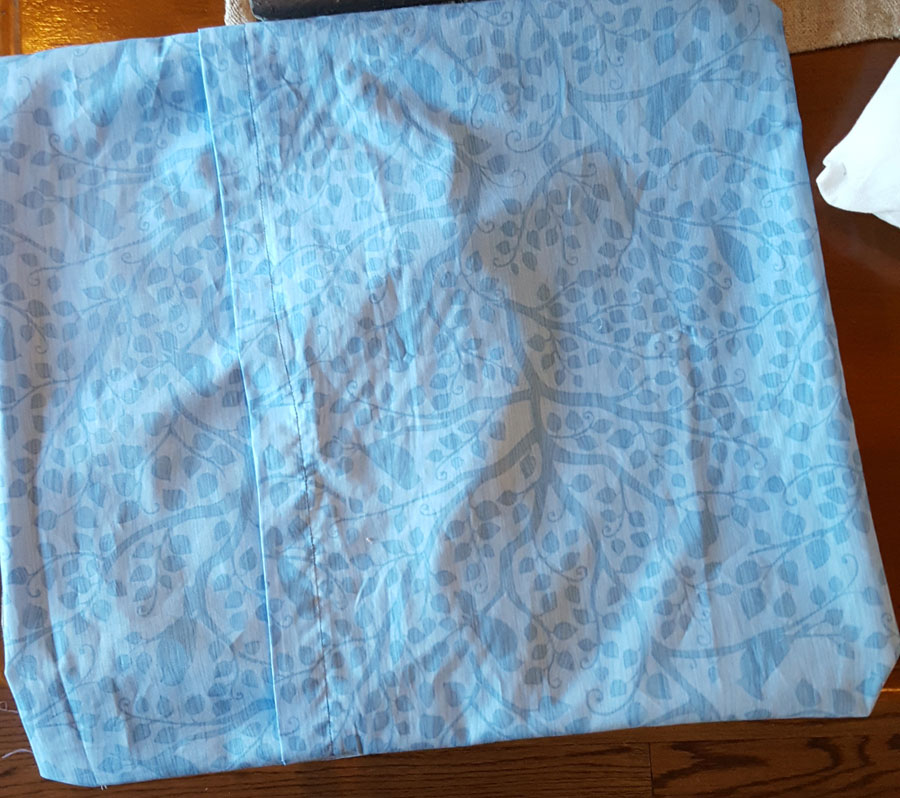 For the vintage pillow part, I had this old pillowcase I wanted to use. It had apparently come apart, and so someone before me had cut it. I trimmed it some more so it was the right size for my project.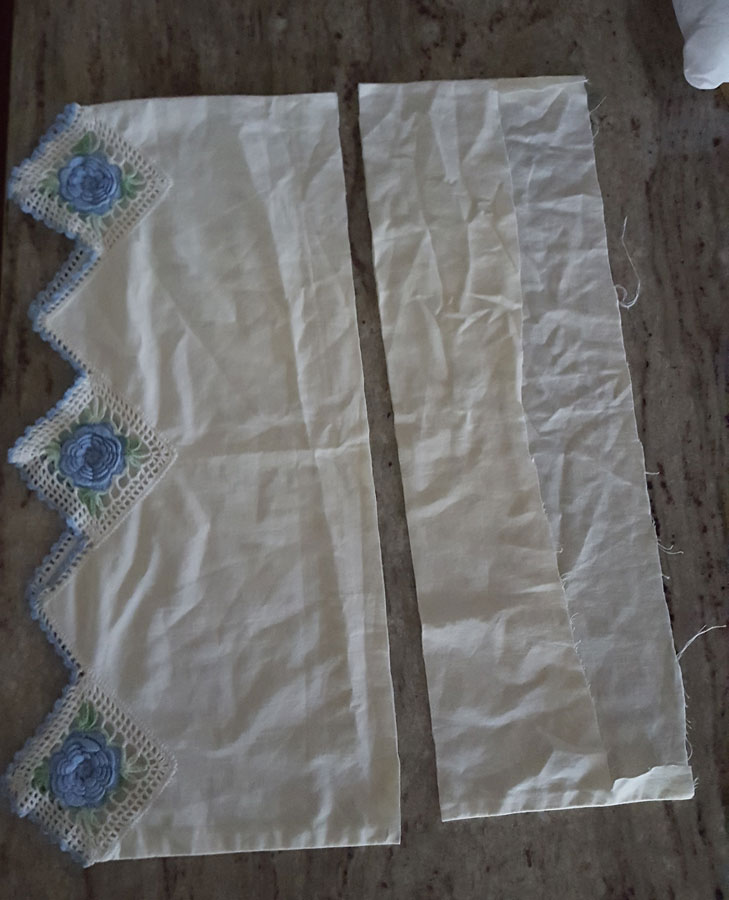 Then I sewed the opening closed making a small pillow case.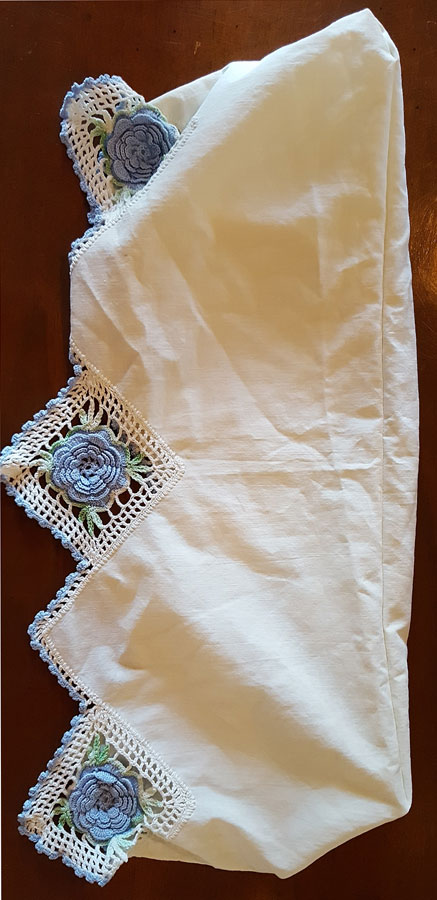 I put it on m pillow inside out. It was too loose. I pinched the edges and pinned those. After I took it off, I sewed where the pins were. See what I mean? I just make adjustments as I sew.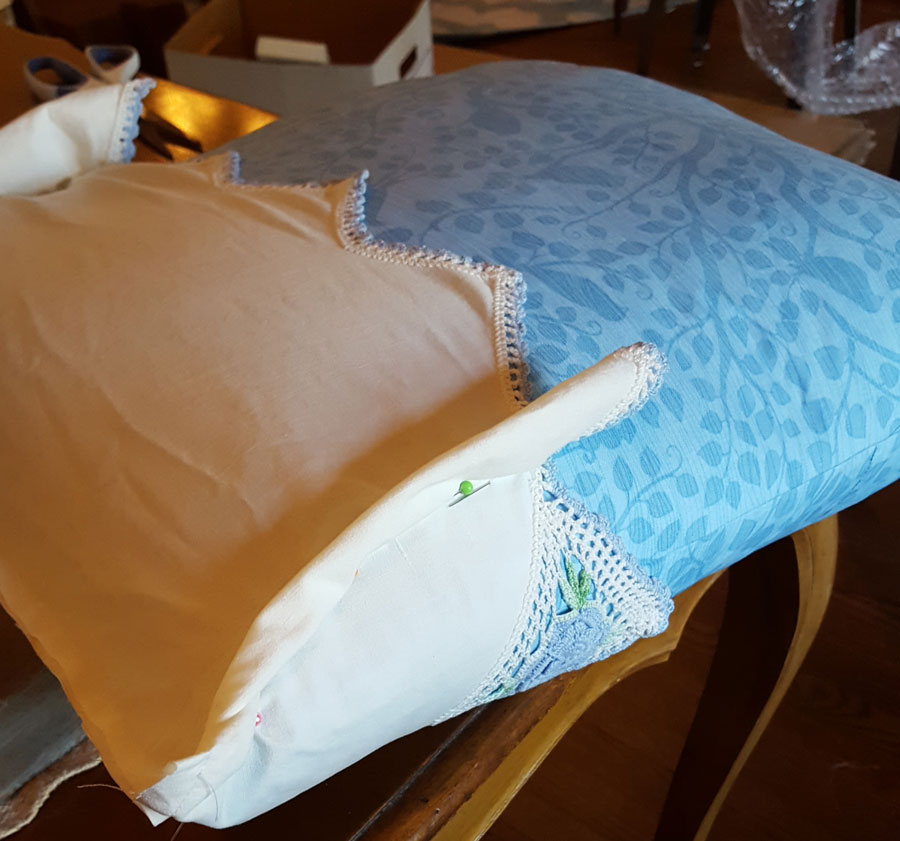 Now it fits snugly. Here is the pillow without the vintage piece.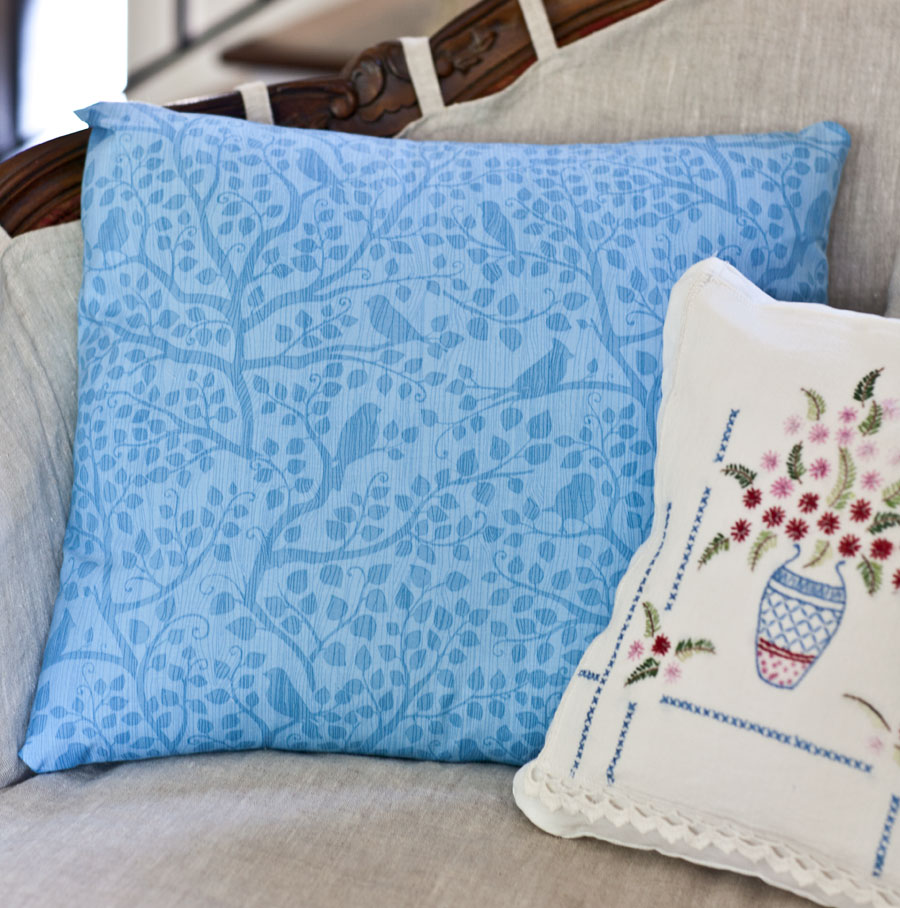 And here it is with the vintage crocheted piece on top.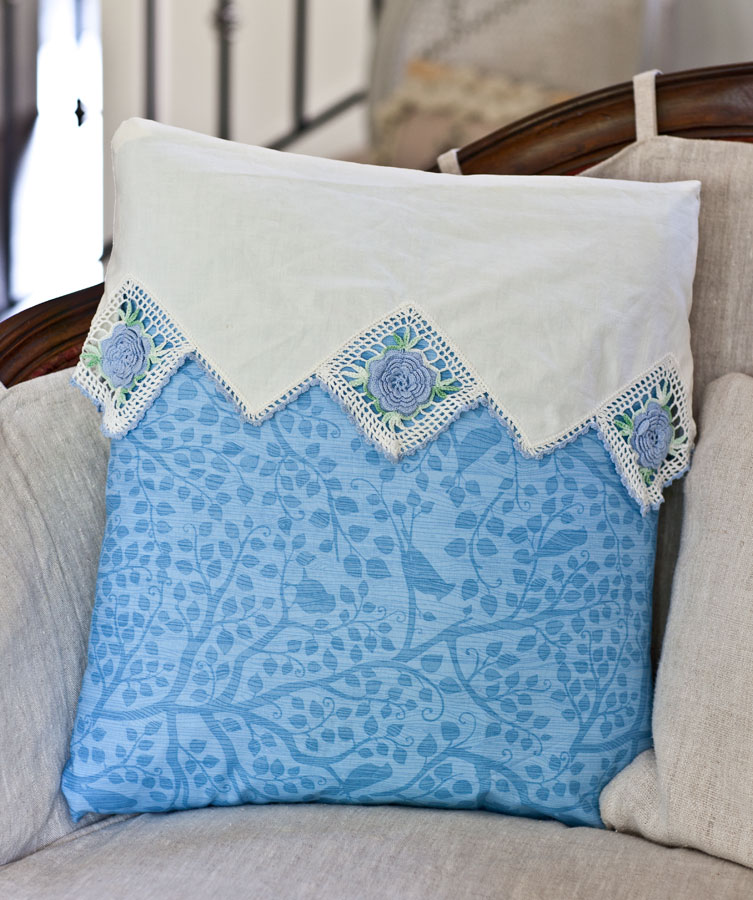 The colors on the pillow are so happy and cheery.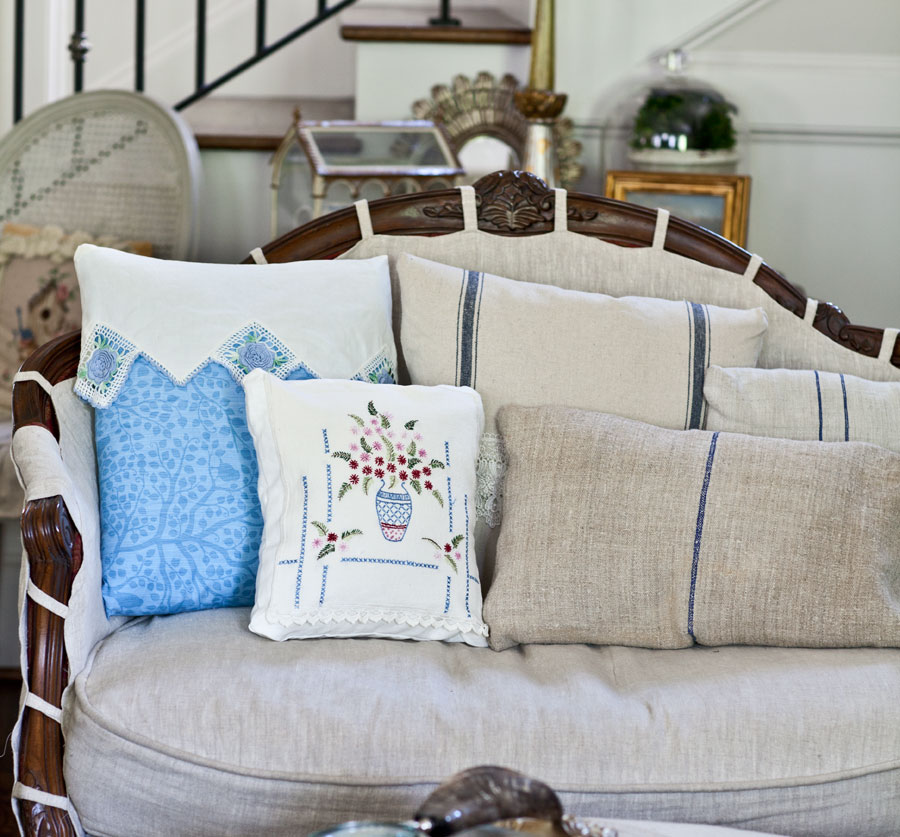 I have some fabric left over, so I will have to figure out what else I am going to make.  I'll be showing you how I made that little pillow and I have a lined tote bag project coming soon.
To purchase the fabric, CLICK HERE.
Remember every time you leave a comment you are entered to win my giveaway. For the fine print, click here.