I love bunnies very, very much. And I think they are fun to have for Easter decor.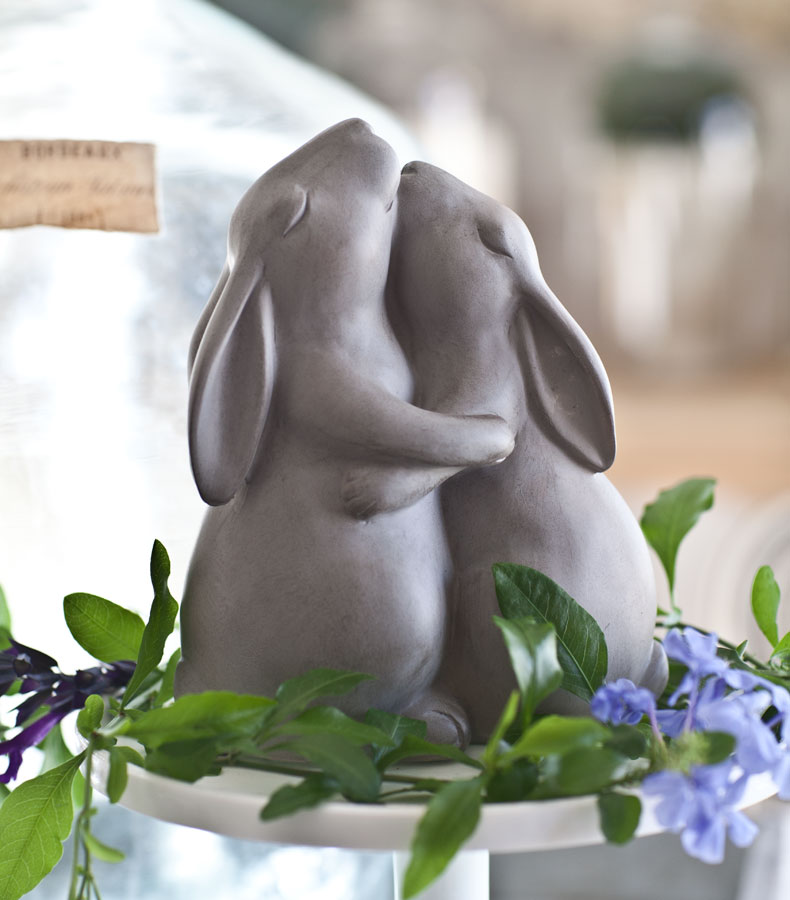 But this Easter, I decided to go with a theme on it being Resurrection Sunday.
So, I grabbed several things for my table, some on purpose and some without thinking too much about what I had assembled. So let's go through what I have.
A lamb I bought from my dear friend Cindy at Edith and Evelyn. Of course the lamb represents Christ sent to be the Passover lamb.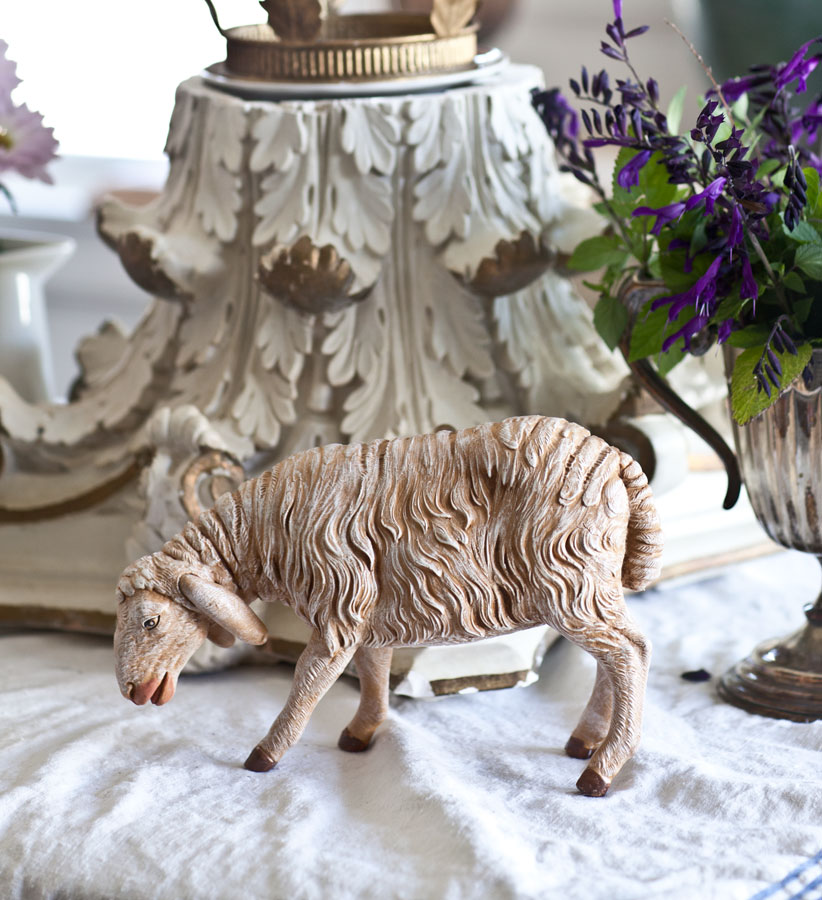 Then I added a crown. The crown represent the divinity of Christ and also there is mention of believers being given crowns.
Then I grabbed some Salvia from my yard and placed it in a trophy, not really thinking of the significance. Again there is more imaginery of fighting the good fight and hanging on for the prize at the end. I think that trophy represents that prize at the end of life. I looked up 'Salvia' to see if it had any spiritual significance.
I know plants have a meaning even into the Victorian time period. I looked up the significance of the plant. Blue Salvia means 'I think of you' and the red Salvia means 'Forever mine'. Well although not explicitly religious, I think it still fits with our Easter/ Resurrection Sunday theme. I love the 'forever mine' part which can allude to eternity. Yes this Salvia is actually purple, but I couldn't find a meaning for purple Salvia.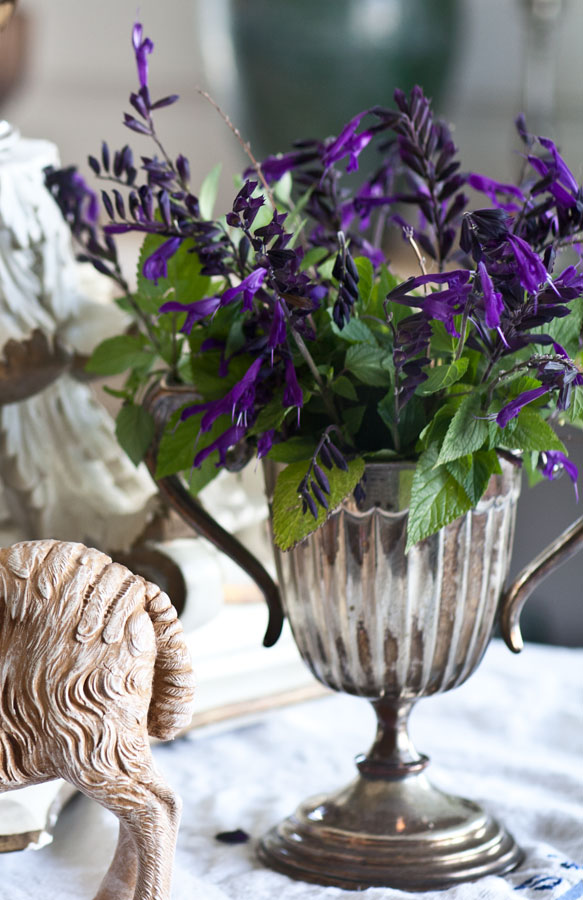 I also found the Latin meaning for the word 'Salvia' and it means 'wise'. Of course purple has always been associated with royalty.
I also had some daisies in some ironstone pitchers. Daisies represent purity, innocence, loyal love, beauty and patience. Wow I love the connection here to Easter. Dying on a cross was an act of loyal love, it was done with purity and innocence, beauty (the lamb had to be spotless) and patience of what was to come of it, the saving of so many.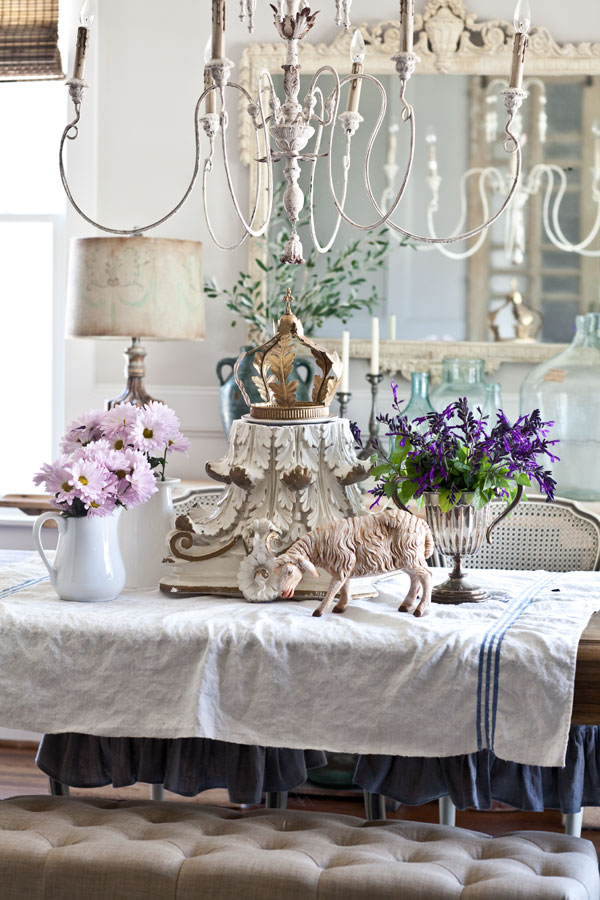 You can see the olive branches in the background. Olives of course were very important in Jesus time because they used olive oil for cooking and as fuel for lamps.
All of this sits on an antique linen tablecloth. Of course Jesus was wrapped in linen after his death.
There is a blue stripe on the tablecloth, and blue is the color of the tribe of Judah, which is the line that Jesus descended from.
This is the monogram on the tablecloth. I believe it is an "S J". I'm not sure what to make of the significance of that letters, but I thought I would share that. According to the Urban Dictionary, SJ is "Abbreviation for Society of Jesus, a religious order founded by Ignatius of Loyola. Members are called Jesuits."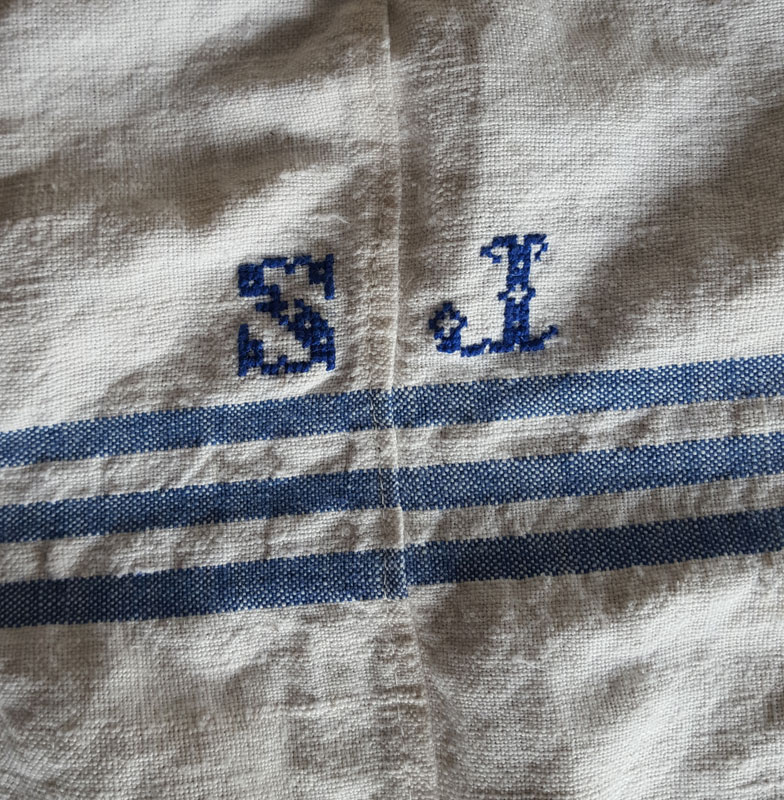 I think it's very interesting how it all came together. The only thing I really added to make it "Easter" was the lamb and the crown, and yet so much of what is going on in here, fits with our Easter theme.
And this represents my life. I do simple, small things, having no clue what I am doing, while God pulls it all together and makes something beautiful out of it.
I hope you have a very blessed Easter Sunday next weekend.
Are you going to Round Top? I hope to see you there, March 26th at The Compound.