Today, I'm talking about how I prefer to display artwork, but first I wanted to share a bit about this particular piece of art.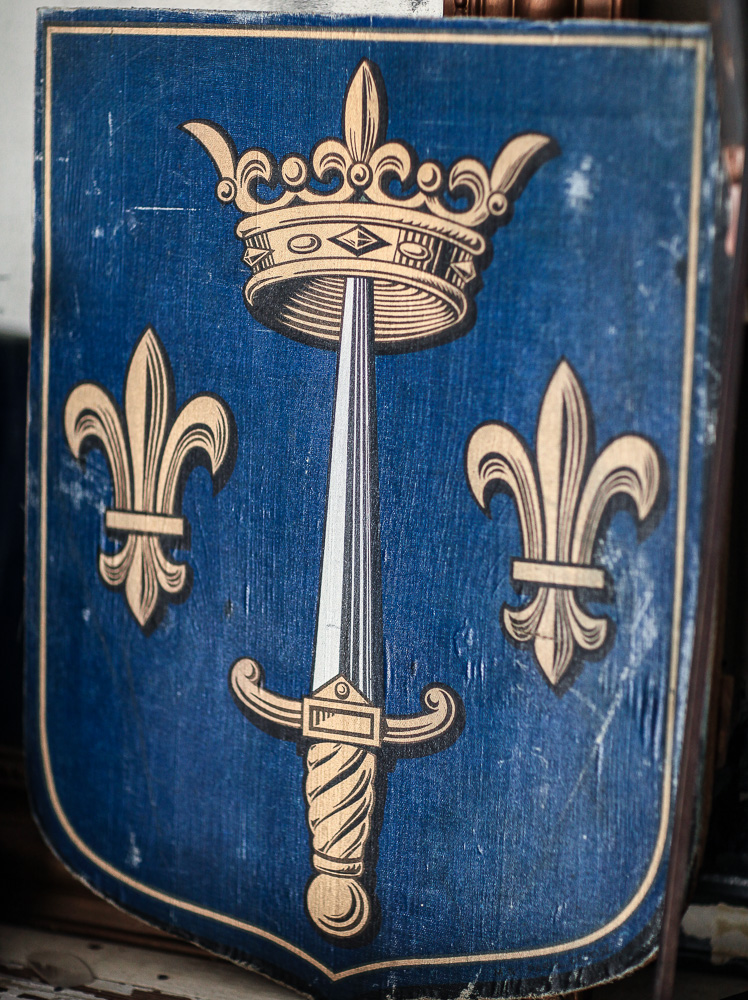 It's a very old French shield made from wood and fabric. You can see the fabric if you look closely.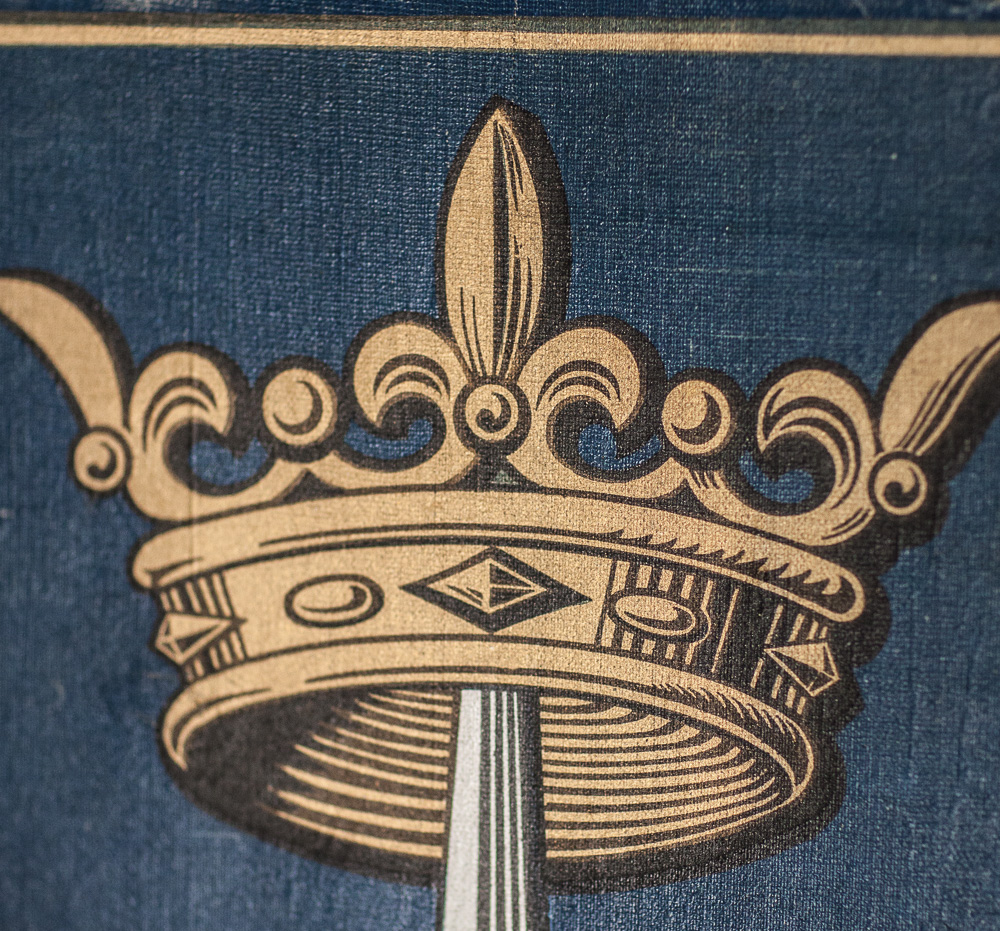 It's really pretty and I've added it to my upstairs hallway. In fact this post is sponsored by ANTIQUE FLEA FINDS, which is where I found this gorgeous piece. I know I say this over and over, but it's because it's so important. Decorating isn't about finding the cheapest stuff you can. It's about finding things that speak to you. Sometimes those things are expensive and sometimes they aren't. If that means fewer things, then I still think it's worth it to buy what you love. I found this shield and fell it love with it. It's not something you can find just anywhere. I love unique pieces, and feel they add so much to a room.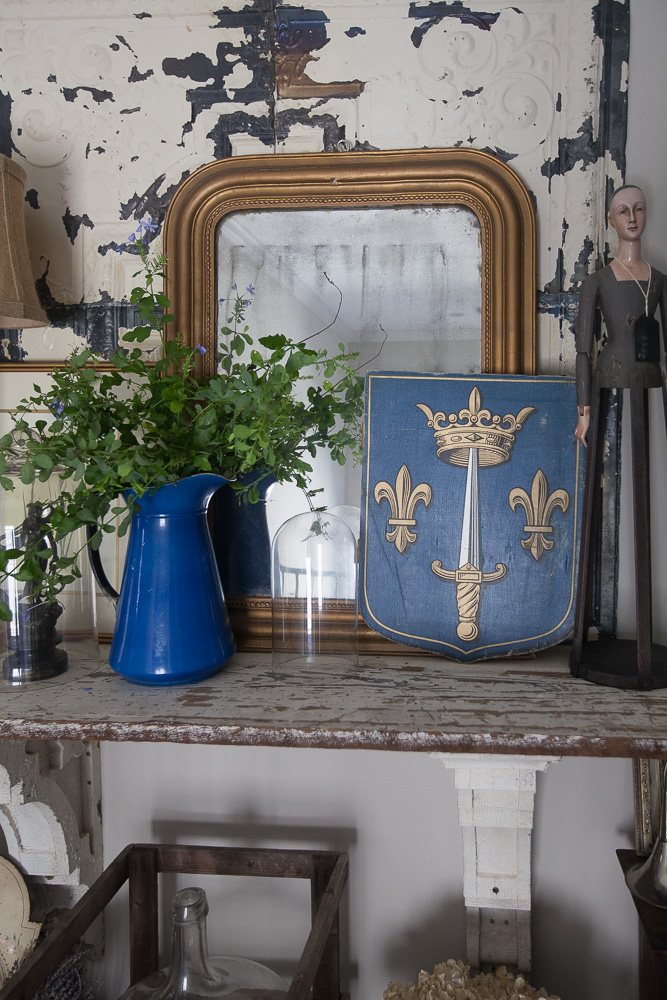 I think it works so perfectly with my antique Louis Philippe mirror, santos and all of these delicious antiques. This wall if really fun to me and I smile every time I walk past it, because I find these things so lovely to me. The lamp is from Italy. Jill, the owner of Antique Flea Finds, has so many amazing antiques in her shop and I think you are going to really enjoy seeing what she has.
I found so many things I loved like this trinket tray.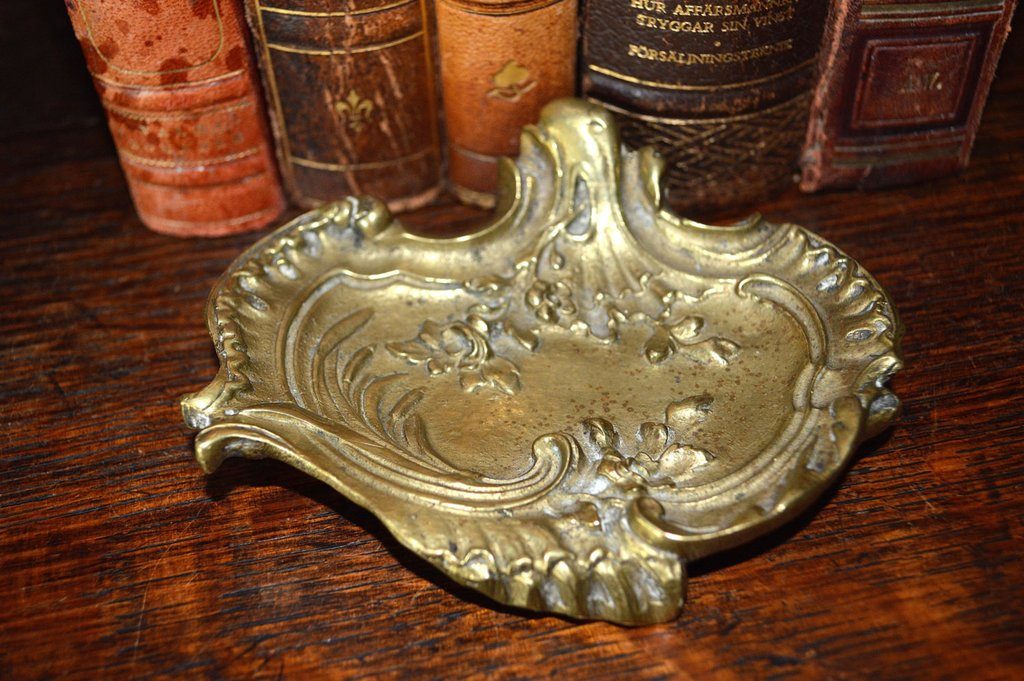 And I love old opera glasses.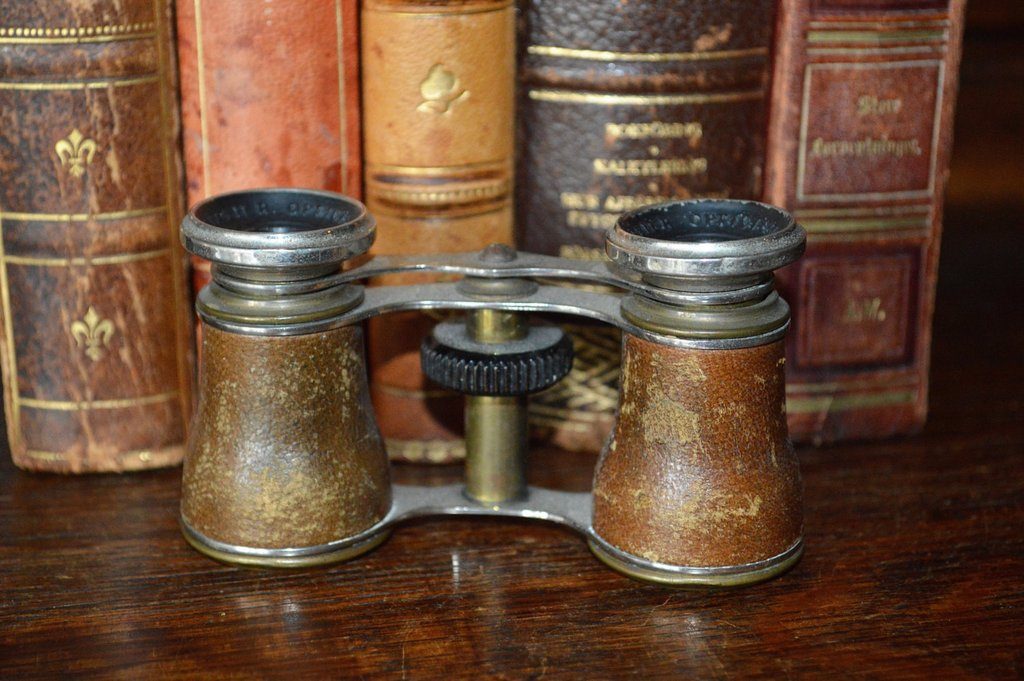 How about a vintage angel head? These can be VERY PRICEY, and this one is $60 which is a great price, since it's the real thing.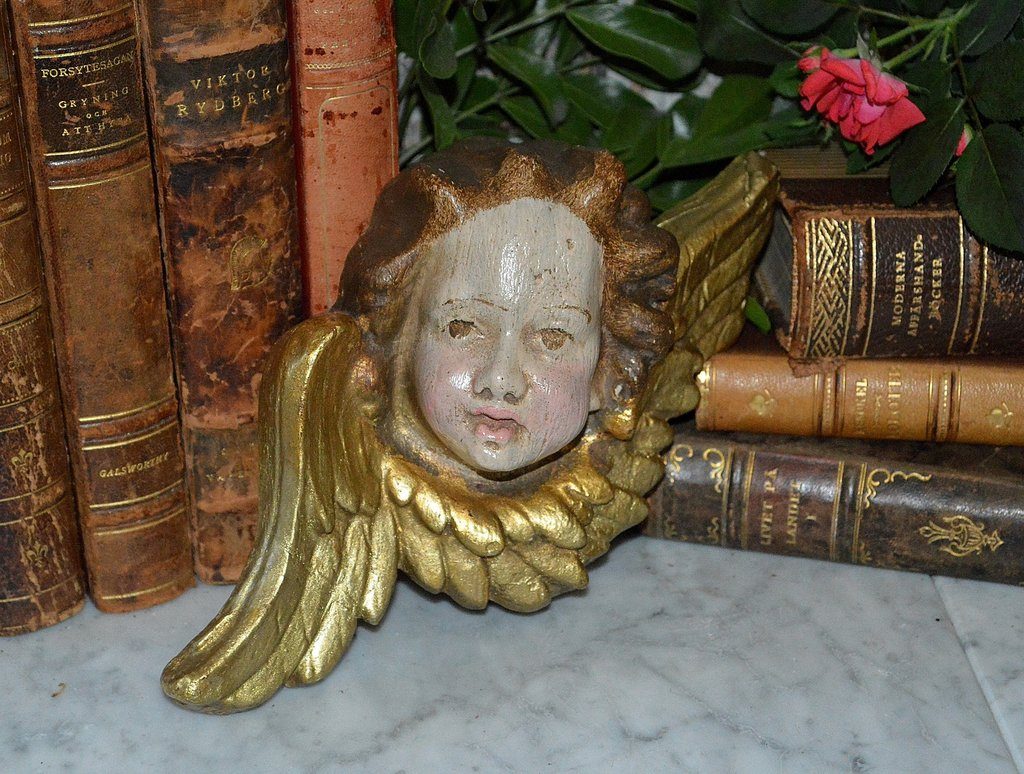 Back to my shelf, let's talk more about arranging artwork. Have you guessed my favorite technique to display art? It's to use a shelf. This way you are not constantly putting new holes in the wall. When I change out artwork I often have to move the nails, which means more nail holes. It's a big hassle when I need to use molly bolts.
But if you use a shelf, you don't have to change the height of your shelf if you change out the artwork. The lowest edge of the art stays the same, since they all sit on the shelf.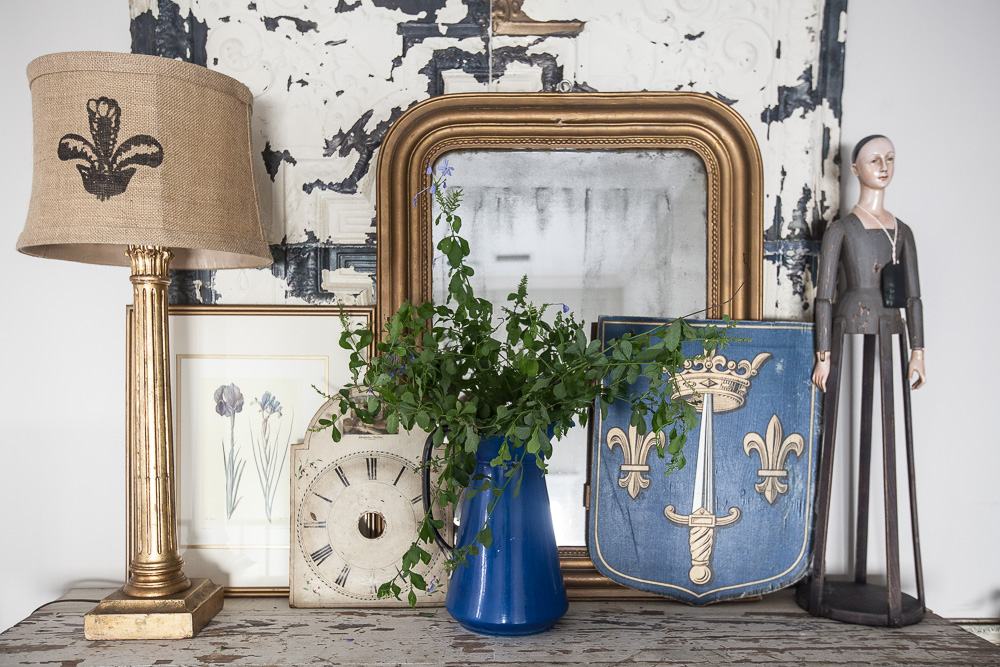 See how I have layered the shield with the mirror, a botanical print and a clock face? If it's too much you can always remove some things. I  love to change out what is on this shelf all the time.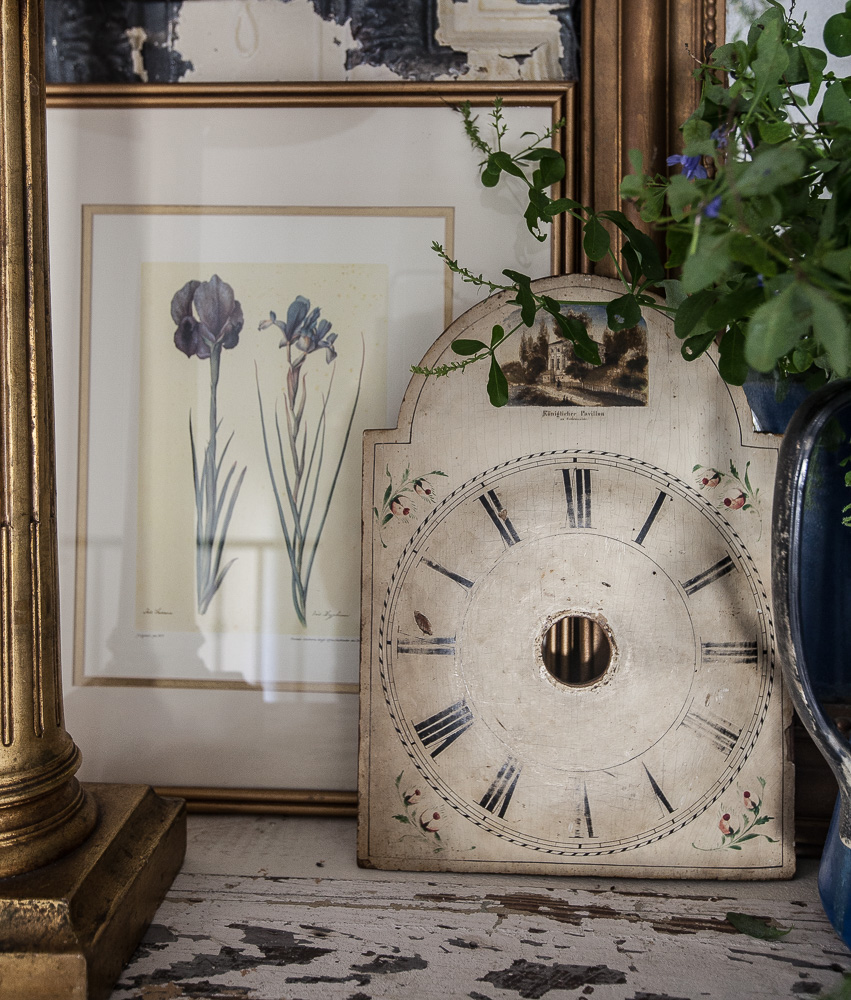 Be sure to attach your shelf to the wall securely so it will hold the weight. I highly recommend attaching it directly to the studs. I don't think molly bolts will be enough.
And, don't forget to visit Jill at ANTIQUE FLEA FINDS to check out all the goodies in her online shop. 
Leave a comment on any post to be entered to win my giveaway this month. Just a few days more. Details here.