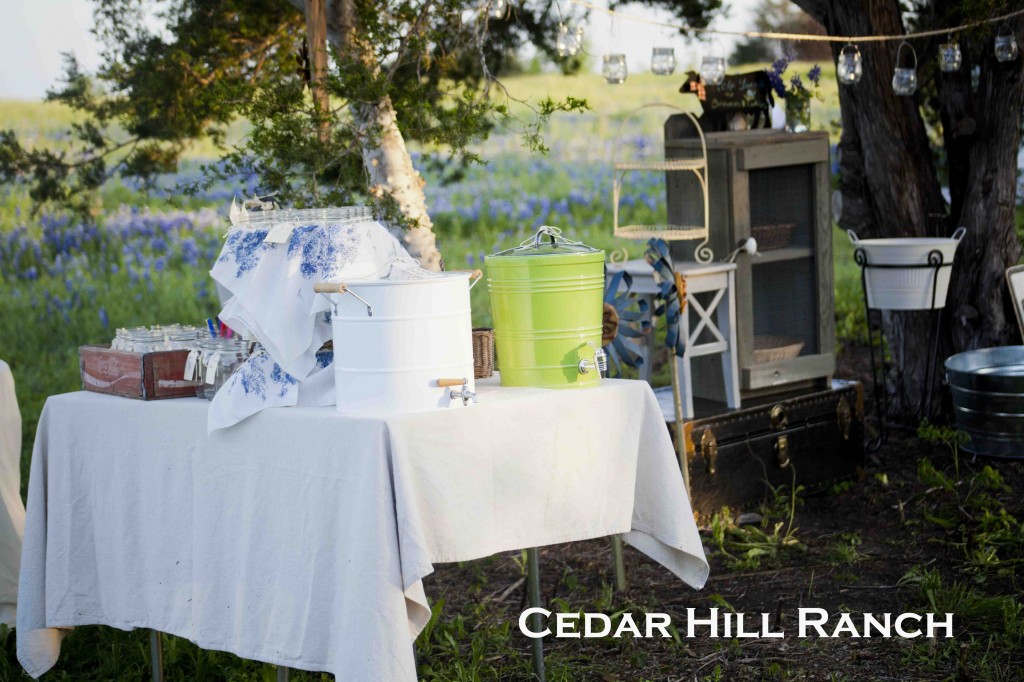 Well, if you have been following along, here's more from our big wildflower ranch party. To see previous posts on the party go to the end of this post for those links.
Sadly my daughter out-grew her Tony Lamas after only a year of wear.  So what to do?  Make them into vases of course.  I used one of the front porch,
and one on the back.
I used some more vintage blue Mason jars for centerpieces on this front porch table.
Here's the drink and dessert area.  I didn't have any tables left to use for this area, so I had to get creative here.
I love this chalkboard, and yes this is the third one I used for the party. They are so useful and I am sure I will have a need for them again. And since this cutie was on sale at Kirklands for about $5, who could could resist?  I used a rock to weigh down the cow chalkboard, since the wind kept blowing her over.
She's sitting on my new splurge purchase.  A couple of days before our party, I got an email that someone in the neighborhood who was moving was trying to unload so extra pieces of furniture. It reminds me of a pie safe, but I am pretty sure it's a reproduction.  I thought it was darling, and at $40, it worked for me.
Although it's empty in this photo, I can promise you it was filled to the brim with cookies during the party.
My "pie safe" had a very modern-looking pull on it, and I found a new one that looked like it went better with the piece.  It wouldn't stay closed, so I added a cup hook and some twine, to keep it closed.
Inside you can see a vintage basket used for cookies.  These old baskets were inherited.
The pie safe was sitting on this trunk. Do you remember this trunk?  It is the very same trunk my in-laws used when they traveled to Switzerland in 1959, you can see more here.
The bluebonnets were in full force on the day of the party.  See them in the background?
I used this two tiered stand to hold brownies, and I used a three tiered stand on another table to hold more.  To give it some height, I set the stand on a step stool that I set on the trunk.  That gray stepstool came from Ikea, and I painted it with Annie Sloan chalk paint in Paris Gray.
Yes, I actually have a Cowboy Up sign!!   I don't have a Cowgirl Up sign… YET, any way.  This is where we kept the drinks on ice.  I used the metal tubs for sodas and the biggest one for water bottles.
The big one I found at Lowe's for $20.
This one with the stand I found at Ross for about $25 which includes the stand.  It was bright yellow, which didn't go with my color scheme, so I spray painted it white.
I needed some trash cans around for people to dispose of soda cans and water bottles, so I set up some of these stand-up leaf bags.  (It was my friend Peggy's suggestion, thanks Peggy!!)  I found them at Target for about $15 each.  I lined them with clear trash bag liners.  I thought they were a more attractive alternative to plastic trash cans, and when not in use, they can be stored flat.
What do you think of these bluebonnets?  Okay, they aren't technically bluebonnets, but they are metal flowers on wooden sticks, another gift from my friend, Becky.   They were made by The Round Top Collection.
Here's some more photos of our guests that my daughter took.
Mr. CH set up croquet, badminton, and horseshoes.  Another guest brought kites for the kids and I wish I had photos of all those wonderfully colorful kites flying.  We also made a tree fort out of a grouping of cedar trees.  I'll have to show you that later since it's hard to describe what we did, but the photos will explain it better than I can.
If you look past this lovely guest, you can see that the "pie safe" is open and many of the cookies have already been devoured.
I have one last party post coming, so check back to see it.
Did you miss any of my other party posts?  There right here.