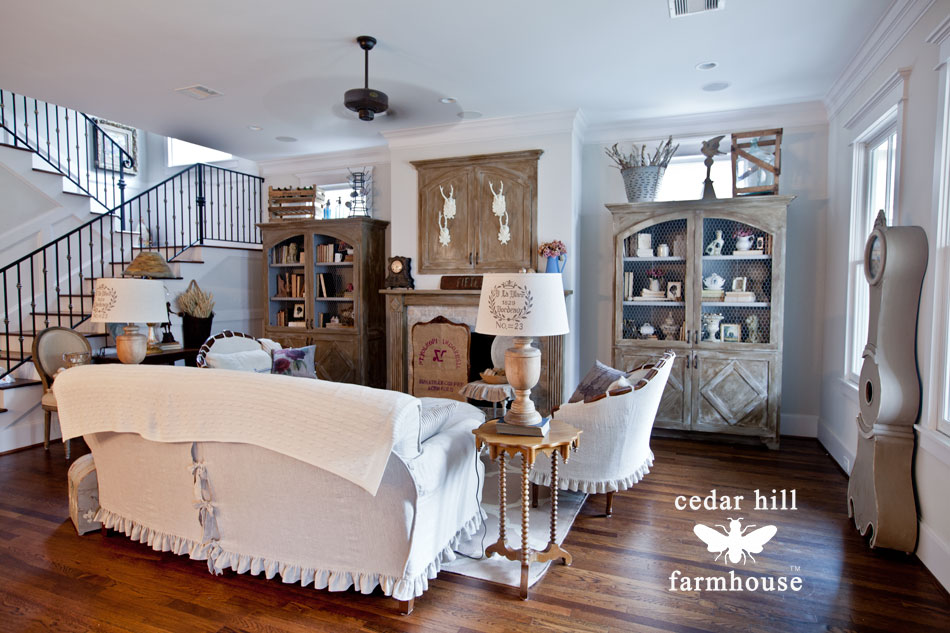 Styling a fireplace seems like it should be easy, but often there are issues that make it more difficult. For example, many have their TV above the mantle. I do, but it is behind the doors. That means we don't have to look at the TV all of the time, but I am still limited because I must allow room for the doors to swing open. So anything in front of the doors must be short.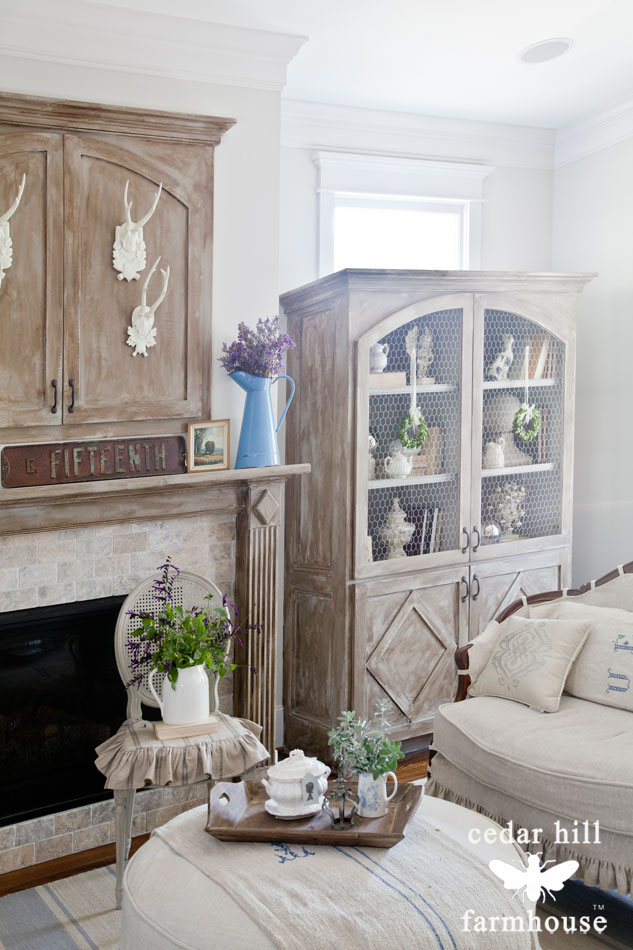 So I added this street sign below the doors. It is very old and rusty. Next to it, I added a little painting, and then a much taller French enamelware pitcher. What to put on the doors was also a dilemma. One Christmas I put wreaths on the doors and readers said the wreaths began to look like creepy eyes. I had to agree, to be honest. To make it worse, I put votives on the mantle that ended up looking like creepy teeth. It's one of those things you just can't 'un-see'.  Want to see what I mean?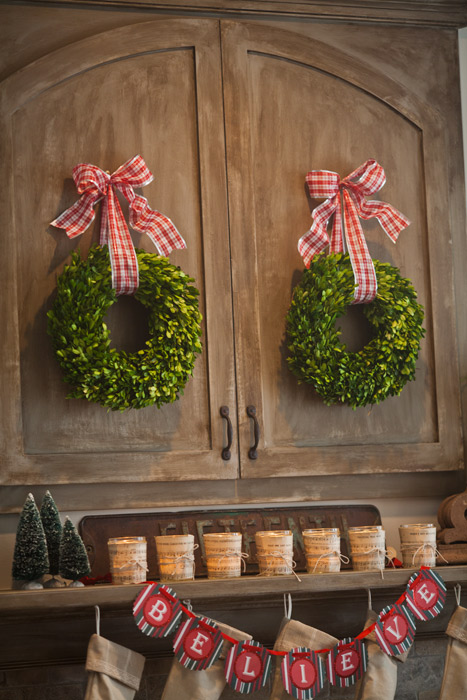 I just can't even look at it any more without seeing the mean Christmas face.
I had to find something that did not look like eyes, so I came up with the idea of using these faux antlers on the doors. They are from Ballard Designs.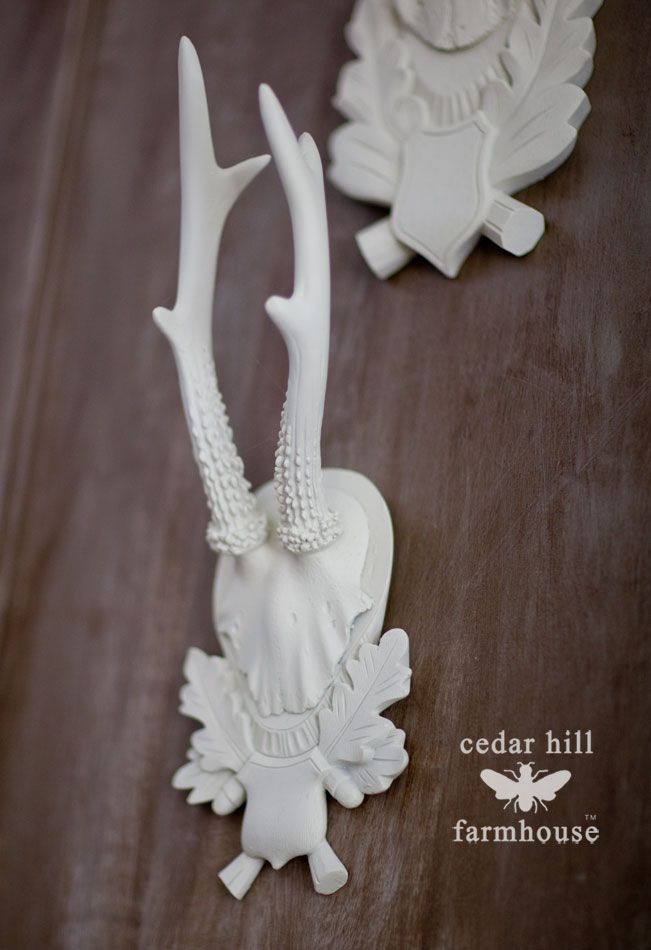 They are interesting and fun, but more importantly they don't look anything like eyes. On the other side of the fireplace mantle I set an antique American clock.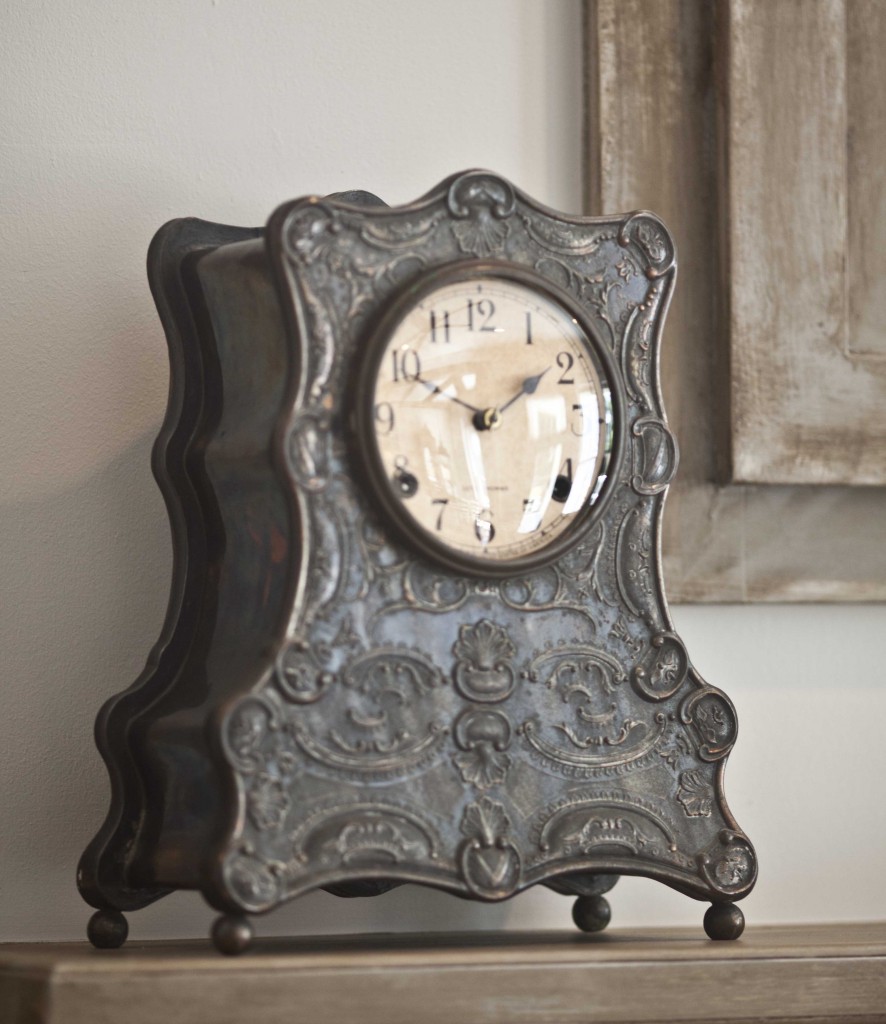 Flanking the fireplace are French built-in cabinets with chicken wire in the doors. Because I have so much going on in the cabinets, I don't think I need to much happening on the mantle.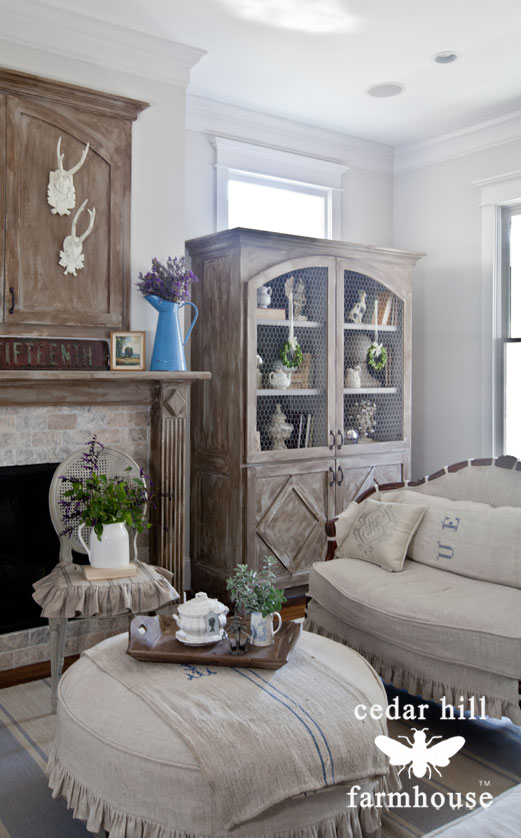 I've also got an antique fireplace screen that I sometimes use.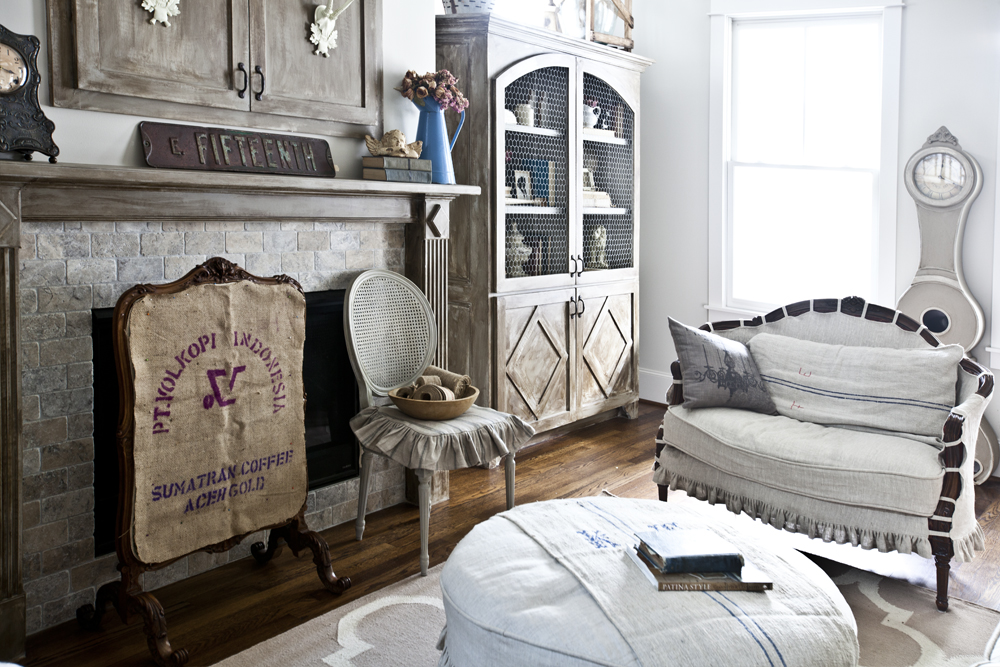 Here are a few other things I have done here in the past. I've used an empty frame in front of the fireplace. (Just be sure to remove it when your fireplace is hot or in use.)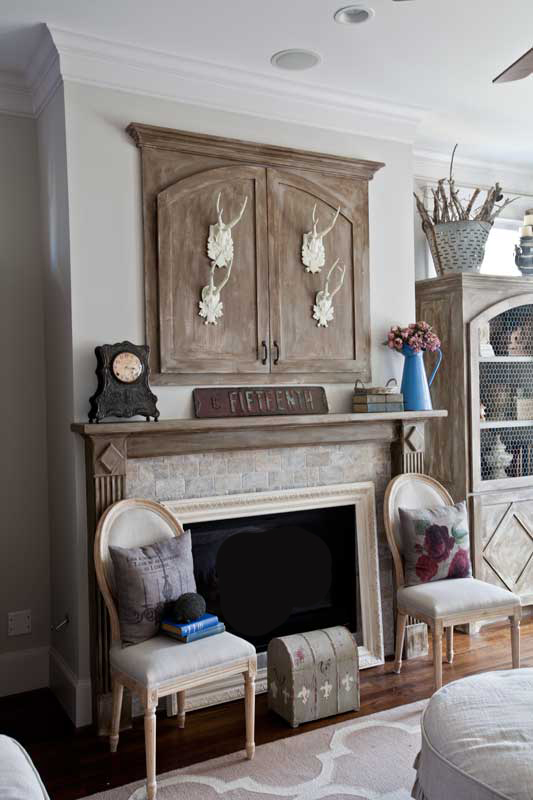 I also put a map in front of the fireplace, again when it wasn't in use.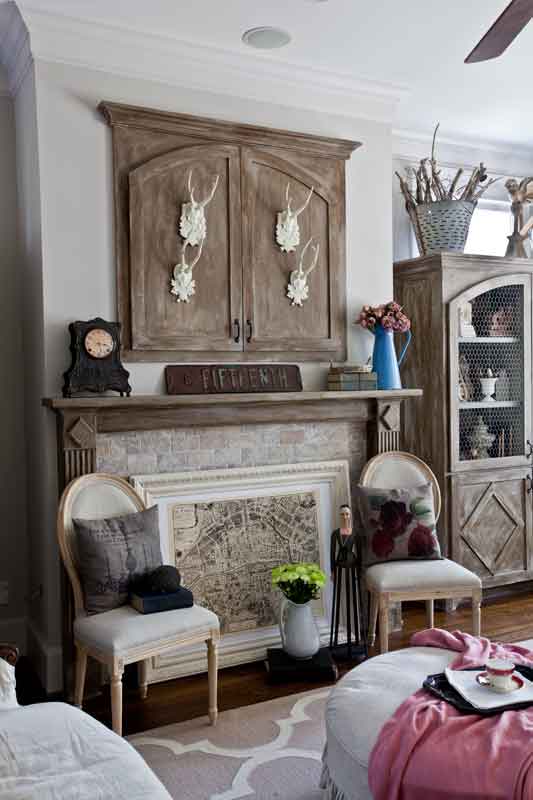 I also at one time had two chairs and an ottoman here.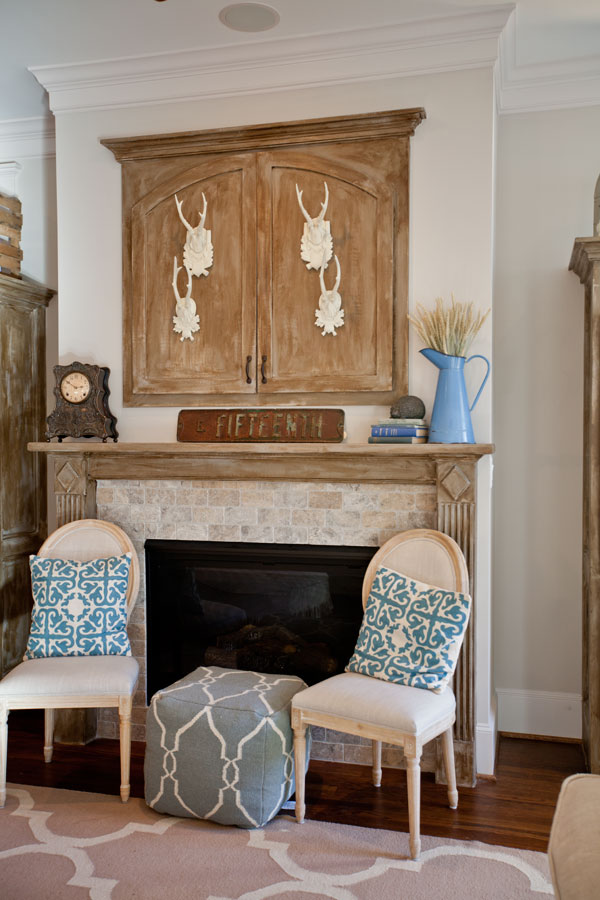 For now, I like it simple, with just a chair and a few things on the mantle. There's plenty going on in the room, any way. I admit, I do like a chair in front of the fireplace so I can sit there if I am really cold.
So what are my tips for decorating a fireplace?
Less is more on the mantle, especially if there is a TV above it.
Natural and simple, usually works very well especially with a pop of color.
If you don't like what you have on your fireplace, take it all off and just add one thing at a time. Stop when it looks right.
Try items of varying heights on either side of the TV.
Try an ottoman or chair in front of the fireplace too. It might be too much, but you can always remove it, if you don't like it.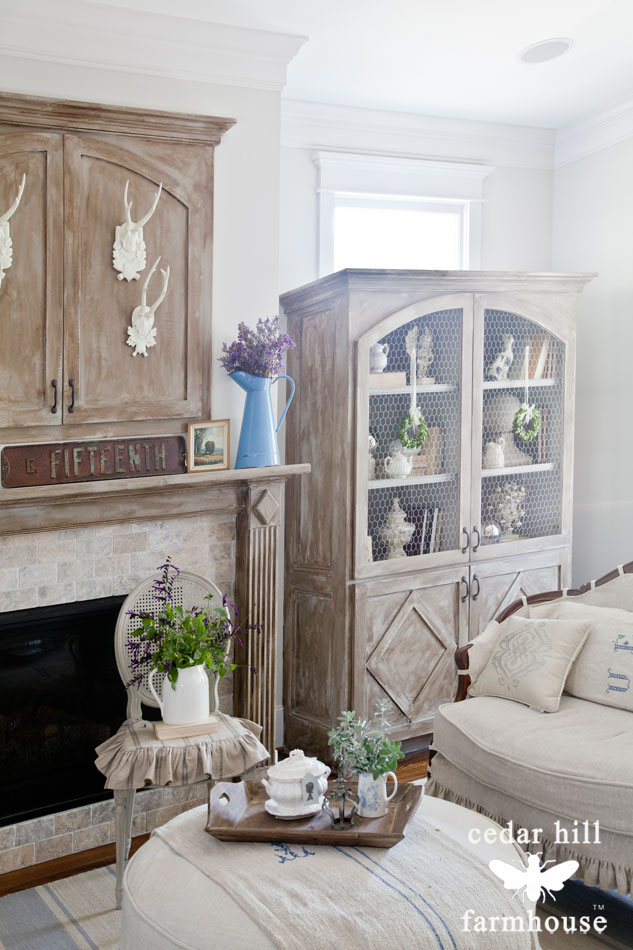 This is part of our DIY Tips and Tricks series.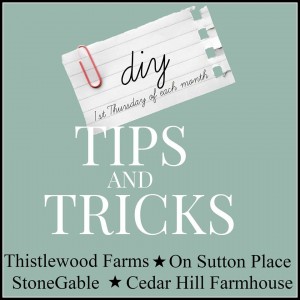 I hope you'll check out the wonderful fireplaces at Yvonne's and Karianne's blogs.