I might have mentioned a time or two or a hundred times that we now have a mountain retreat.
When we first came to the house in the spring, we set up the house so we could stay here and also to get it ready for vacation rentals.
This was our first visit since the spring.  Here's what the deck looked like when we came last time.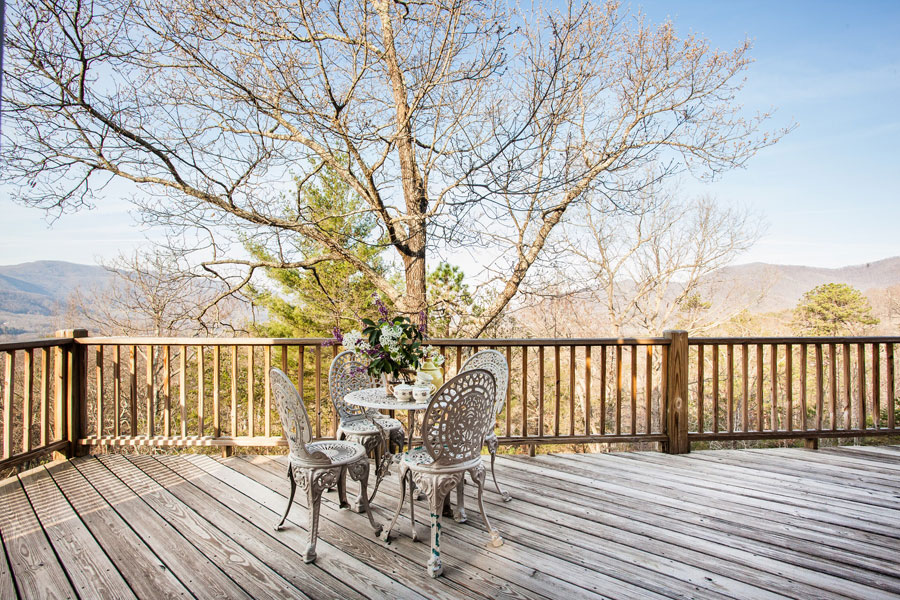 Since then the trees have leafed out, but the deck was still a bit bare and I had guests coming. My mom, uncle and aunt came for a visit from Oklahoma.
This post is sponsored by hayneedle.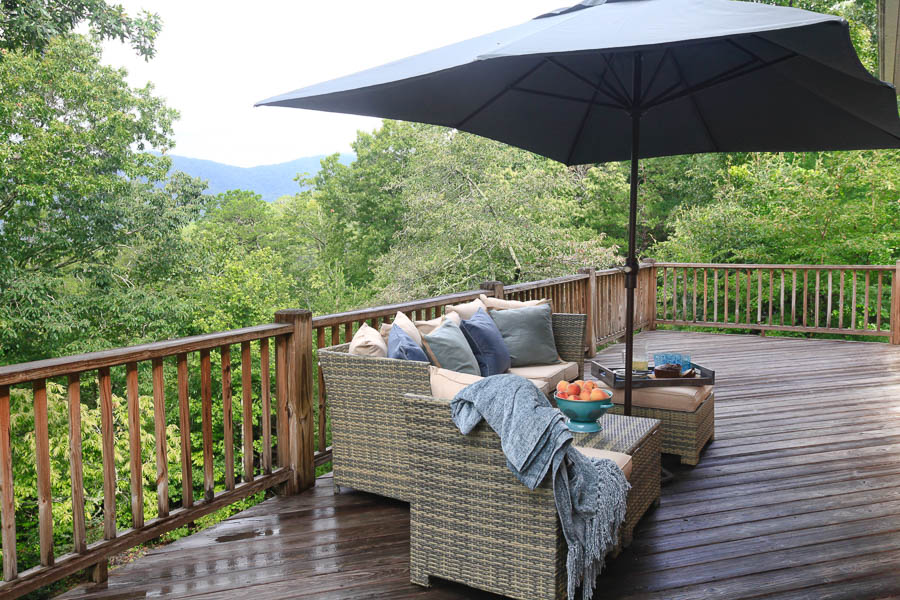 They are all in their eighties, but in pretty good shape. I still can't believe they drove the entire way. I wanted to make sure the deck was really nice for them. I wanted a place for everyone to hang out and enjoy coffee in the morning and hang out in the afternoon. I picked out this amazing conversation set from hayneedle. Yes it's called a conversation set and that is exactly what we did, converse and laugh and laugh. My aunt told me a story I hadn't heard before.
Basically, when my dad was very young, he worked in the oil fields. My Uncle Jack (not his real name) was my dad's boss. He and my dad got into an argument one day that ended with my dad getting fired. Well my dad wasn't one to back down when challenged. Apparently he decided he was NOT fired, and so he just kept going to work, and pretended it hadn't happened. Apparently by then my uncle had cooled down and ignored the fact that he had fired him. It was hilarious the way my aunt told the story. Then we all couldn't stop laughing.
I am loving this umbrella that keeps the sun at bay on hot days. It's super large at 8 ft x 11 ft.
Mom and I sat out here and chatted with our tea in the morning. She was amazed at the mountain views and how far down it is down to the ground. If I had to guess I would say the deck is 30 ft off the ground here.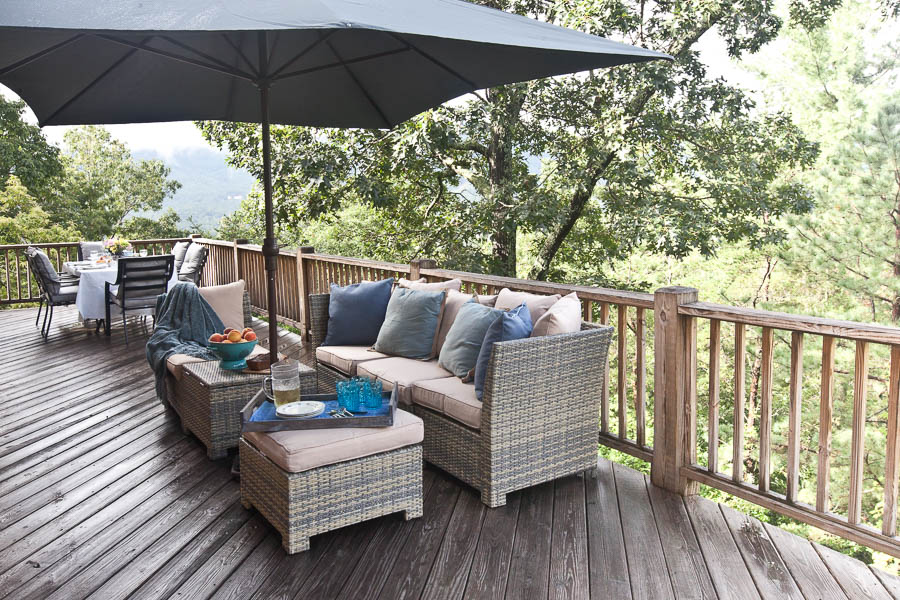 And as you can see we have a proper table for meals also. The clouds were sitting on top of the mountain the day I took this photo.
Every morning we enjoyed our breakfast here.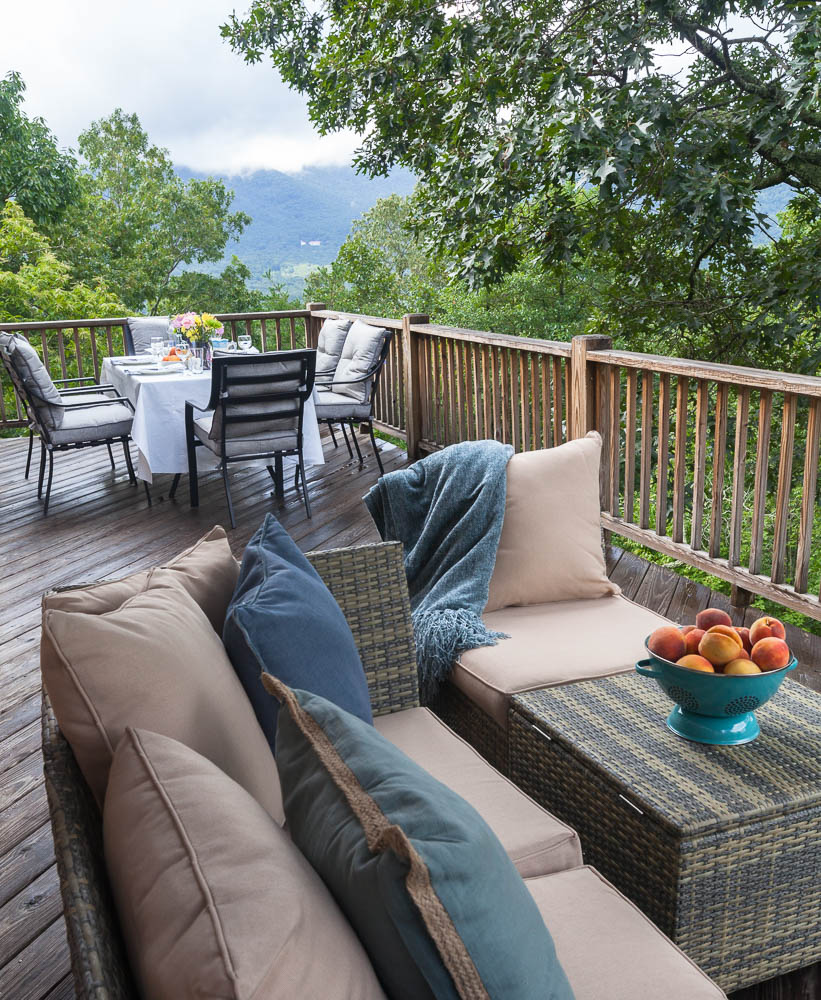 The peaches were amazing. We got them from the local farmer's market and I wish I could describe how absolutely delicious they were. We enjoyed Elberta and Monroe peaches.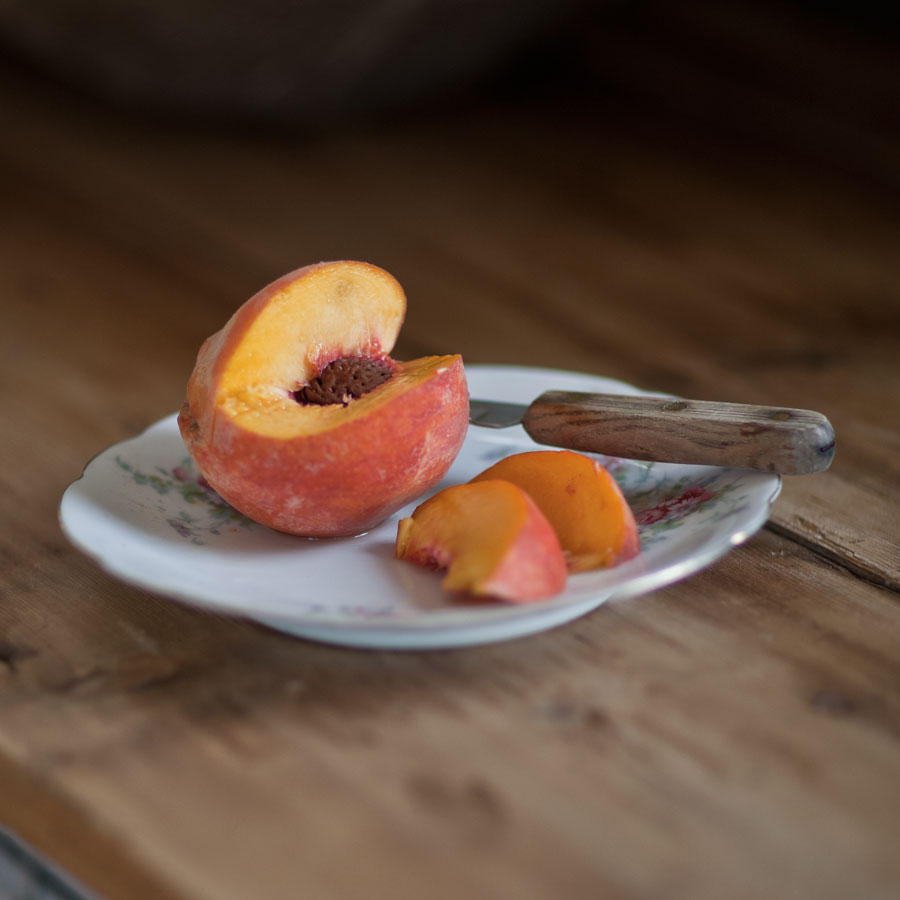 This seating set is a sectional, so you can arrange the pieces however you want them. I decided to arrange them as one long sofa and a side chair.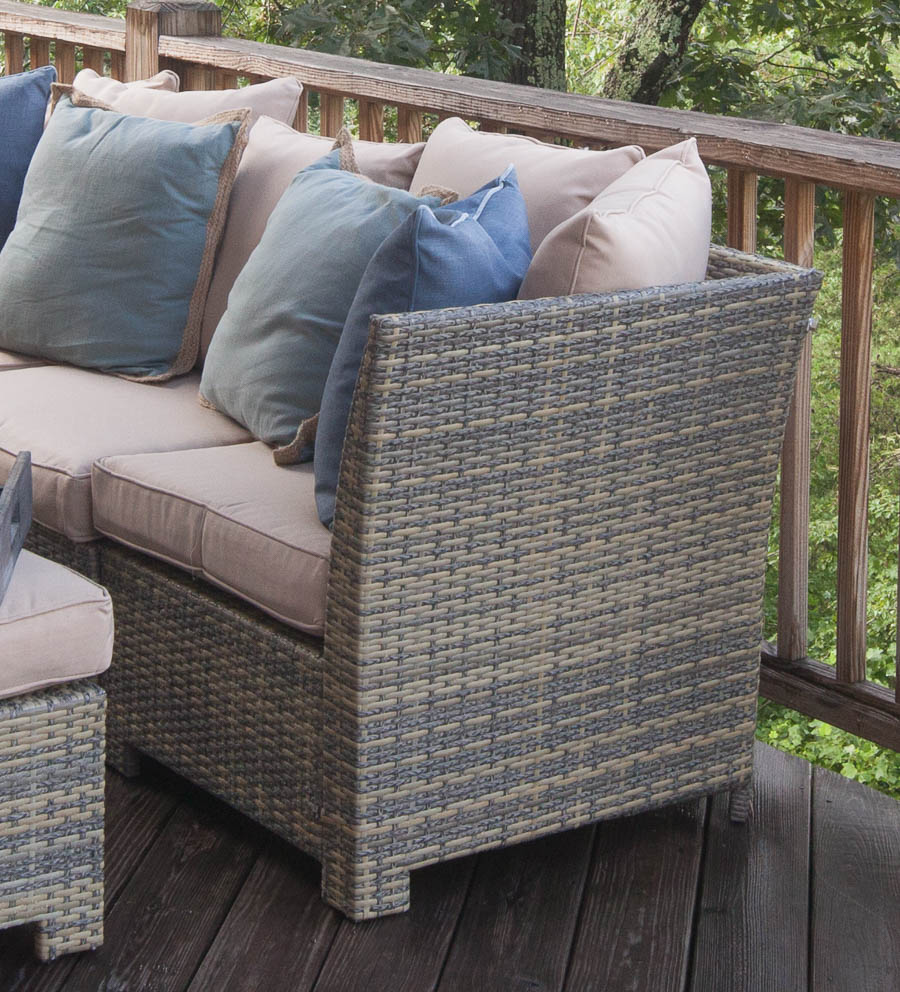 It comes with an ottoman and a storage box that we are using as a coffee table.
This was my mom's first visit to the mountains; she loved the views. A lot of people come for a visit, then decide to move here later. My mom said her favorite part about the visit was the deck.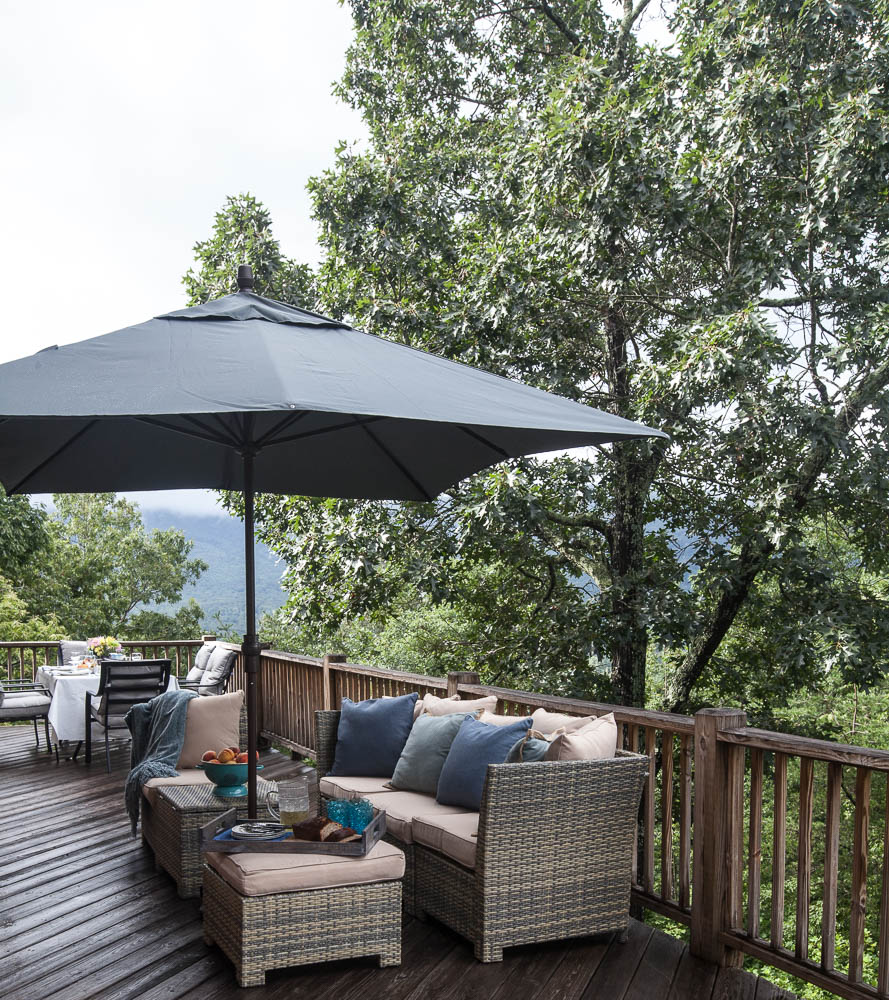 For dinner, we had hamburgers on the grill and I made a rustic peach cobbler in an iron skillet. We had sliced tomatoes and cantaloupe. It was so relaxing listening to the birds and feeling the soft breezes.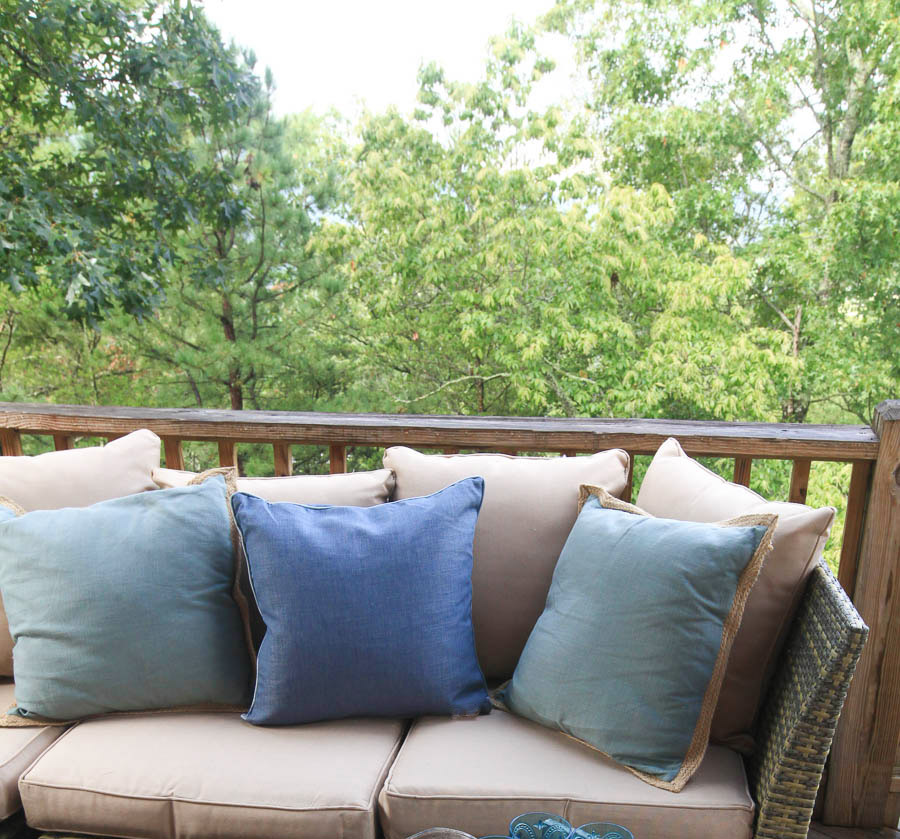 Every morning this is where we had our coffee and tea. Then we moved to the table for breakfast. We had the most delicious homemade banana bread, more cantaloupe, pumpkin pancakes, eggs and bacon.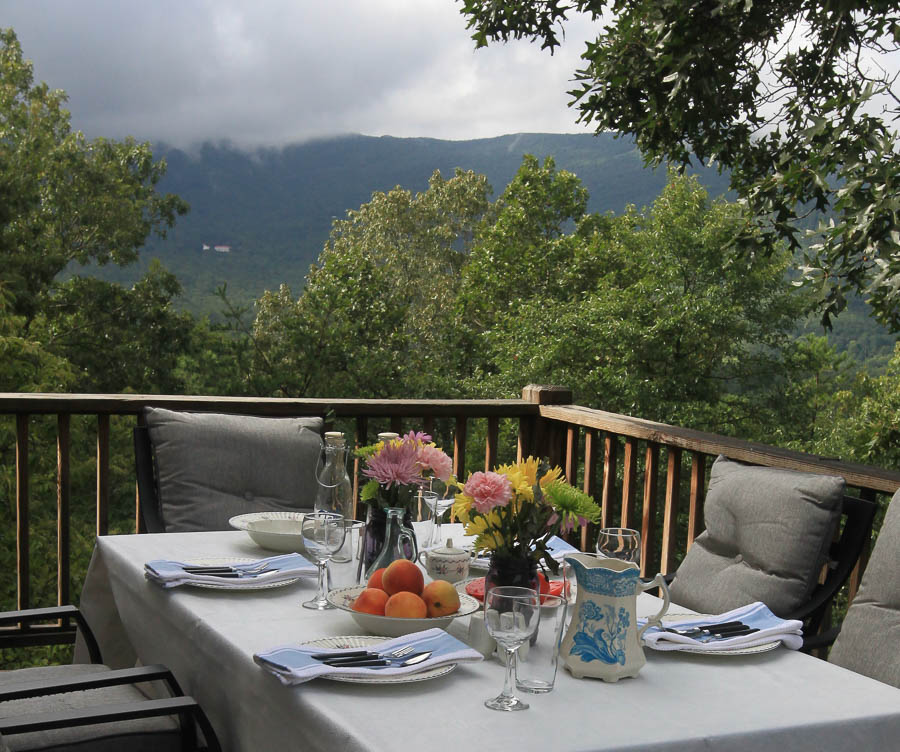 I asked my aunt what she wanted to do while she was here, and she said she would be very happy just hanging out on the deck for the entire visit. It was unanimous, the deck was the best part of the trip for everyone.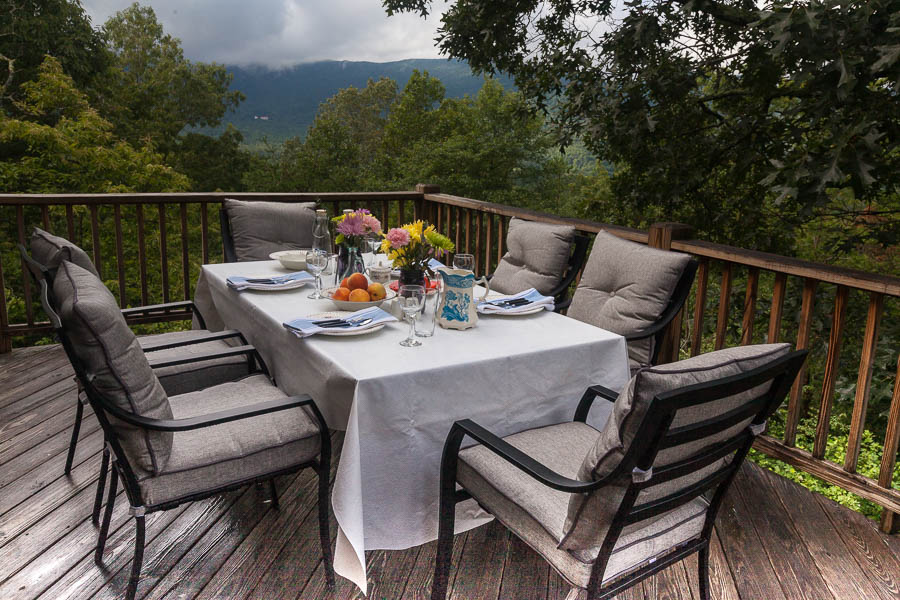 The house is in Black Mountain, NC, which is such a charming little town.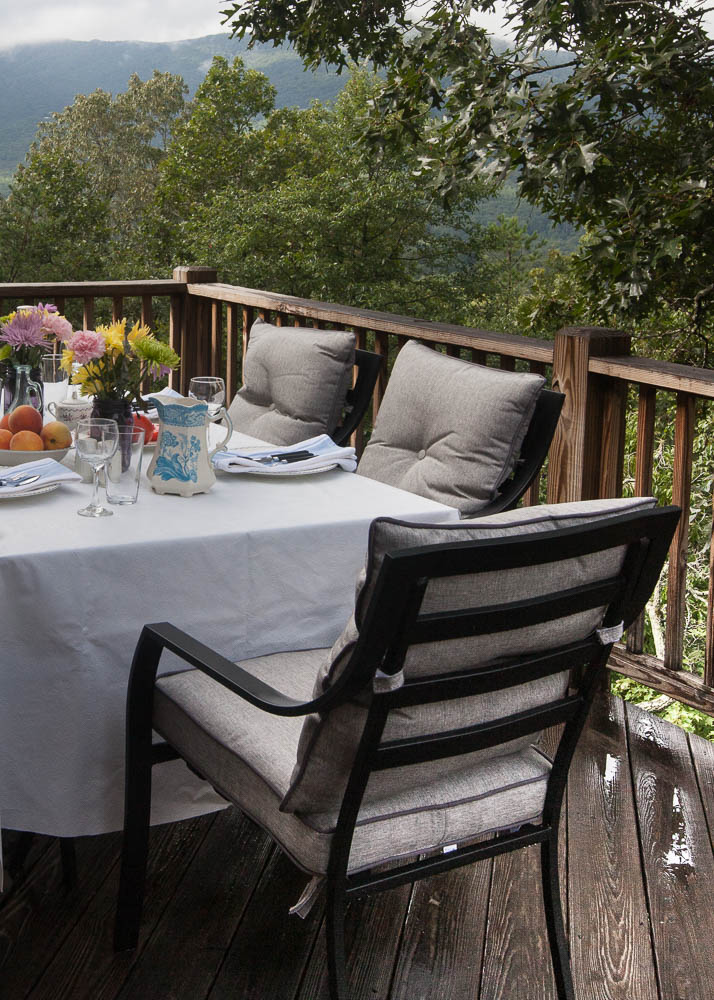 I wanted our visit to last forever. I wanted to hold them tightly and not let go.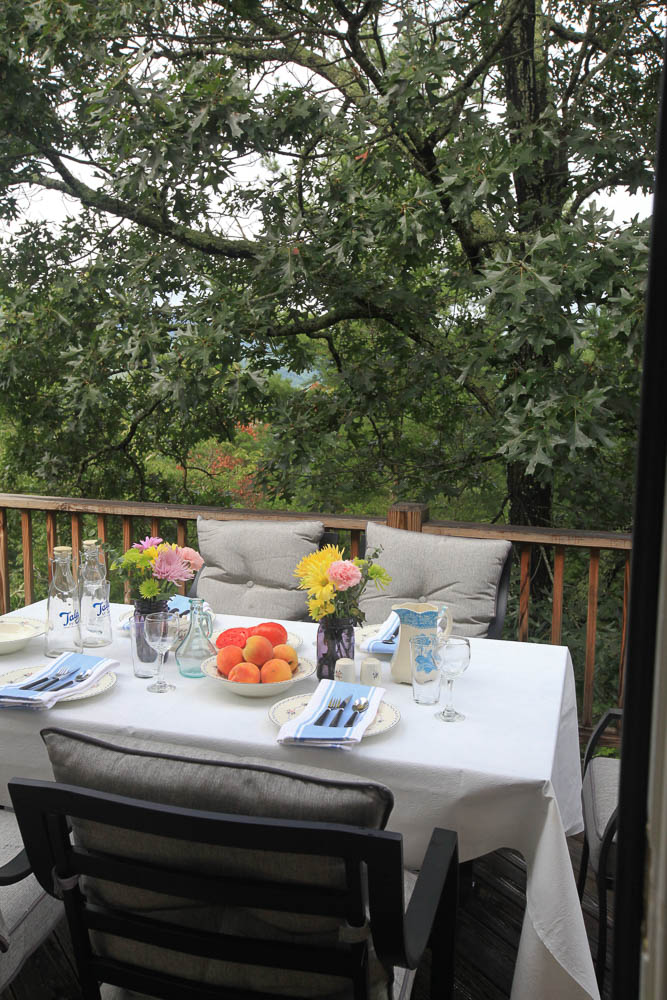 In the end, I hugged them, told them I loved them and watched them drive away.
Product list
all weather wicker outdoor conversation set