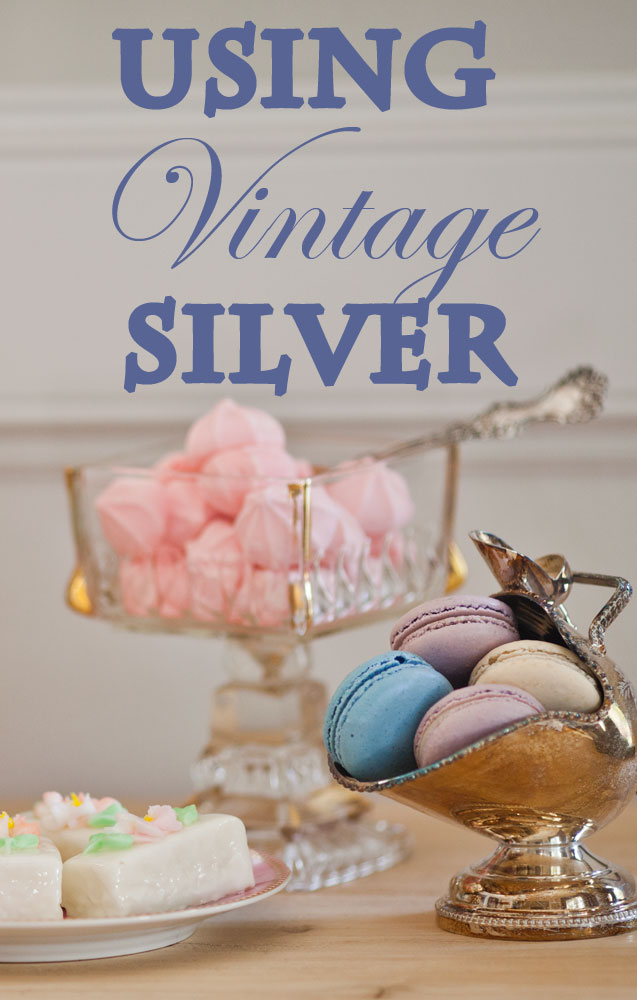 Vintage silver is one of my very favorite things. It gives a room a French feel, even if the silver isn't actually French. I have some French pieces, but many that are not actually French.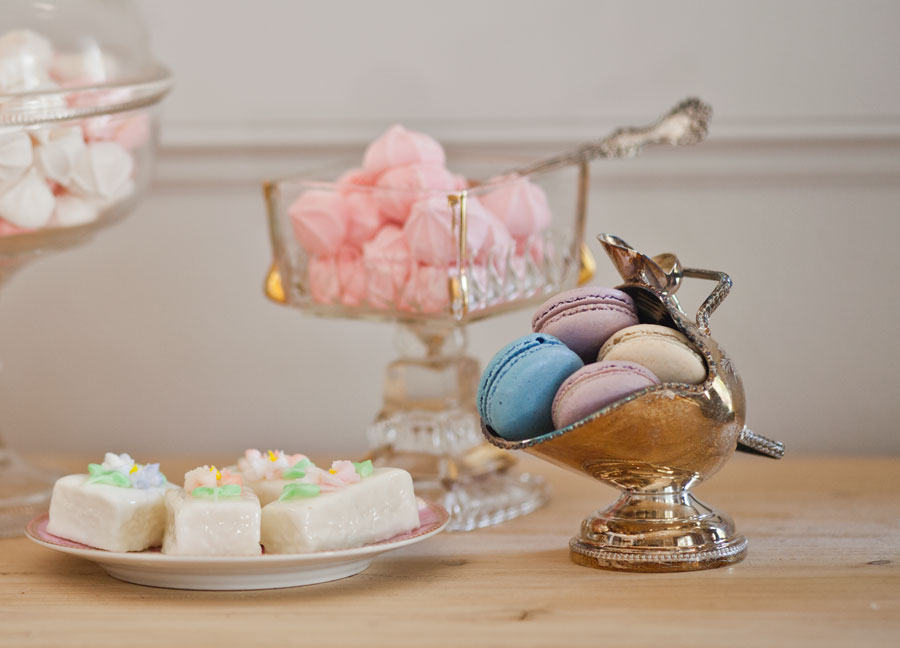 I know vintage silver isn't in vogue much any more, because it is considered high maintenance, due to tarnish, but I love it. It reminds me of days gone by when it was revered and used. The upside to using your vintage silver often is that it doesn't require polishing, since you are wiping it with a cloth to dry it on a regular basis.  The sugar scuttle with scoop above was inherited. I filled it with macaroons which is not how it was meant to be used. I can be irreverent that way.
You can collect silver trays or water pitchers. I got both of these below at a nearby thrift shop. The pitcher is tarnished and missing a bit of silvering, but that doesn't take away from its charm.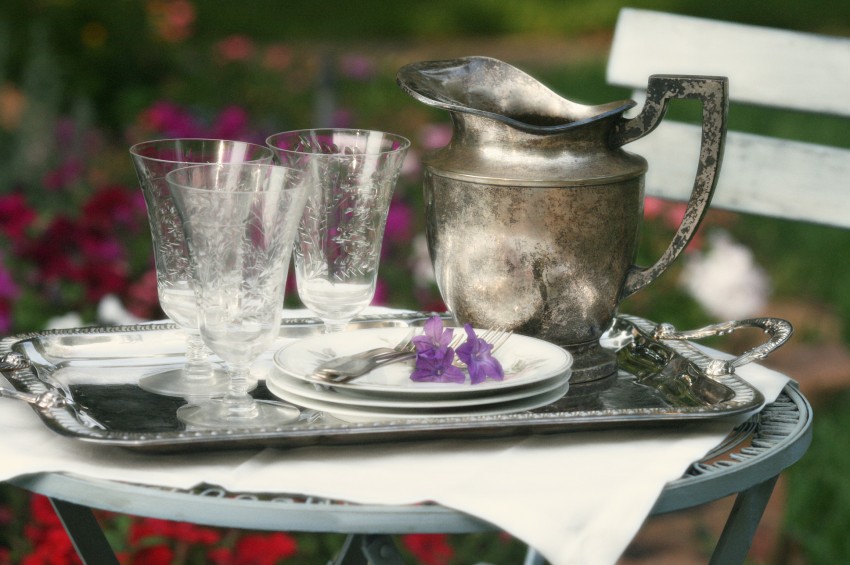 I especially love to use vintage silverware at the table for parties and even everyday meals.  I will caution you about washing it in the dishwasher though. It can be done, but if mixed with stainless it will become milky.  Since the blades on most silverware are stainless, I would not put those in the dishwasher.  At the end of the day, hand-washing really is your best option.
Although we inherited the family silverware, you can usually find silver-plate very reasonably priced on eBay. I found lots of goodies there.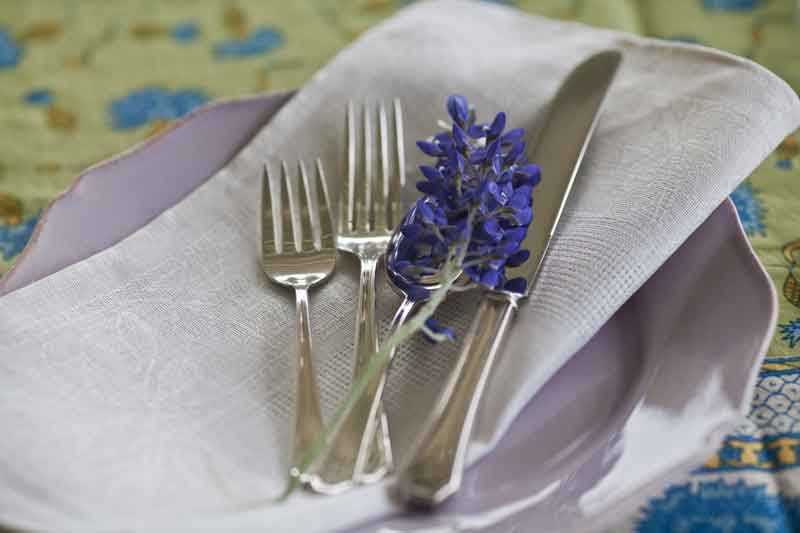 My favorite find was my "Cedar Hill" silverware.  It was actually HC for 'Harmonie Club', but hey it looks like CH to me!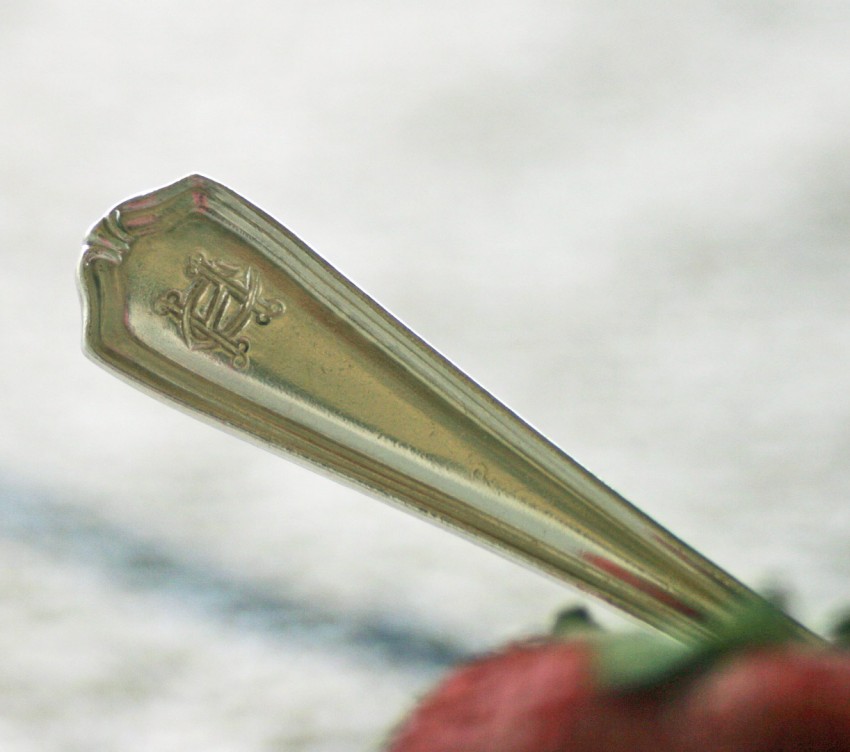 I honestly have fun looking at the silver in thrift shops and on eBay even if I don't buy any. It feels like I am seeing into the lives of people long gone, and for some reason, that fascinates me.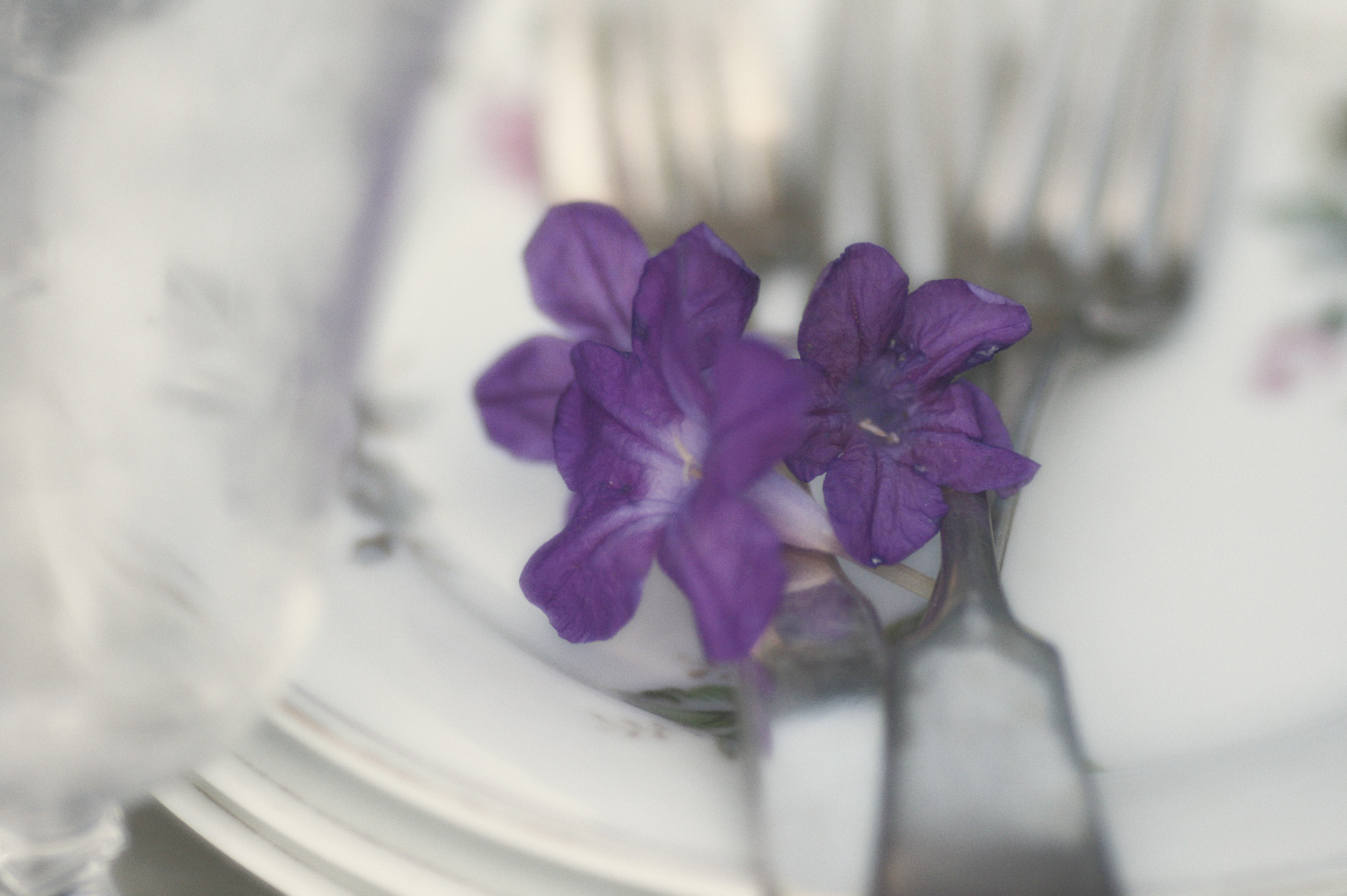 This covered butter dish is also a favorite of mine. I like to keep old silver sitting out and use it to hold things.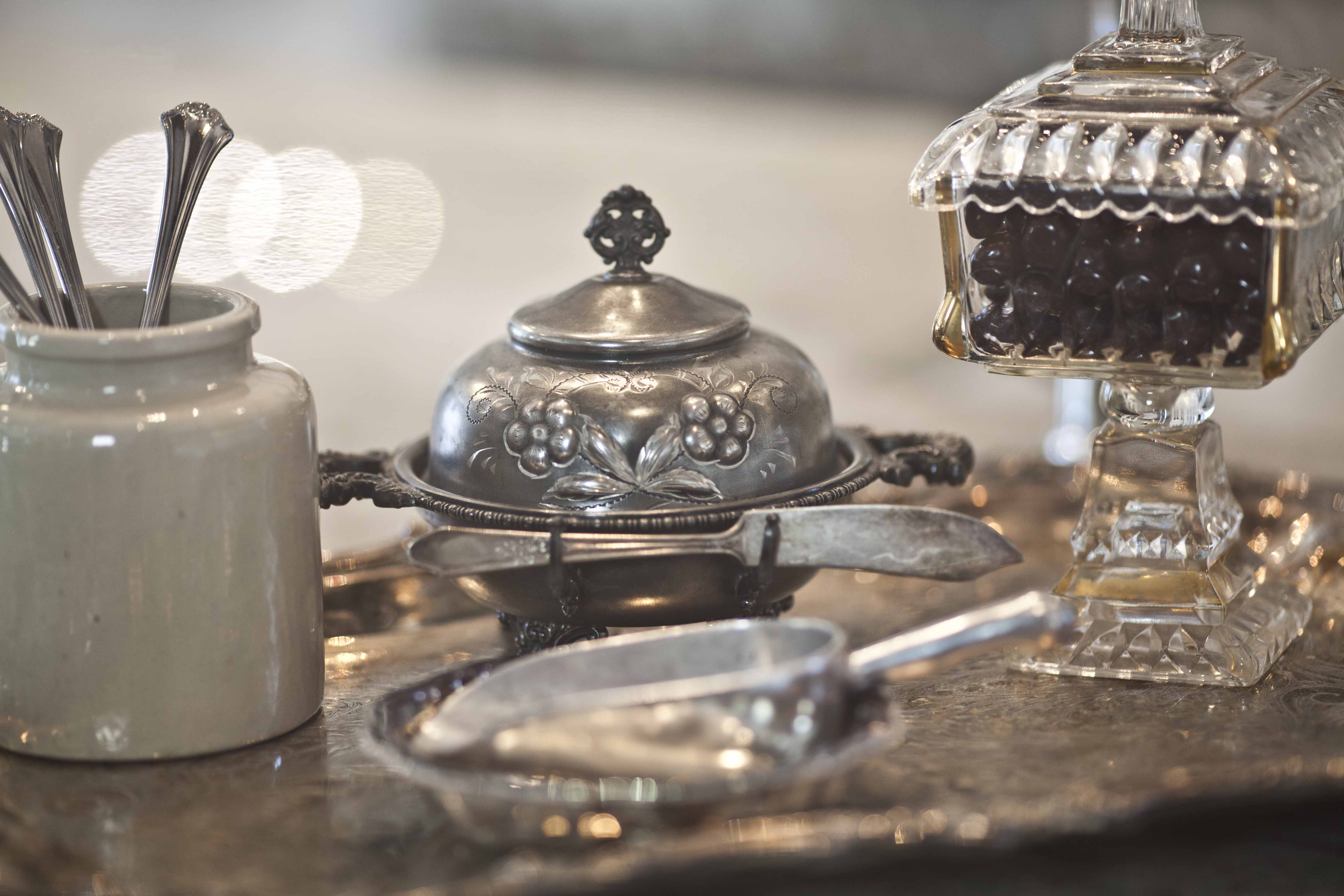 I use a vintage silver water pitcher to hold my wooden spoons and whisks. It was a wedding present and it was new at the time.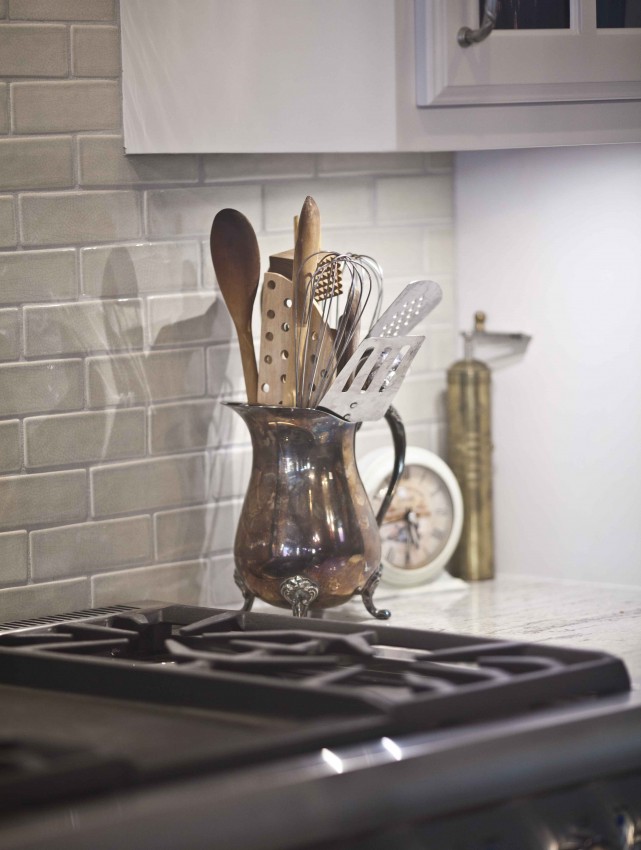 If you don't mind spoons and forks that are mismatched, you can find silver-plate even cheaper, than if you buy it in a matching set.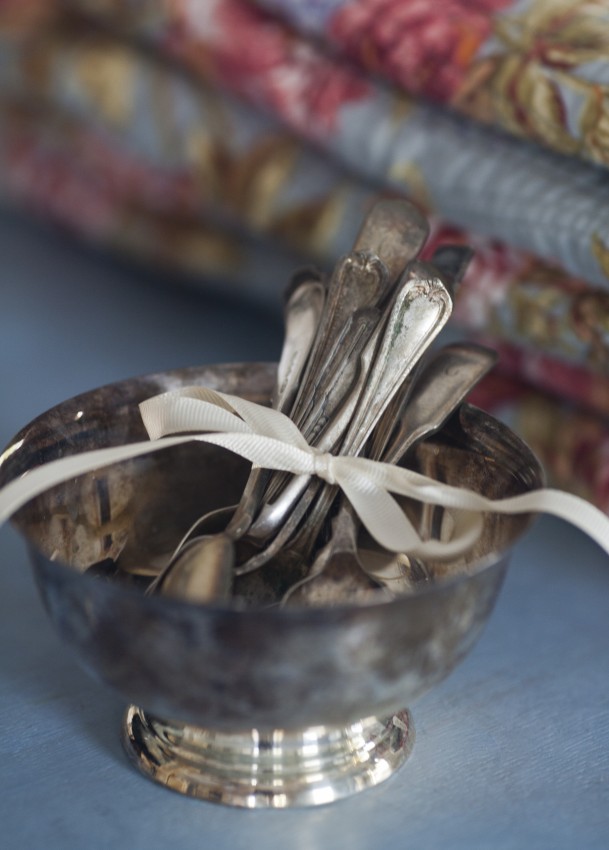 And look at all of these fun patterns I found!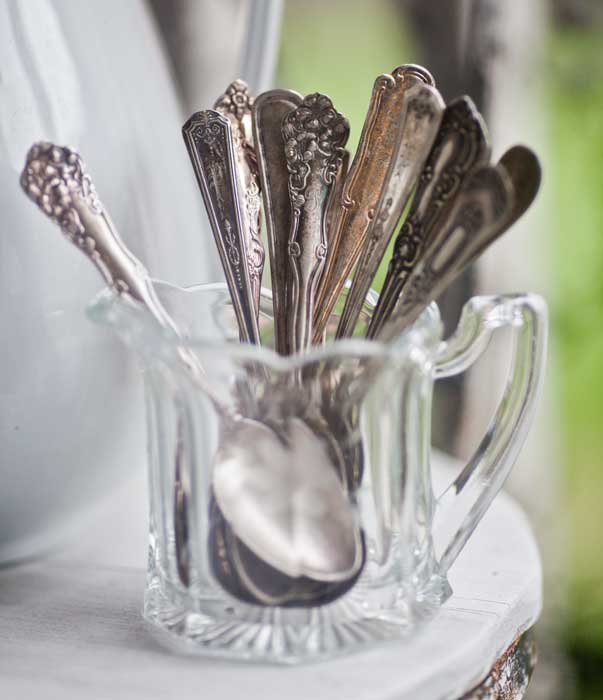 Some pieces are super ornate like this repousse tea strainer. The large one is actually reproduction, but again, still charming to me.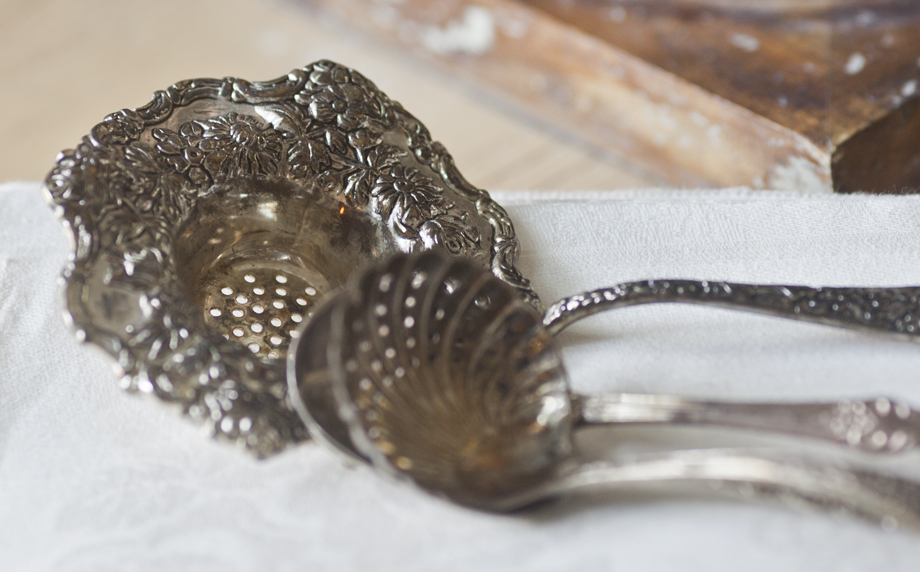 Many of my pieces are not French, but I am delighted to own a few things that are French. This set of dessert forks below as you can see are from Orfevres in Paris. It's a complete set!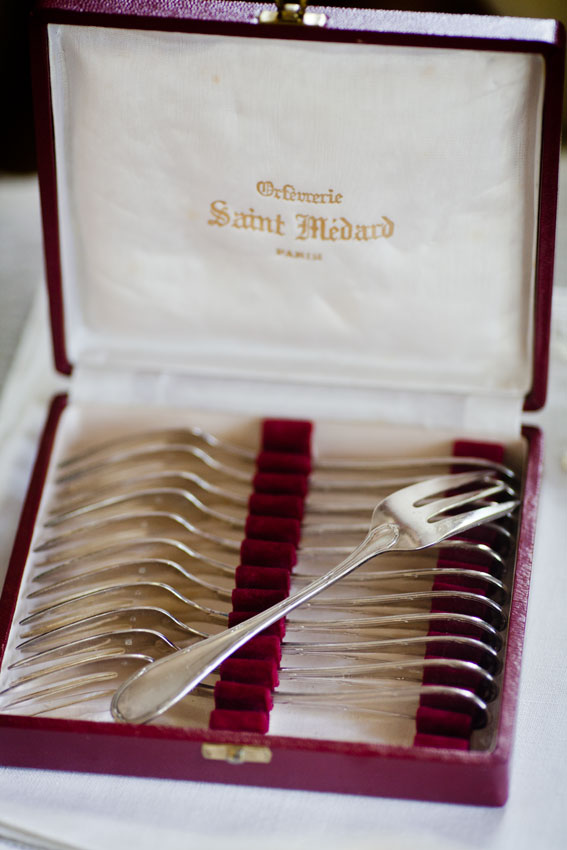 The vintatge silver below is also French. The markings typically are on the top of the spoons and forks, and the more ornate part of the spoons and forks is on the bottom.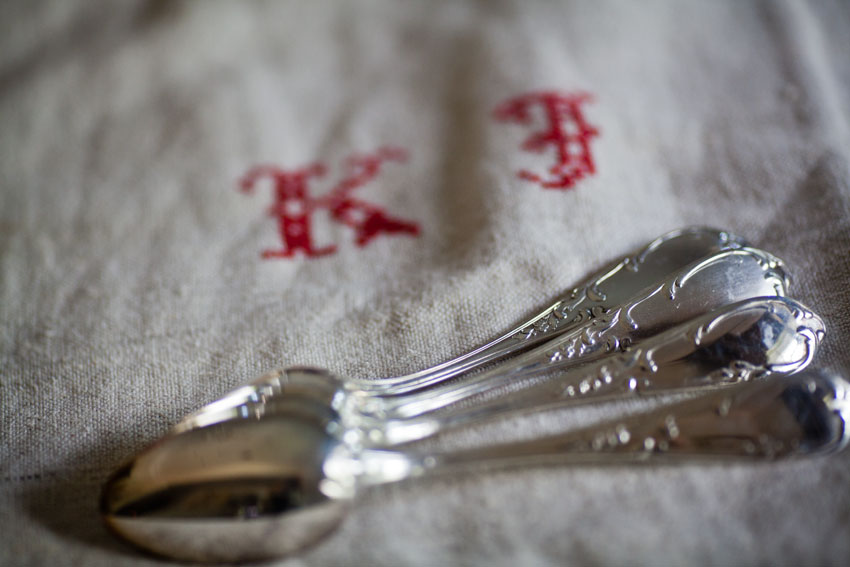 So here is the 'bottom side' of the fork,

and here is the 'top side'.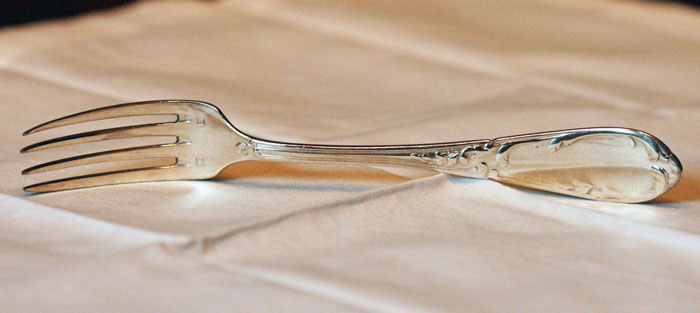 Fish sets are really unusual looking to our modern eyes; they were only used for the fish course. My friends don't know that, so I often use these for dessert.  Shhhh… don't tell them.  I suspect this set is English, but I'm no expert on silver.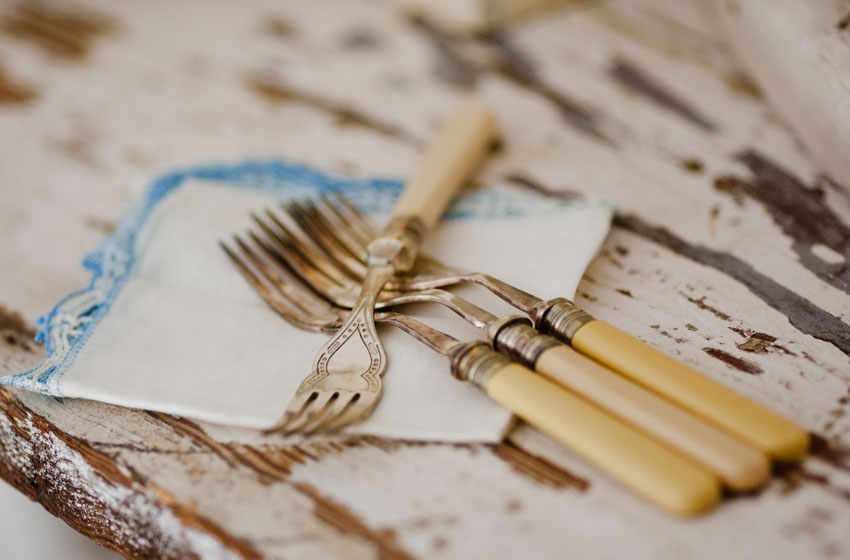 I have so much more to show you, but I have run out of time and space here.  I found this silver syrup pitcher at a thrift store too, and I love to use it as a vase for fresh flowers.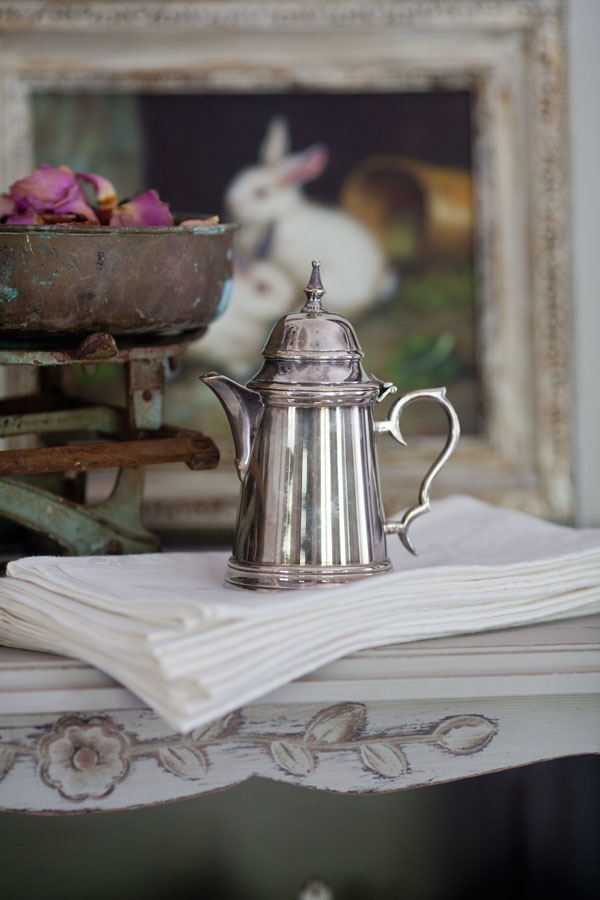 I hope that gave you some ideas about where you can find silver and how you can use it in your home.
Please join the other country French bloggers that are part of my country French event today.