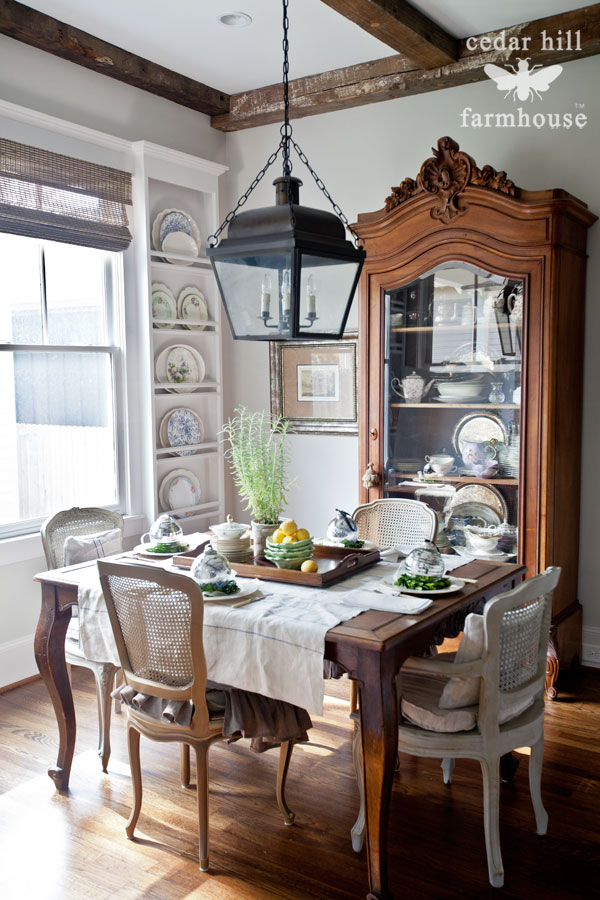 Christmas is around the corner. There's no denying it any more. But it's okay, I think I'm ready this year. With a natural, simple approach, it doesn't take long to whip a house into shape. Today I'm talking about my country French Christmas table.
For this table, I purchased the big mercury Christmas ball ornaments this year. Everything else I already had.
These are beautiful oversized Christmas ornaments that I used on top of each plate. They would make a wonderful party favor too.  They are sitting on very small perserved boxwood wreaths. The wreath acts as a nest, and keeps the round ornament from rolling about.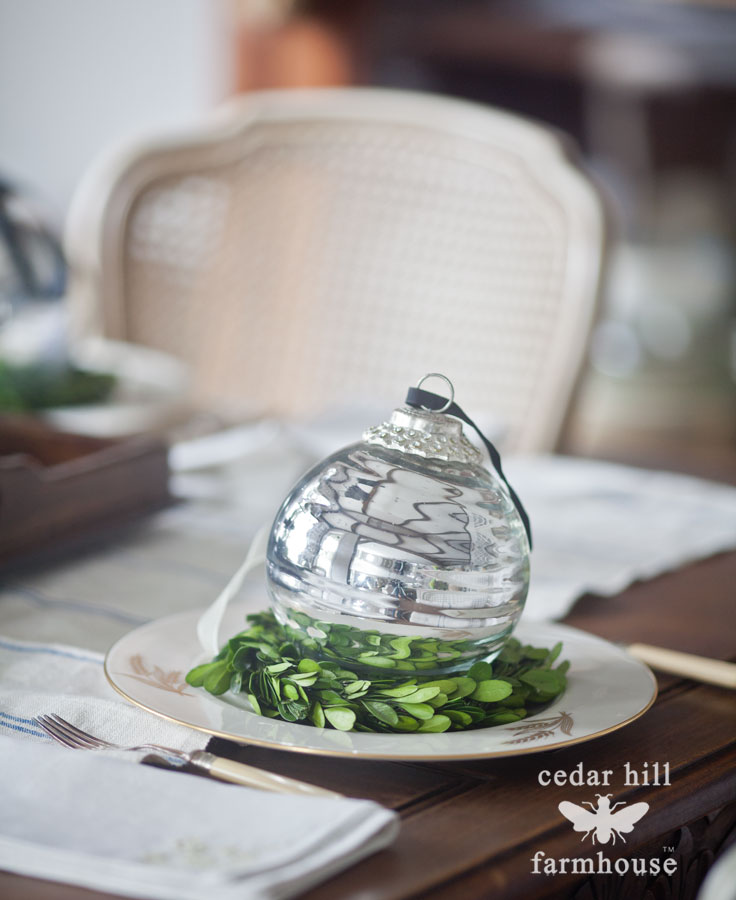 The table is set almost exclusively with vintage materials. The tablecloth is an antique made from homespun linen. All of the dishes, silverware, and napkins are also vintage.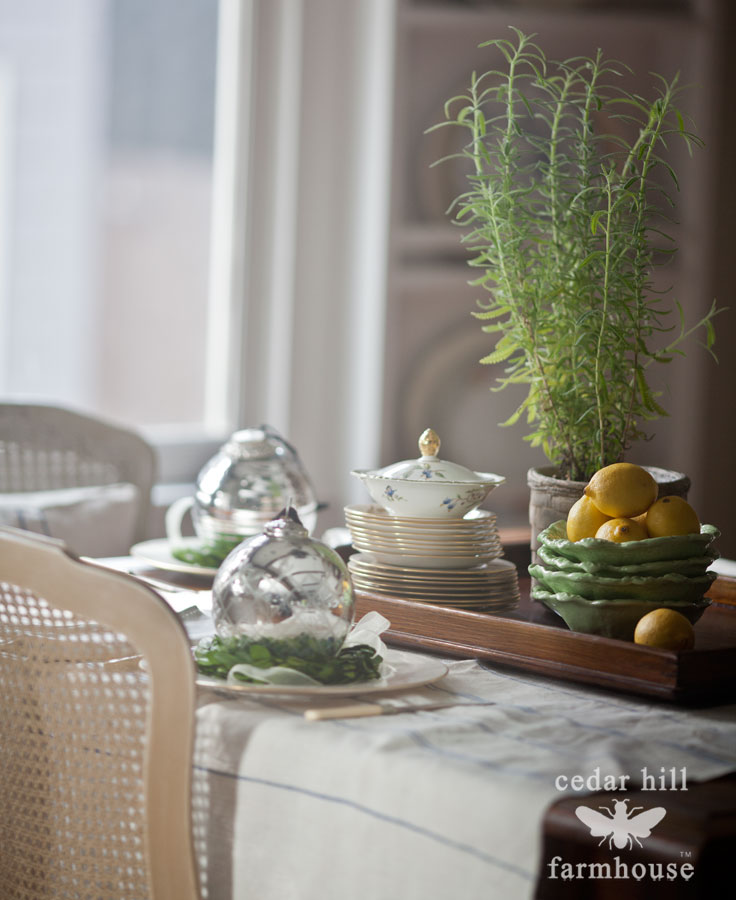 I re-use many of these items for different holidays throughout the year. I just add a few elements that give a hint at the season. For this table it's the boxwood wreaths and mercury glass ornaments that tell you it is Christmas. It's simple, but that is what I like about it. Simplicity is often more elegant, and at the same time cheaper and easier. Let's not make this difficult is my motto.
I love using simple natural touches like the fresh lemons and the rosemary plant.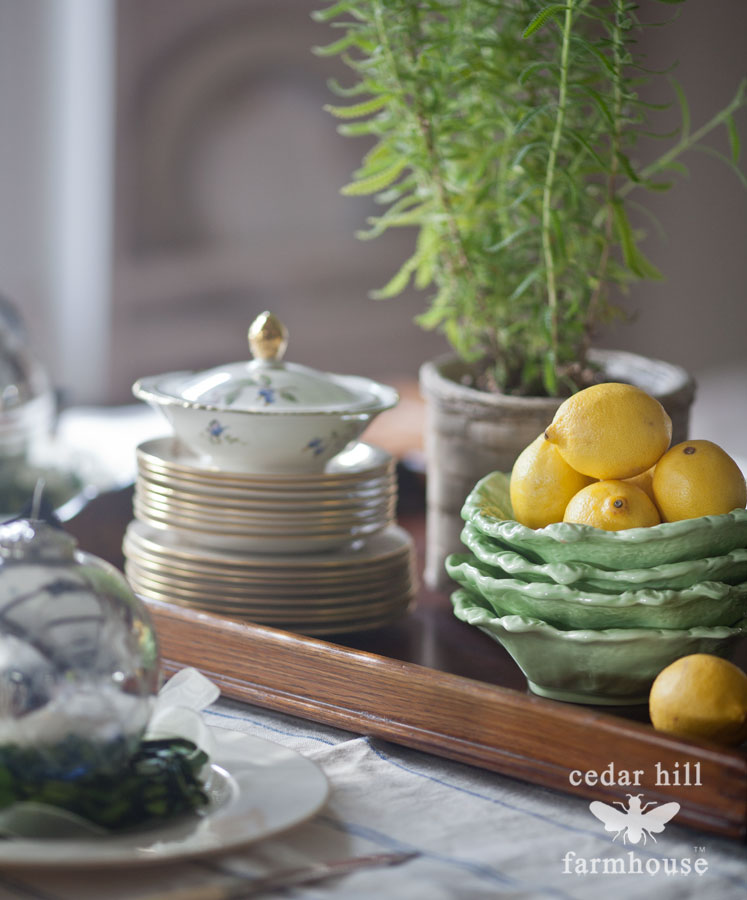 The dishes belonged to my mother-in-law; I love the tradition of using them.  So I have a few tips to share with you that I try to keep in mind when setting the table for guests.
1. Keep it Simple.
I don't have a lot of time set the table, and I know you don't either. That is why I almost never come up with anything elaborate. What is the good of doing an elaborate table for you to see if it is too much trouble for you to replicate? You see? I am just thinking of you. (Hee, hee)
2. Keep it Natural.
I love real food and real plants and real flowers. I try to always use fresh elements as my centerpiece, even if it is just a simple herb plant. I know I have already said this, but there is an quiet elegance and beauty to simple, natural things.
3. Use a tray.
By placing a tray in the center, everything is organized together. It all looks like it is part of the whole rather than a bunch of disjointed elements set on the table. This tray is large, but you could use a smaller one. Yes it takes up the entire space in the center of the table. There is no place to serve food on this table. There are two solutions. First, you could simply remove the tray right before you set out the food. Or, you could serve from somewhere else. We have a big island, often we set all of the food on the island, and then we don't have to transfer it to the table. Yes it requires getting up if you want seconds, but keeps the table from getting cluttered.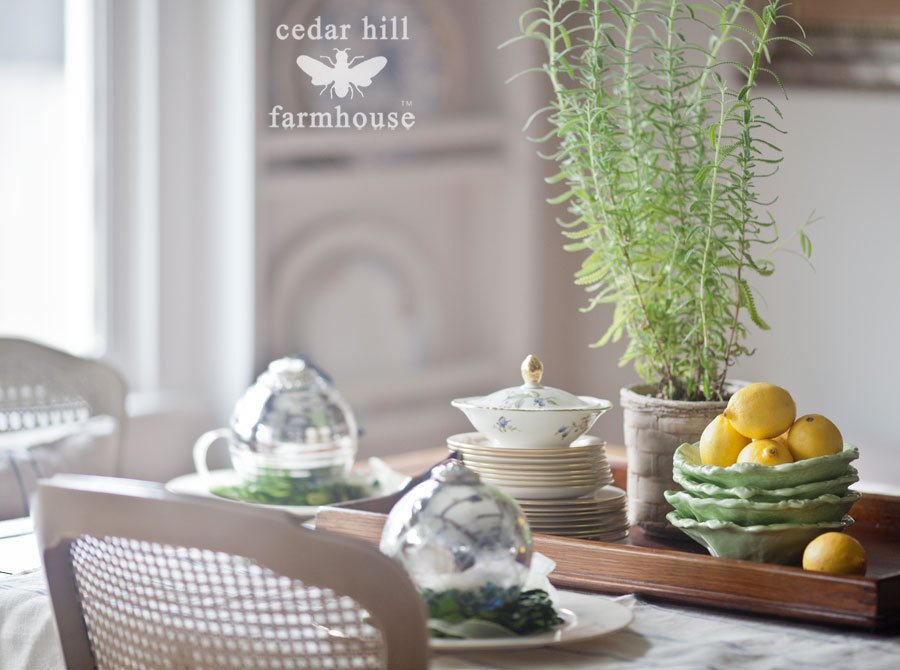 How about you? Do you have any tips for setting a holiday table?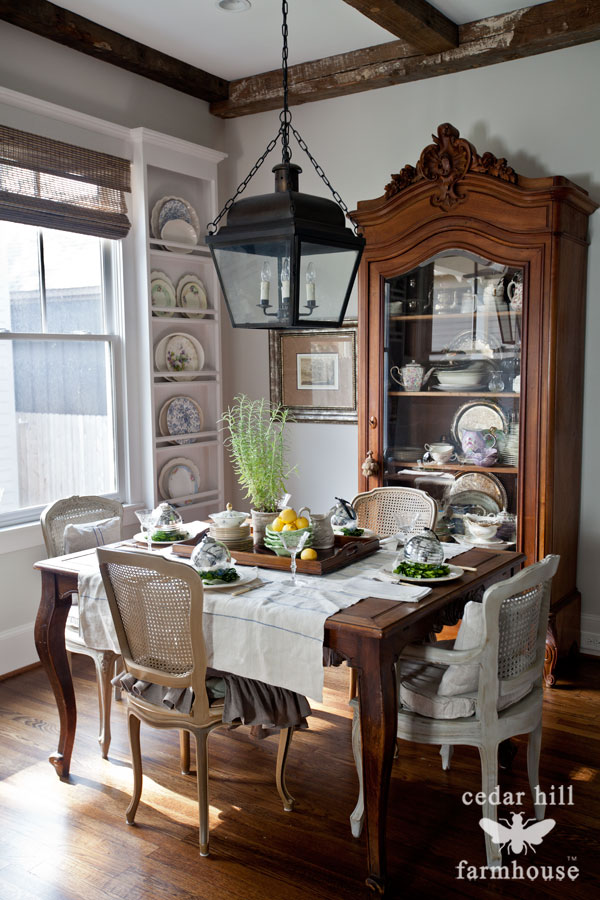 I hope you will join the other blogs on this Country French event covering Christmas.