I talking about this beautiful striped rug and my daughter moving out today. This post is part of the French Country Friday series, so be sure to scroll to the bottom, so you can see the blogs that are joining me today.
I've been dealing with a big change in my life this week. My oldest moved out. She's 24, so it doesn't sound like a big deal, but it is. She has Down Syndrome and I never thought she would ever move out. But we worry about what happens to her if we aren't around any more. And, I think I realized at some point that she would probably rather be around people her own age.
So we began talking to other parents and doing research, and we found a place that everyone seems to love. We got on the waiting list, and a few months ago we got a call that they had an opening.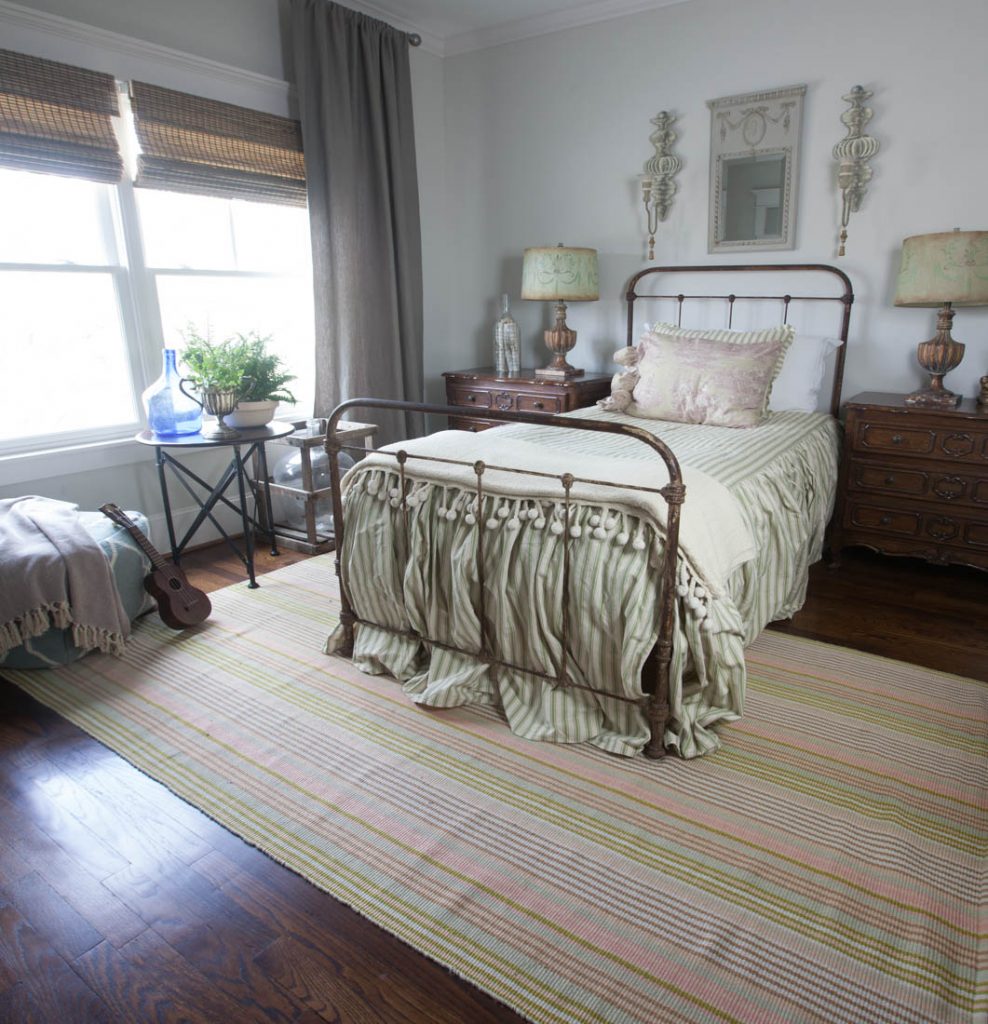 She moved in and seems to be very happy. There are several girls about her age that live in the house, and she goes to a campus during the day that has classes like a college, but different. We miss her terribly. She comes home on the weekends, and we know she is well cared for during the week. Her new room needs a 'Cedar Hill Farmhouse' makeover so I have that in the works! I'll share the progress later. Meanwhile here's her room at my house.
I just added this gorgeous Dash and Albert rug from Cottages and Bungalows. It's an indoor/outdoor rug which is great, because often snacks are eaten in here.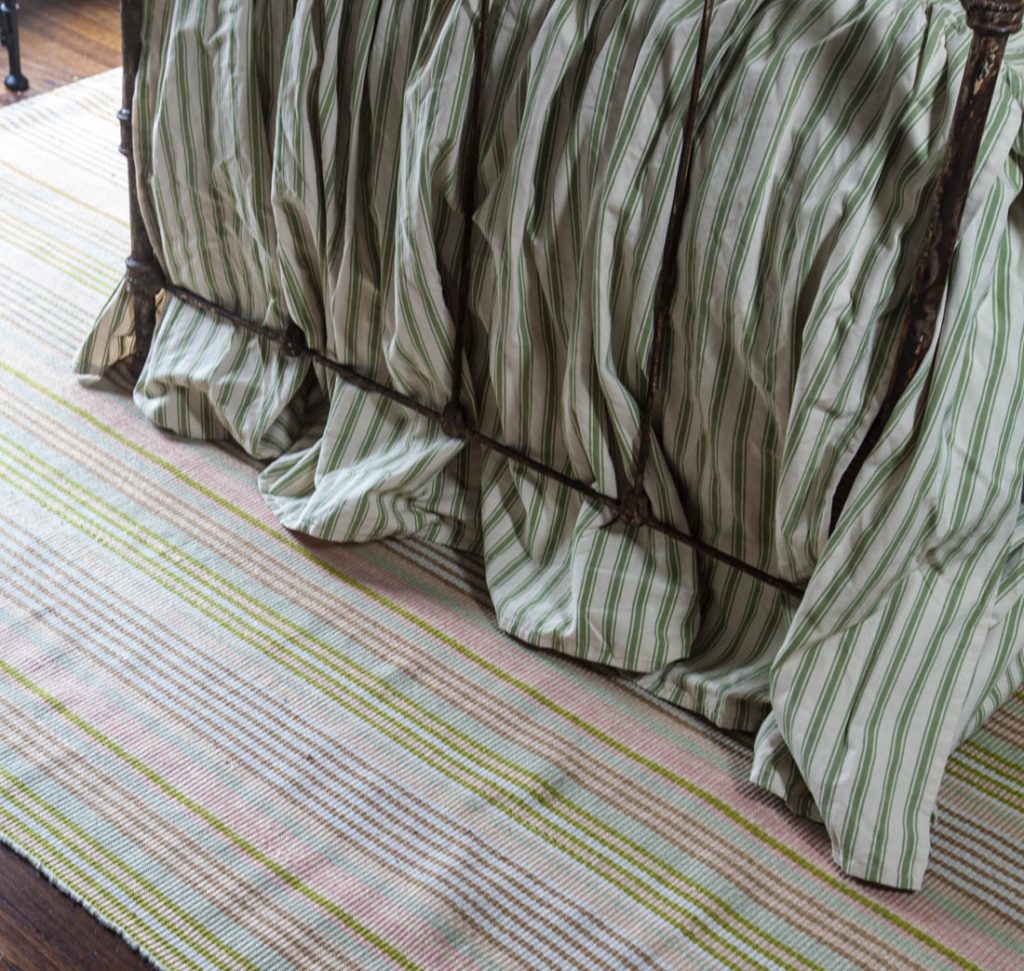 I love blue and white, but I thought it would be fun to go with green in this room. The rug has subtle color to it. And I love stripes. I think my favorite style of rug is a flat-weave with a stripe. The rug is a 5×8, that I used sideways at the foot of the bed. The fabric looks like cotton, but this is an indoor/outdoor rug. It's made from 100% PET, a recycled polyester fiber made from recycled plastic bottles, UV-stabilized to resist fading. I keep thinking it's cotton; it looks that good.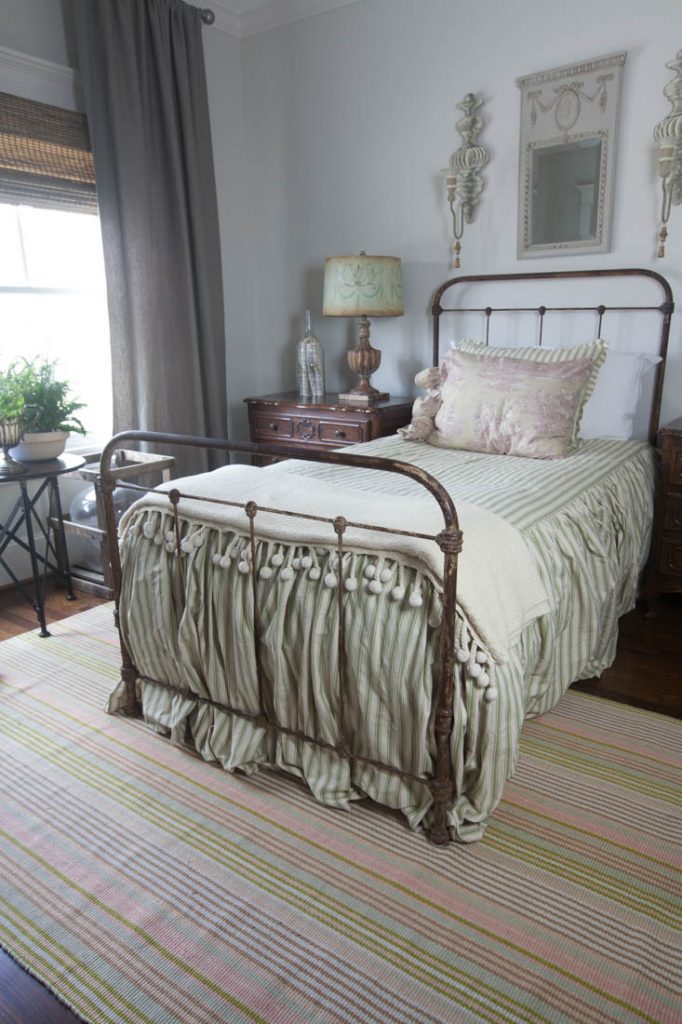 Today's podcast episode is about the decorator's secret weapon – symmetry. Listen below.