Grain sacks, how do I love thee, let me count the ways.
I love thee, because thou hath
versatility in decor
usefulness as upholstery
elegant monograms
and other super cool stuff.
Sorry I can't keep up with all of the thee's and thou's, but that really isn't something to apologize for. It was probably going to annoy you in about 5 seconds if it didn't already.
When I was asked to be a part of a grain sack Christmas tour, I couldn't say 'yes' fast enough. You see my house is full of grain sacks all of the time. This isn't something I just get out for the holidays.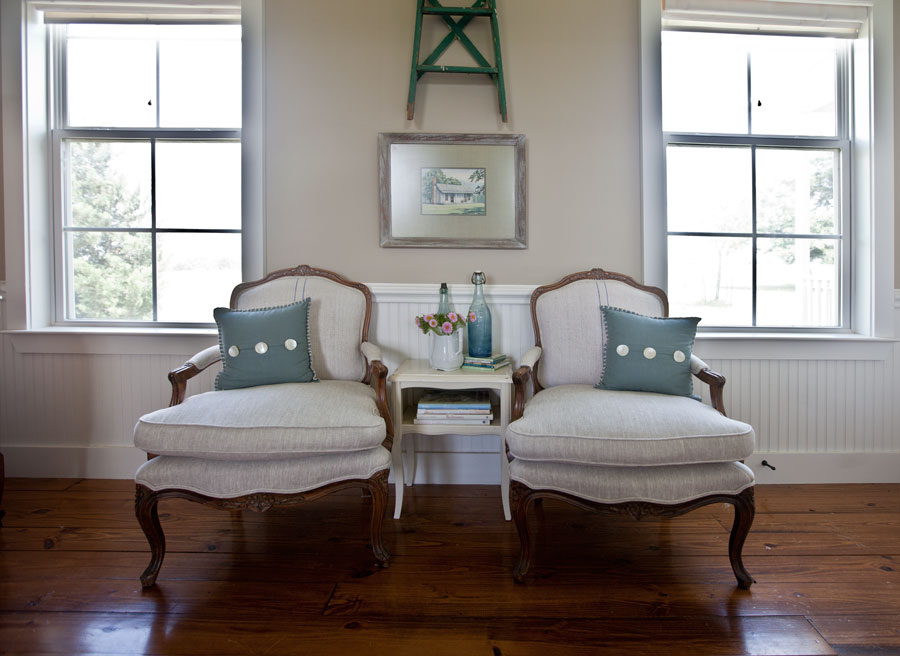 Actually I was going to show you lots of photos of grain sacks around my house but this post is about Christmas, so if you want to see more grain sack projects, just head over to this post, 10 Ways I used Grain sacks.
So back to Christmas. I used grain sacks draped over a vintage ladder. I think I put 4 grain sacks on the ladder.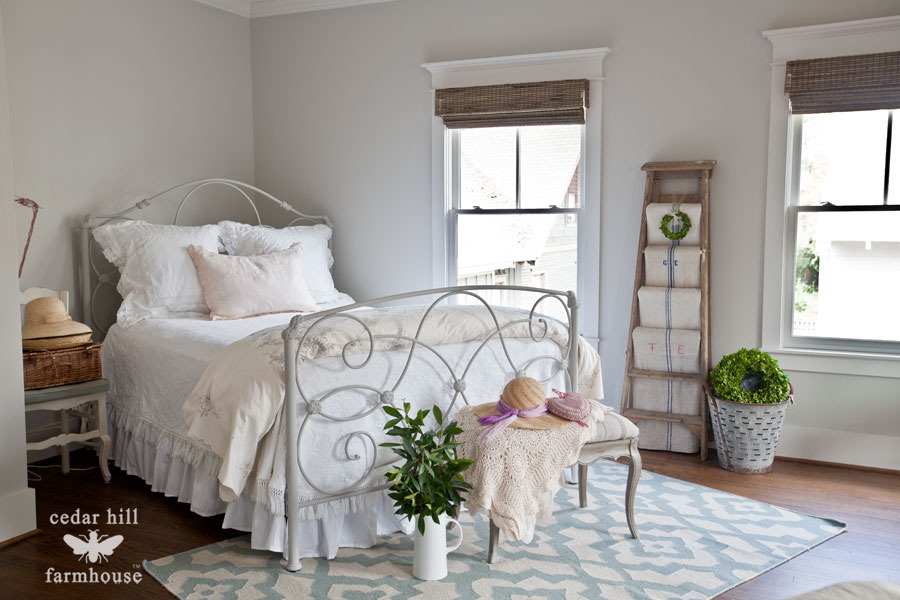 I love the monograms on the grain sacks. To give a bit of Christmas panache, I added the little boxwood wreath at the top, and placed larger boxwood wreath in the olive bucket.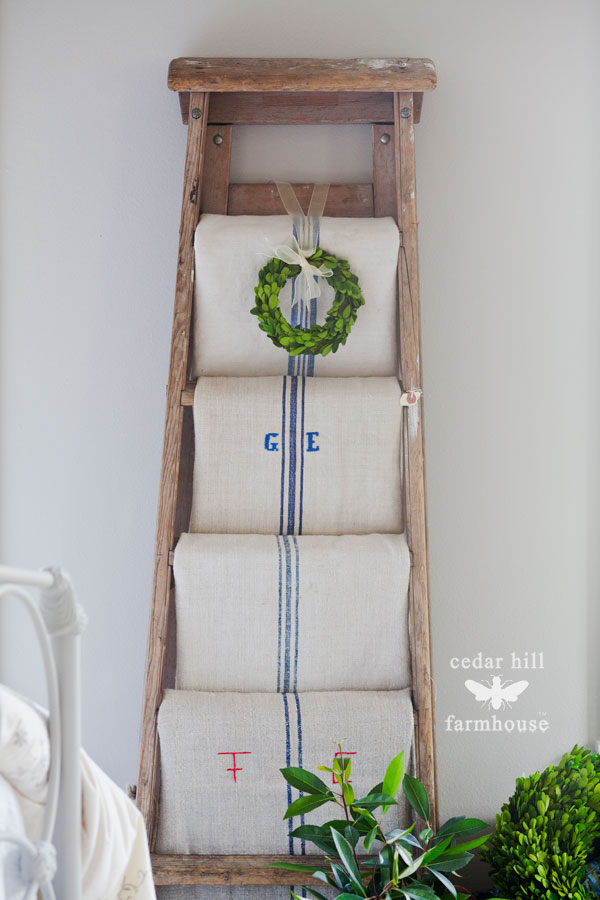 And for the super lazy Christmas decorator (me) how about putting a box of vintage ornaments on a chair. It's been upholstered in grain sack fabric too.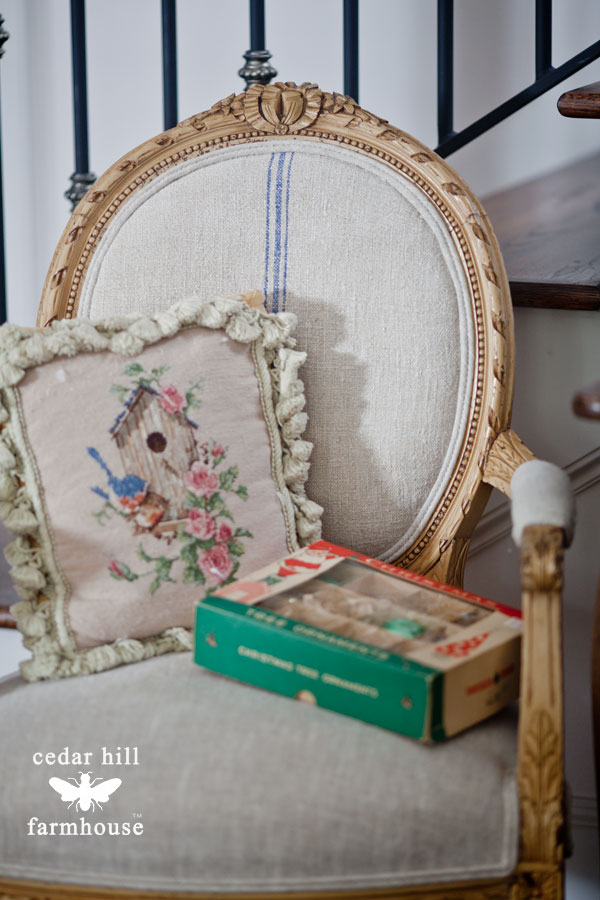 I did make these little mini Christmas stocking from grain sack fabric and linen. You might have seen them in my Welcome Home Post.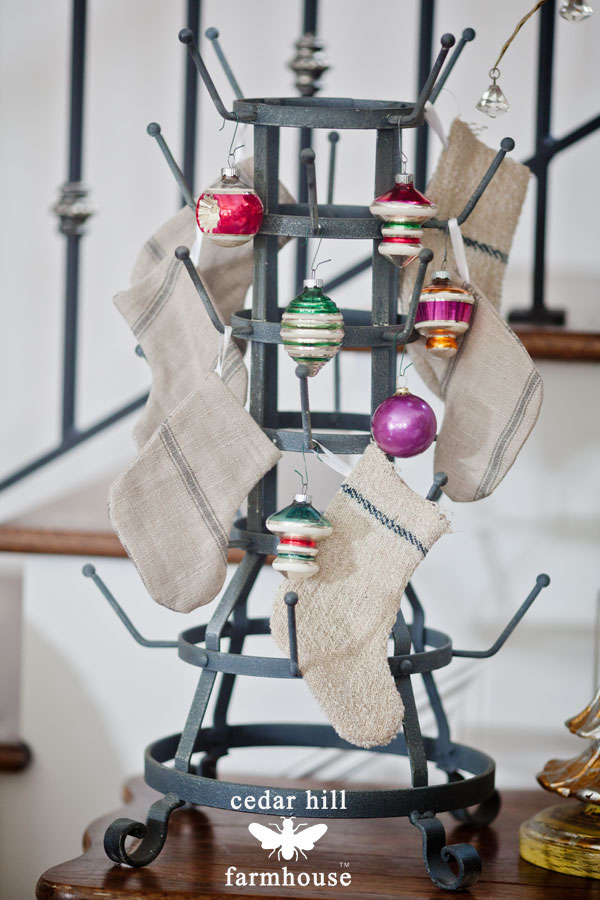 I love the monogram on the grain sack below. I have it draped across my linen ottoman. Honestly I couldn't decide how to use this over-sized monogrammed grain sack, and so I chose to leave it alone. Once you cut it, you are committed. So I just draped the grainsack across the ottoman. No sew, no effort! I was going to use it for my antique fireplace screen, but finally decided instead to use a plain grain sack and have it monogrammed.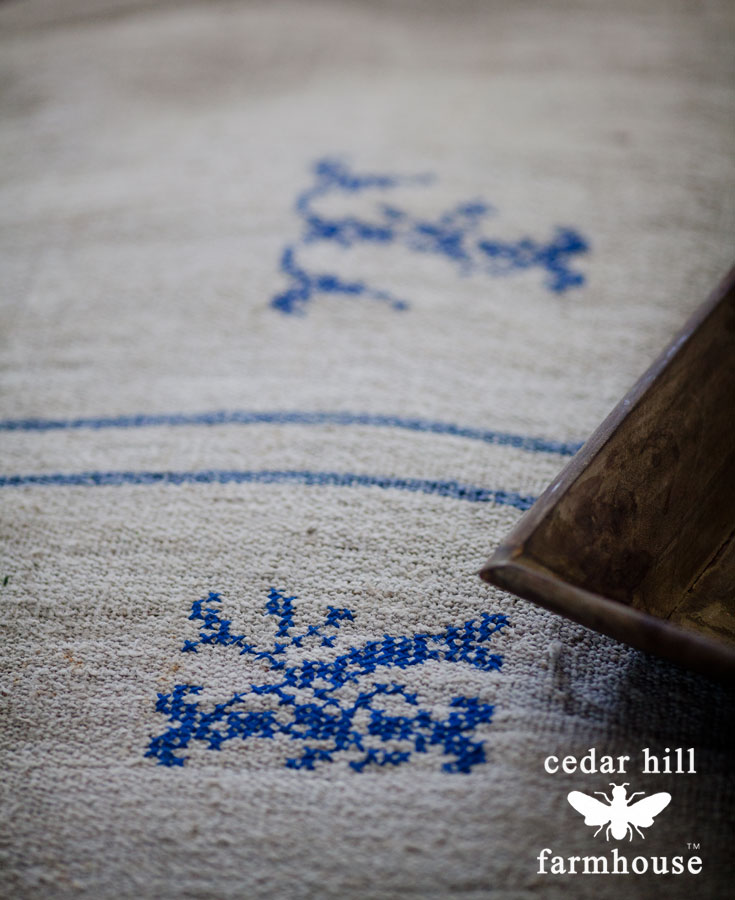 It's is being worked on as we speak, so I can't show it to you yet. The pillow shown below is another grain sack with a monogram. The angel winds on the back wall add a bit more Christmas bling.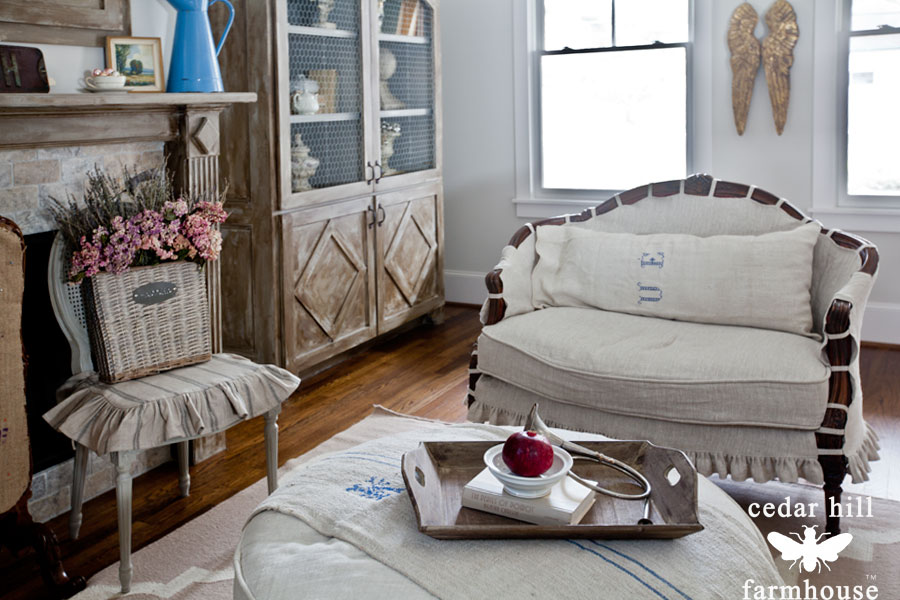 Below is a close up of the monogram you see on the chair.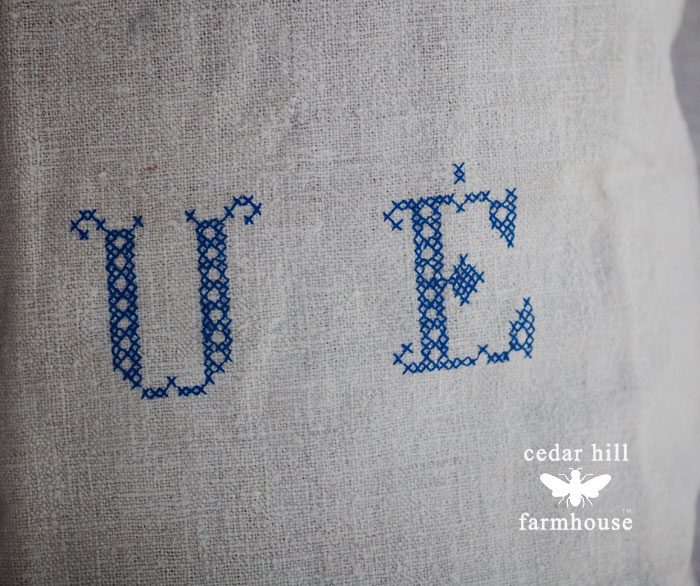 I didn't use red and green for my Christmas decor this year, opting for pink and turquoise.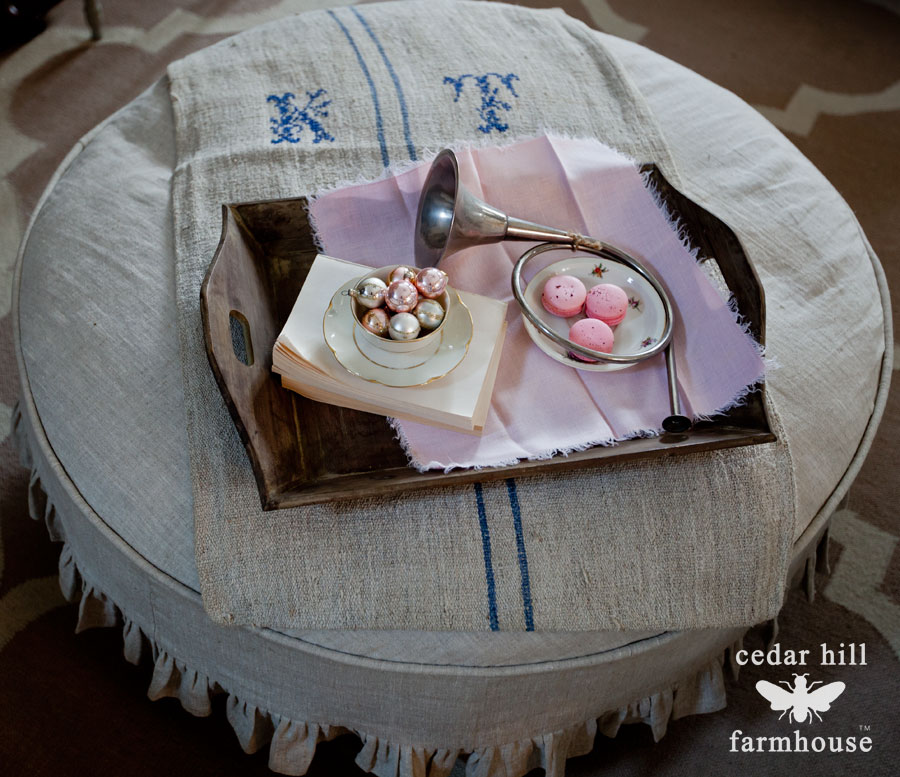 My approach is a bit subtle, possibly (probably) considered lazy. That's okay by me. What do I care? I have macaroons and tea. Yum!!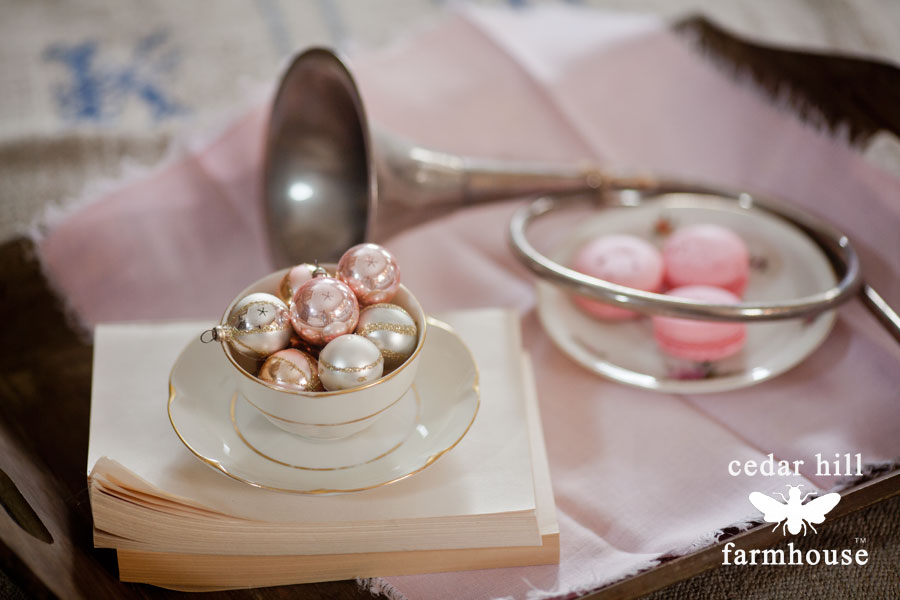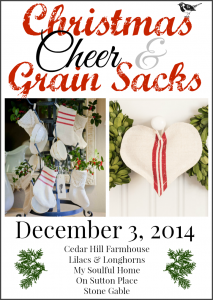 Please join the other blogs on the Christmas Cheer and Grain Sack Tour.
And Stone Gable Blog has a recap of all!