I think we've all seen photos of ranches with hide rugs. I live in Texas, so I've been around them a lot. They are like cowboy boots around here; they are part of the landscape. Our farm is surrounded by cattle ranches, so it makes sense they would be in style here. But what about in other areas? And more importantly do they go with Country French decor?
Well I have my own take on Country French that I call Farmhouse French. I see it as an updated take on traditional country French style.
Here are the first hide rugs I ever bought.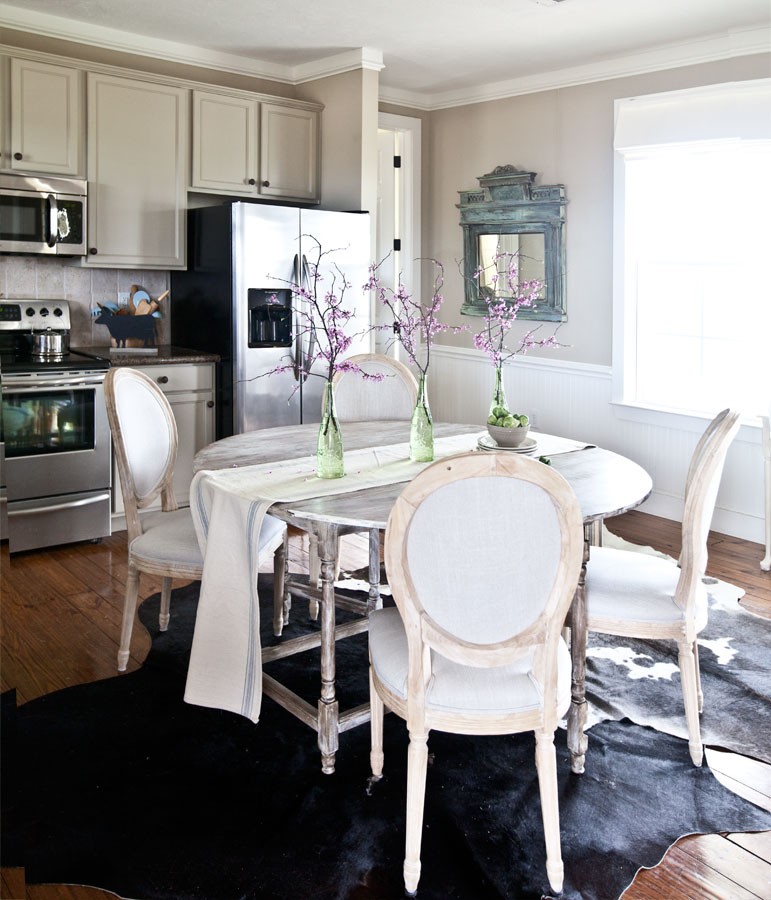 The black did not go with our collie hair. Rule one of selecting a rug is to make sure it is going to hide your dog hair. Well if you have a collie (or other shedding dog) I highly recommend you keep that in mind. Be sure your rug matches your dog's hair.
BENEFITS
The benefits to hide rugs are that they are very easy to clean.
They are stain resistant. I have never had any stains that didn't come out. Actually I've never had any stains period. I've heard it is because of the tanning process and that the hides have a lot of oil in them. The oil repels stains.
They hold up well to wear and will last a long, long time. Think about that leather handbag you have that has lasted forever.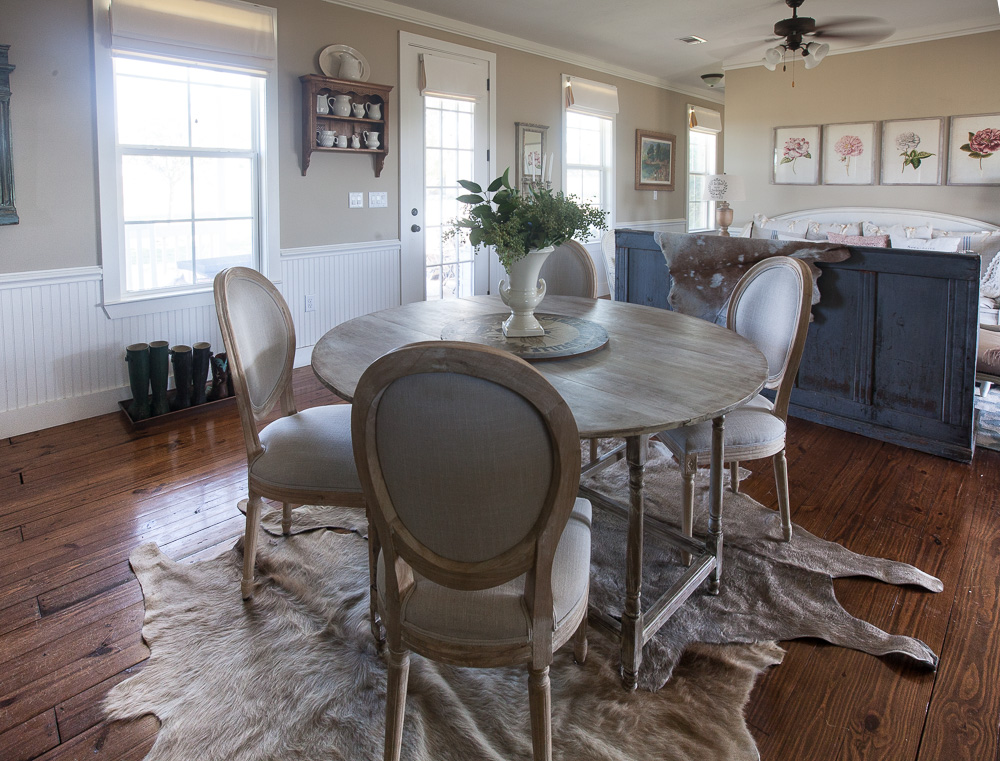 DOWNSIDES
They can roll up on the ends, so be careful that they don't become a tripping hazard.
They need to be conditioned every 10 years, by applying leather conditioner to the back.
Sometimes they can bunch up in places.
They have irregular shapes, which makes it more difficult to determine the best way to place them.
Now, let's talk about my farm kitchen. The pine floors are in pretty rough shape thanks to Molly the collie, so rugs also help protect my floors from collie claws. I think it's a lost cause here seriously.
I replaced these darker cowhide rugs for some lighter and fluffier ones. They feel really soft.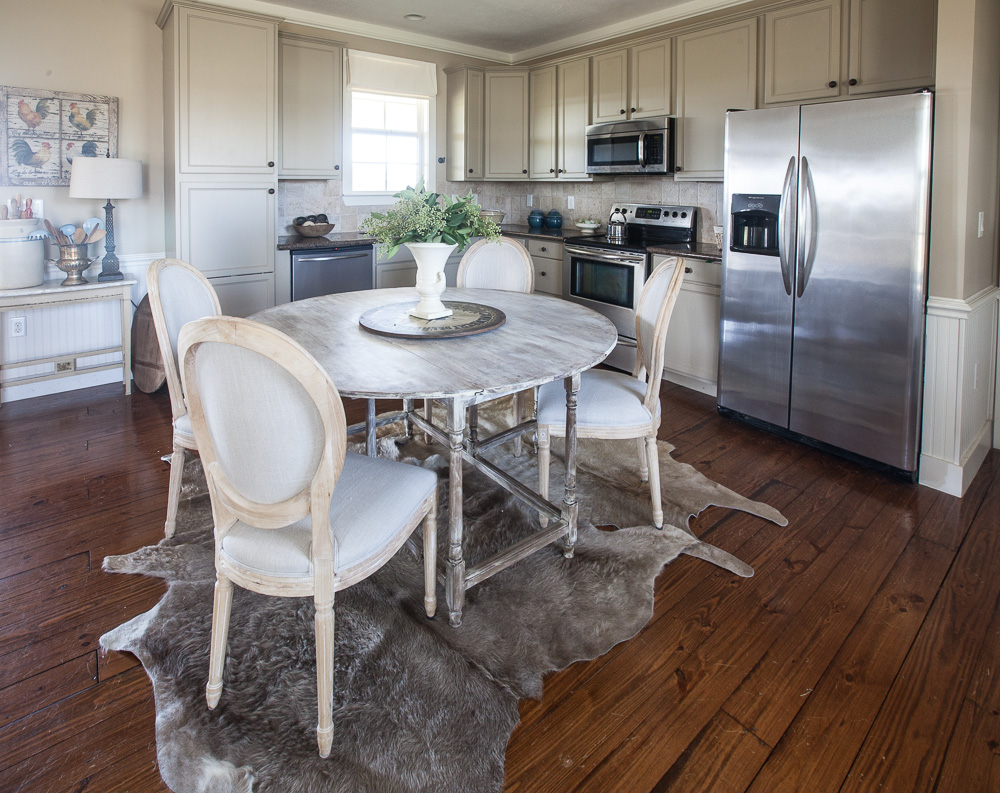 We've had plenty of spills on the other cowhide rugs, but no stains. I think this softer color works well in the kitchen.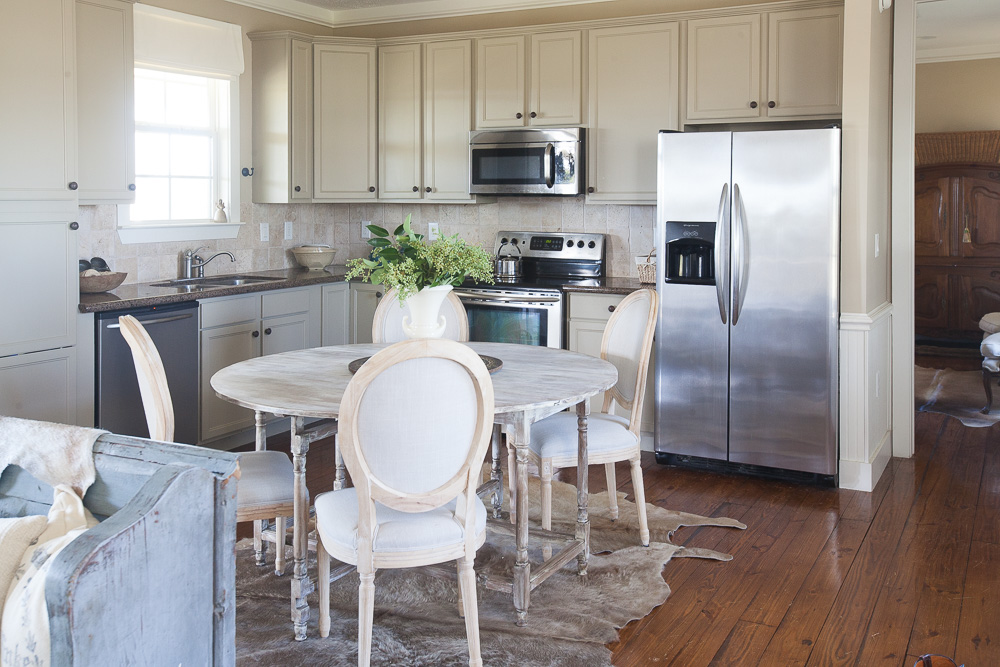 I know some people were concerned that I didn't have enough room between the church pew (click here to see post) and the table. It's hard to see how much space there is in a room from a photo. There's plenty of room to walk by whether I have the table leaf down or not. There's Molly peeking inside. Normally she bolts into the house, but it was cool today, so she wasn't sure she wanted to come in.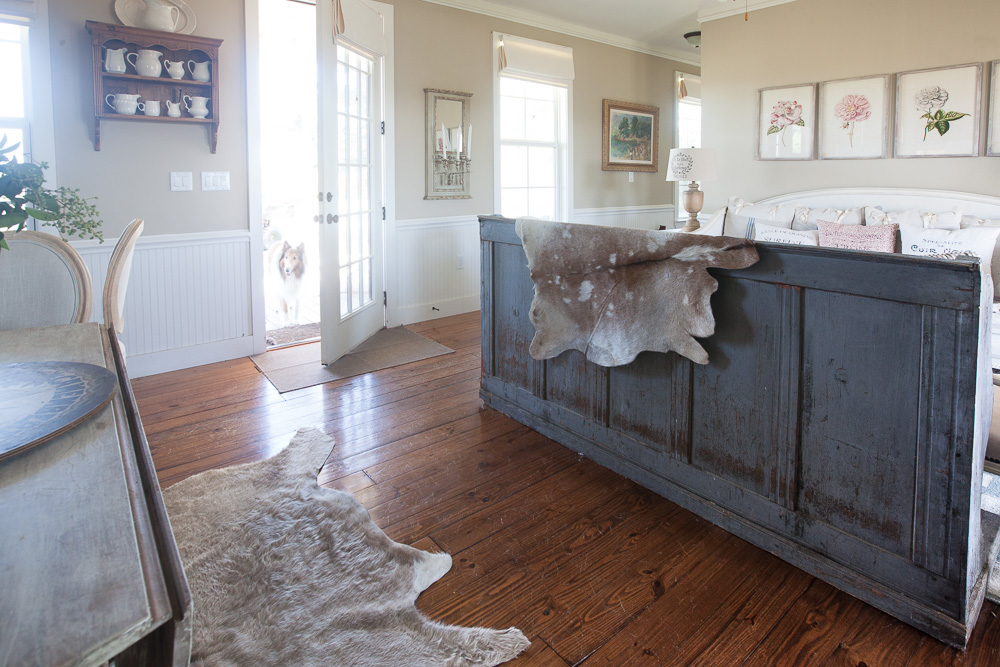 These rugs are smaller than the other ones. Hide rugs come in many different sizes. The price is dependent on the size, quality and sometimes color. Prices range from $200 for a small rug at Round Top up into the thousands for designer rugs at fancy stores.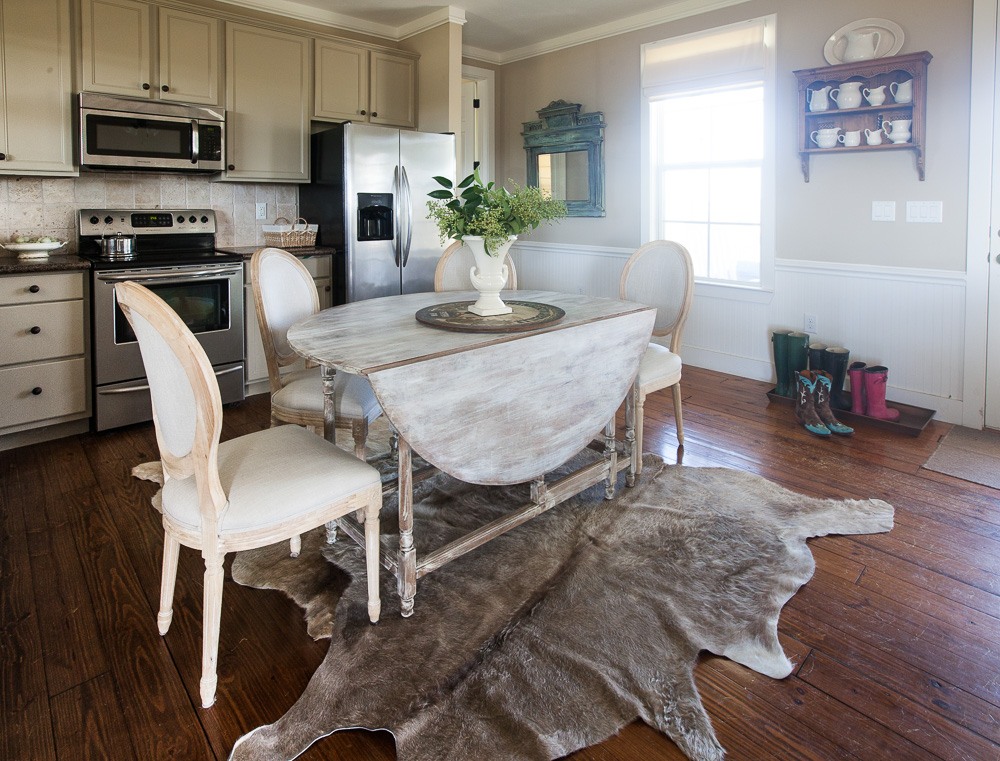 The green berries are from the farm. The nearest grocery store with flowers is 30 minutes away, so I often have to use greenery I get from the pastures.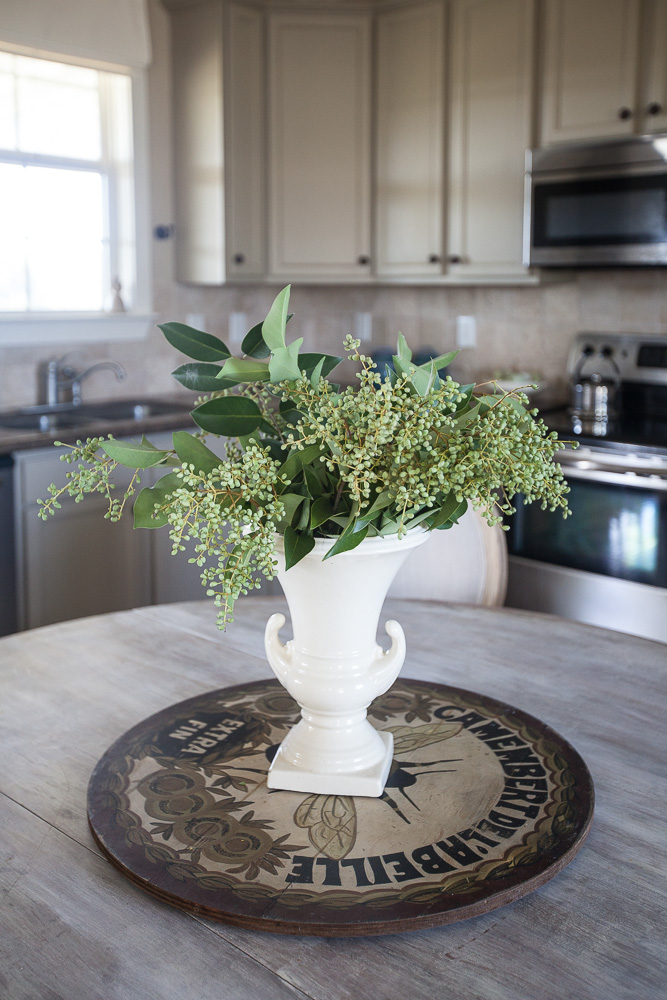 I love this little marble top table in the corner. It's an antique.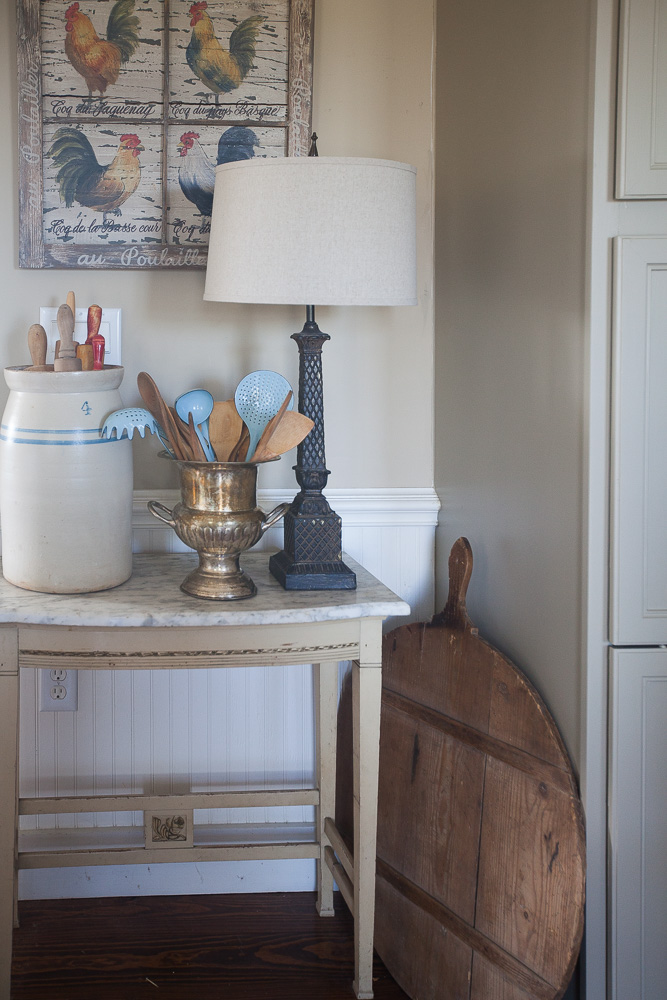 The October giveaway is still going on! Every time you leave a comment on any post at the Cedar Hill Farmouse Blog, you will be automatically entered to win. Details here.