This post was graciously sponsored by BIRCH LANE.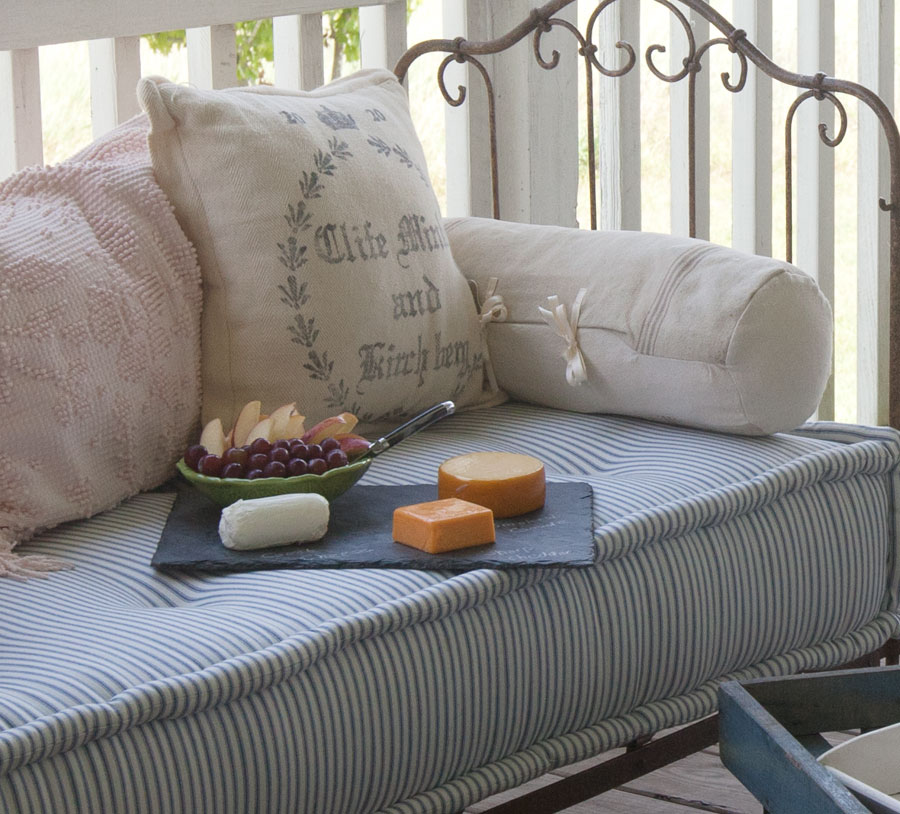 Bonjour and welcome to our al fesco dining tour! Karianne of THISTLEWOOD FARMS started the tour on Monday with her post. Now I want some of that sweet corn she was serving. Oh well, I don't have corn on my porch, but I do have some drinks and a cheese tray. Come on over and let's enjoy a little time outside dining al fresco. I've said it before, but this is my very favorite place in the whole world. This is where I love to entertain my friends and family.
When I was younger I loved traveling especially to France. I soaked up the culture, the joie de vivre and the lovely people. As I have gotten older, I realized I don't have to travel to get a slice of France. I can do it at my own home, n'est-ce pas?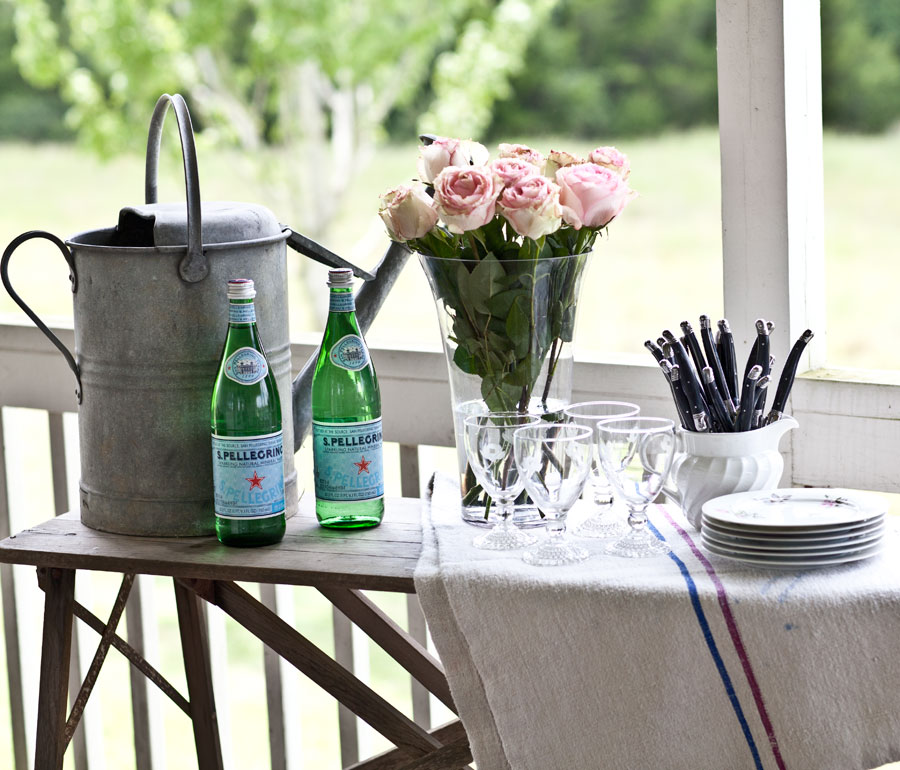 For starters, in Provence, I saw so many people dining outdoors. So we dine al fresco as much as we can. I set up plates, glasses and dishes on the porch so guests don't have to go far to get a refill. I use an old ironing board to serve guests.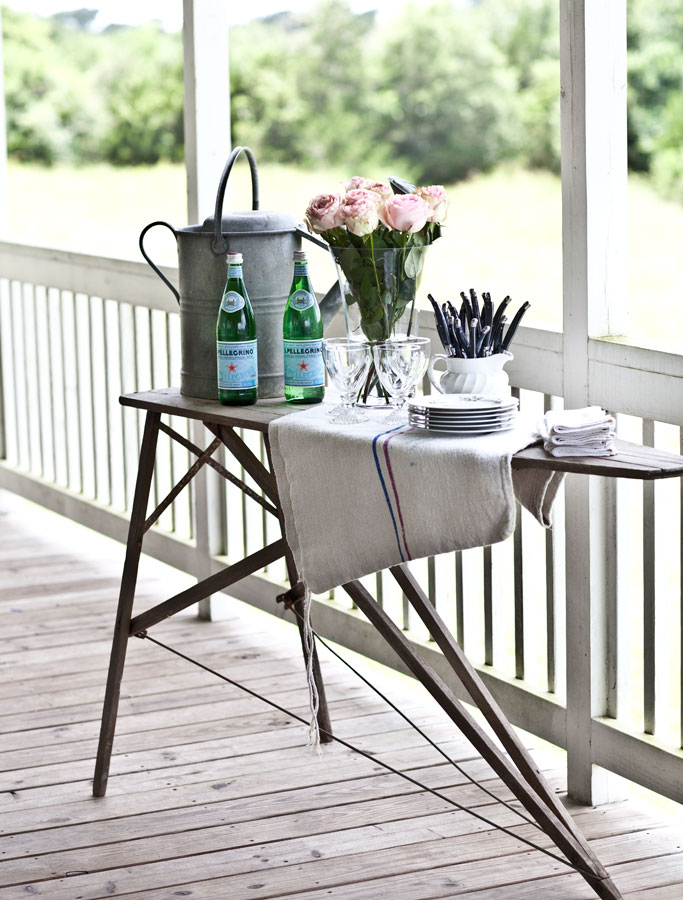 What flatware do I use? I use Laguiole flatware. It's gorgeous, oh so French looking, and of course, made in France.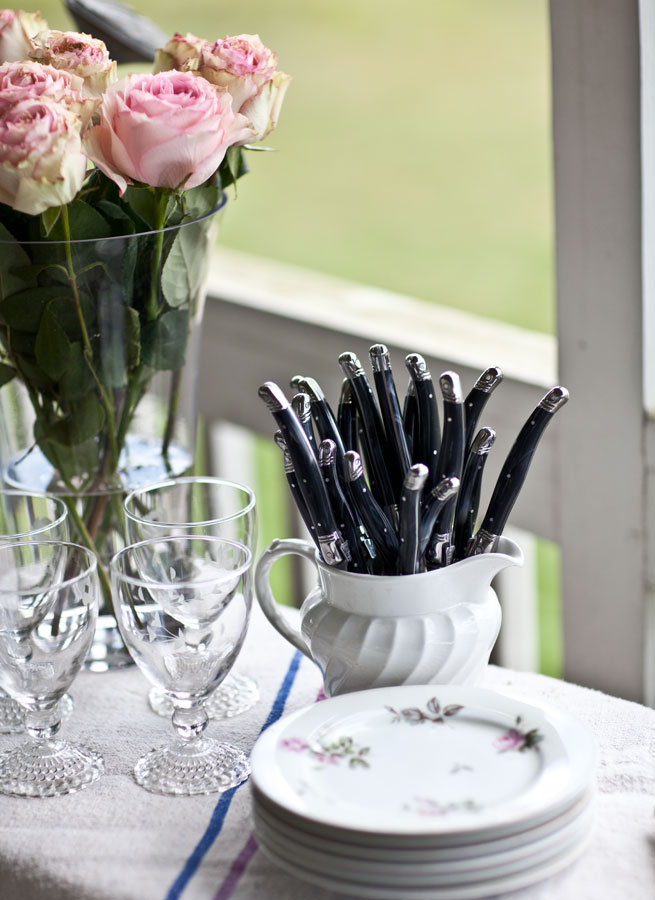 I've gathered all of my flatware for the afternoon in a vintage ironstone creamer. This set is black with a marbleized finish, so pretty.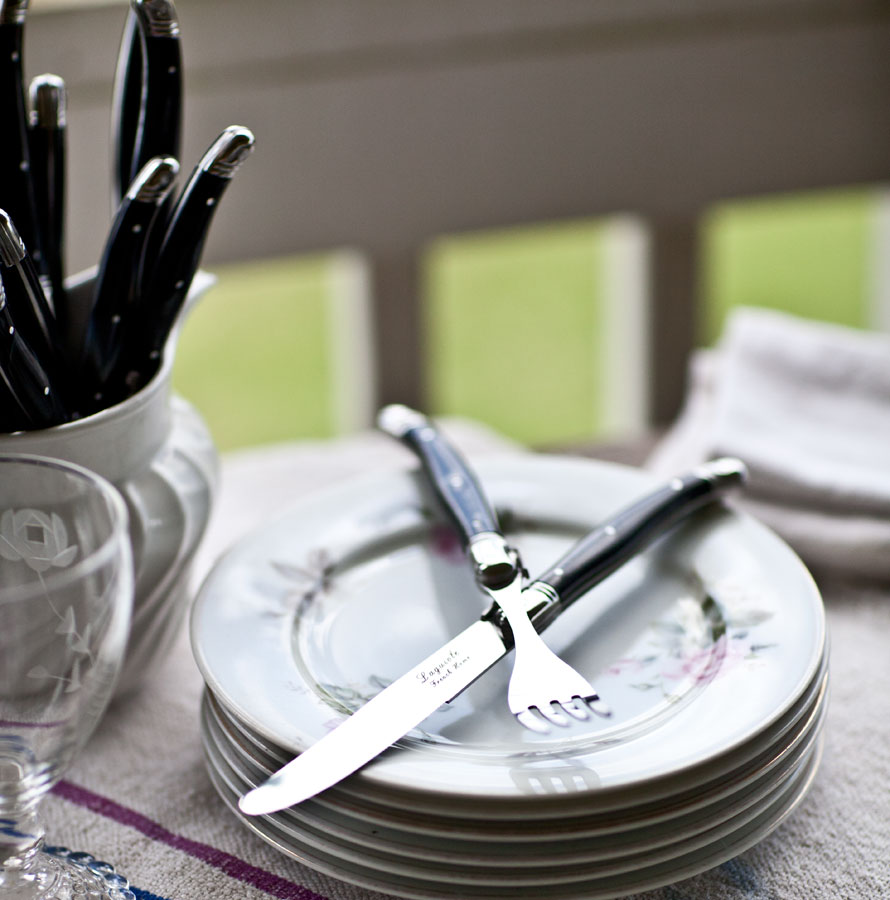 Come on over and grab a chair. I saved you a rocker. The rockers will go with just about any decor, but I wanted you to see how beautifully they work with my antique French settee (formerly a crib.) Can you see the pasture and the woods beyond? The house sits up on the hill, so you have a nice view of the back 20.
I've used a European wagon in French blue for my coffee table here. I set a cheese tray on the settee. I love tasting cheeses. I've got a smoked Gouda, a sharp Cheddar and a goat cheese on the tray.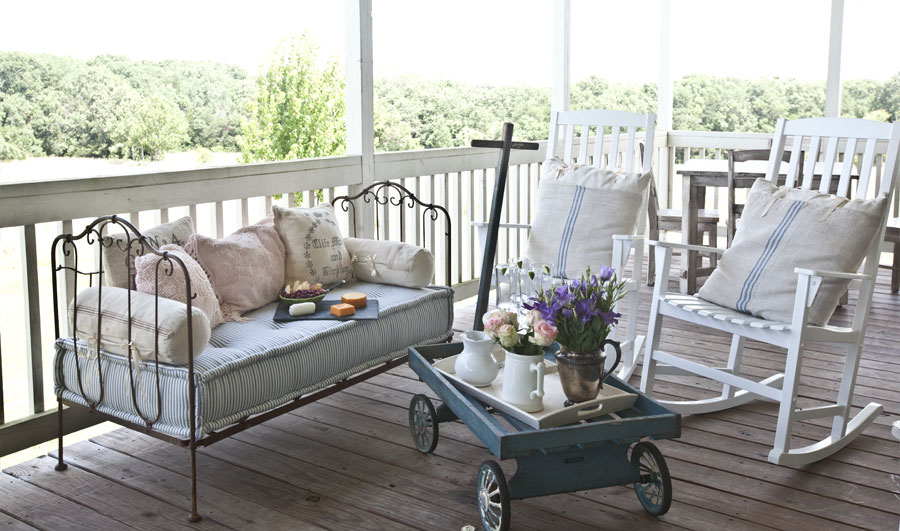 The faux olive trees may be my favorites. I just love them. They are not real, but they look just like the real thing. I have an olive tree in my backyard, and I love using cuttings from the tree, but they only last a few days before they turn brown. These faux trees have the details down with leaves that have a silver underside. Of course I had to add something fresh from the farm. These are bluebells I cut from the pasture in a vintage silver pitcher.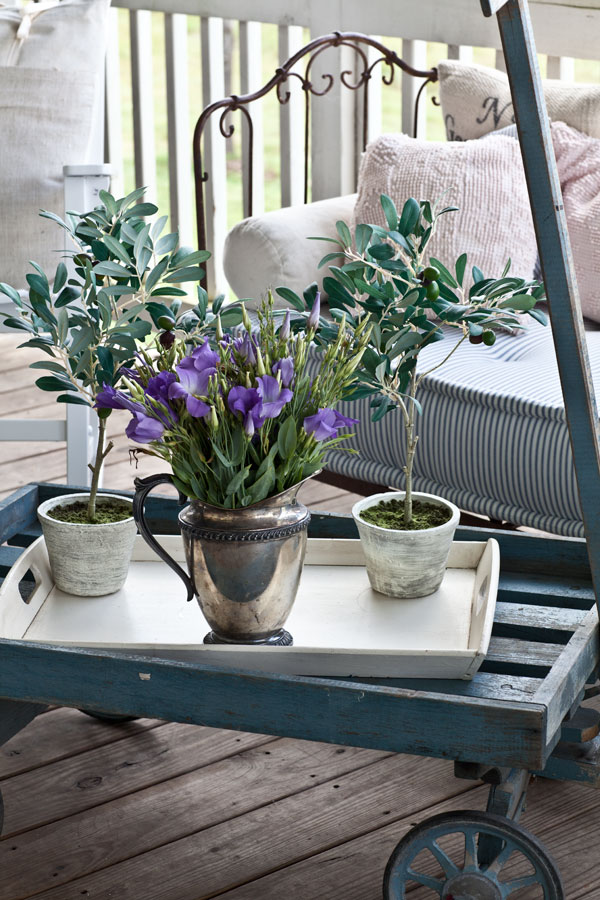 The wonderful thing about rocking chairs is that you can move them around the porch to wherever you want them. Remember the daybed that was on my back porch? I moved it to the city, so it's not on my porch any more. I put these rockers where the bed was. Here we have a great view.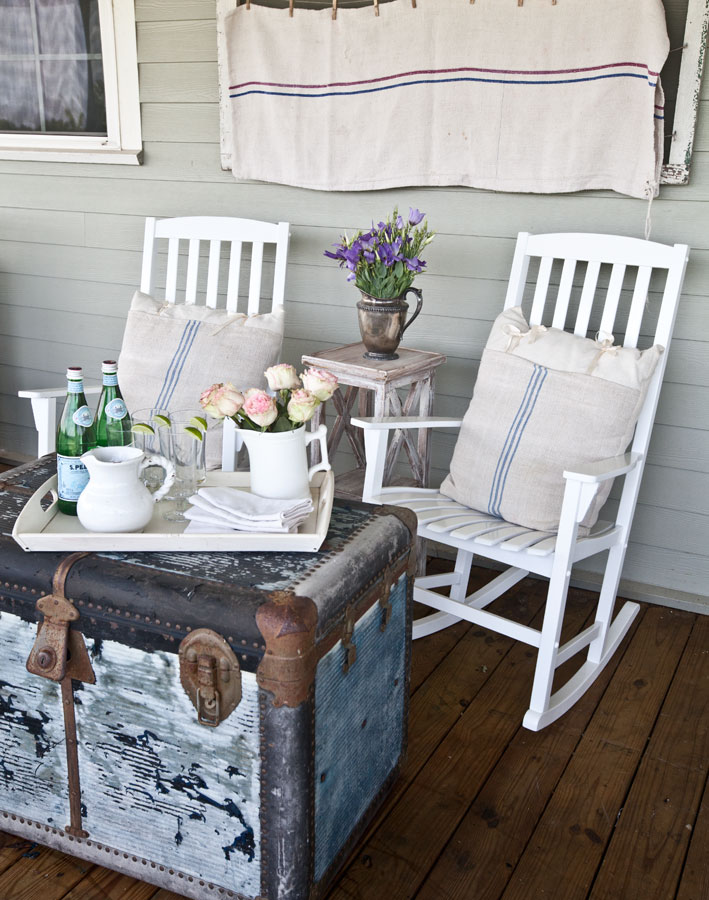 Can I get you another pillow?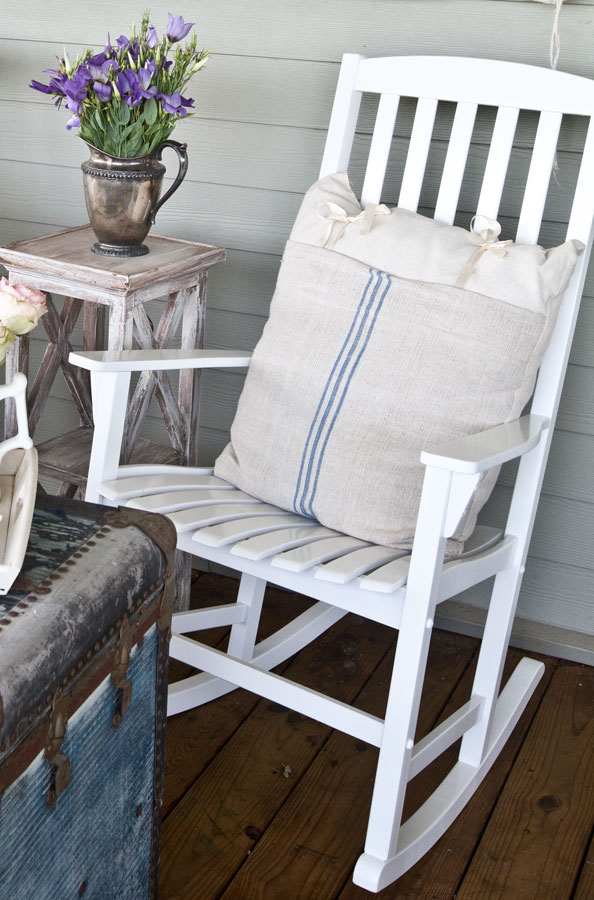 The nice thing about the olive trees and my flatware is that I can bring them back to the city pretty easily. The rockers are a bit bulky to transport. I wanted to show you how well the flatware and the olive trees work in the city. Evie and I took a trip to the local bakery around the corner. I wanted baguettes but they didn't have. It's a small bakery, so you have to choose from what they decided to bake that day. I choose a Rosemary and Garlic sourdough bread. They had just made fresh pesto, so we bought some of that as well.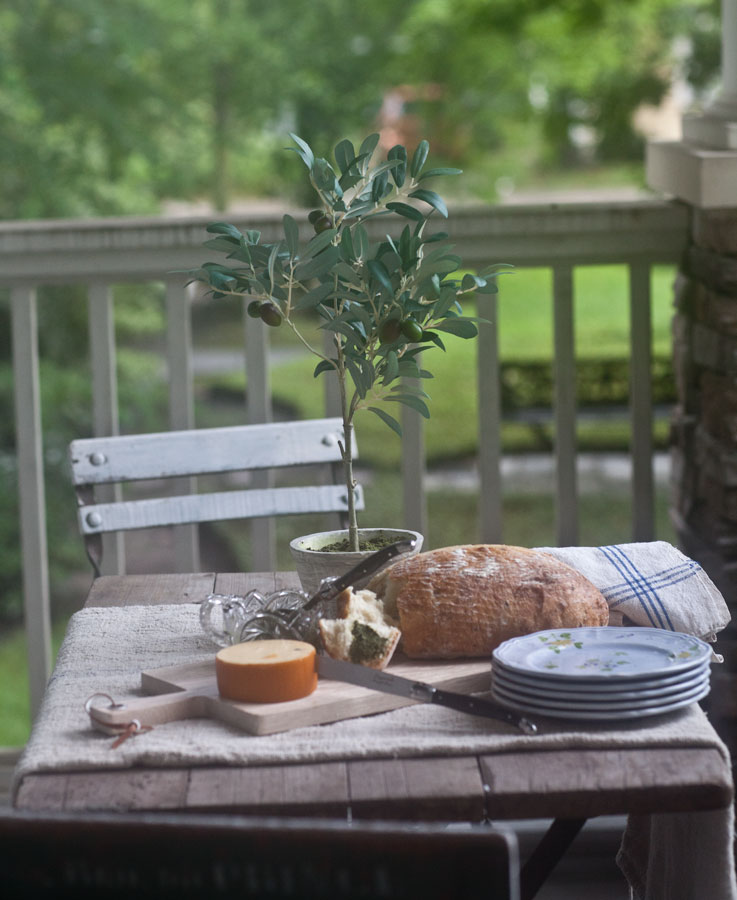 Oh my goodness the smoked Gouda was good, but that fresh pesto was spectacular.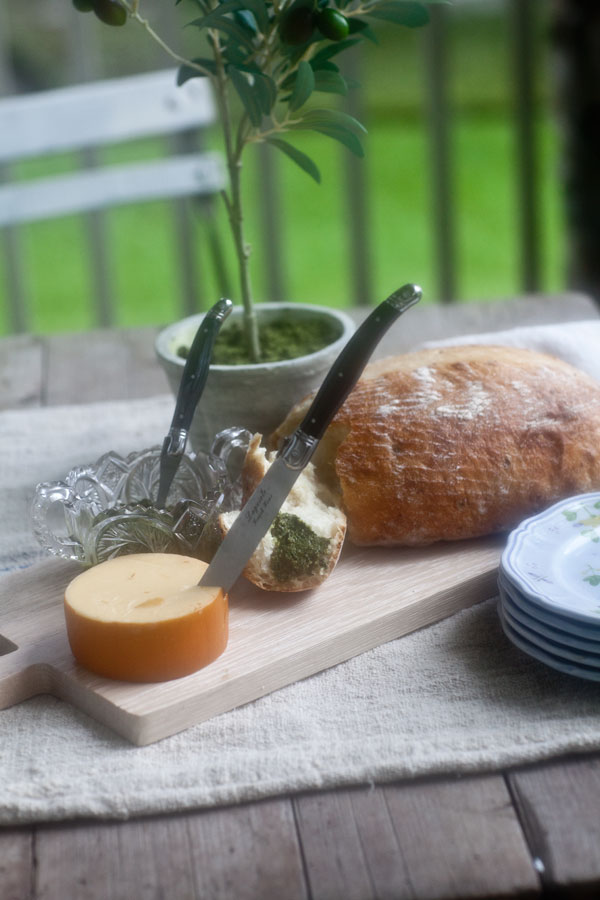 When we came inside, I set the faux olive trees on my dining room table and thought they looked so pretty I would have to show you that look as well.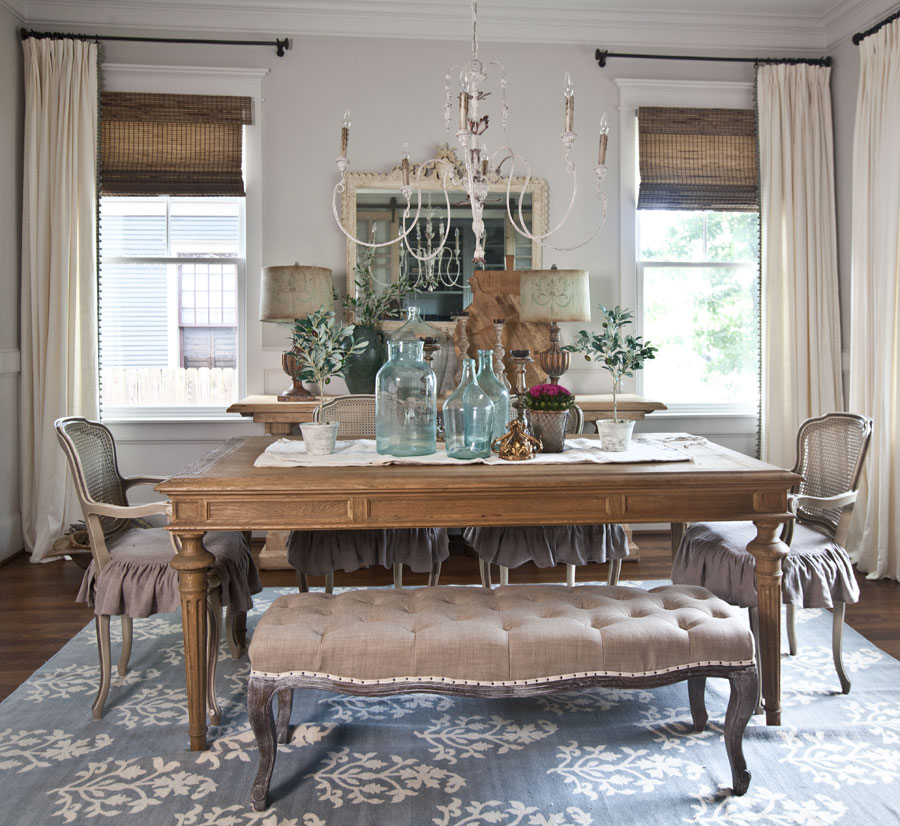 This post was brought to you by Birch Lane.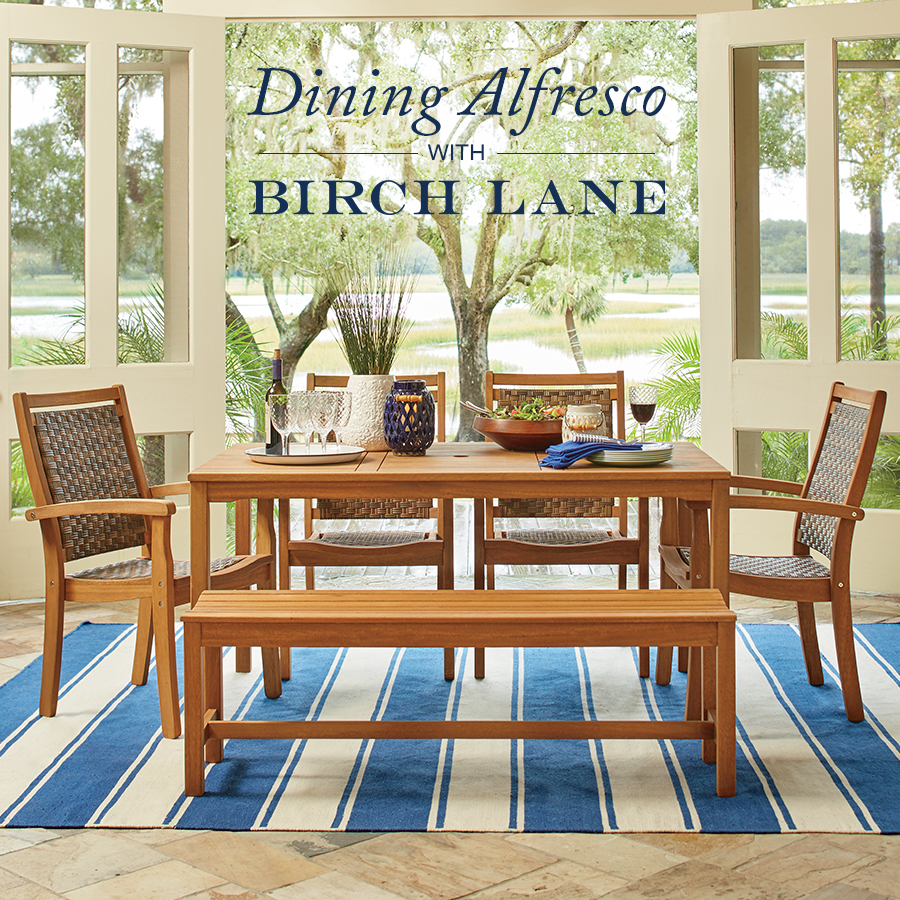 Here is the shopping guide for the post.
ROCKING CHAIRS (They are on sale right now.)
FAUX OLIVE TREES (Also on sale!)
ALSACE LAGUIOLE FLATWARE (Yup, it's on sale too!)
Be sure to check out tomorrow post over at STONE GABLE.