I'm still keeping it real here. Remember my behind the scenes photo from last week, click here if you missed it. More reality is coming your way today.
Brace yourself. No, seriously, I mean it. You are not going to believe this. First off I am talking about my daughter's room, and yes I have her permission to talk about it. My daughter is all about music, and interior design is not really her thing. She's in college, so I try to not tell her how to take care of her room. But… well… things had gotten a little out of hand.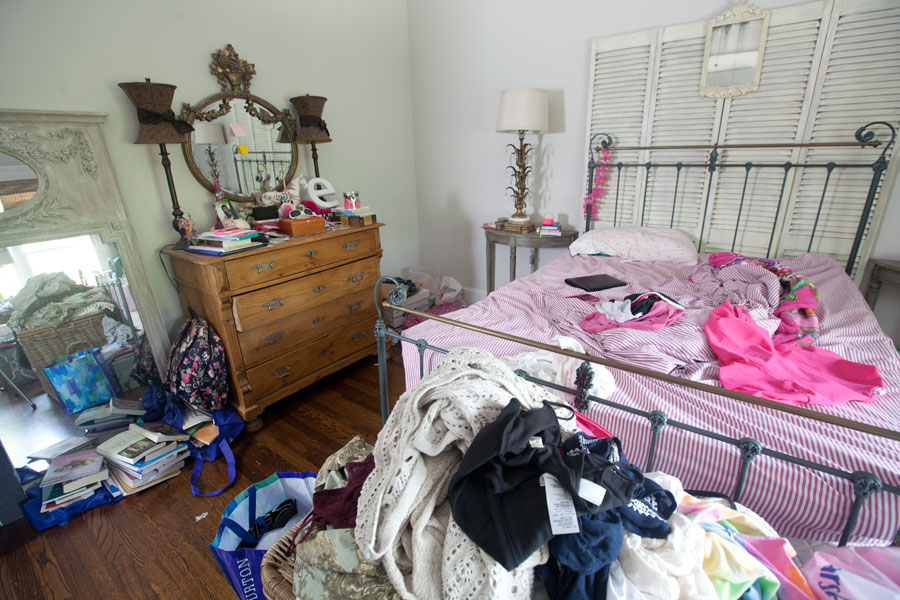 I offered to help her to get it organized and she said yes! I know it felt like an overwhelming task to her, but I knew we could do it. Deep down I'm Monica from Friends. I like it neat and clean. Let me say at the end of the day, we had 4 bags of trash from here and about 8 bags of clothes and shoes that we donated to another family. Here's what came out of the room.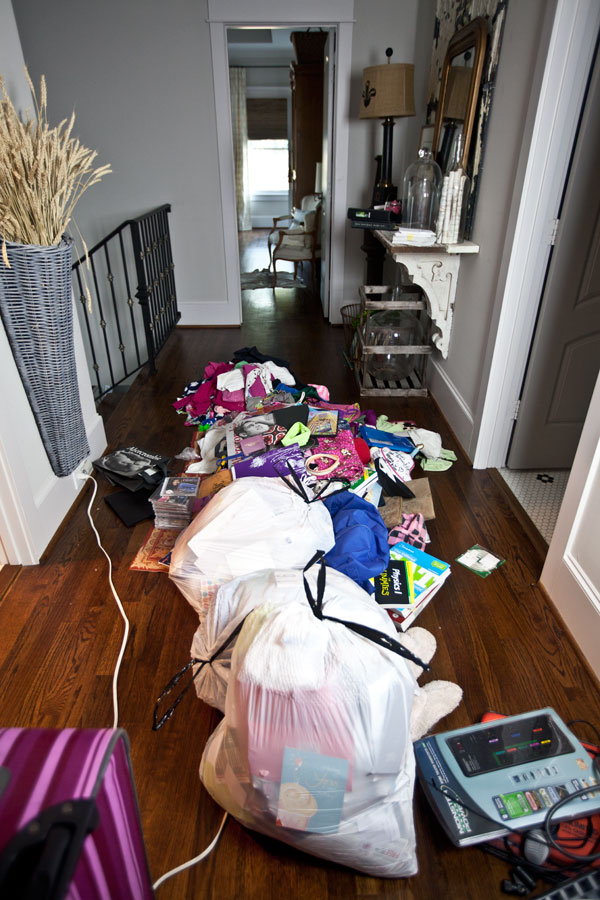 Here's how we approached the room.
We pulled everything out of the closet first. That is the main storage for her room, so that is where we were going to be putting things up. So we needed to clear out the stuff we were not going to keep first. We made three piles – KEEP, GIVE AWAY, and TOSS.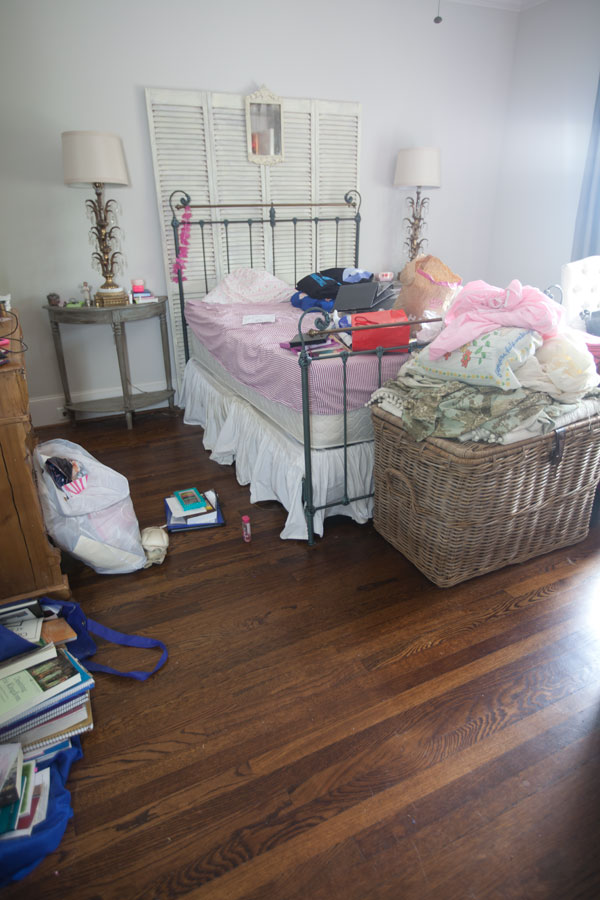 2. As we put the KEEP things back in the closet, we organized by t-shirts, long sleeve shirts, short sleeve shirts, and dresses. I also organized a bit by color. We refolded things and put as much as we could on hangers. Shoes went in the cubbies.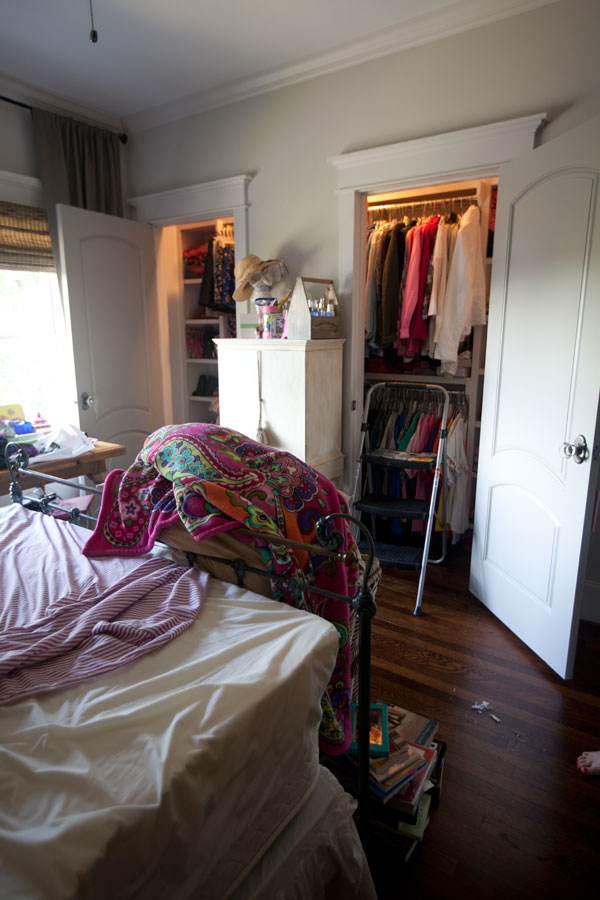 3. We picked up things off the floor and put them on the bed as a staging area. Here she decided what to keep or get rid of. We did one side of the room first so we could feel the sense of accomplishment before we went to the other side.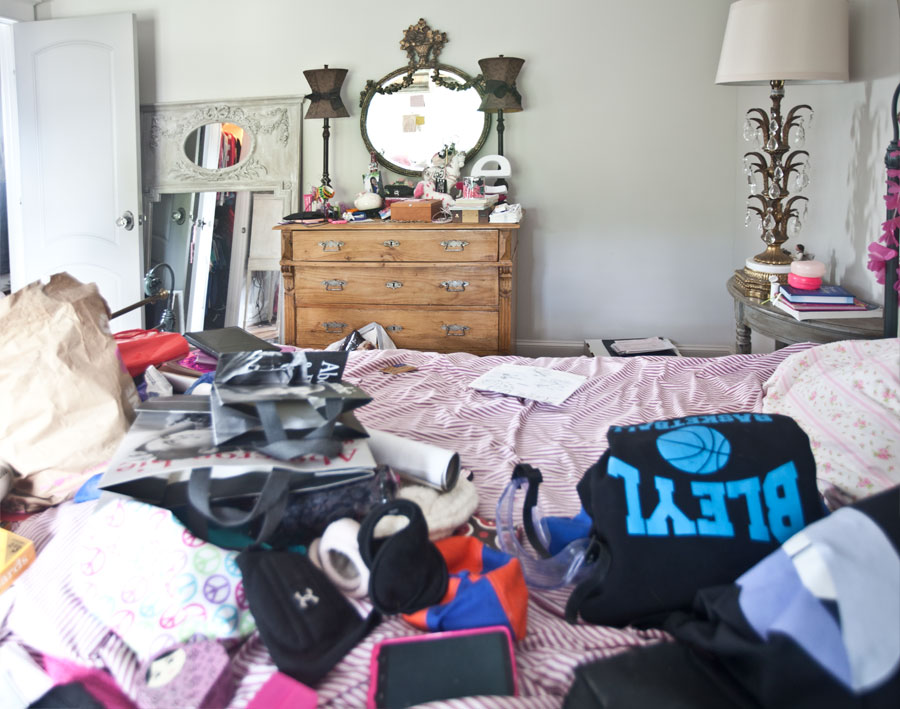 4. Books, clothes, shoes, games, purses, tote bags and such went in the closet. The dresser holds underwear, pants, shorts, and night wear.
I think the big thing we did was to clear out clothes and shoes she no longer wore and get rid of old notebooks and papers from school. Once we got rid of the old clothes, then there was room to put up all of the clothes she was keeping. I think too, the other issue was she did not have a place for everything. There is now a place for everything, so hopefully things don't get out of control again.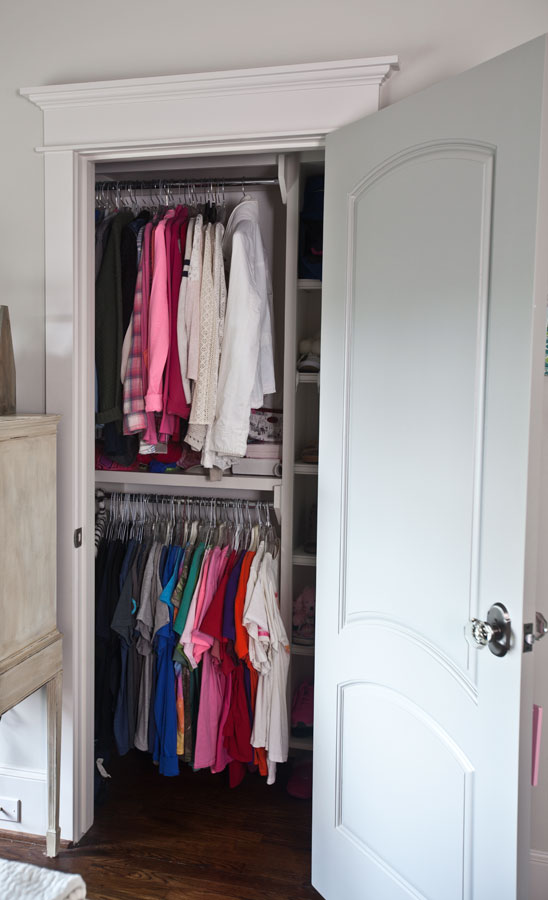 She had a lot of stuff in her room, but she is not a hoarder. I think she just didn't know what to do or where to start. Once that feeling of helplessness sets in, then people feel like they just can't do it. We talked about keeping things put up every day.
In the past when I've taken photos of her room, I've staged it for the blog. This time I left it like she uses it. I removed a few things for the photos, but only a few small things.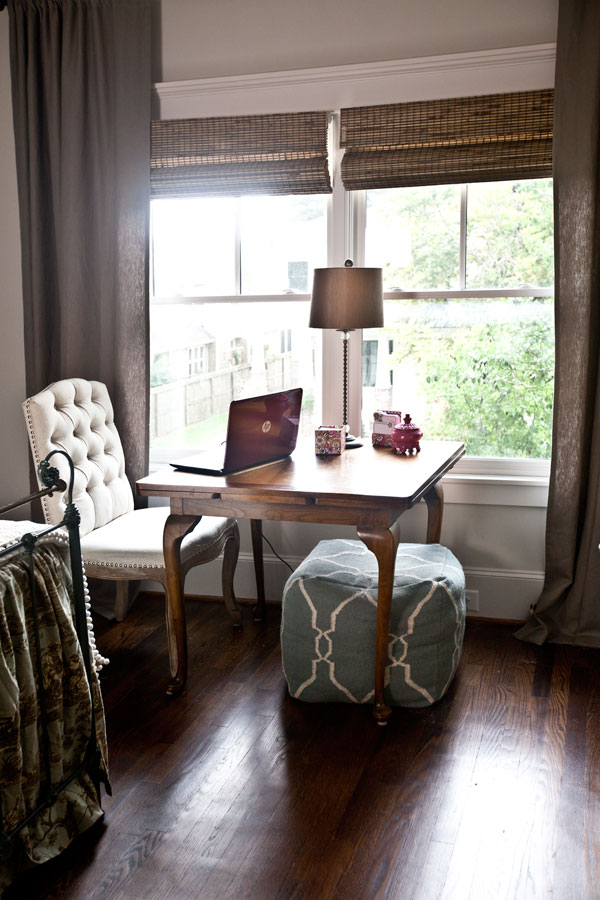 I think she did a fabulous job, and am proud of her for sticking with it all day. I know organization isn't everyone's thing, but I think we all can learn to do it. This was not just a case of shoving things in the closet and under the bed. The closet is not neat and organized. A ton of things were removed.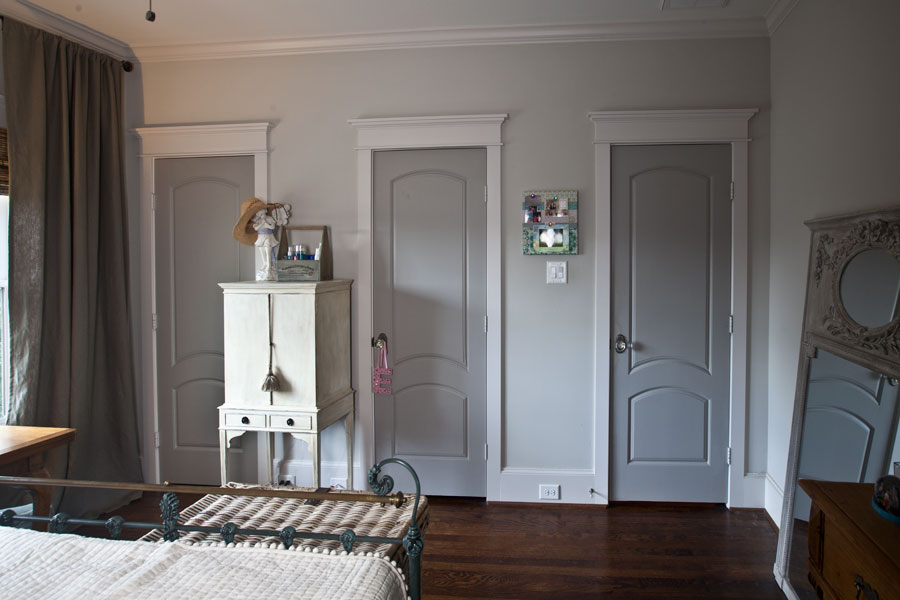 We still have so more cleaning to do in here, but this clean out took about 5 hours with 2 of us working, although I did take a break at one point.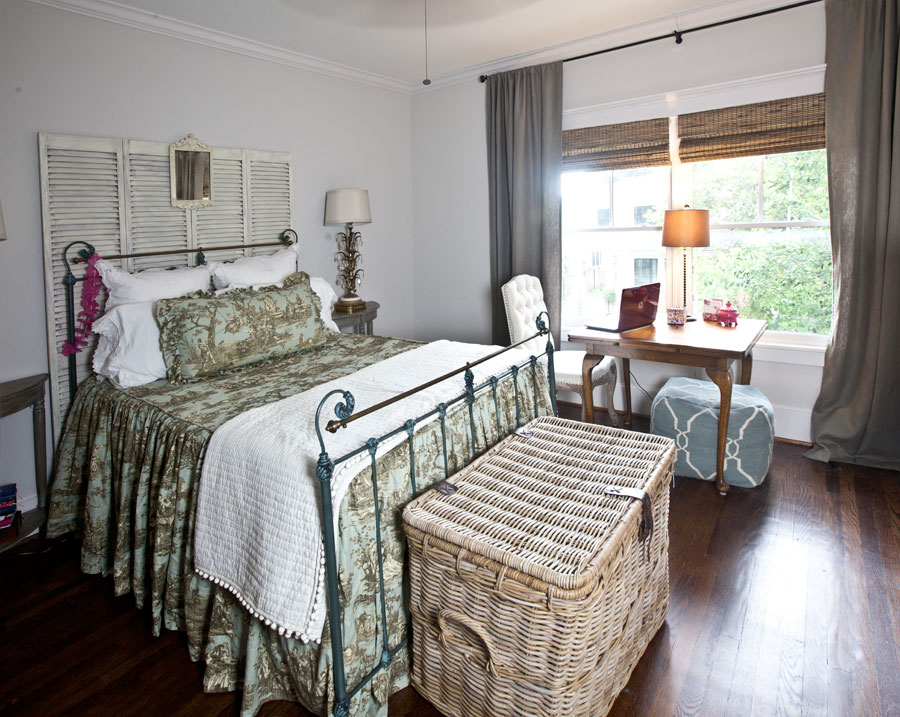 Evie is so happy with how lovely her room looks now. Her closet also looks so pretty. We celebrated the new clean room by eating pizza and binge watching Friends.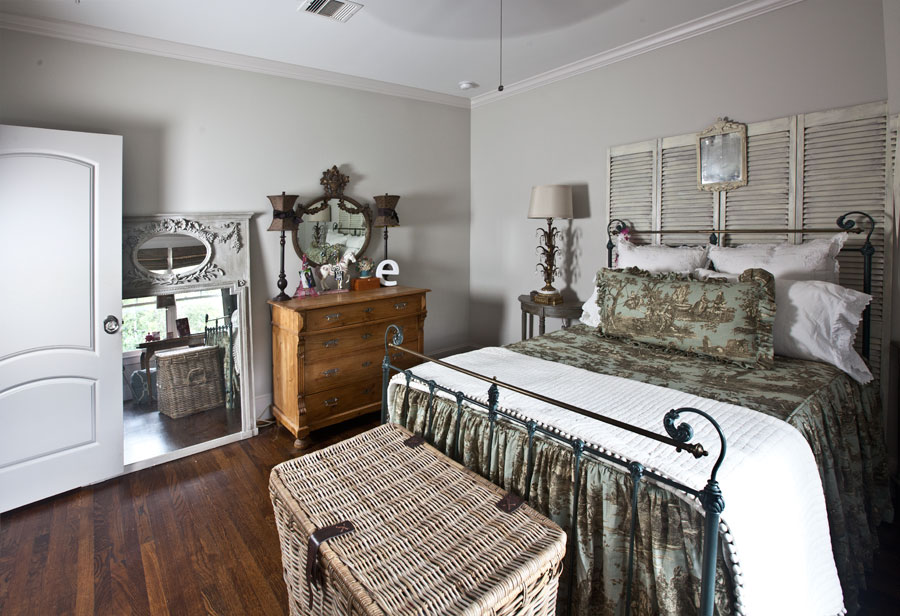 Funny story about the big gray mirror. I bought it for a customer. I had it all set up to have it delivered. Then FedEx informed me the box was 2 inches over their max. Yup, so guess who got the mirror? It's really pretty in person. That's not dust on it. Oh wait, it is.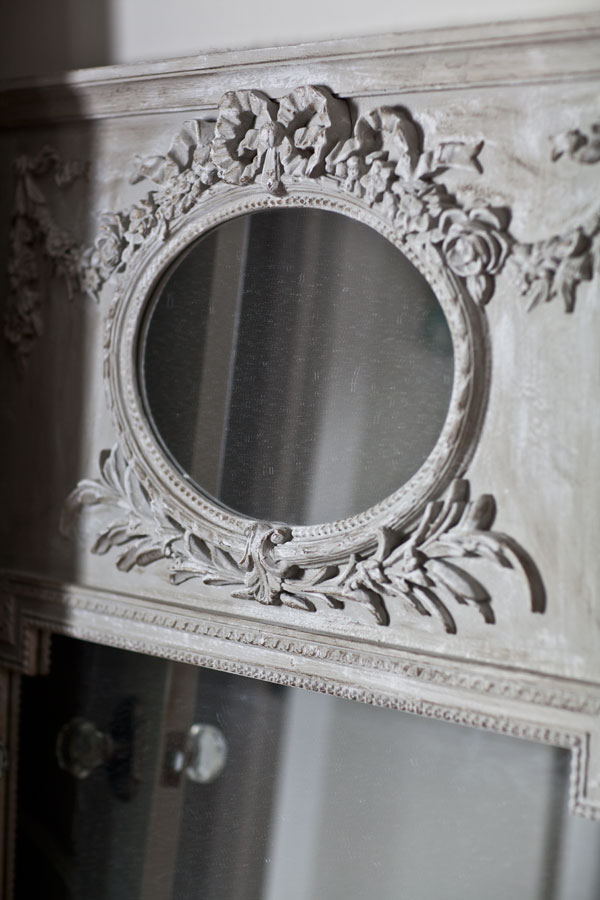 Neat little tip for you, if you want to look skinnier in your mirror, simply lean one against the wall, where the top of the mirror is closer to the wall than the bottom of the mirror. Seriously, try it. You WILL look skinnier.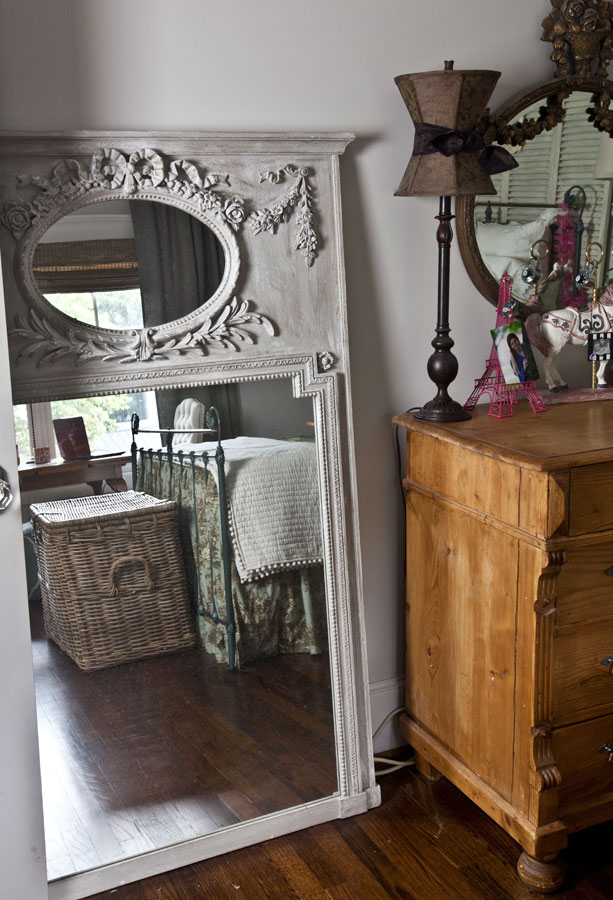 See? Not just anyone would have told you that?
I'm not sure I've shown you the detail on the euro pillow covers before. They are vintage and have these beautiful initials on them. My daughter is EJ not EL, but close enough!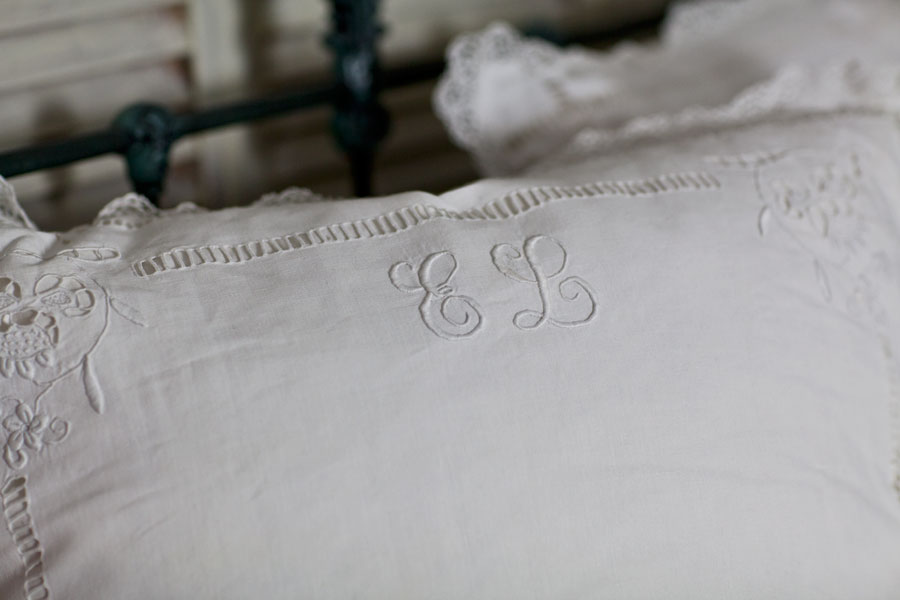 I love the cut work too.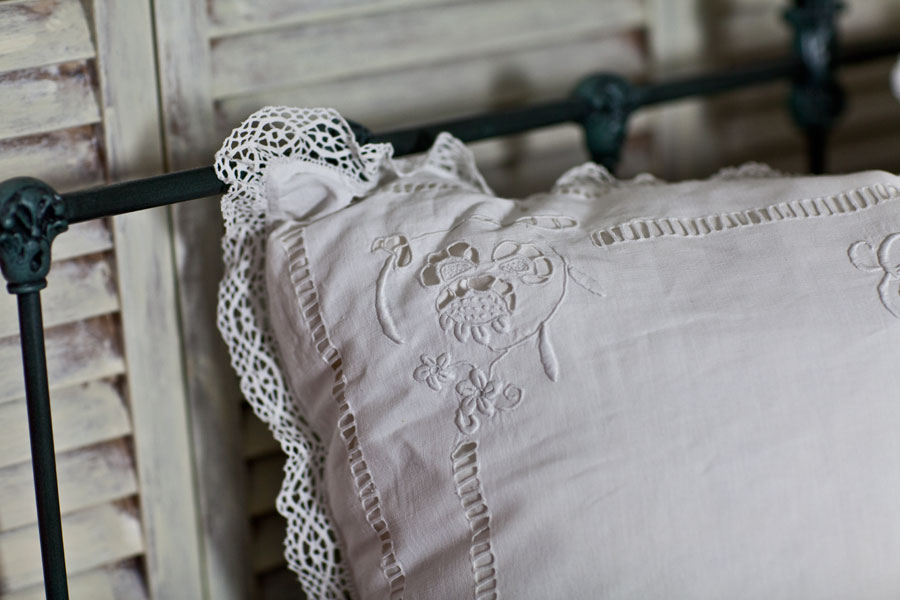 I even used pretty eyelet trimmed pillows in here, although I never get to show them to you.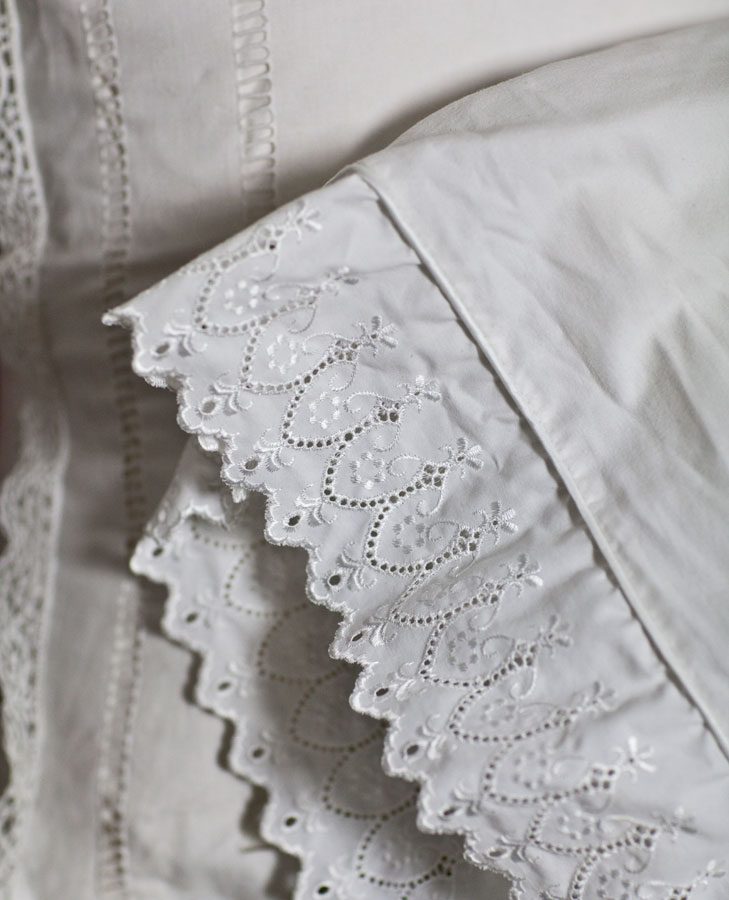 It's been week, and I asked Evie how things are going. She said one of the things she is doing differently is that now she hangs up her clothes immediately rather than leaving them lying about. Each night she checks her room before she goes to bed to see if anything needs to be put up. Then she puts up whatever needs to be put away.
To summarize
Get rid of stuff you aren't using
Organize closets and storage
Put up things each day.
Give some things away
Happy de-cluttering!