Creative Flower Vases
Let's talk about creative flower vases today, as I use items in my home that were not meant to be used as vases. But first, I have to admit, I've been distracted this week. Between my cold and the world series, I've not been able to focus as much as I normally do. Last night was the last night of the world series, and I'm so thrilled the Astros won. The Dodgers did a great job, and I know L.A. would have enjoyed the win, but Houston has been struggling since Hurricane Harvey. Some people still aren't back in their homes.
I know of a school teacher whose home was flooded for several weeks because of the reservoir release. They just told her the home is no longer structurally sound and will need to be demolished. She did not have flood insurance. This is not an isolated story. The team wanted to win it for Houston. They wore 'Houston Strong' patches on their jerseys for the post-season play. They volunteered, helping and encouraging the flood victims. Today the city is having a big downtown celebration and parade to celebrate the victory. Houston schools have cancelled classes. It's healing in a way for so many, so yes I'm thrilled they won.
Now back to my topic. I think it's so easy to clip some flowers from your yard and bring them inside. You don't need to buy a dozen roses or spend a lot of money to have a happy 'pick-me-up' in the house. Now, let's talk about what to put those clippings in.
Let's start with this adorable swan salt cellar. I believe it's an antique, and just look at how charming it is. The wings move out of the way when needed. I removed the little tiny spoon when I put the flowers in.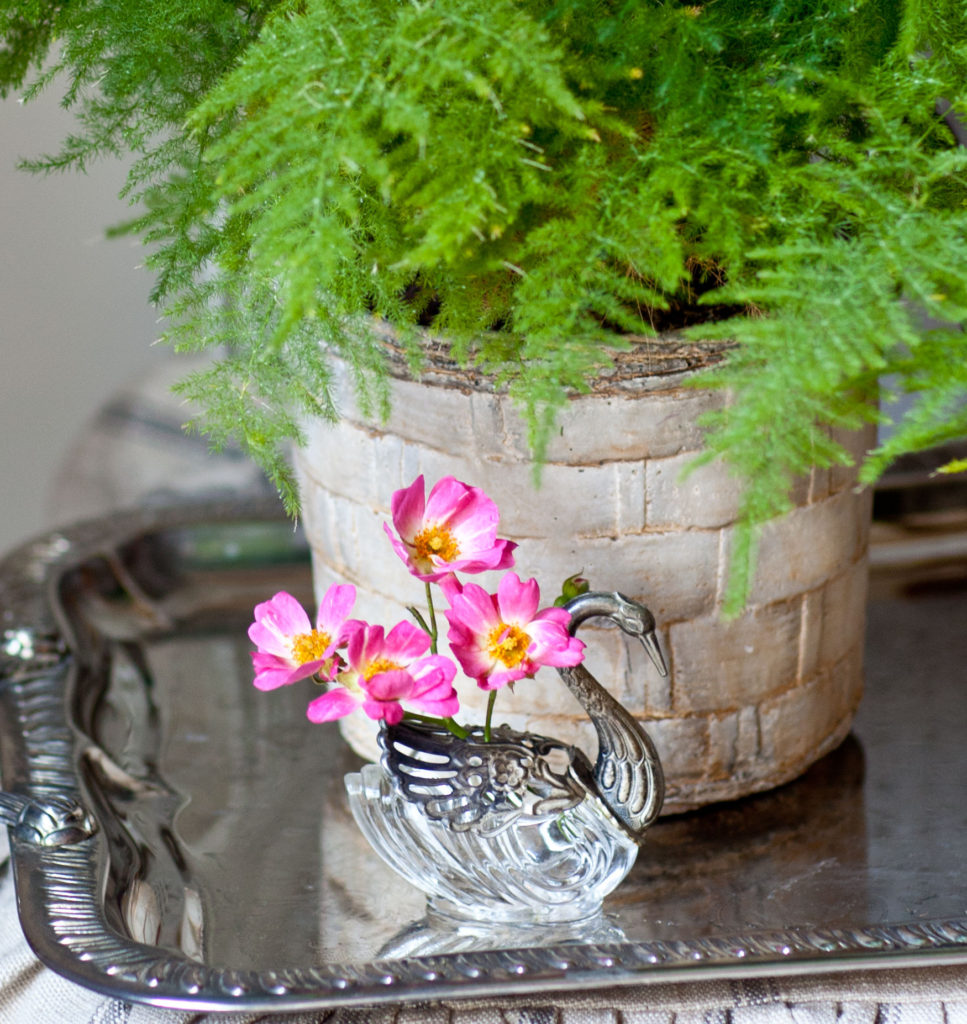 This vase is actually a scented oil diffuser. There was no oil left in it. I removed the sticks, filled it with water, and added my clippings.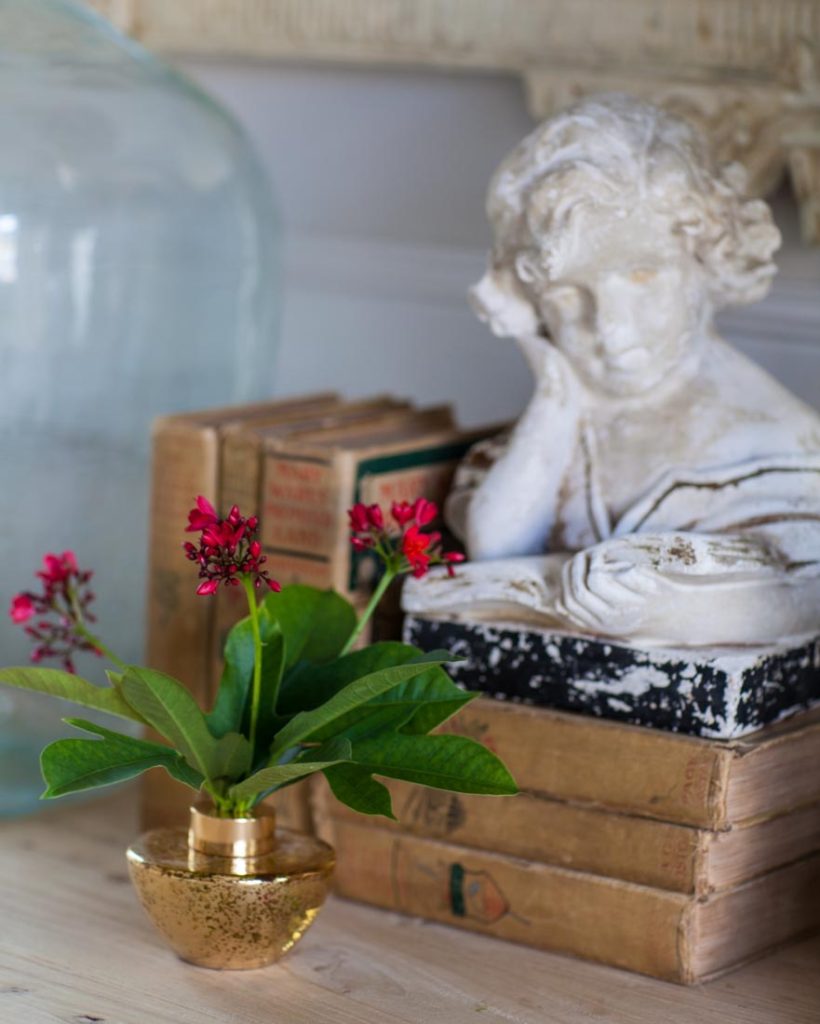 (affiliate links)
Next, I used a small white ceramic creamer as a vase. Here's a very similar one I found for you.
HIC Creamer Pitcher with Handle, Fine White Porcelain, 32-Ounces
We are a participant in the Amazon Services LLC Associates Program, an affiliate advertising program designed to provide a means for us to earn fees by linking to Amazon.com and affiliated sites.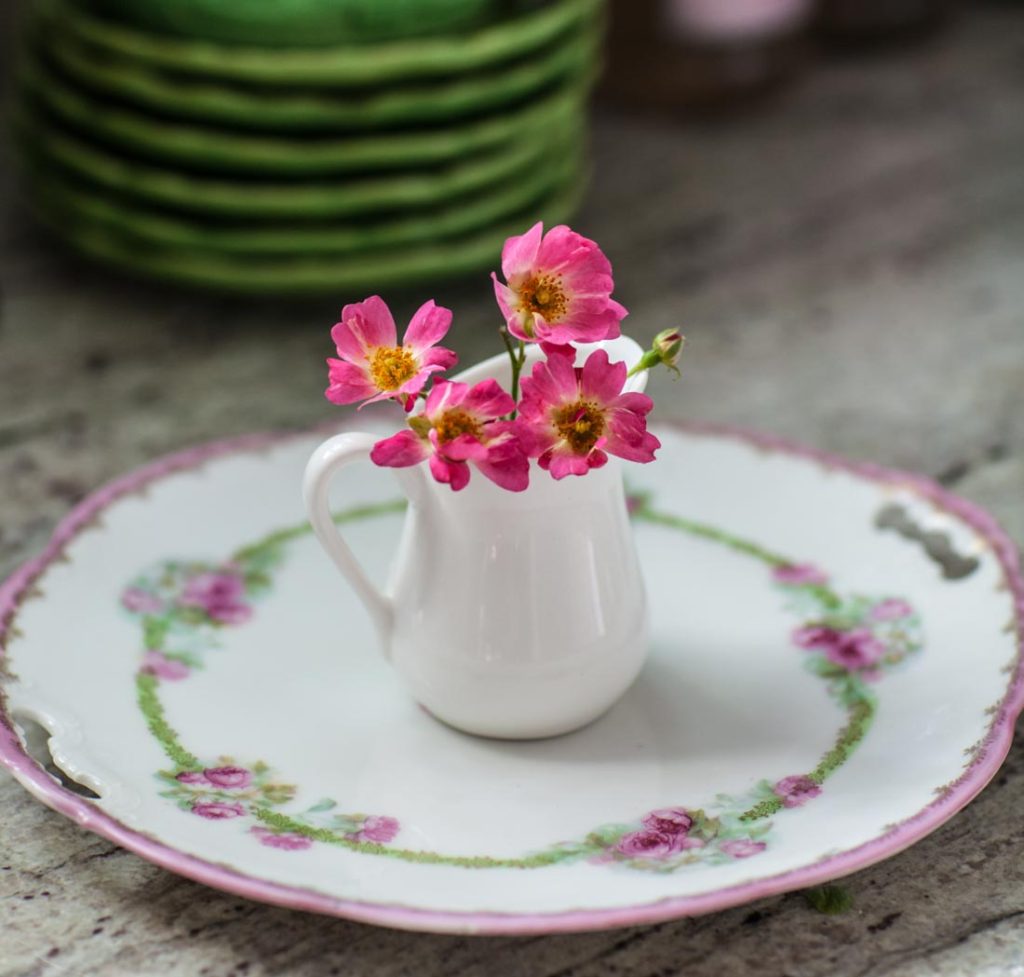 This item is harder to come by, but I do love it as a vase. It's a vintage silver trophy. You could also use this silver mint julep cup as a vase. Godinger Beaded Silver Mint Julep Cup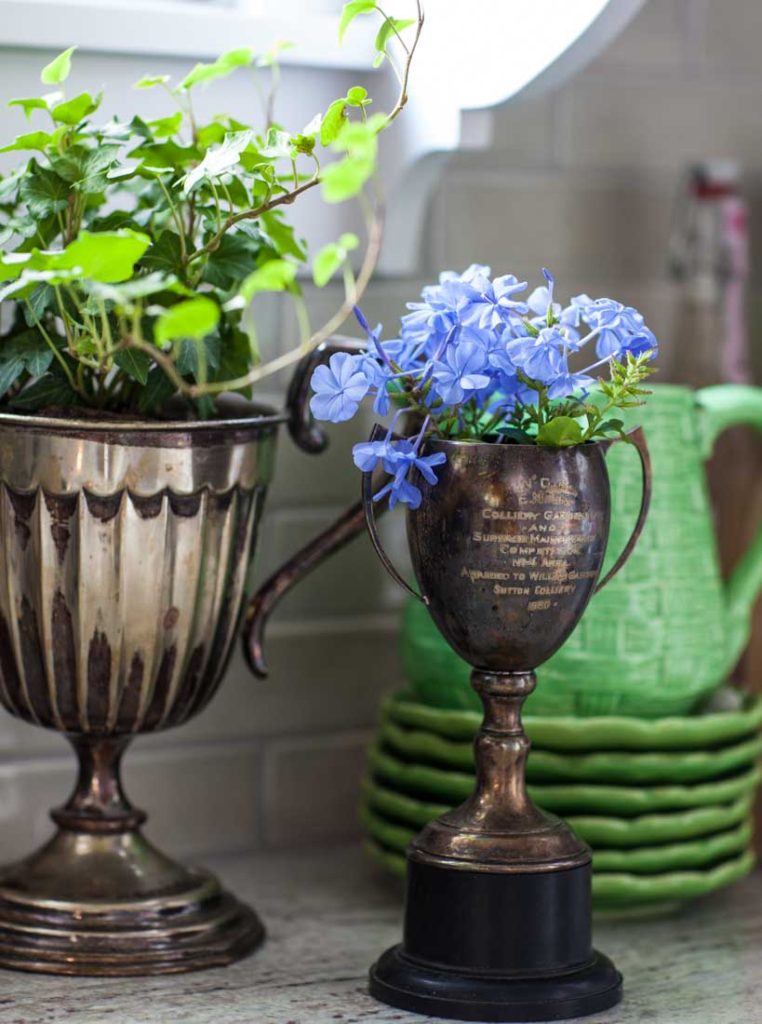 Below, check out the vintage liquor glass I used as a tiny vase. I added black beans as a way to hold the stems in place.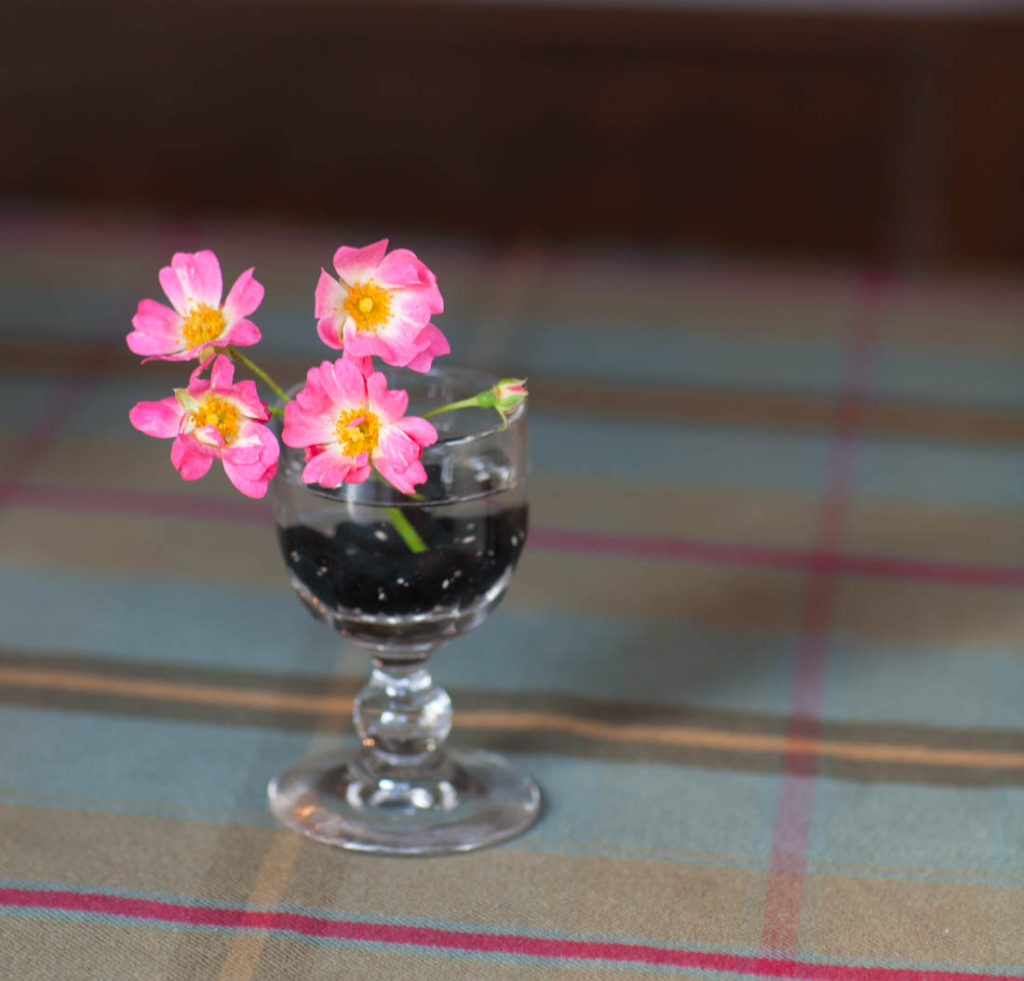 This is a Turkish tea glass. I'm not sure why they drink tea in a glass, but apparently they do.  These make for great vases too. Check out the ones I found for you on Amazon. Original Turkish Tea Glasses with saucers sets (6 Pcs) (light Golden) 3 OZ
Next I have a vintage green glass pitcher. It has a stopper, that I took out so I could add the flowers. I wonder if it was part of an oil and vinegar set originally.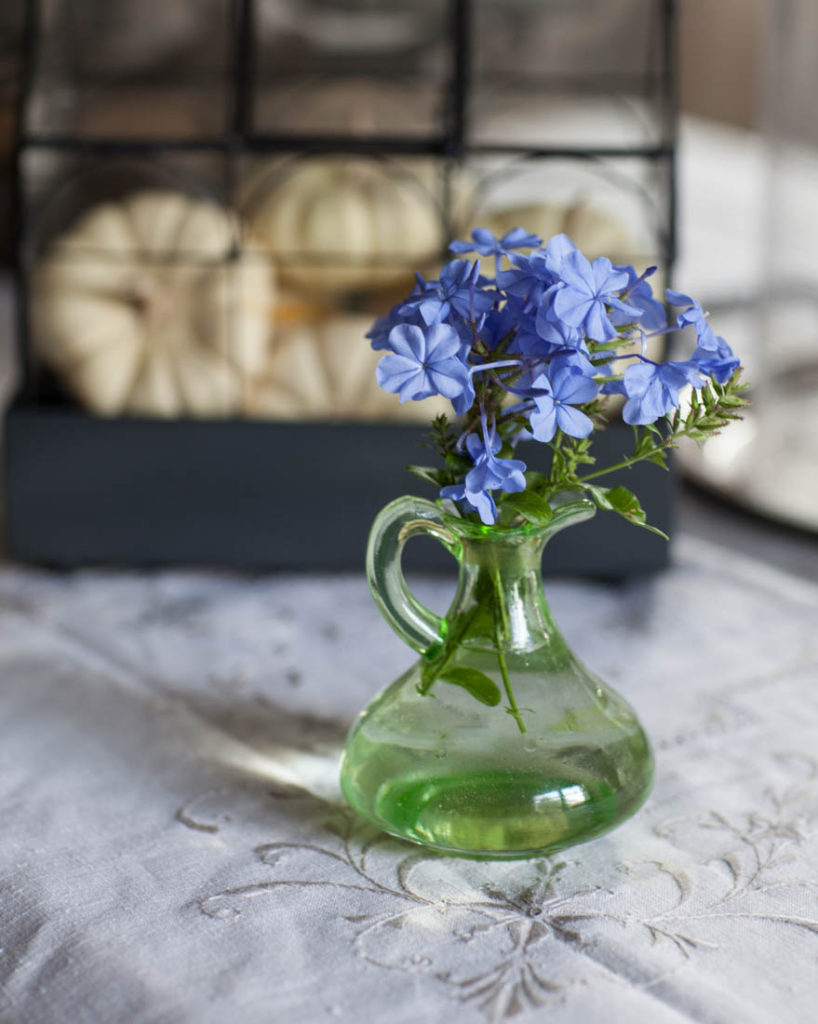 Finally I have a small creamer. I believe this was part of a child's tea set at one time. I love the mini pine cones on the creamer.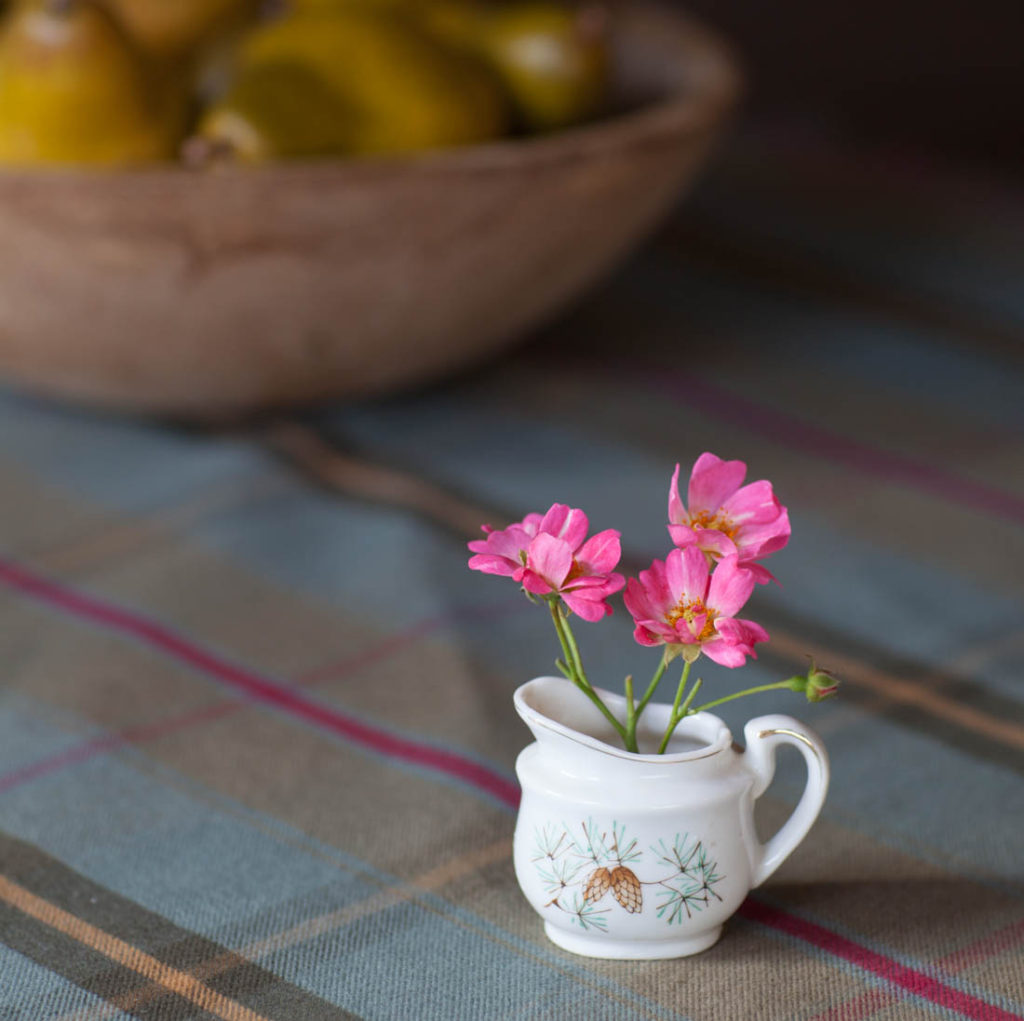 Now what's the point of all this? To give you some ideas for your home. Look around, and I'll bet you'll find all kinds of goodies in your home you can use to hold flowers, branches, or wee clippings like these.
Listen to the latest podcast episode.
EPISODE 120 HOW TO ARRANGE BED PILLOWS LIKE A PRO