I don't know about you, but I am always amazed by the creativity and lavish Christmas displays I see at Christmas-time around blogland. I love looking at them. I enjoy seeing them so much, but I prefer a light touch when it comes to holiday decorating in my home. I love to collect, but don't have having too much going on in a room, or it feels cluttered to me. Now that I am a 'woman of a certain age' I don't do a lot when decorating for the holidays. And so there you have it. I decided a long time ago to be honest with you and to be myself. I figure some will leave my blog because I don't do enough Christmas decorating. (That's okay.) But I know there are many people out there like me, who are looking for a few things they can do quickly and simply to add Christmas spirit to their homes. And when you come here, you won't feel pressured to spend a week hanging holly and mistletoe everywhere. I don't judge!
Do the amount of decorating you are comfortable with. I think some people love going overboard, and I think if that is your thing, you should do it. But if not, sit back, have a cup of tea and let's take a look at some simple changes I made to our mantel.  So I really love these pitchers on my mantel. One idea I had was to fill them with greenery.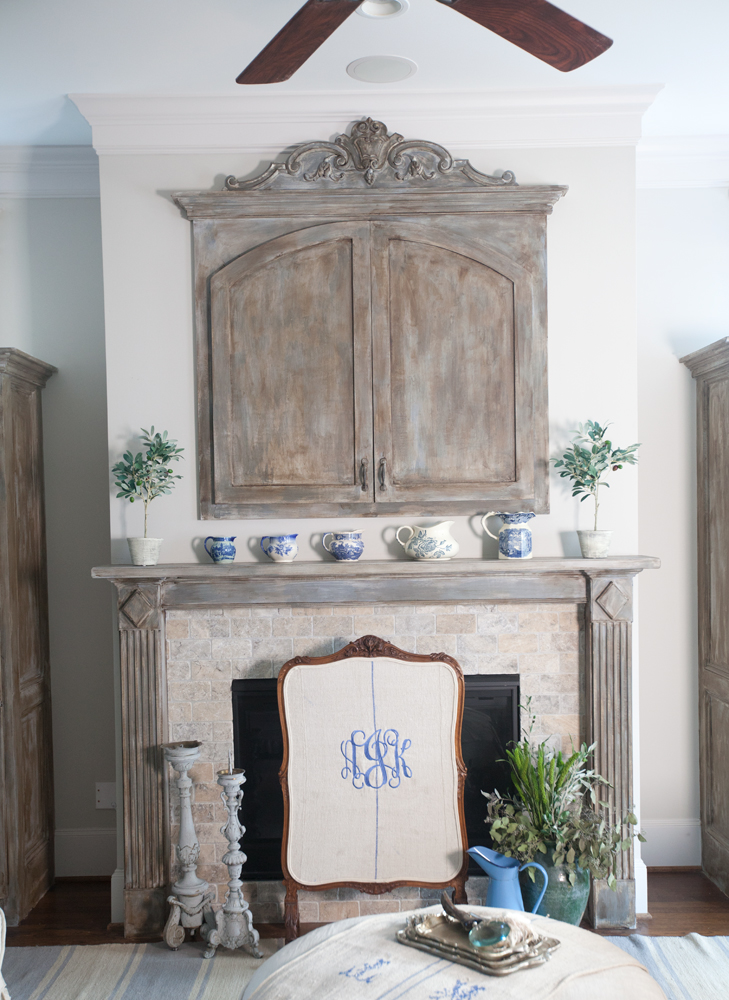 And then add lights.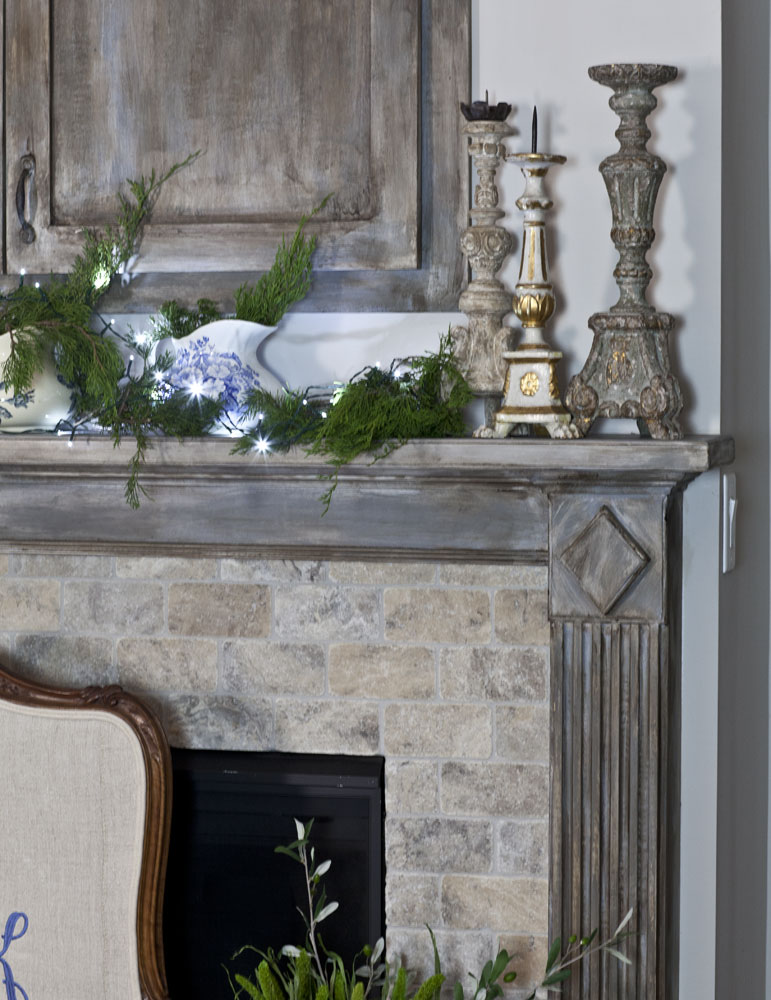 The greenery is cedar I cut from (you guessed it) our Farm, Cedar Hill.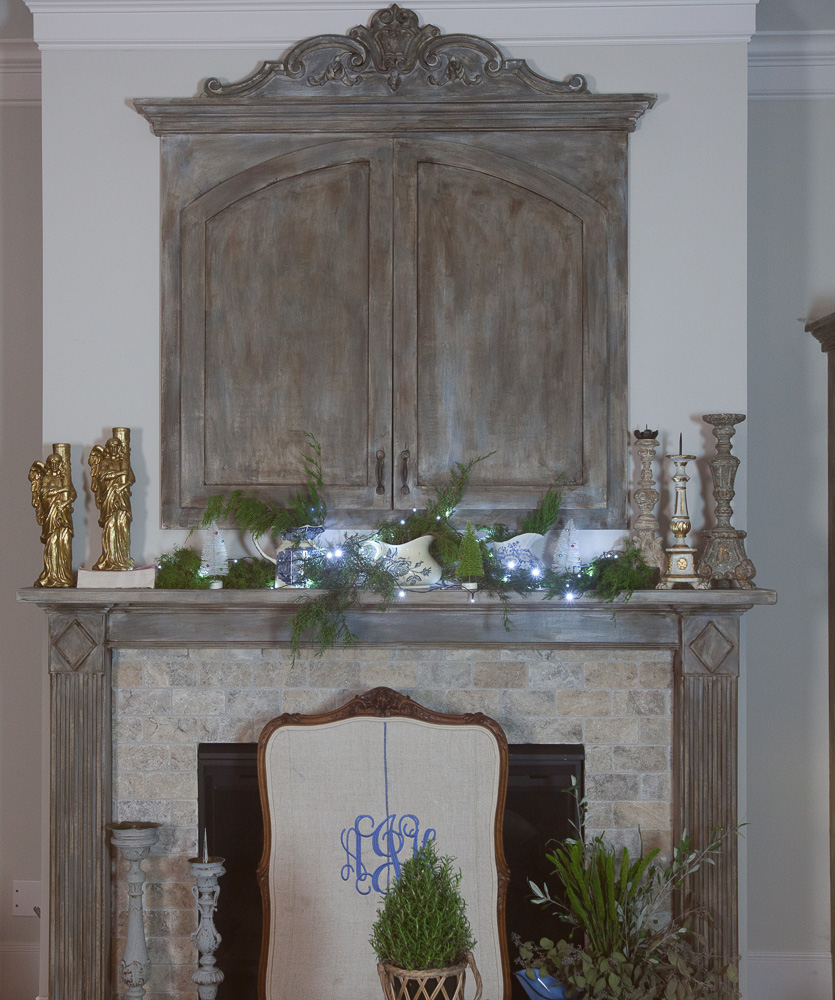 I love this simple look and it's pretty easy to do. I used battery operated lights.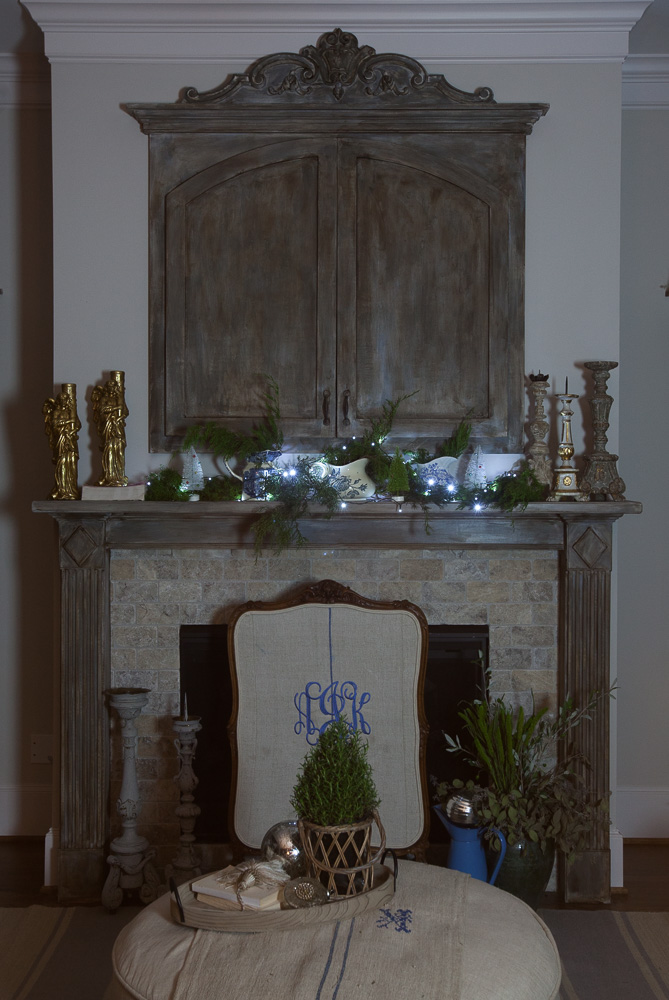 I thought I would show you another look also.
So I moved one of my blingy deer to the mantle and added many little bottle brush trees.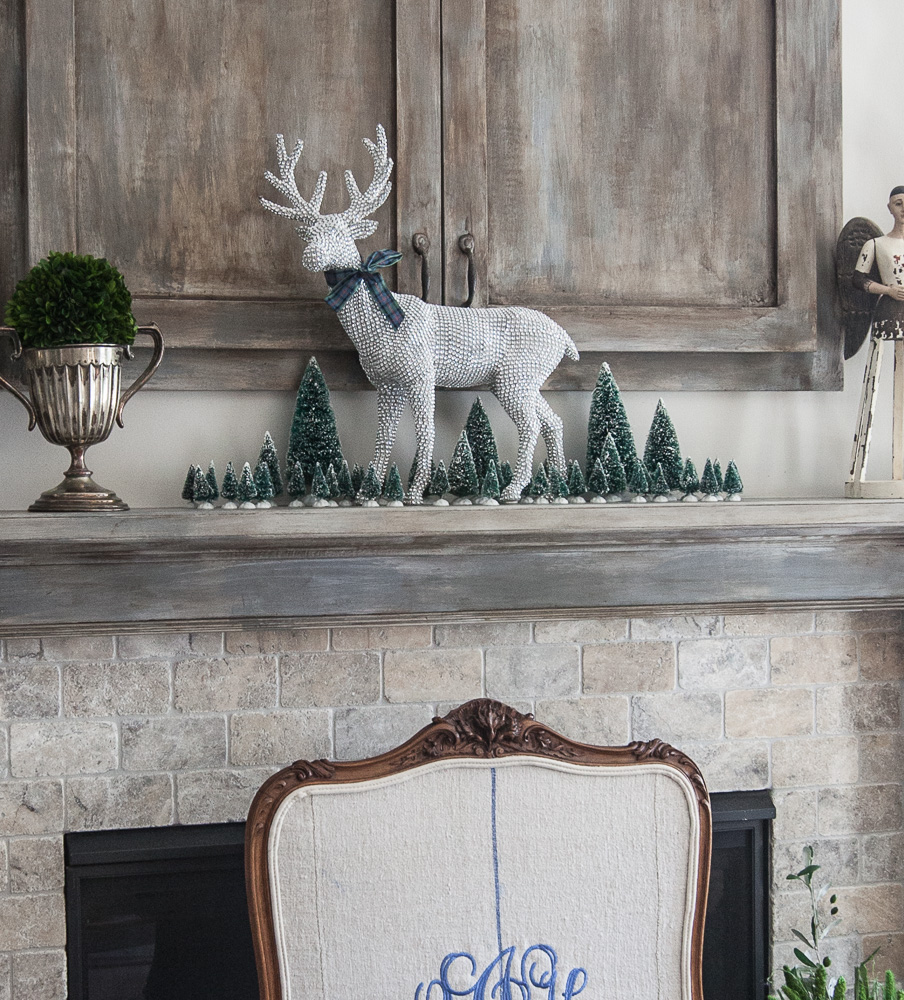 Then I also moved my Santos doll to the mantel. I'll probably add some fresh greenery to them when I can get my hands on some.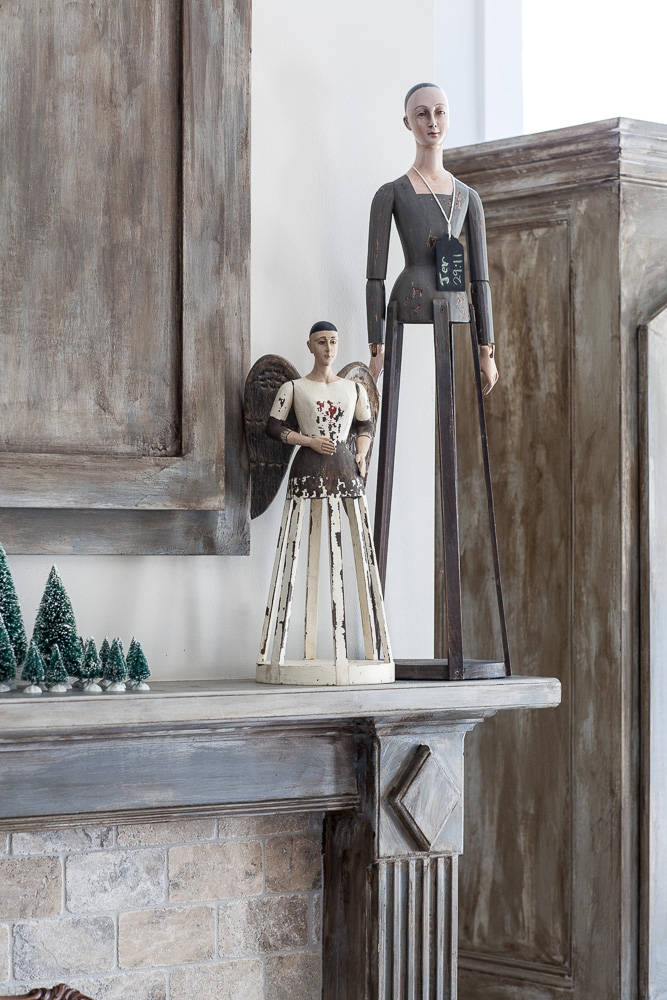 I popped some pillows into this antique basket and moved it over by the fireplace. And I added a wire basket filled with mercury glass ornaments and white faux antlers.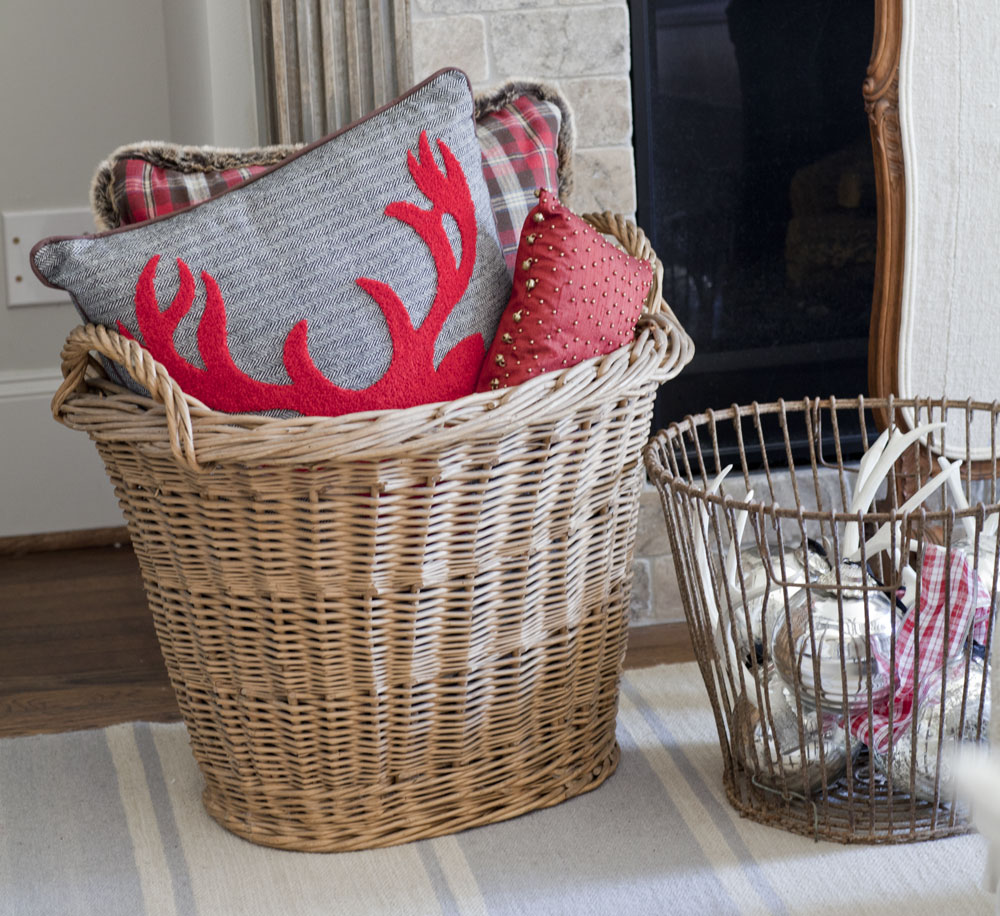 A few bottle brush trees in a larger size gave my ottoman some color. I also added one of my favorite trophies with a boxwood ball.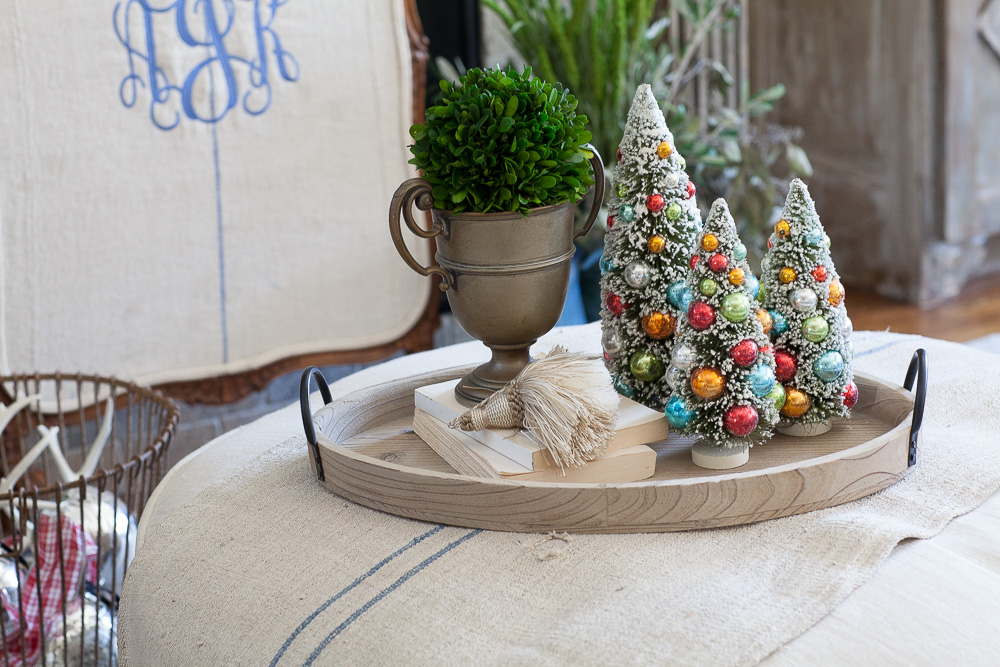 And here it is all together. It's simple, yes, but I like simple. I've heard people describe my style as simple, and rather than be insulted, I felt it was a compliment. I want it to feel simple and easy, and approachable. So my point is be yourself. You don't need to apologize or explain for what you do or don't do.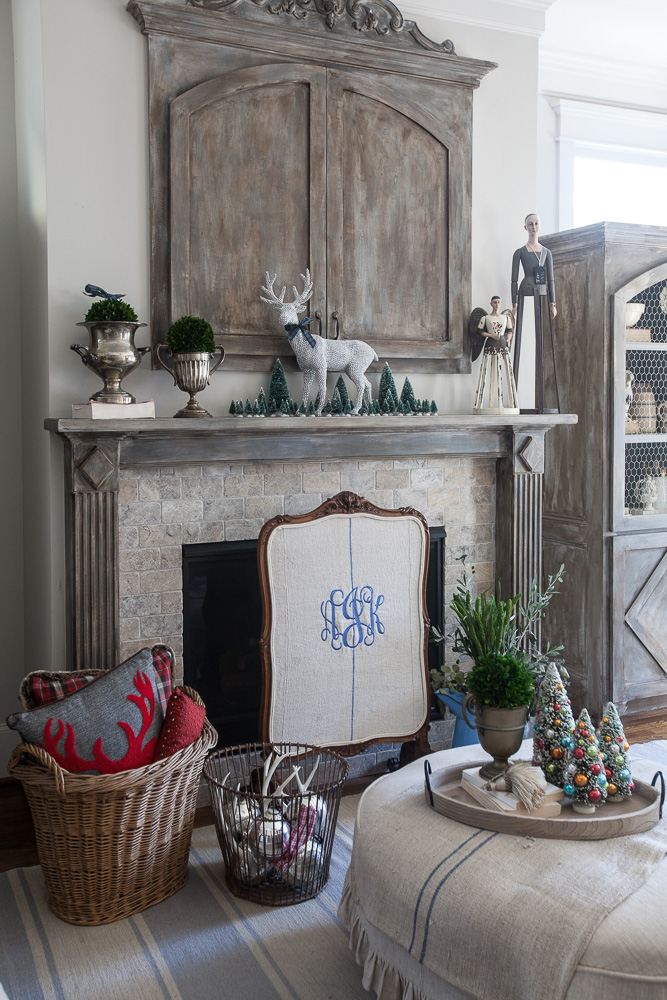 So that's two very simple looks I created very quickly. I hope that gave you some ideas. Now check out some more mantels.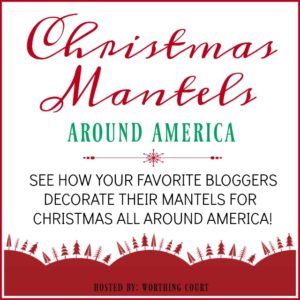 Decorating styles can vary all over North America. Enjoy visiting these other fabulous blogs to see how they've decorated their Christmas mantels in the region where they live!
CANADA:
EAST:
Atta Girl Says  ||  Golden Boys & Me  ||  In My Own Style  ||  StoneGable  ||The Everyday Home  ||  The Rustic Life  ||  Worthing Court
CENTRAL:
Cedar Hill Farmhouse  ||  Edith & Evelyn  ||  House By Hoff  ||  It All Started With Paint  ||  Maison de Pax  ||  Town & Country Living
WEST:
At The Picket Fence  ||  Classic Casual Home  ||  Tidbits  ||  Twelve On Main