True confessions. (I feel like I say this every year.) I am writing 8 Christmas Decorating tips for the busy mom (or non-mom) because I can't be the only one who doesn't have time to decorate for Christmas. For my easy Fall decor post, one reader complained that what I did was too simple. So I do feel I need to warn you that these are easy simple things to do.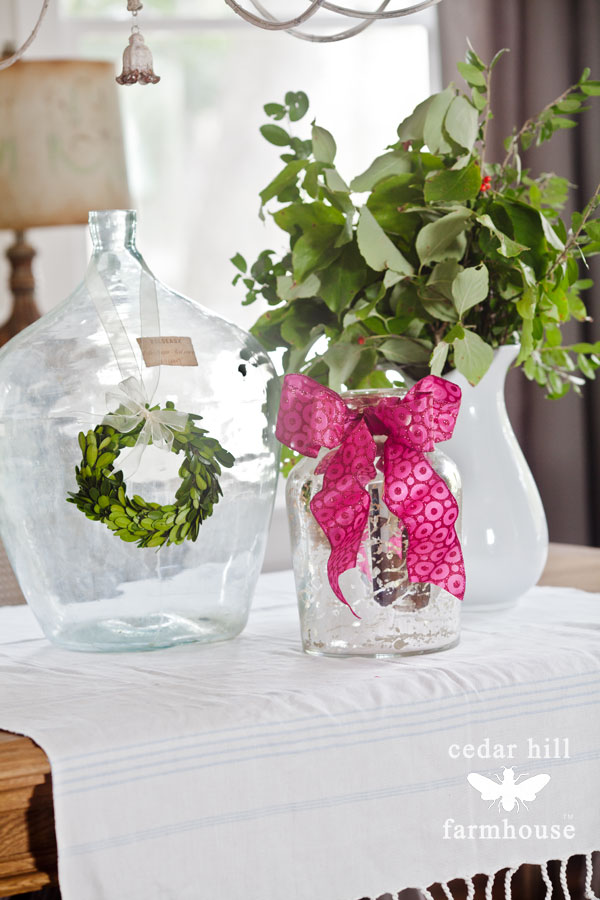 1. Use storage boxes as gift boxes.
I found these at Target. I just wrapped them with pretty bows. Then you don't have to wrap your boxes and they all look pretty under the tree together. The box can be part of your gift. For my family, I used boxes I already had. Since these gifts are going to my daughter and husband, I'll be getting them back; they don't want them. (Works for me.)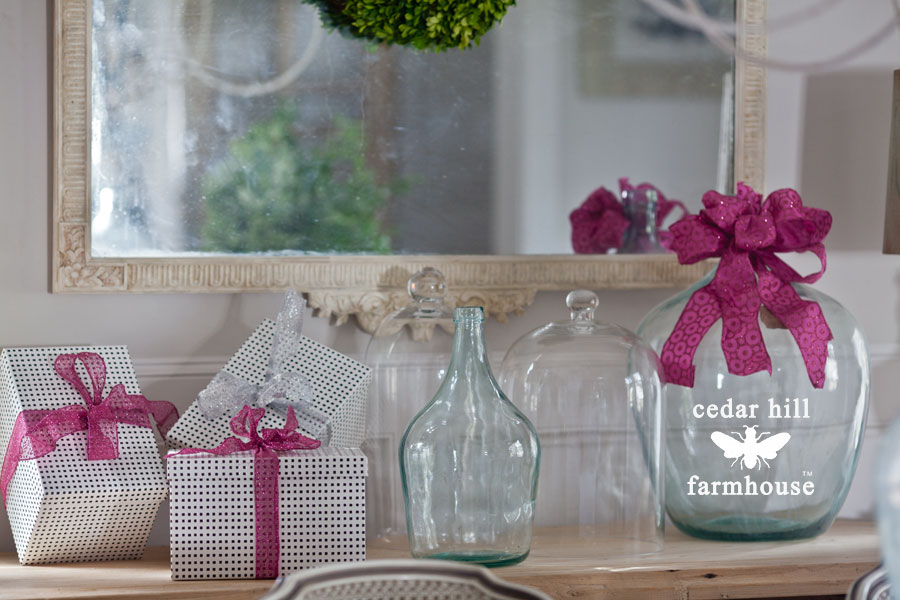 2. Choose a color theme for a unified look. 
Why do the store displays look so good at holiday time? One reason is because they have been professionally styled. The stylists often choose a color theme and stick with it. Too many colors can feel confusing. I like just using 2 or 3 each year. This year is pink, green, and aqua. You can see the aqua bottle brush trees HERE AND HERE.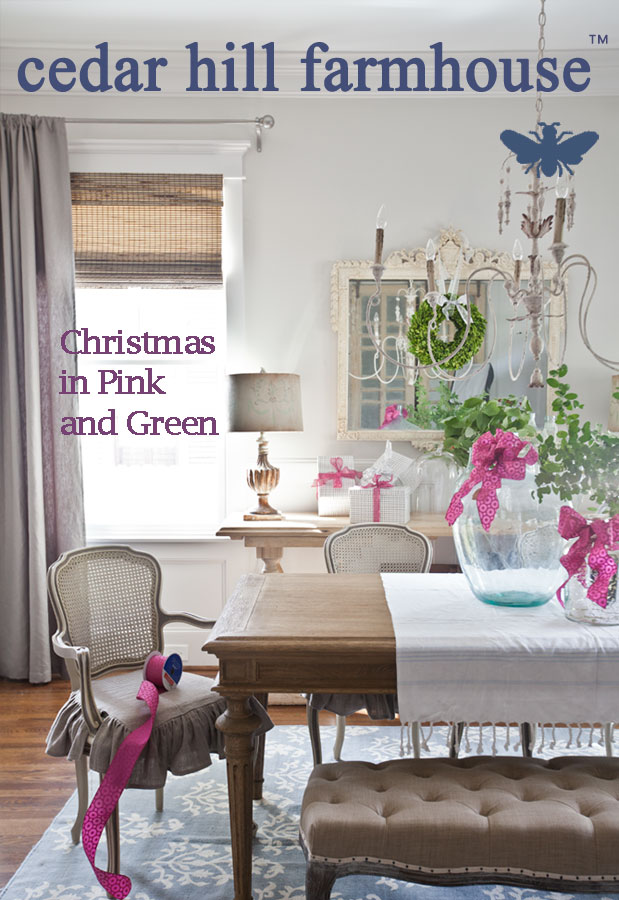 3. Use greenery from your yard.
I cut branches from a bush at the farm, but you can trim a bush in your yard and use the cuttings. I used a lot of cuttings from our cedar tree last year.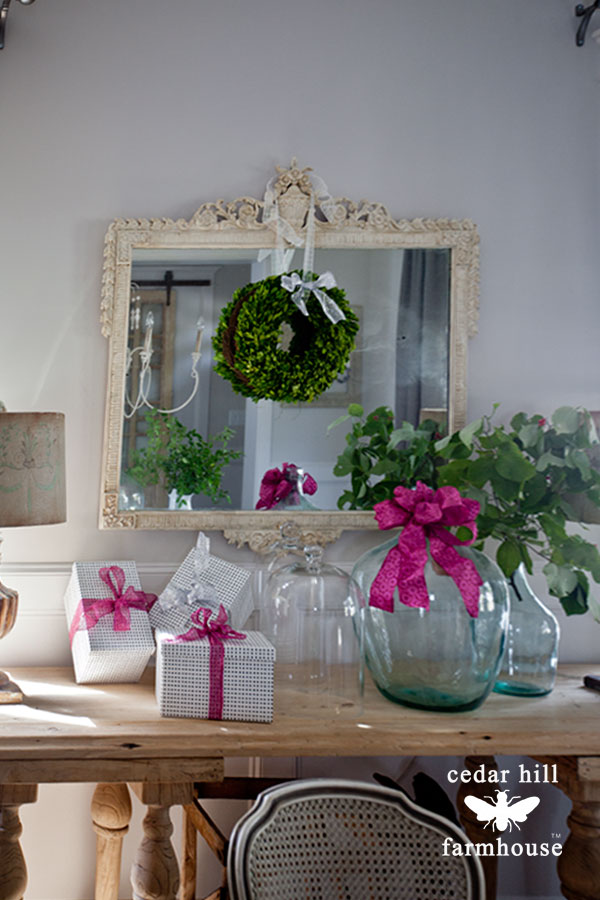 4. Use Ribbon and for a simple holiday look.
I love Christmas decor, but not the work putting it all together. Rather than spending a lot on new Christmas decorations each year, I simply buy new ribbon. Even though my decor is mostly ribbon every year it looks totally different, because I use different colors and new ribbon each year. Save money and make the bows yourself. I bought 2 types of pink ribbon, 1 green, and 2 silver.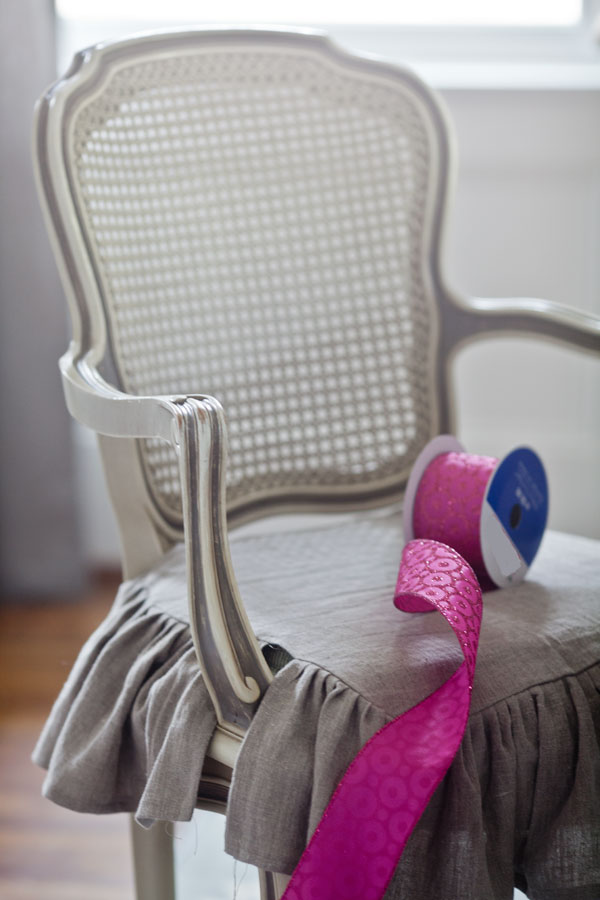 5. Use preserved boxwood wreaths.
I love the look of these wreaths. The best part is that look real, because they are. They will also look great for years. This is the third year I have used mine.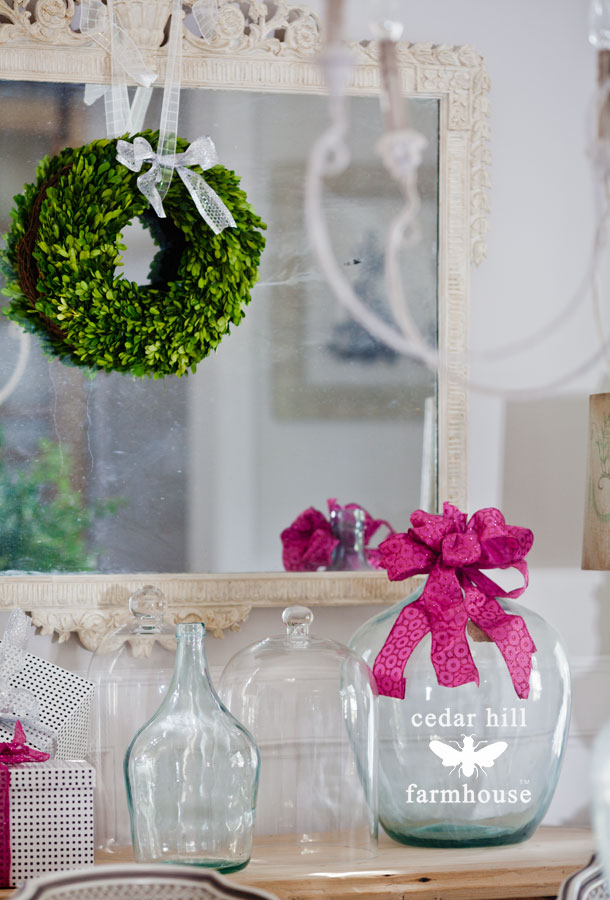 6. Use mercury glass.
Mercury glass is not mercury at all, but glass with a silver lining on the inside. I love the look and it is really shiny. It feels very festive to me, but since it is silver, you can use it year-round.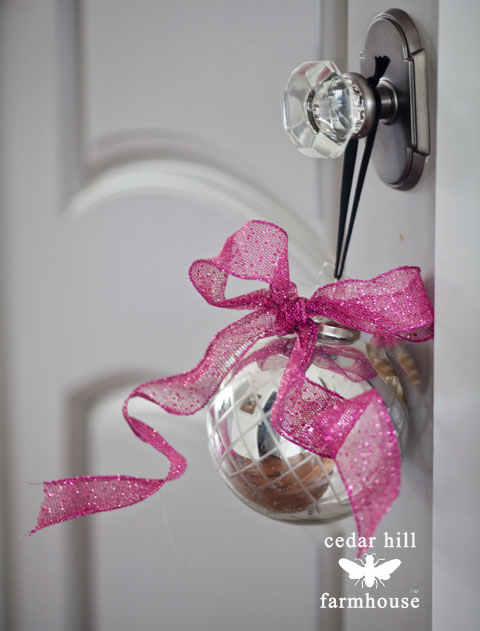 I put some mercury glass balls in this cabinet. They are a bit more obvious in person.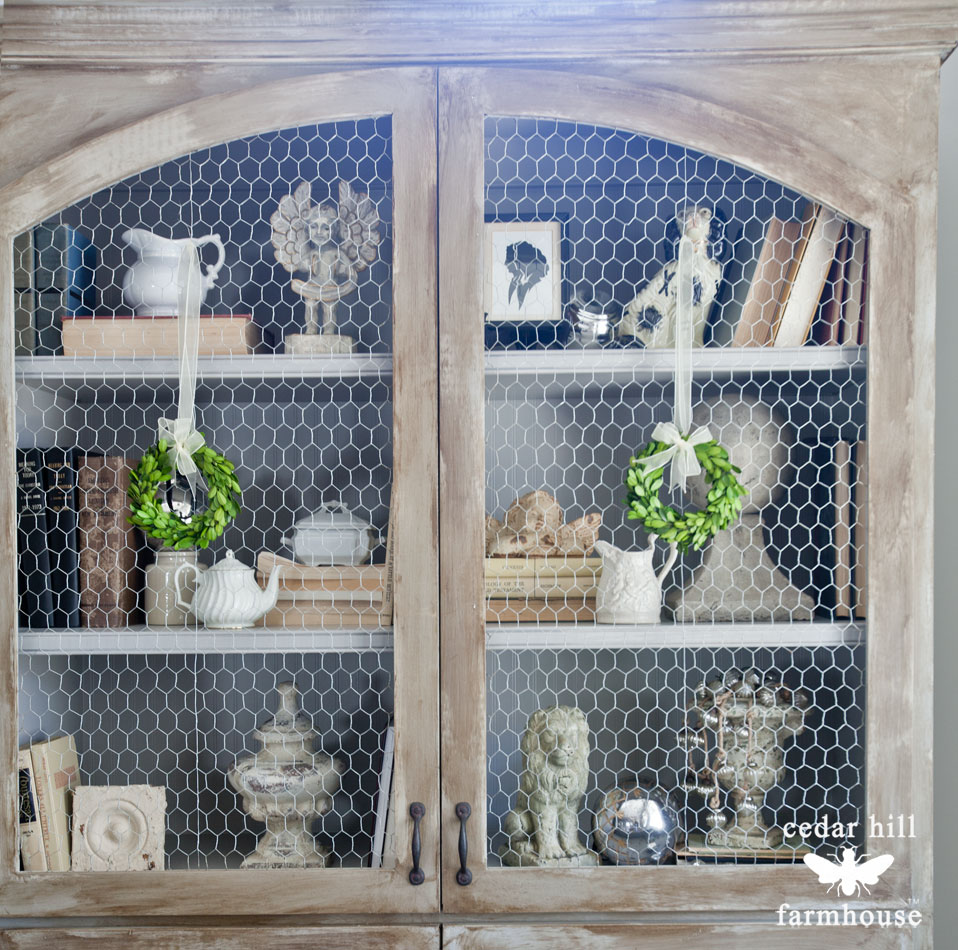 7. Make lots and lots of bows.
You can use them all over your home. They can be used over and over again each year if you like, and they can be smushed for storage to save space. I put them everywhere.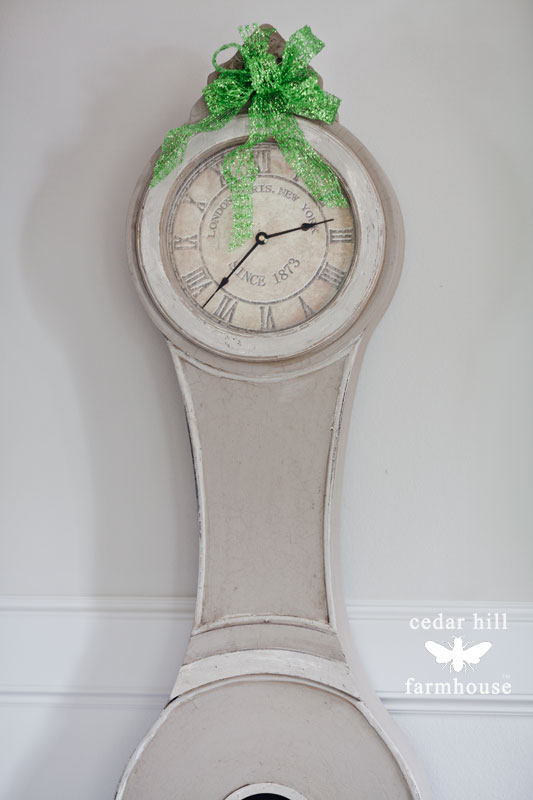 8. Don't Sweat it.
Seriously I am so overwhelmed with all I have to do. I didn't feel like I had a lot of time to decorate. I could have gotten stressed over that since I am on about 5 Christmas tours this year. Rather than scream or run and hide under the bed, I just took a simple approach. Don't feel like your home has to be perfect, and you have to spend a week redoing your entire home. If you love doing all of that work, then go for it!! If not, then I say don't worry about it. Don't do it! Just do what you feel comfortable doing. I know in the land of Pinterest and blogs, we can feel a lot of pressure, especially if you are a blogger. I am not sure what this says about me, but I just don't feel the pressure to do what everyone else is doing. I know a lot of bloggers who have beautiful homes and stunning Christmas decorations. I love seeing their homes all done up for the holidays. I appreciate all of the work that went into it. They are amazing and a joy to behold. It's just not 'me'.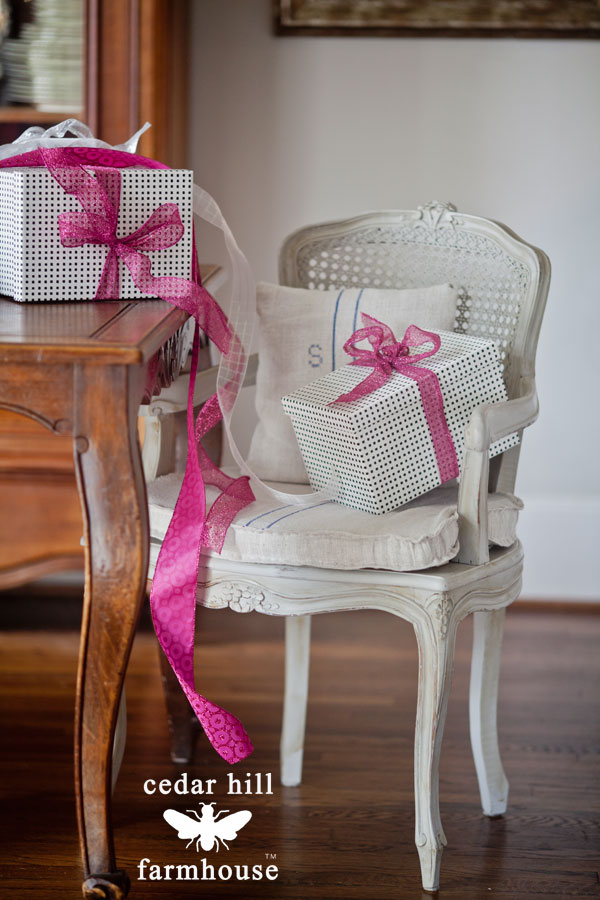 You can see all of my Christmas posts here. CHRISTMAS POSTS.
You can see some of those amazing homes I talked about below!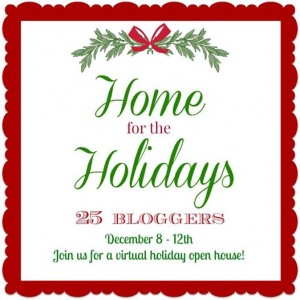 Home for the Holidays Tour