I'm going to take you on a little journey.
It's okay. It might be a bit scary, but it has a happy ending. This is the story of a 5-year room transformation.
All kidding aside, the real point I want to make is that rooms evolve over time, and that it's okay to take your time doing a room. After building the farmhouse, we just didn't have the funds to fix it up perfectly at the time. We had to pay for stuff like a road, water well, and a septic tank. Pretty bedding wasn't in the budget.
I have been working on this room as I have time and money for 5 years.
In June 2009, the house was finally ready for us to move some things in our little farmhouse. The girls and I and our friend Diana went out to the farmhouse after it was finished to unpack and set up the house. We had to unpack everything and put the beds together. The beds were a priority, since that was where we were sleeping that night.
I had 3 new mattresses, 3 bed frames, some old sheets, and lots of quilts.
This is what it looked like that first week. Not fancy, but it was a place to sleep.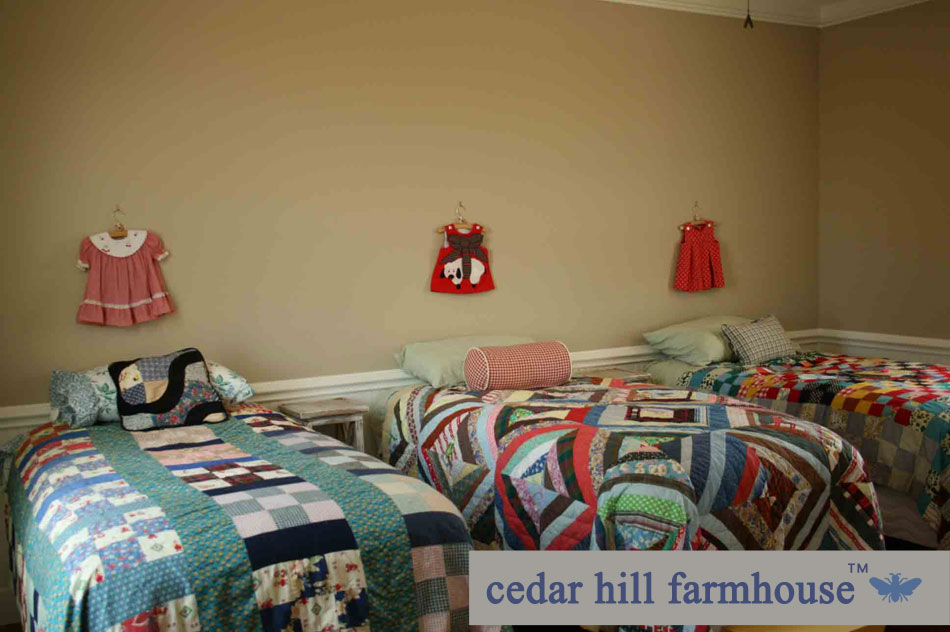 Then I found some matching quilts for the beds, and the little ottomans. I was so excited; I could see it was coming together. I even made little burlap slipcovers for each ottoman.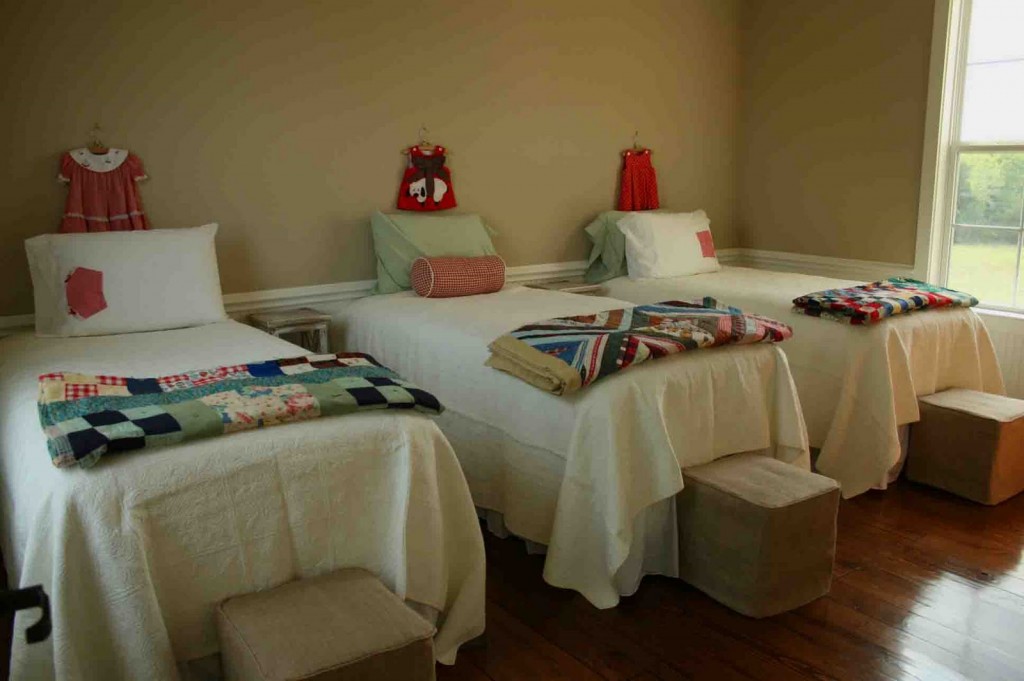 Next I happened onto the little frames form the dresses. I also added the French nightstands,the baskets at the foot of the bed, and some lamps, woo hoo!! The lamp shades were too small I knew that, but I would deal with that later.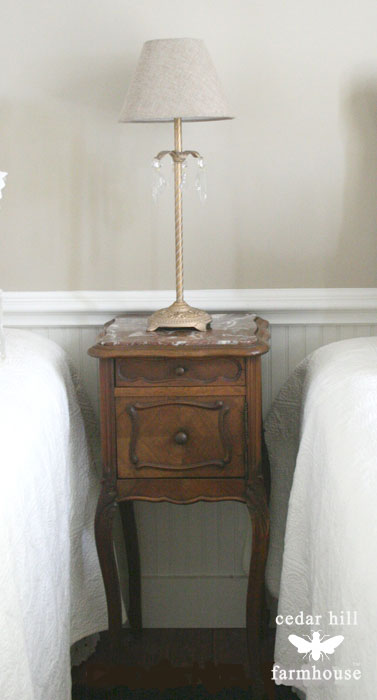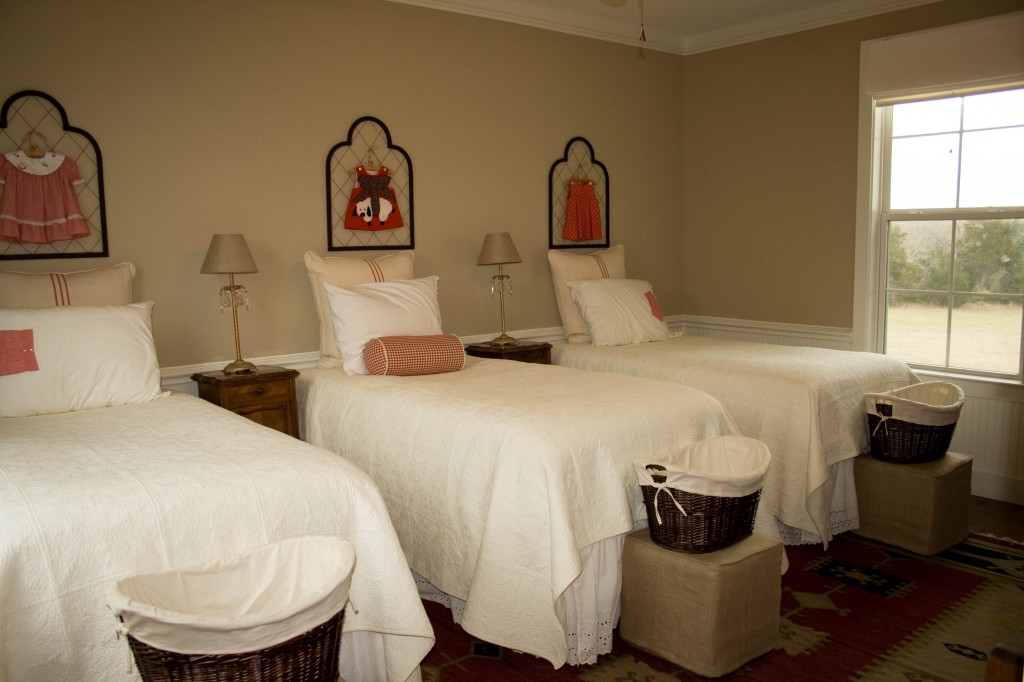 The next thing I did was to go with white dresses on the wall, and to remove some of the red pillows.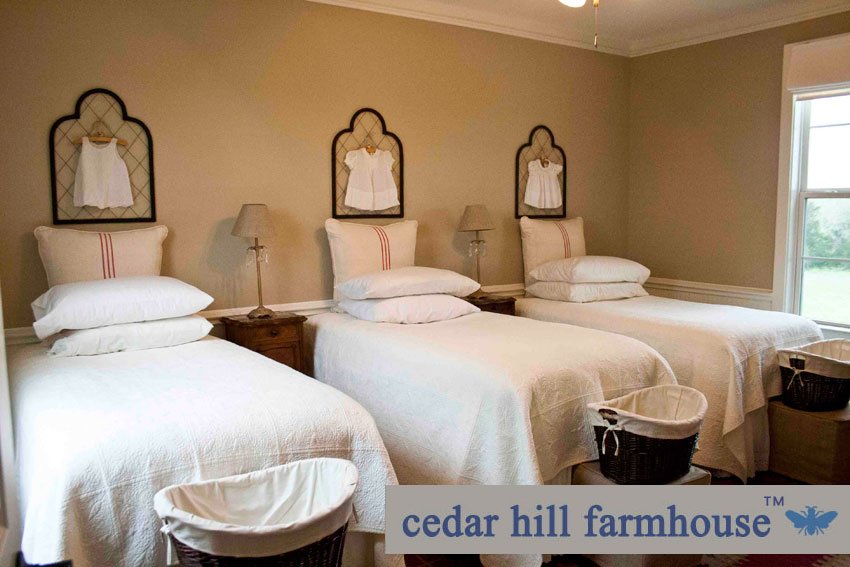 Then came the day when we finally had new iron headboards. It was a very exciting day for me.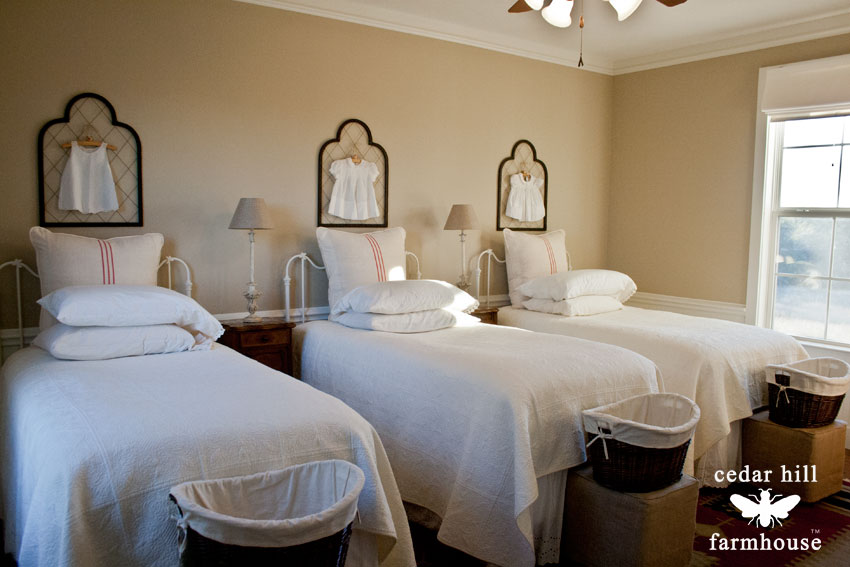 Later, I changed out the lamps so that the shades were sized better for the space.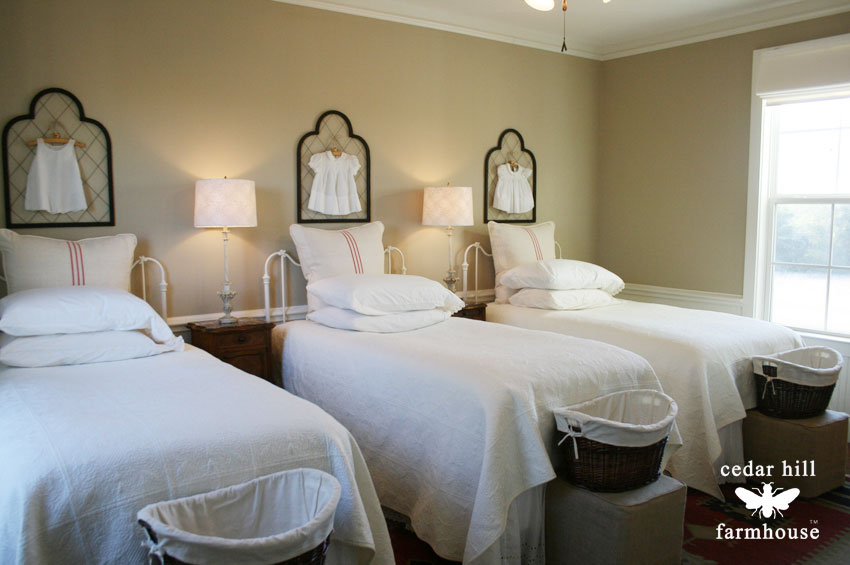 Then the lamps were changed back to the original ones with the crystals, but with the bigger lampshades. And now for a reversal of sorts, I am adding some red back into the room. But this was too much.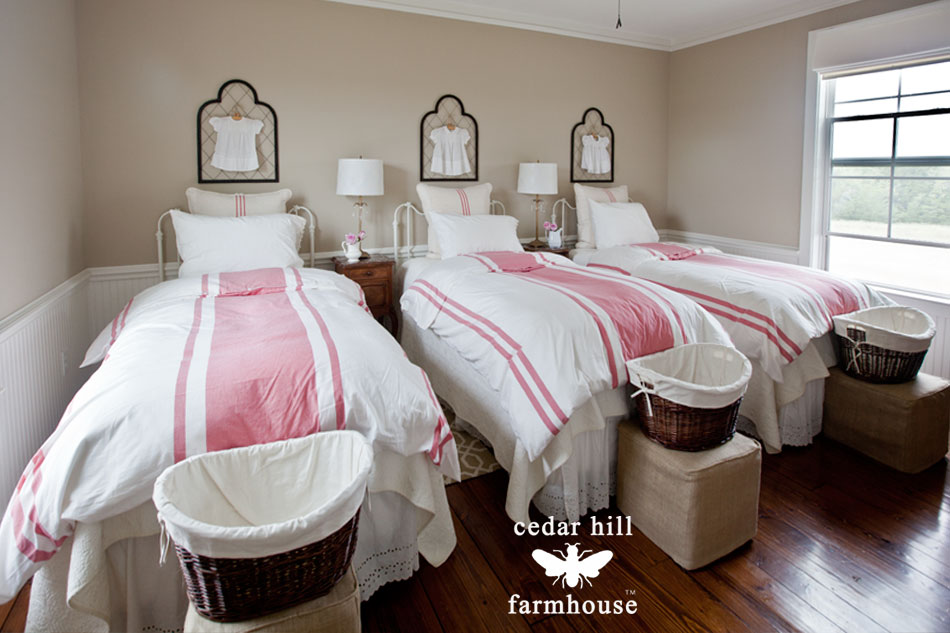 So I folded the duvets down at the base of the bed.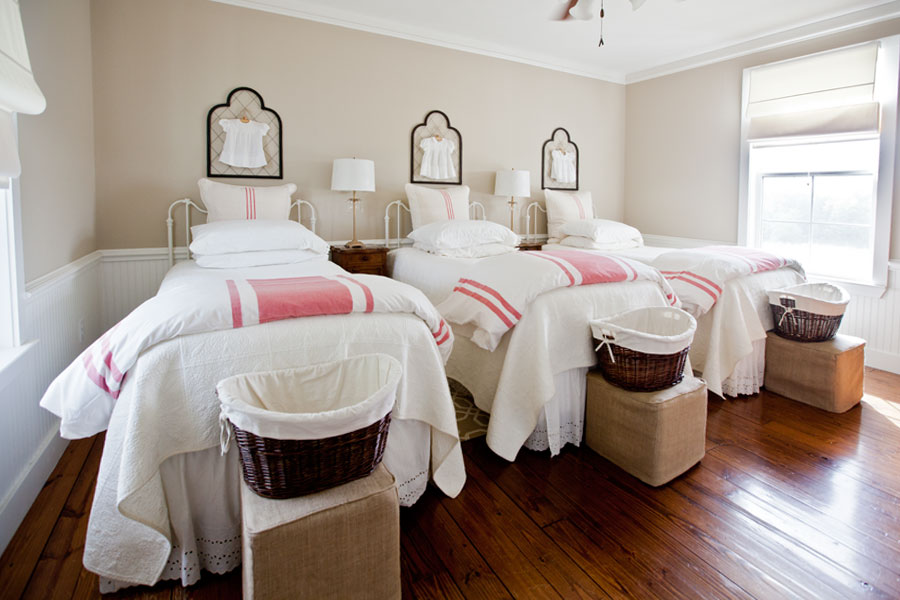 Then I folded them a bit more.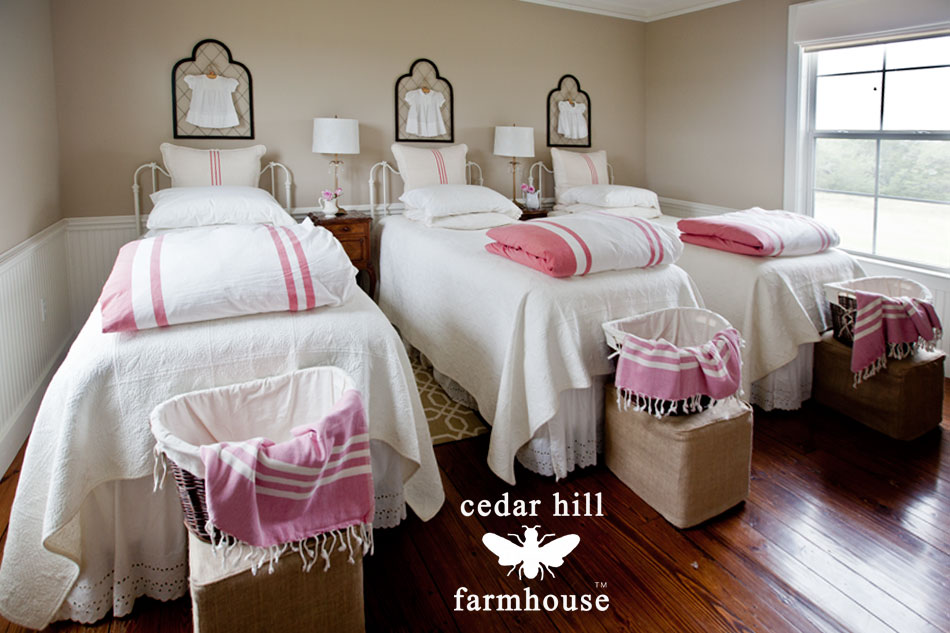 Then I tried using these soft throws at the foot of the beds.  The throws in the photo below were provided by Turkish T.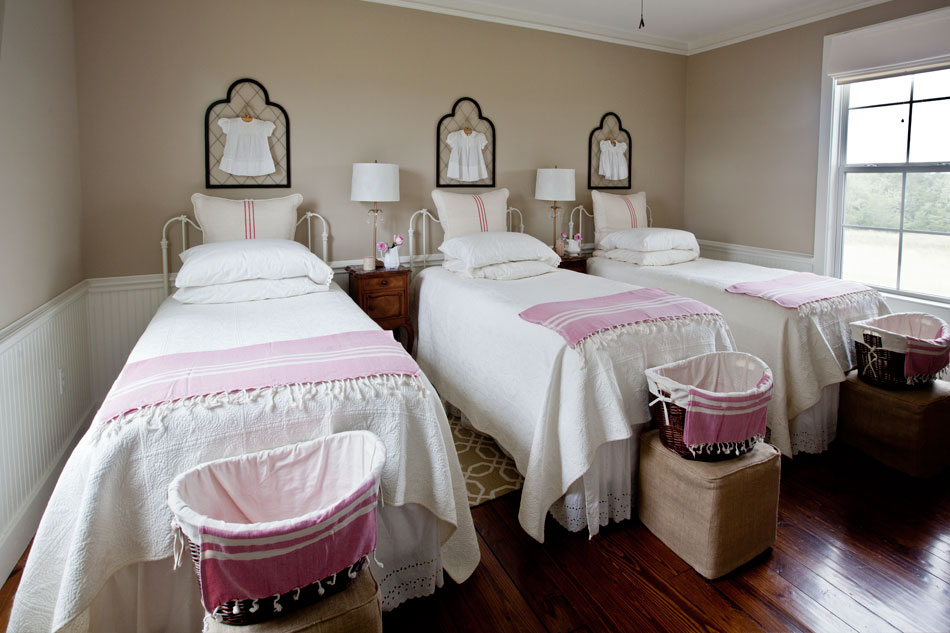 So there you have it, time lapse photography over 5 years of the girls bedroom at the farm. Sometimes it takes awhile to get a room the way you want it.  That's okay.
Just a note: The room does not look this nice when my girls are here. I decided you would prefer to see it all cleaned up with the beds made.
If you want to see more on the transformation of the room, check these links out. FRENCH CHEST and OVAL MIRROR and THE RUGS

On a completely different note, I just started an interior design/decorating forum on Facebook, and am so excited to see all of the projects people are sharing. There are lots of questions being asked, suggestions being offered, and it's so much fun to see the insides of blogger and non-blogger homes. Want to join in the discussion? It's free. Simply request to join. FACEBOOK INTERIOR DESIGN FORUM