I think rugs can be confusing to buy.  What is the right size? Do I center it in the room or with the furniture? Should I use colors not in the room?  Do all of the chair legs need to sit on the rug?
Today I am sharing 5 tips for using rugs in a room.
Well these are all awesome questions, and although I am not an expert, I am happy to throw in what I think. You knew I was going to do that, right?
First I want to show you how the room looked when we moved in without a rug. Yes we had a different table also.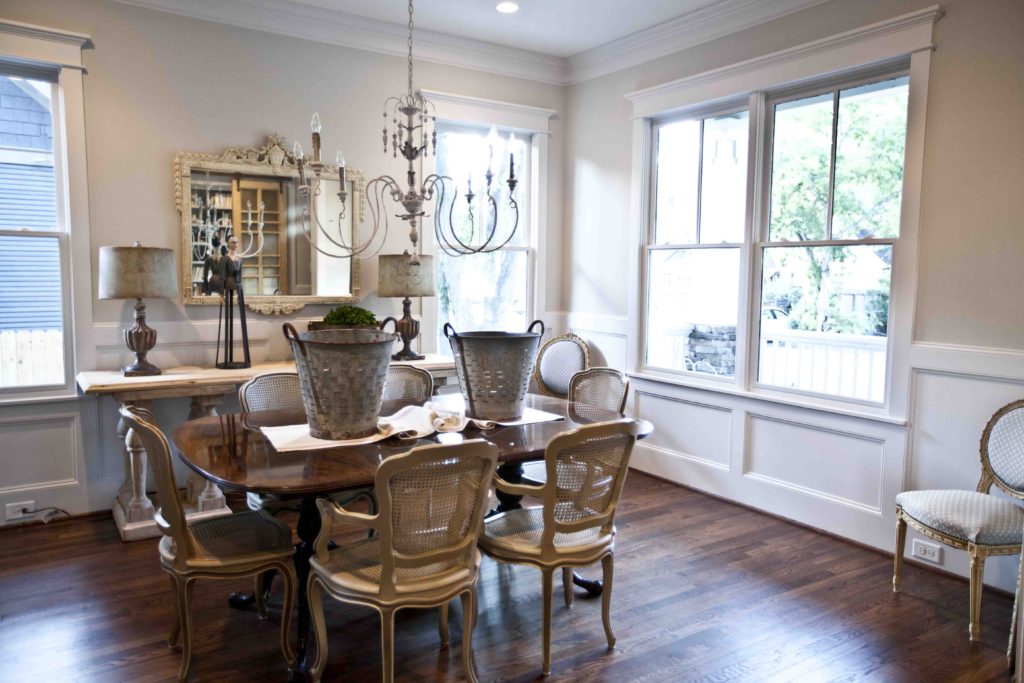 Here is the room with the new one.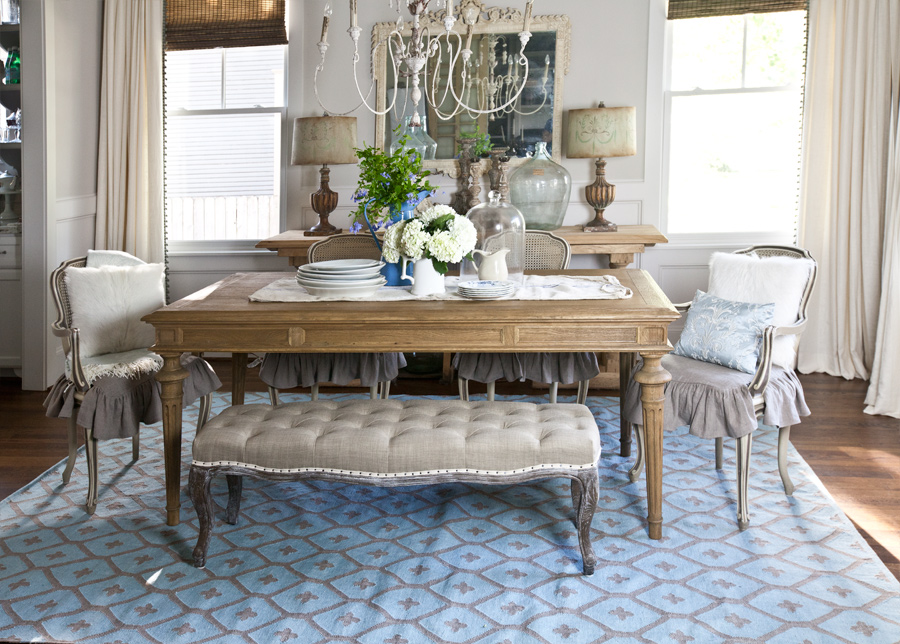 Now let's talk about the typical questions people have about using rugs.
Can you put a rug on top of carpet?
I have heard all kinds of answers on this one. I think it works if the carpet has a flat pile like a Berber carpet, otherwise I don't recommend it for a variety of reasons. Firstly the carpet might be too squishy under the rug if it is a plush carpet.
What size should I buy? 
I found lots of answers on this question, but my rule of thumb is the larger the better. Buy the biggest one you can afford that will fit in your space. A smallish rug is going to look skimpy.
Should all of the chair legs be on the rug?
Some experts say they should. I've seen some rooms that look fine where not all legs are on the rug.
For a dining room, you really want all of your chairs to fit on the rug even when they are pulled away from the table a bit.
For my dining room, I went with a 8'x10′ rug. As you can see there is about 2 ft of hardwood floor that shows around the edges of the rug. I've used a 9'x12′ ft rug for my living room, and that's the perfect size for that seating area.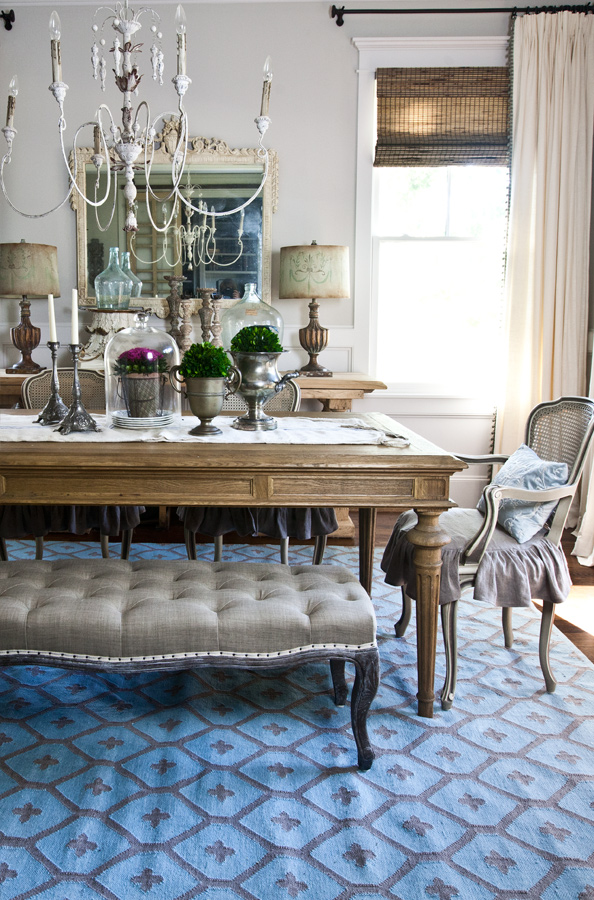 Do I center the rug on the room or the furniture arrangement?
I always go by the arrangement or the dining room table. But if the rug is almost as large as the room, you can center it on the room. For my dining room, I centered the rug under the table.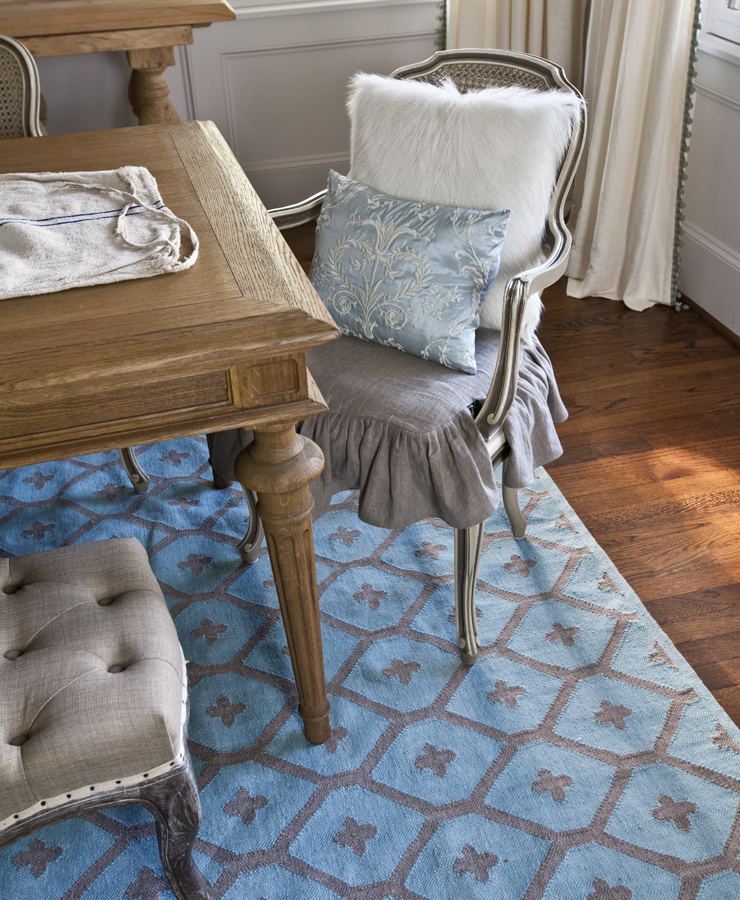 Can you add a rug that has colors not in your room? 
Absolutely, and I see designers do it all of the time. Actually that is exactly what I did in this room. There really isn't much color at all  in here, but I brought in the blue with the rug.
The rug also repeats the tan color of the chair covers. I don't really have blue in this room, so technically I did add a color to the room using a rug.  I've seen Oriental rugs with lots of colors that are not in the room. Just be sure if you are using a bold-color rug that you use it in a room with other strong colors. If you have neutrals like I do, then I think a more subdued rug color and pattern works best.
This post is sponsored by Annie Selke who makes Dash and Albert rugs.
This is the Elizabeth rug. My favorite rugs are flat weave rugs and this one is gorgeous!
This one looks and feels like wool, but it is actually an indoor/outdoor rug. I don't know how they do it, but it looks amazing in person. I would never guess it wasn't wool. The color is rich and gorgeous. Dash and Albert are some of my very favorite rugs. I love flat rugs with a simple pattern and they have several beautiful options. Seriously go check them out!
Pin for later.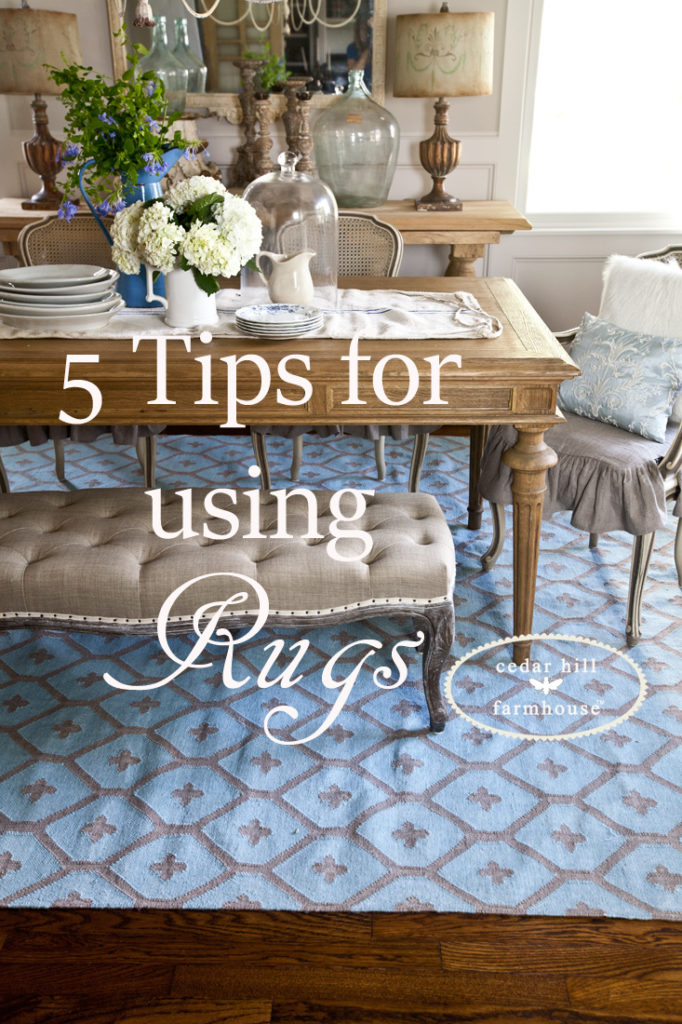 Don't forget my giveaway going on right now. Every comment automatically enters you to win!! fine print here.