Do you like easy, simple ideas that are not complicated to understand or carry out? That's me!  Give me a tip that is easy that works, and I'm a happy camper.  I am always on the look out for something that will make you happy, and I was wondering if you would like some quick tips.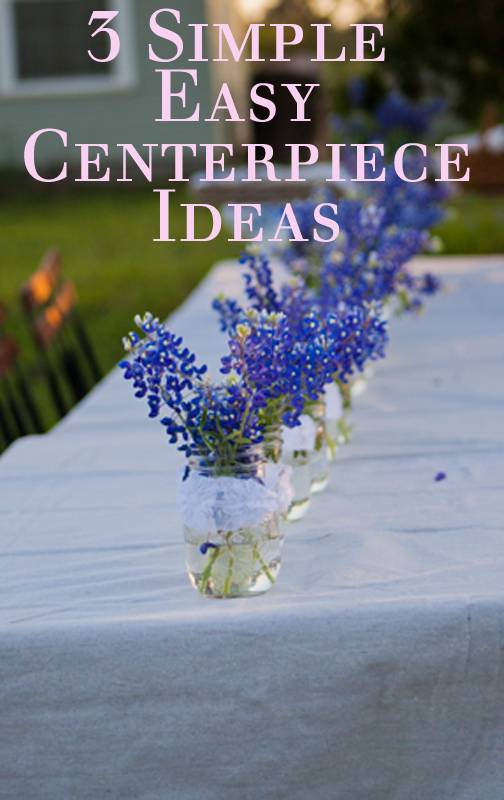 Today I am showing you 3 simple centerpiece ideas. For all of these I used flowers that were either growing in my garden, or in the fields at the farm. I know you may not have fields of wildflowers at your disposal, but hopefully there are some ideas here you can use.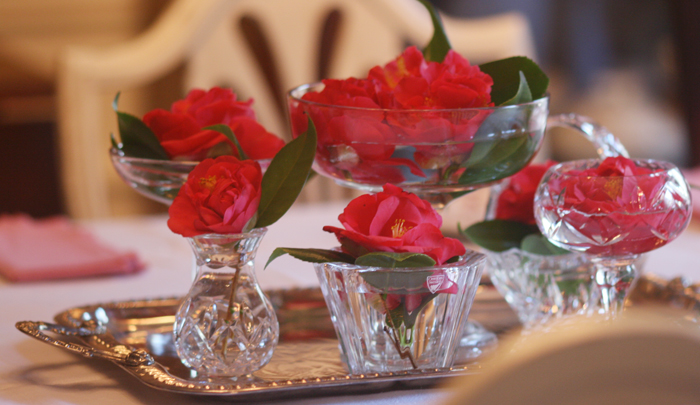 1. Rather than use one big vase, use several, smaller containers in a grouping. For the full post, click here. 
Let's say you are having friends over for dinner or just a snack and you want a simple, but elegant centerpiece. The only catch is you don't want to spend much or hopefully any money.  My solution is to cut flowers from your yard and put them in a few containers you have on hand.  I used these inherited crystal pieces on a silver tray. The centerpiece did not require any new purchases. My daughter was having a birthday party, and my camellias were blooming.  You could even pick out some jam jars, or other small containers to use.  Be creative!  If you don't have flowers, you can usually buy something at the grocery store for $10 or less.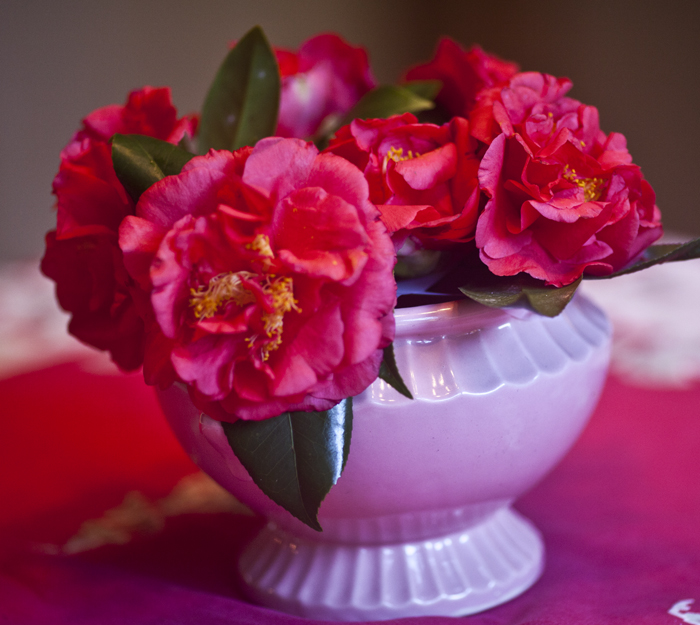 2. Use scotch tape as a floral frog. For the full post, click here.
Yes I used tape to secure my flowers in place and it worked very well. I first filled the container with water, then added tape to the top of the container in a crisscross fashion, like you were going to play tic tac toe.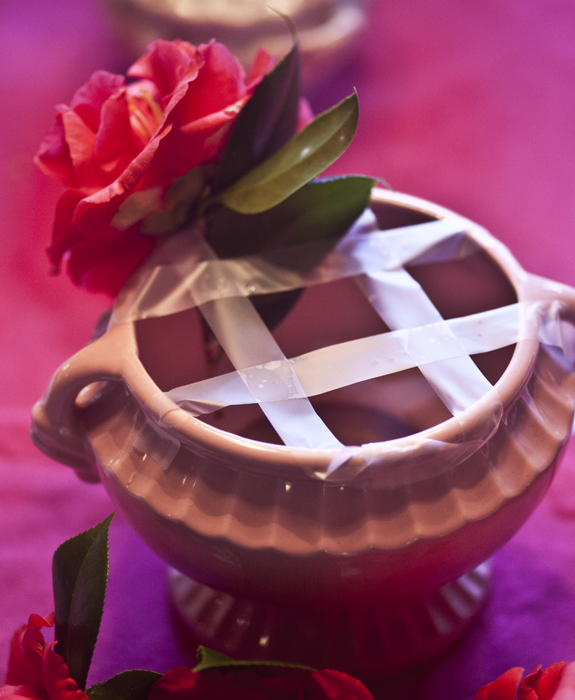 Then I placed the flowers in the container. It worked beautifully!!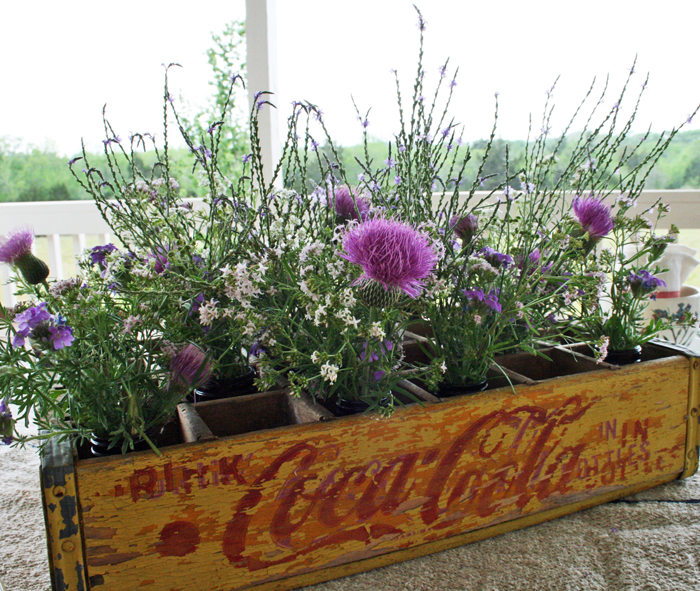 3. Use an unusual container for your flowers. For the full post, click here. 
I actually kept several small jars that used to hold supplements. Then I placed them in this coke crate, filled them with water and placed wildflowers in each of the jars.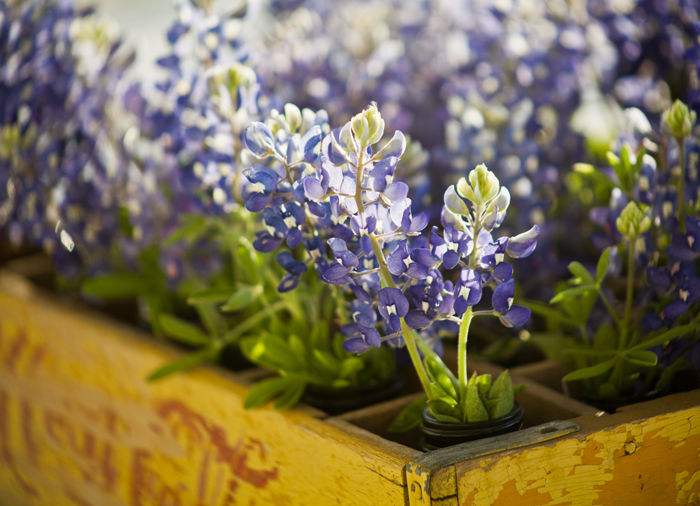 If you don't have a coke crate, you can still walk around your house looking for something you can use to hold flowers, or maybe something you can put a jar in to hold water and flowers.  I've even been known to use an old boot as a vase at the farm.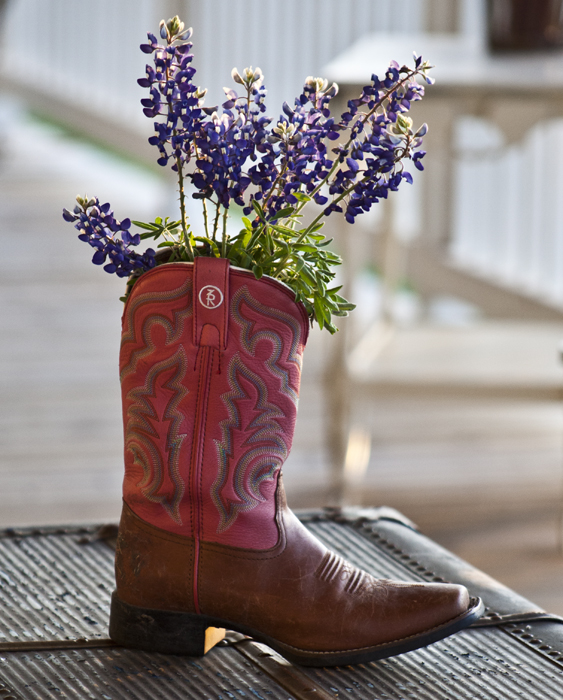 How do you display flowers?  I'm always looking for new ideas!