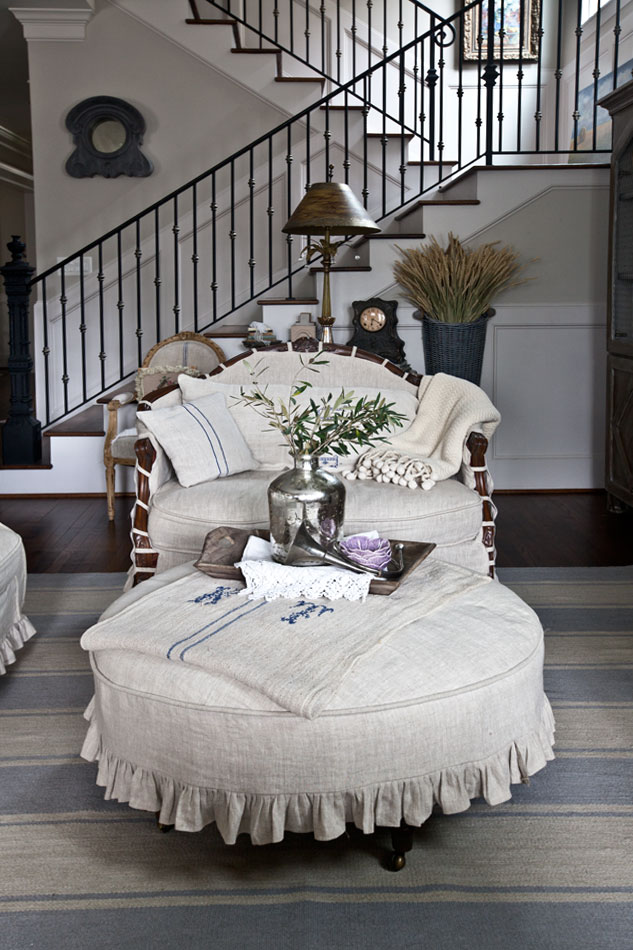 Today is our 10 minute decorating event. I love coming up with something you can put together simply and easily. So this is the tray I put together for my ottoman today. Did you know that the plural for ottoman was ottomans and not ottomen? Yup I try to not only entertain but provide valuable information to you. (I'm not sure when you will be able to use that little bit of trivia, but now you know.)
Also I thought it would be fun to photograph this room from an angle I really use. This way you can really see the stairs.
So I have an ottoman in front on my sofa instead of a coffee table, and I pretty much have to use a tray here if I want to get a flat surface, but a tray is also nice visually in that it provides a 'container' for your decor. It forces you to put everything rather close together to form an arrangement.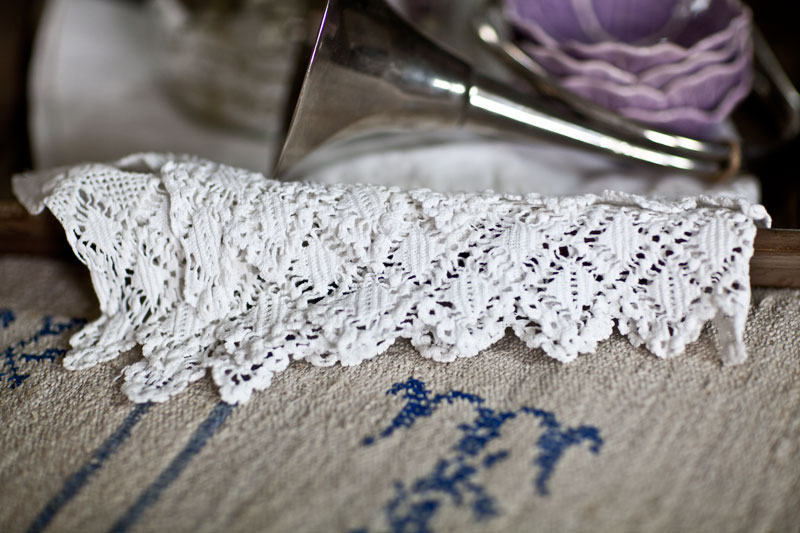 I started with this handmade lace and homespun linen piece that I folded and placed in the wooded tray. This is a very old piece that is from Round Top. The wood tray was from TJ Maxx. The thing you notice most is the mercury glass bottle that is from Home Goods. I filled it with a few branches from our olive tree. I figured it needed a trimming any way. I love using the olive branches because of their silvery underside, and I am just fascinated with olive trees.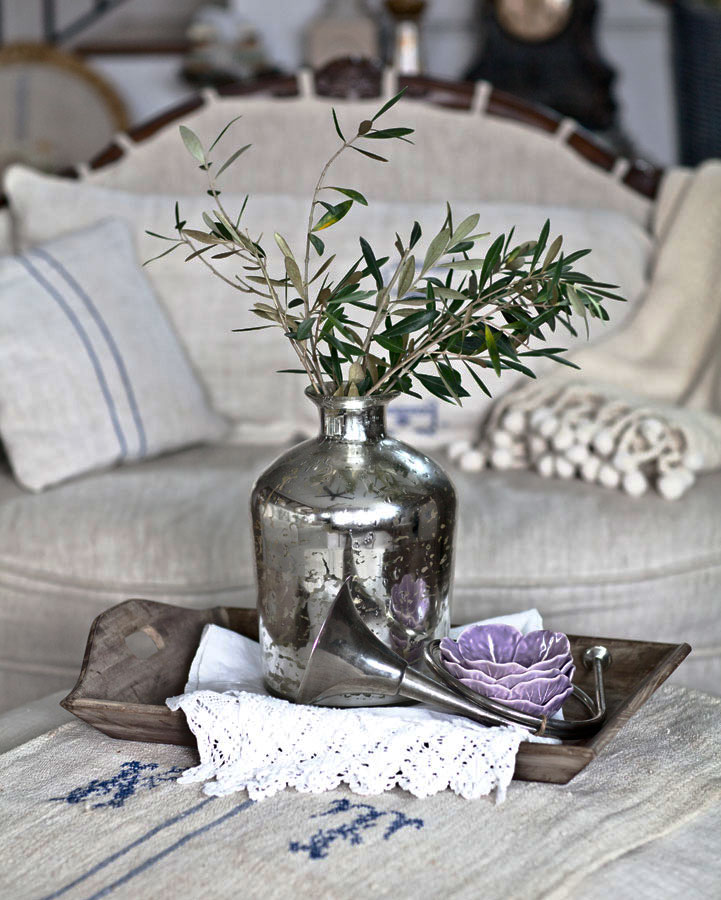 I added a stack of lavender cabbage leaf bowls to add a bit of color and then added a horn from the antique store. What do they all have in common? Heck if I know. I just liked the way it all looked together.
Here is another angle I rarely shot from. You can see that the lighting is quite uneven. I am standing with the windows behind me. I could have evened the lighting out for the photo, but honestly didn't have that kind of time this week. If you are new here I'll tell you I made the linen slipcovers. They are actually an oatmeal color and not white like they sometimes appear. Regular readers know this, but since people ask, I will go ahead and answer that now. The sofa, ottoman and the settee are all red underneath the slipcovers.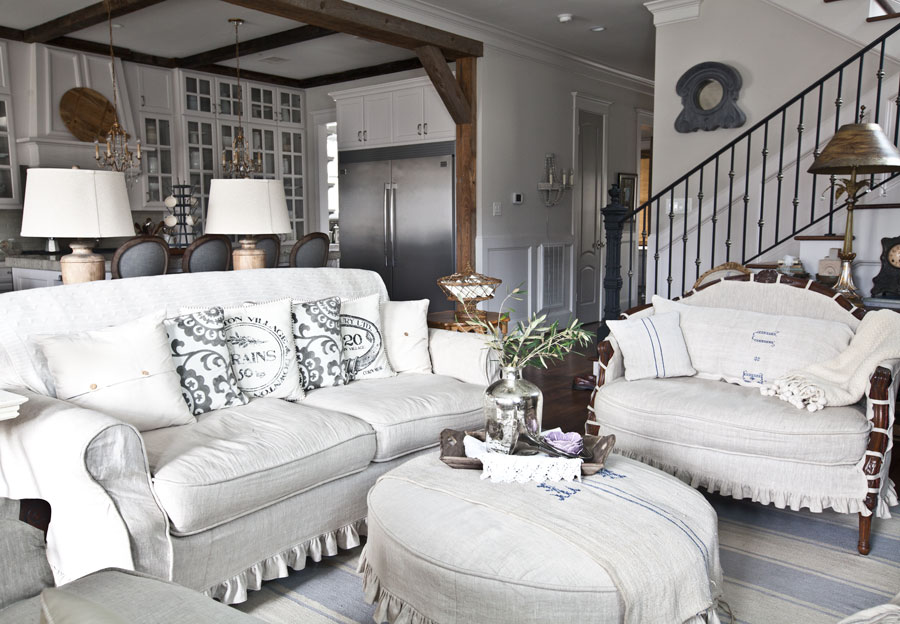 I also want to point out that I changed the rug in here. I love, love this lander and cream striped wool rug from Ballard Designs. You can see the previous rug in the photo below. (Sorry Peggy, the old rug got moved to my bedroom.) Other changes between this old photo and the current one include a new-ish ruffle to the sofa, and the white dishes in the kitchen cabinets.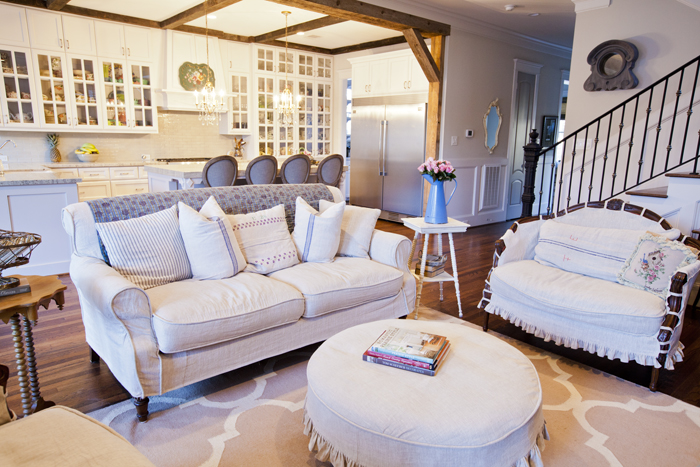 I hope you enjoyed this 10 minute decorating tip.