I keep hearing that grown children don't want to inherit our stuff. This has been a hot topic for awhile. I asked my daughter if she wanted to inherit our stuff or not. She specifically mentioned that she likes my 'colorful' dishes. She pointed to my chintzware. Wise choice Grasshopper! Those are really fun and nice. She also mentioned she wants to keep my Francisian Desert Rose dishes. I had just decided to sell that set, so now I'll discuss that decision with her before I do anything.  I have a lot of dishes, and I would really like to get rid of more.
Below is one of my favorite plates we inherited from my mother-in-law, Bea.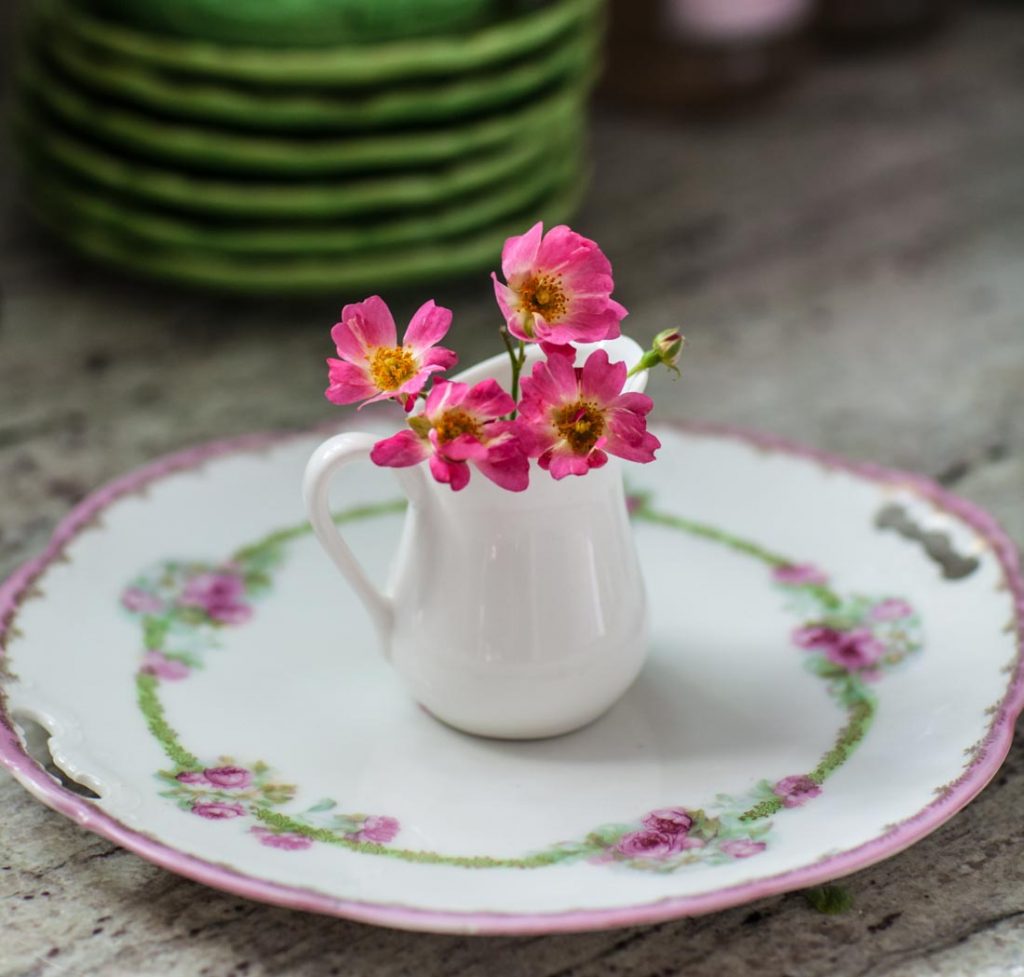 I know at the end of Bea's life she spent a lot of time thinking about her stuff and what would happen to it. We said we would try to keep as much of the good stuff as we could. Of course she never threw anything out, so we had every letter she had ever received, pretty much since the beginning of time. I really did try to honor her request, but oh my, I already had a full house, and our tastes were quite different. In the end, I kept the best dishes, the silver, the crystal, the old letters, a few of her old purses and hats, and some other things. She had long white gloves from when people wore them. I'm not sure how often she did wear the gloves; that was before my time. I suspect it was in the Jackie Kennedy era. There was a old fox stole with beady eyes where the mouth is a clip that bits the tail.  Apparently there were all the rage long ago.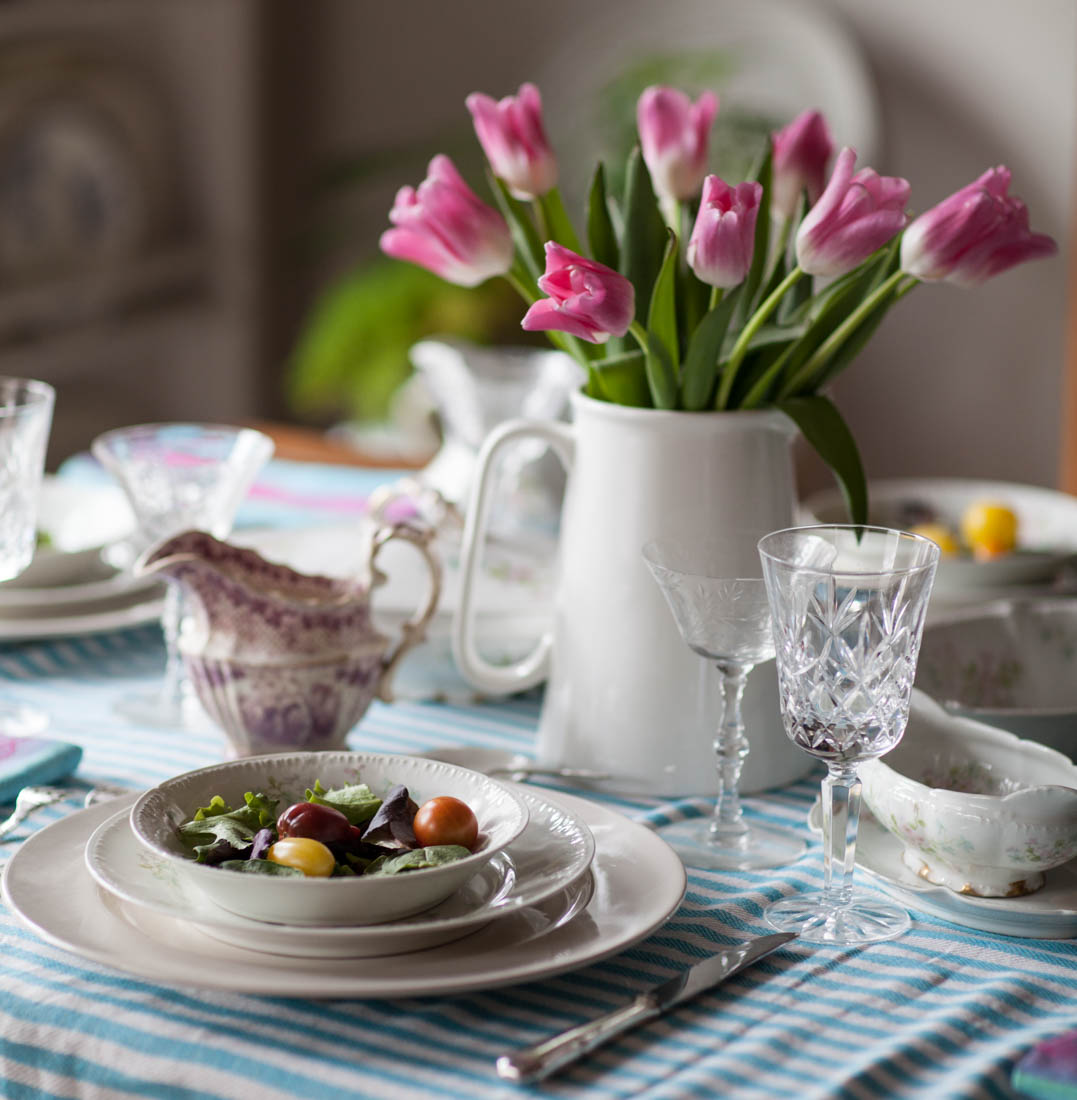 I love the chintz teapot below. The luncheon set (the teacup on the salad plate) belonged to Bea. She hosted a lot of teas. I did too, but not as many as she did. I don't host many teas these days.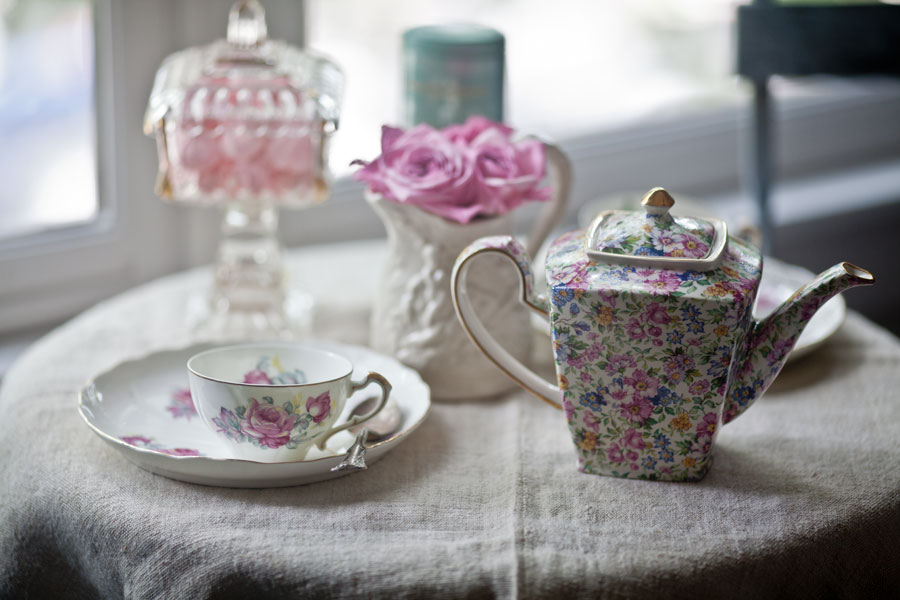 She had also saved everything she could from my husband's childhood. There were many souvenirs from their travels around the world. The only place I went as a kid was Oklahoma. I just thought I would throw that out there.
We did not keep the piano. Nobody in the family plays it, and it takes up a lot of space. My daughter does play the guitar, so we kept my father-in-law's Gibson guitar. She plays it often. When my daughter Evie graduated from college, I wore my father-in-law's college ring and my mother-in-law's favorite ring. It was a small gesture that Bea would have loved. She was very sentimental.
The display box below holds a picture of Bea as a young girl, the kangaroo salt and pepper shakers from her trip to Australia in the 70s, and the bookend of the man holding the books. It's hand carved wood.  The little doll's dresser was an old family piece also.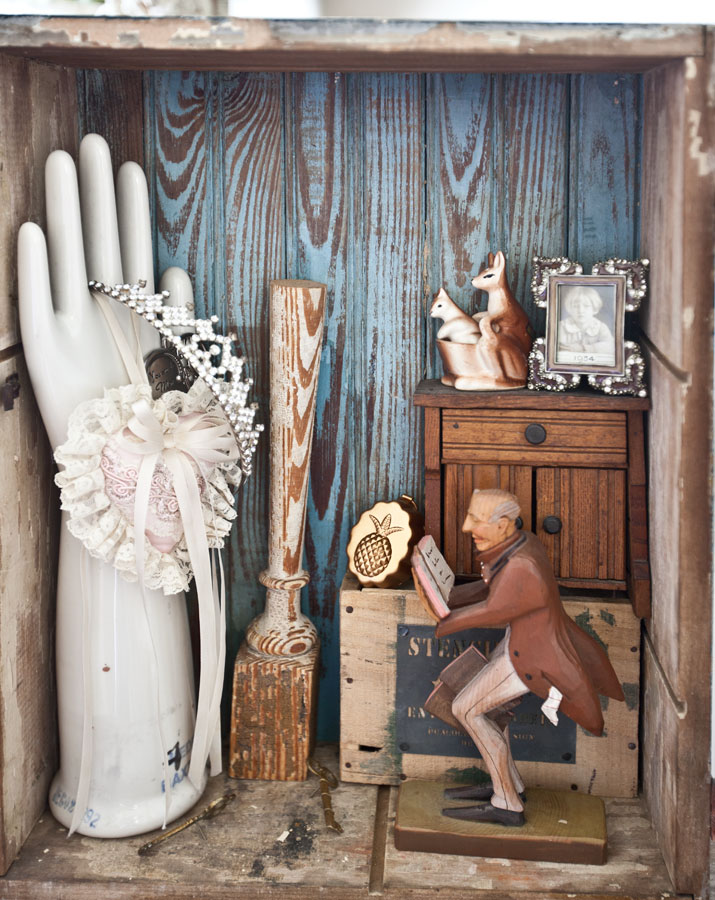 I kept many of Bea's things from the 40s including her WWII ration books.
So what do I plan to do?  I guess I'm going to live my life, and enjoy our stuff. Then after we've left this earth, it will be my daughter's decision what happens to our earthly possessions. I plan to be in heaven, focused on one big family reunion. What they do with my stuff is none of my business. What are your thoughts? Did you inherit things? Do your kids want your things?