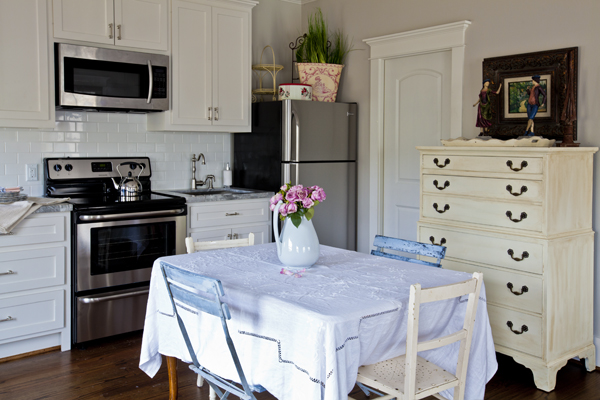 Today I'm showing you the guest quarters kitchenette. Let's look at the details here. First let me say I tried to keep it charming, while staying on budget.  The cabinetry was made on site, and is similar than the cabinetry in the main house.  Here I went with quartzite counter-tops.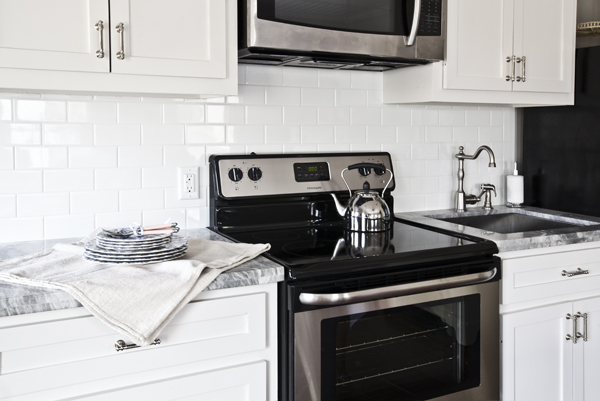 What I am told is that quartzite is more difficult to stain than marble, but can etch.  It has a high tolerance for heat also.  Why did I go with quartzite?  I didn't want to buy a whole slab so I went to my granite/marble guy to see what kind of remnants he had on hand.  I didn't like any of the granite there, and I knew marble would be a bad choice here, since guests would probably not know how much it needed to be babied.
The only remnant he had that I liked was this quartzite. The down side is that it is pricier than granite. The up side is that it looks a lot like marble, but is much more stain resistant than marble.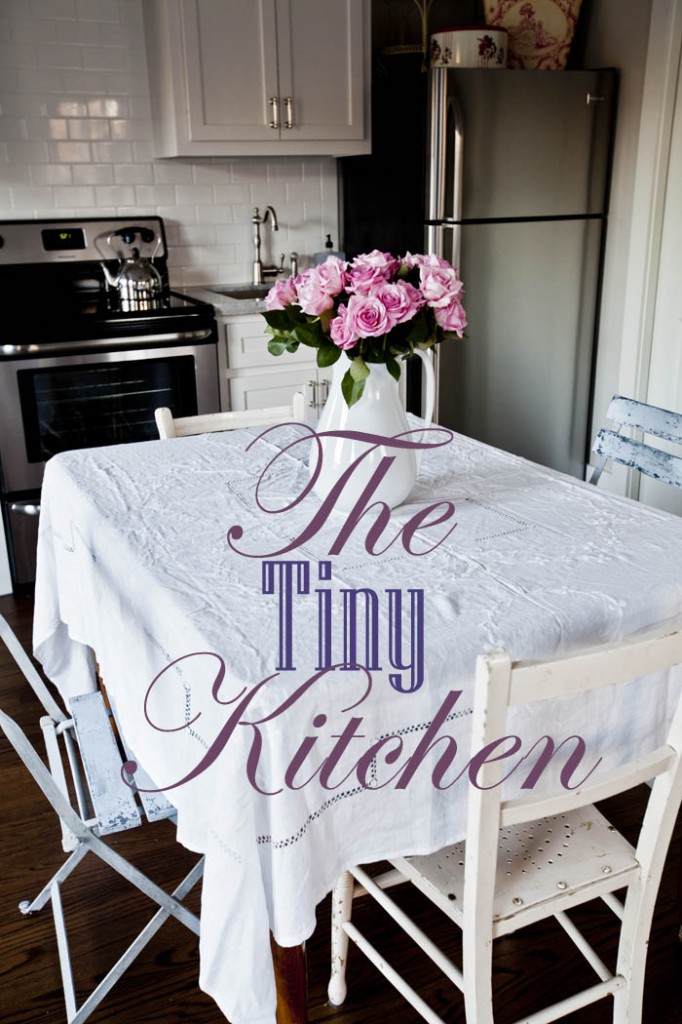 I thought the white subway tile went very well with the gray quartzite. The cabinetry is painted SW Eider White just like in our main house.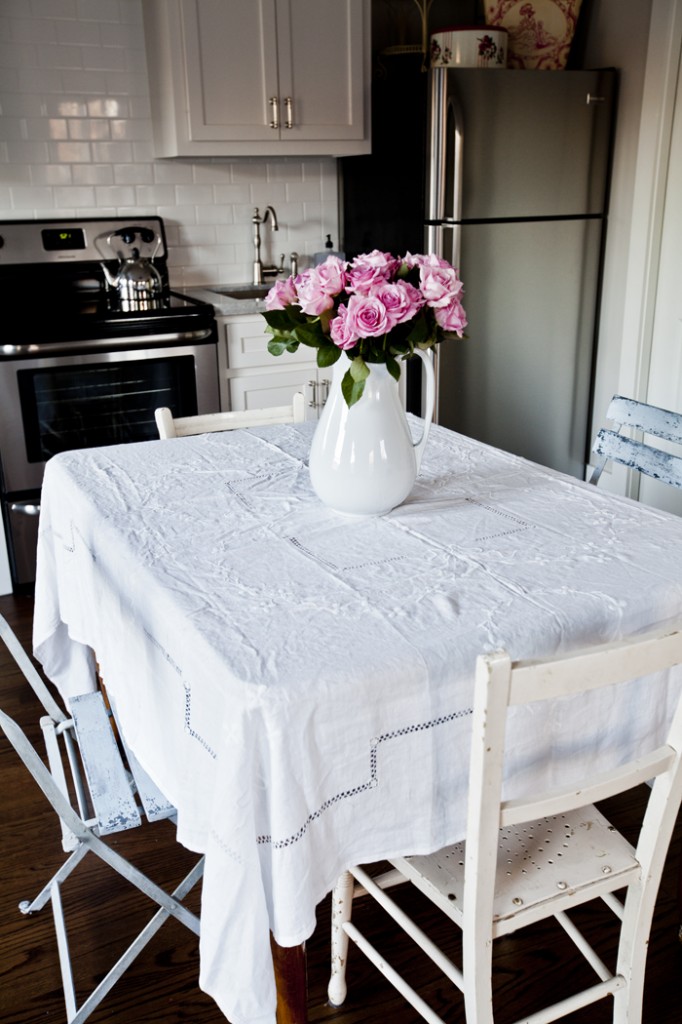 Now my builder gave me 'the look' that I know so well now when I told him we wanted a stove and full-sized refrigerator in here. He told me that I was over-doing it, that typically these guest quarters or garage apartments only have a microwave and a toaster oven.  I decided to go with a full-sized range rather than a small range, since the smaller ranges are actually more expensive.  I went with one of the cheapest electric ranges I could find.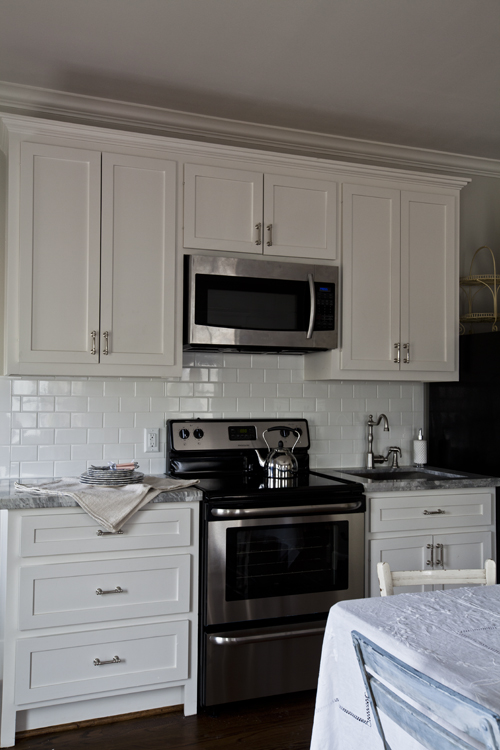 Since I know someone is going to ask, the range and refrigerator are Frigidaire. I ordered a Frigidaire microwave, but they sent a Samsung one. I noticed it was the wrong microwave after it was installed. Uggh. They tried to change it out, but couldn't, and in the end I said forget it.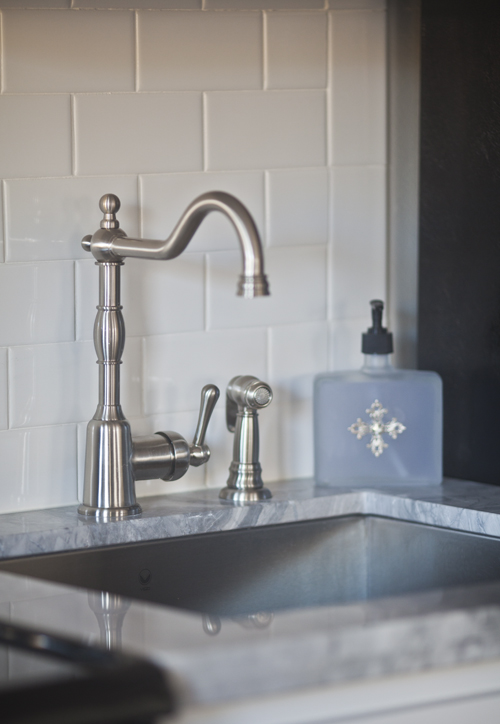 Any way, I went with a stainless sink square sink.  It's a small, simple kitchenette, that is bright and cheery.
The kitchen table was my computer desk at one time, but long ago, it was someone's dining room table.  The chairs are some extra ones I just happened to have sitting around.  The white ones I got at auction for $5 or so, and the blue ones were on my back porch.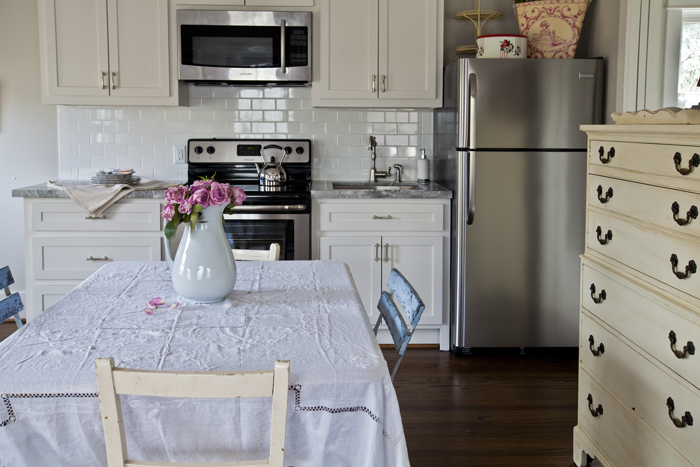 On top of the refrigerator sit some goodies including a vintage cake carrier that used to belong to my mother-in-law. I know many a church dinner was made sweeter by what she carried in that carrier.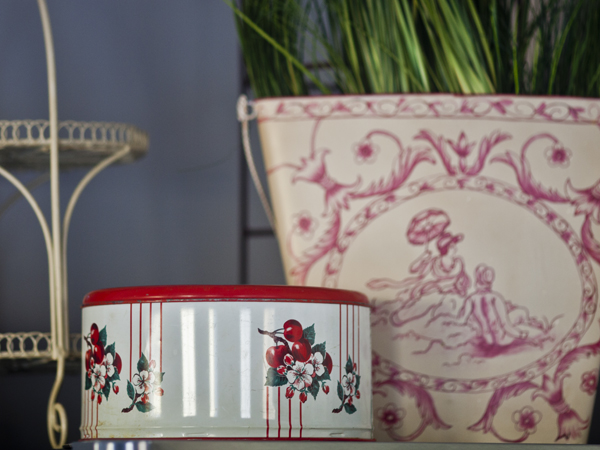 The dresser is inherited from my father-in-law.  I'm not sure he would be happy to know we painted it.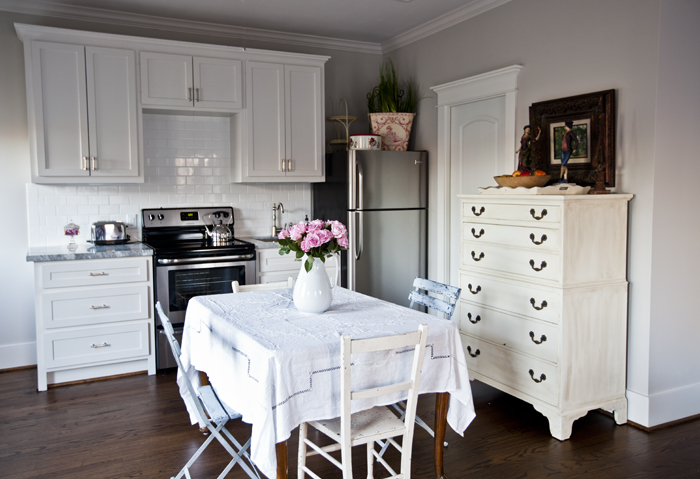 Take aways –
Paint mismatched furniture the same color to unify the room.
Subway tile is classic and clean looking, and it is fairly inexpensive. If you don't have a range, then you could try bead board which is even cheaper.
Use inexpensive outdoor folding chairs for dining chairs.