I used to think that the prettiest things were the most expensive, the most ornate, and the over the top things, but I really don't believe that any more. I was drawn to the heavy fabrics with loads of trim. The more the better. But as I've gotten older, my approach has changed. I've found that there is not only beauty in simplicity, but there's also staying power. The more simple something is, the more people it will appeal to. The more people it appeals to, the longer it stays 'in style' and 'current'. Simple things stay in fashion longer than complex things do. The other reason simple fabrics stay in style longer is because they aren't tied to a particular time and trend.  Ticking (the narrow simple striped fabric) has been in style for over a 100 years. I don't expect that to change anytime soon. If you can look at a fabric and think of a specific year, then that fabric is by definition 'dated.' Think ikat fabric. It came and went very quickly.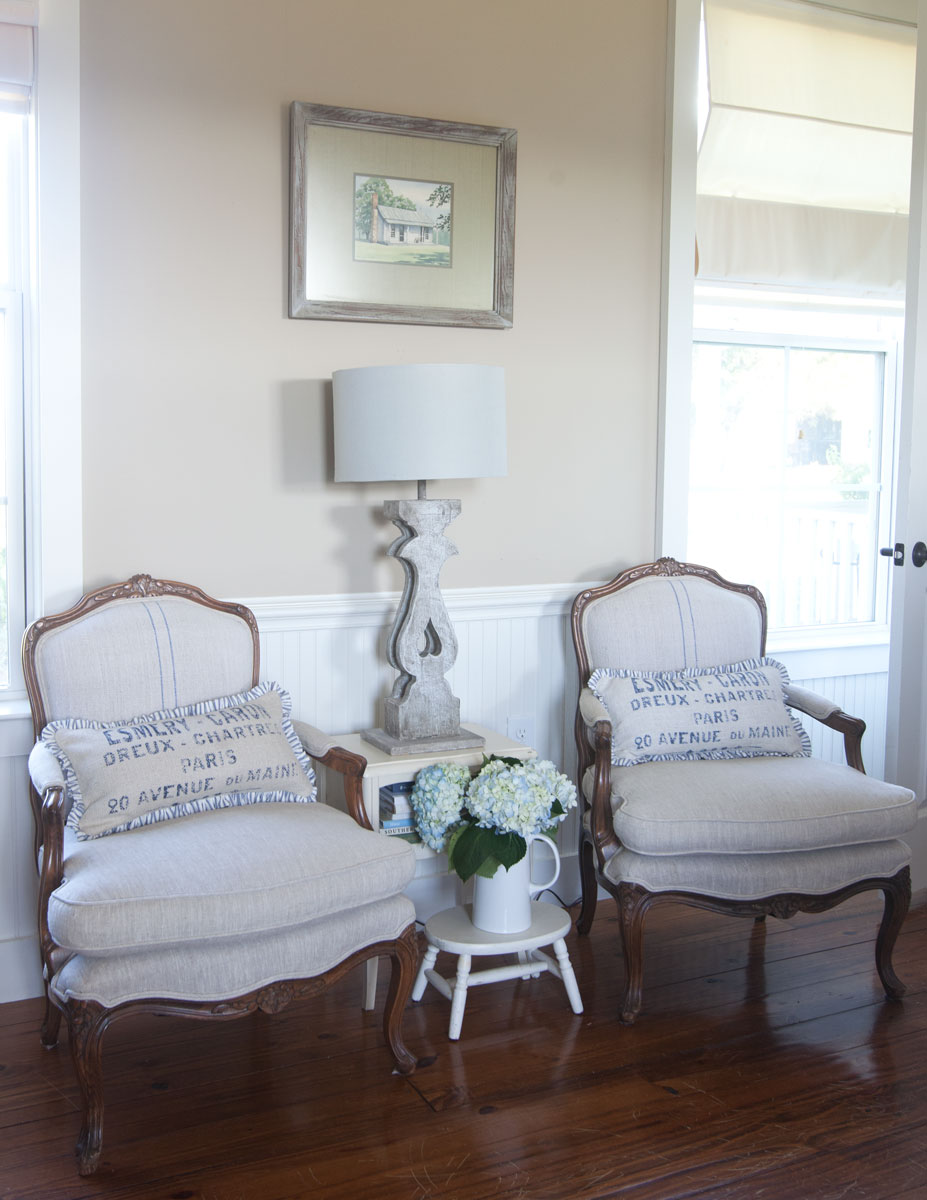 It's a paradox in life that seems to be perfectly ironic; simple is best. I used to look with wistfulness at over the top, massively sized homes. Now those same homes turn me off. They seem to be too much, too expensive, too big, and mostly way too much work. I'm not the only one either. I think a lot of people are eschewing the McMasion for a bungalow, even if they can afford more. The same goes for design in the home. People want a streamlined look. Gone are the rooms full of ornate curtains, expensive fabrics and expensive antiques. People are opting for less fuss in a room.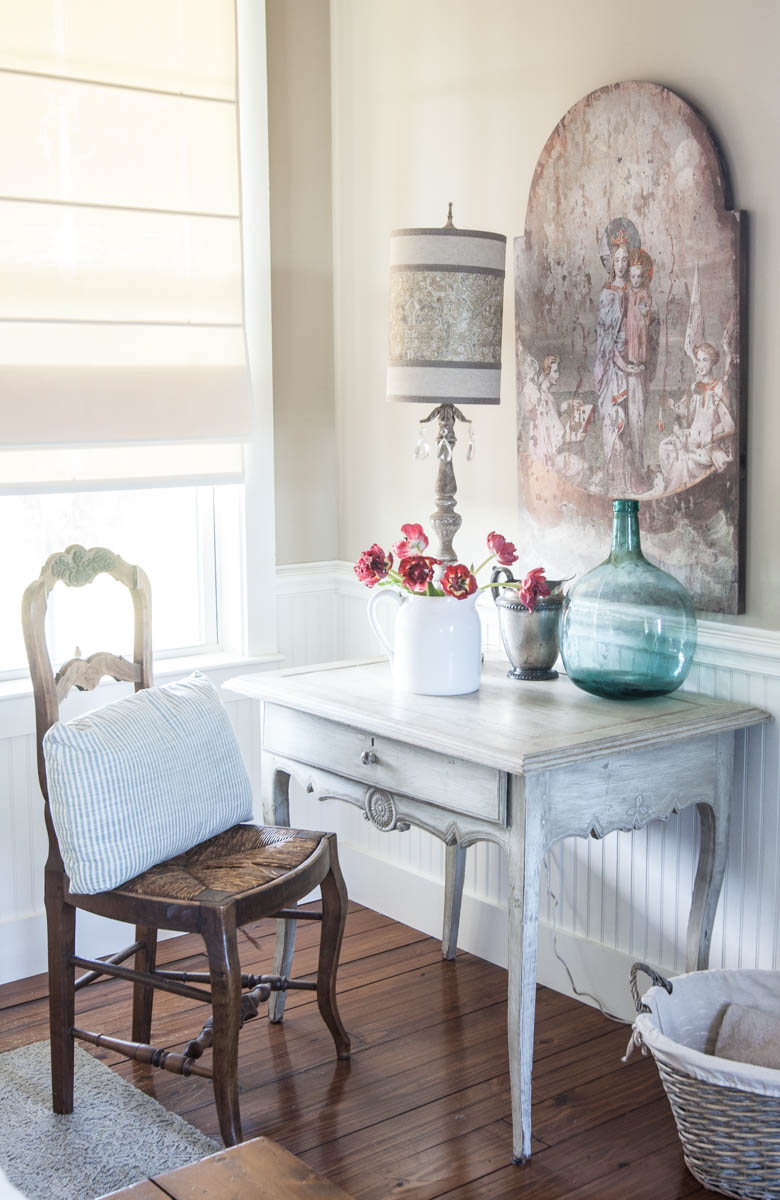 Don't get me wrong. I still love my antiques, but I use them judiciously, rather than stuffing rooms full of antiques. I love to use simple baskets, wood bowls, and old books. I still love the look of grain sacks for their durability and primitive nature. Restraint is key. The more modest things can be appear elevated, if the room is not overcrowded with stuff. The details on my antique French chair are noticeable, because the room is not cluttered with stuff.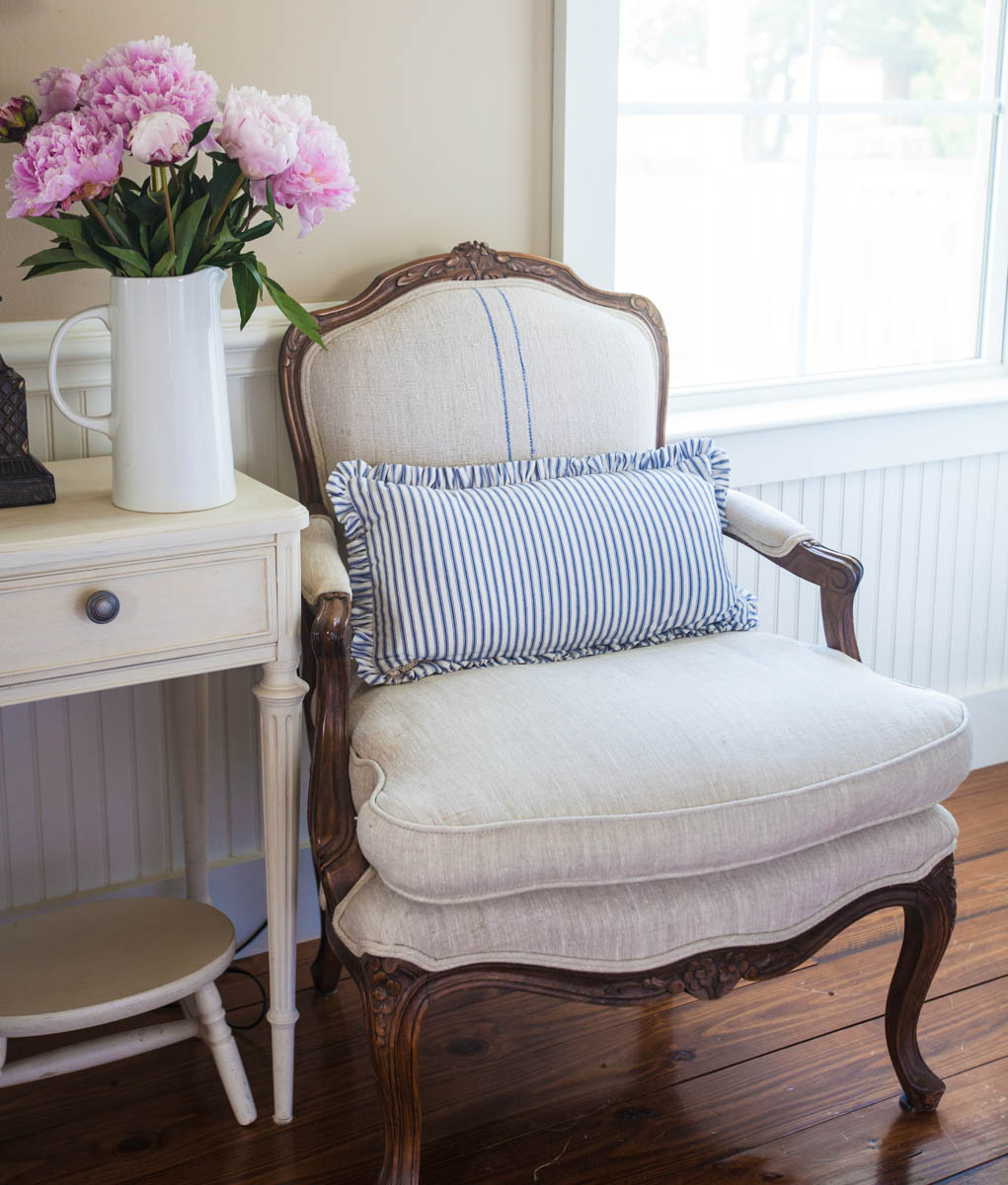 I do think there is a trend toward the simple things that is affecting a lot of people. It seems to be almost a movement. Clean lines, simple, uncluttered spaces are very much in vogue now. If you have a simpler room, then you can add a French chair, or gorgeous antique and it will become the belle of the ball. I would love to know your thoughts on the simpler things in design. Has your design aesthetic become more simplistic?  I would love to hear your thoughts.