Welcome to Cedar Hill Farmhouse!! Come on in and let me pour you a warm drink.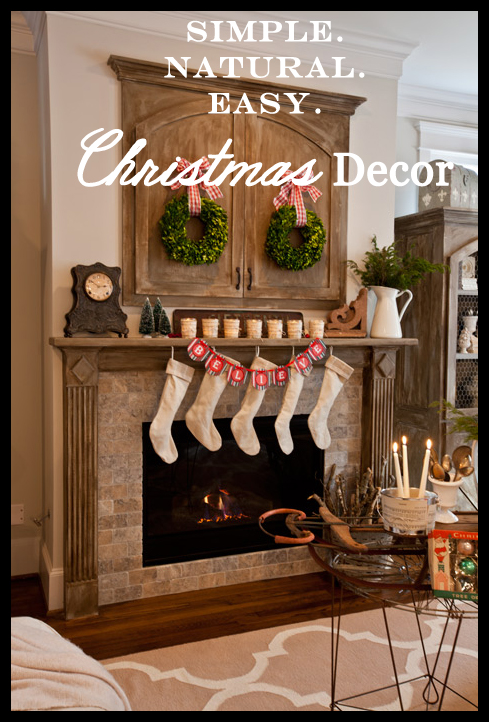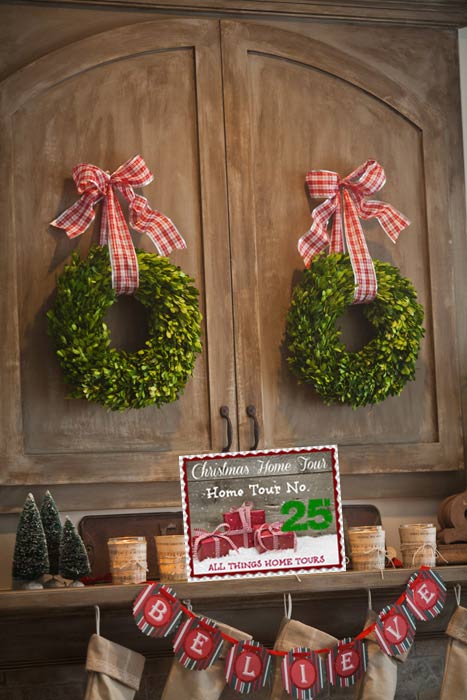 This is home #25 on the All Things Home Christmas Tour, and I'm sharing my Christmas decorations with you today.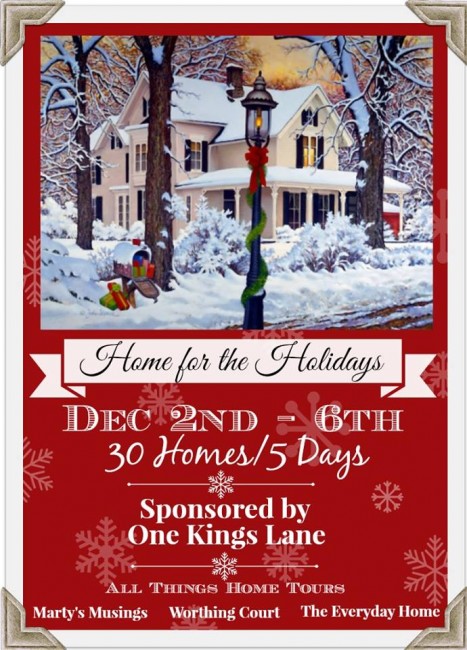 I want to share with you how I made my house look very festive and welcoming for Christmas without spending much as all. I have a little secret.  I can't believe I'm saying this out loud.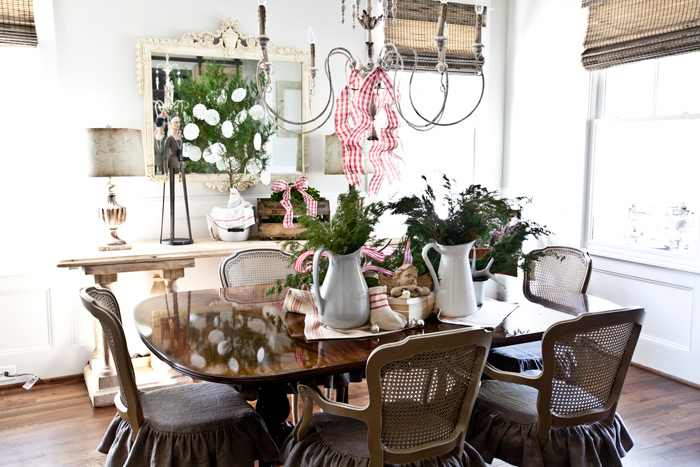 I don't buy Christmas decorations any more. Shhhh, I know that heresy in the blog world.  I don't like spending money on Christmas decorations because they have to be stored for 11 months out of the year, and they are often expensive yet poorly made.
So my 'fancy' tree is a sapling from the farm. The snowflake ornaments are paper doilies.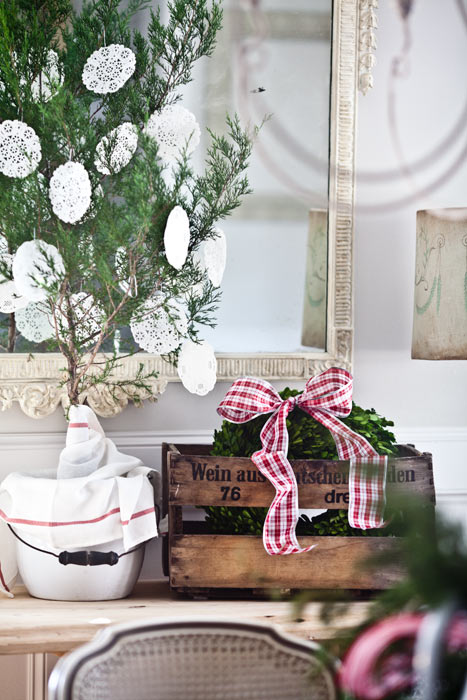 Notice my little Charlie Brown tree sits in a vintage enamelware pail with an Ikea tea towel draped over it. The pail and towel can be used year round because they aren't Christmas specific.  Also note that I used a lot of holiday ribbon which is an inexpensive way to add holiday touches to a room.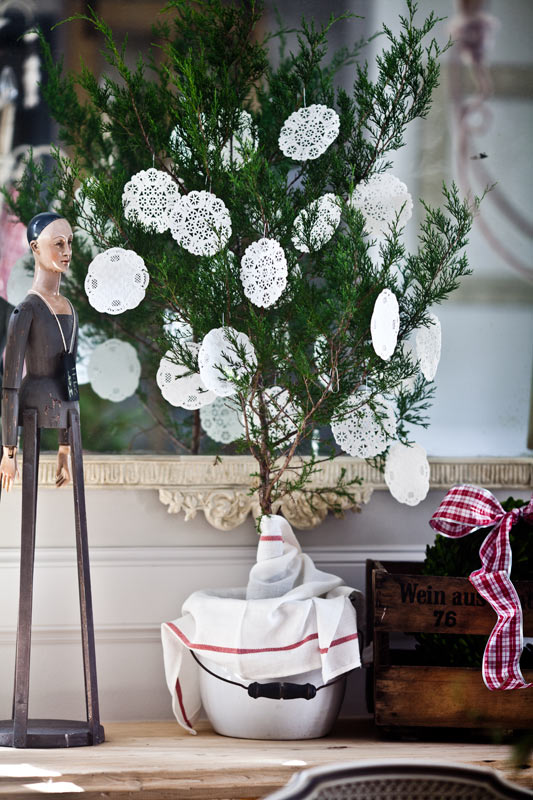 Notice lots of free greenery and inexpensive ribbon was used to spruce up this room.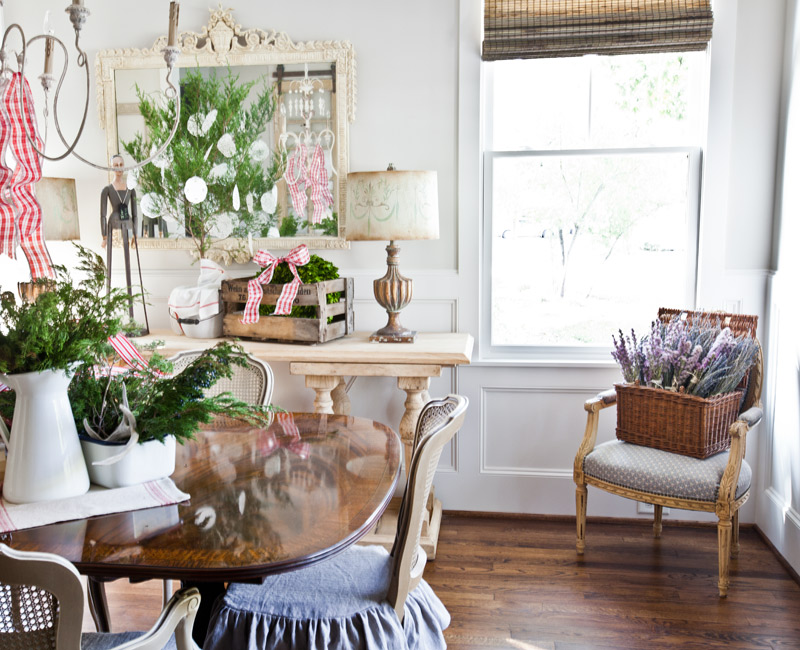 I do have some Christmas items in the room, but these were purchased years ago.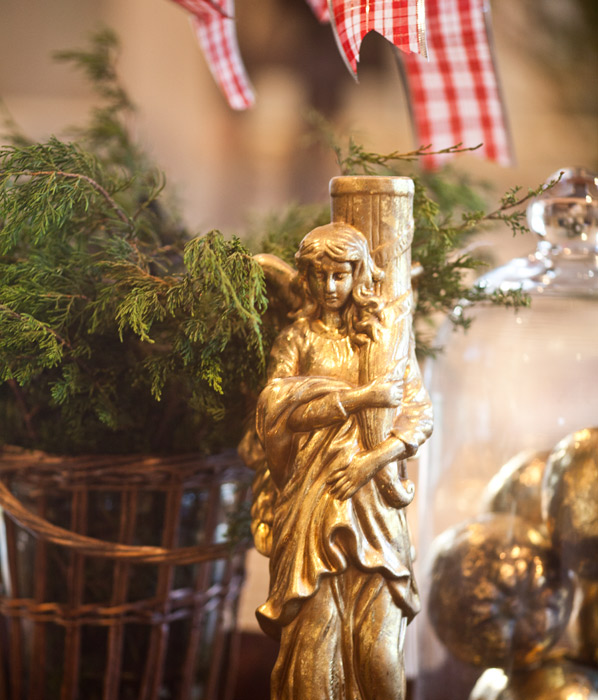 The living room also was decorated with basically what I had on hand and newly purchased Christmas ribbon.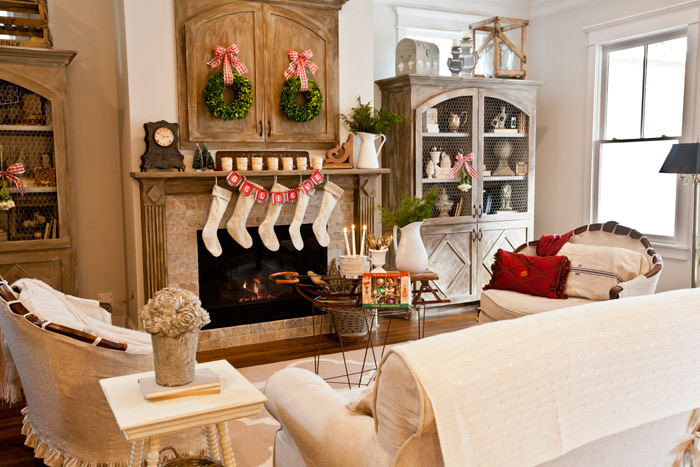 I made the linen stockings on the mantle last year. More greenery here and ribbon abound here.  Also note that I used a vintage family sled for our coffee table.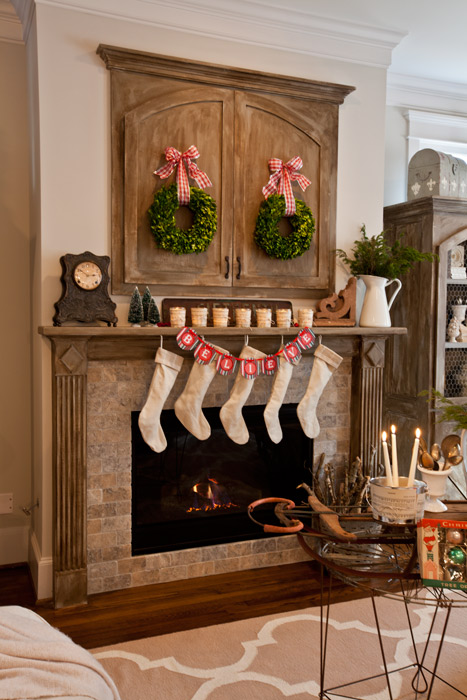 My Christmas votive holders were made this year. I'll share more about those in the Scoop on a handmade Christmas next week.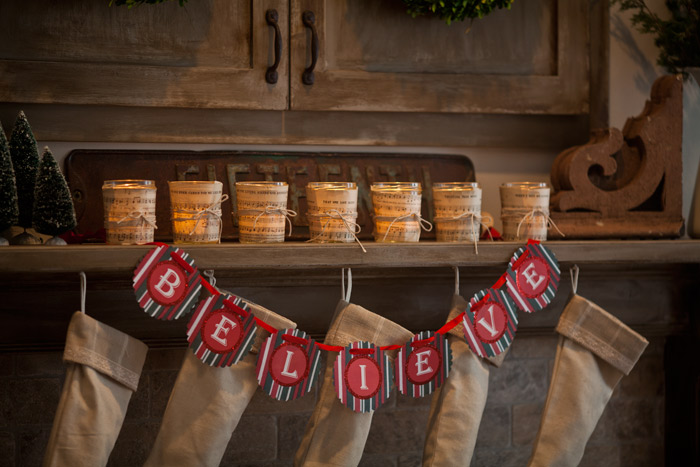 My tree is a real Norfolk Pine. To give it some height I put it in an olive bucket on top of a stool. The stool is wrapped in a coffee bag.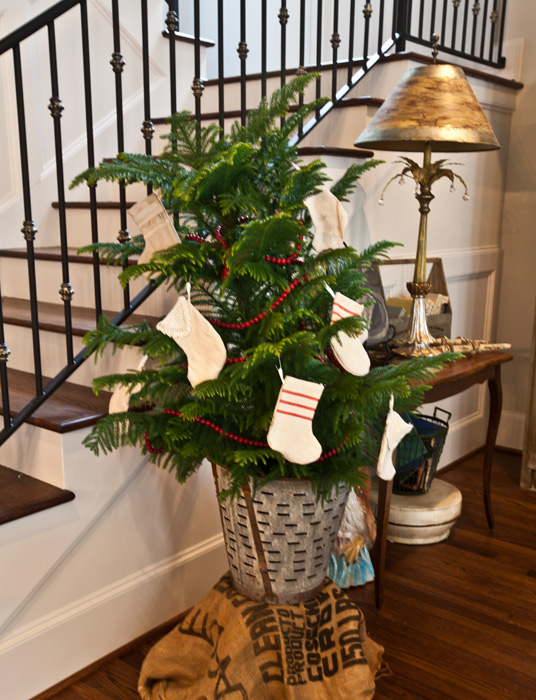 The  tree is covered with little mini stockings I made last year from vintage grain sacks.
I added ribbon anywhere it looked bare.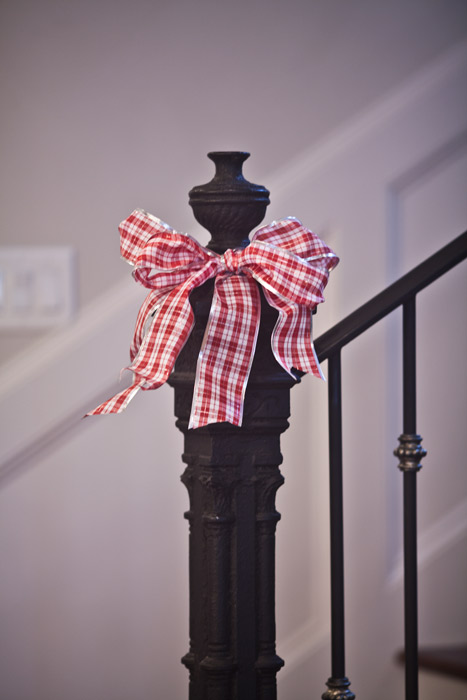 Later I decided to move the sled over to the island, just so you know I don't have two in the house.  What more greenery and ribbon?  But I think you get the point.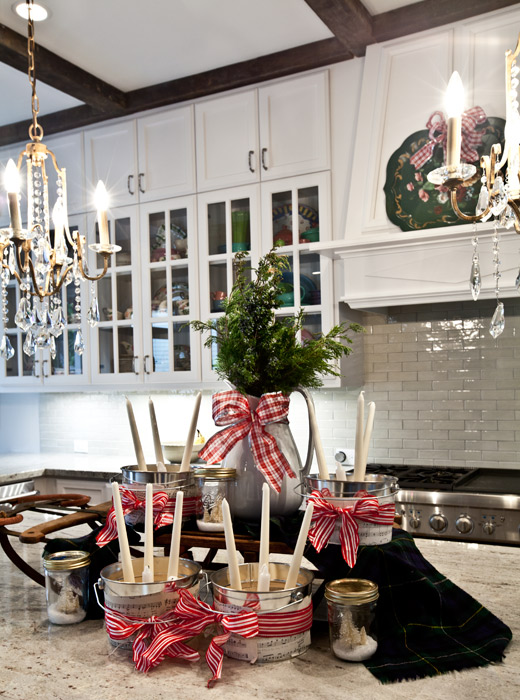 I like to have a tray setting here above the range, so for this season I am using a green one with of course my signature red and white ribbon I am using this year.  I can change the tray out with the seasons as I like.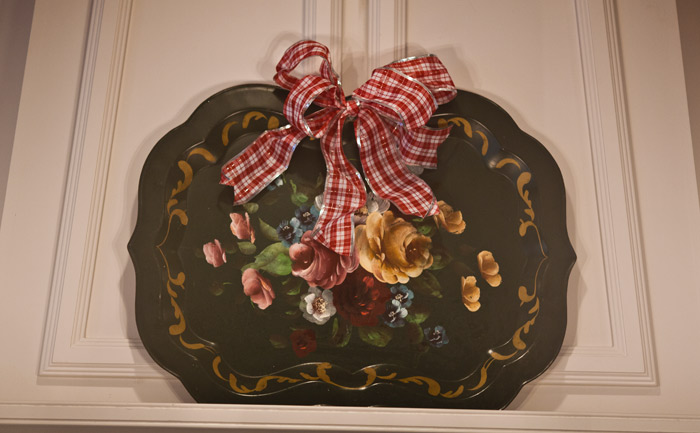 Above the breakfast room table.. more ribbon, who knew?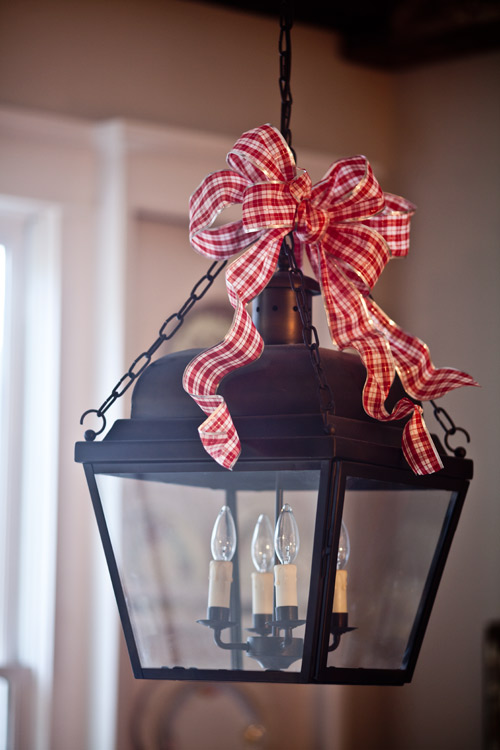 Here's a close up of what I had on my 'coffee table'.  Note that most of what you see isn't seasonal at all; it just becomes seasonal with greenery and ribbon.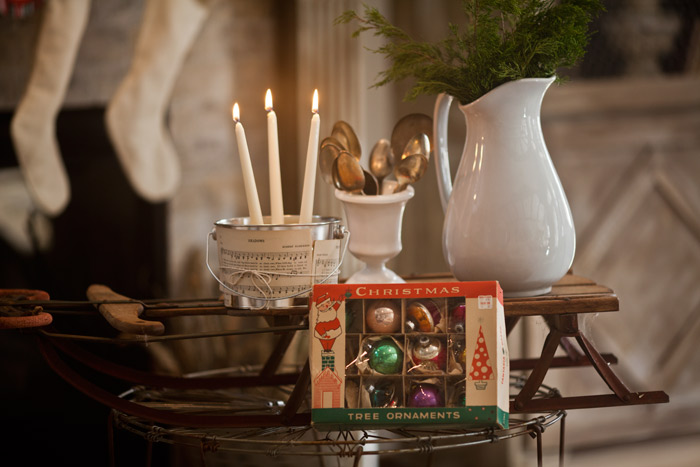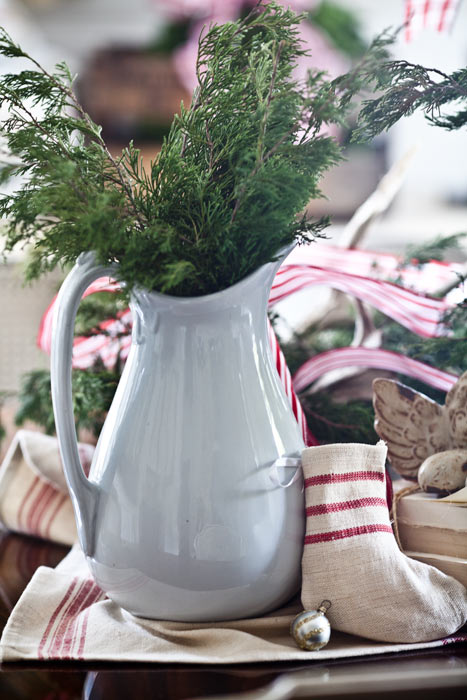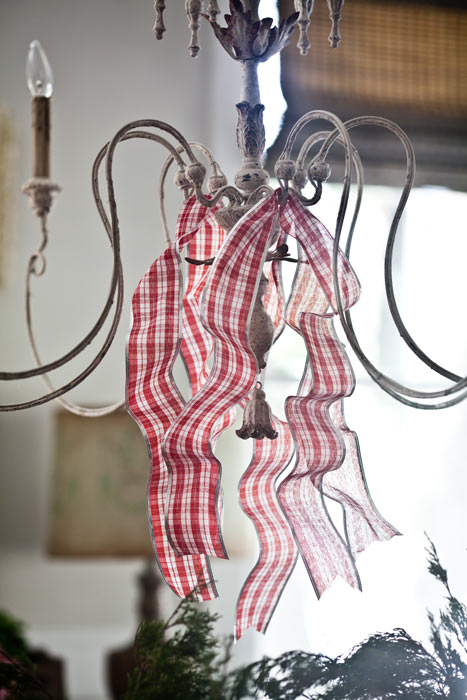 So I hope I proved my point that with just a few simple inexpensive items you can transform you home into a Christmas wonderland.  This year the only Christmas items I bought were ribbon and the Christmas tree.   For Thanksgiving I decorated with a few pumpkins and some fresh flowers.  You can see what I did, here.  And I think you know what direction I'll be headed with Valentine's Day!
Monday
Worthing Court
French Country Cottage
Atta Girl Says
Town and Country Living
Decor Adventures
Lilacs and Longhorns
Tuesday
Marty's Musings
Mom 4 Real
All Things Beautiful
Making Home Base
The Happier Homemaker
The Lily Pad Cottage
Wednesday
The Everyday Home
Craftberry Bush
Celebrating Everyday Life with Jennifer Carroll
AKA Design
Hymns and Verses
Our Southern Home
Thursday
Stone Gable
Adventures in Decorating
Newly Woodwards
Setting for Four
Back Porch Musings
All Things Heart and Home
Friday
Cedar Hill Farmhouse
Cottage at the Crossroads
Top This Top That
Domestically Speaking
Mommy is Coocoo
Shabby Art Boutique
a Rafflecopter giveaway
The Scoop Christmas tour has begun today too. Here are the homes on our SCOOP tour.
Friday December 6

Saturday December 7

Sunday December 8

Monday December 9

Tuesday December 10