(This post contains affiliate links.)
I
f you happen to be a guest in our home, and you need to eh hem.. you know… 'powder your nose', then you will probably see this room in person.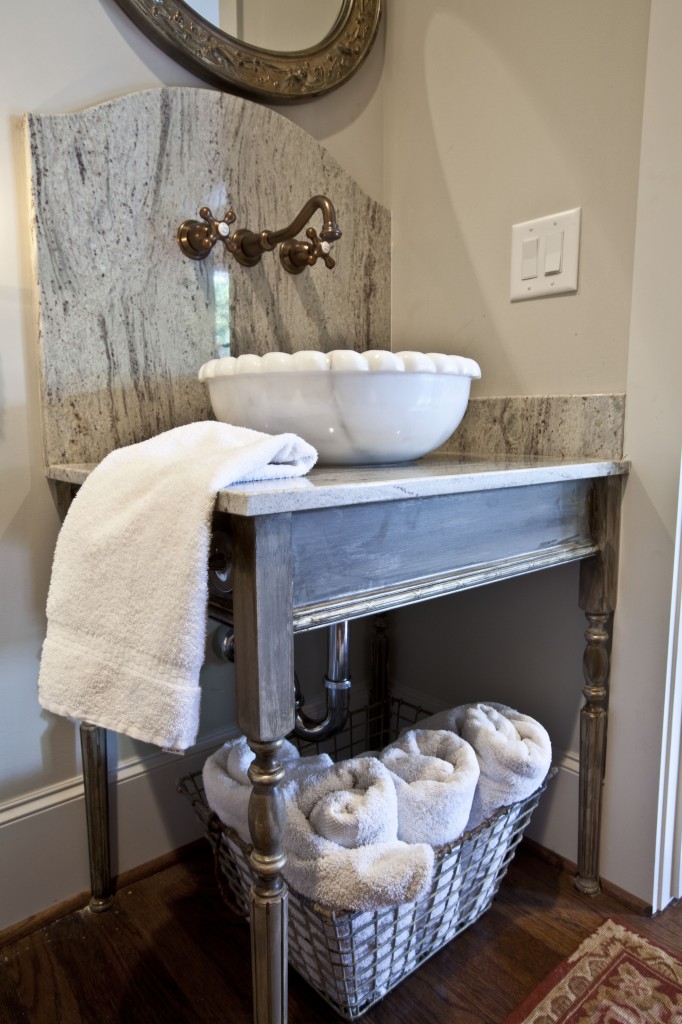 I painted the vanity myself using SW Pussywillow, then added metallic accents using gold metallic paint. After that I antiqued it using a dark wood stain. I didn't even wax it although I think it would be better if I did. Also I would not recommend using stain to antique something. It is thin and splashes everywhere. I really recommend dark wax like Fiddes instead since it is easier to control where it goes.
I loved designing this room, although it is the smallest one in our house. 
Very simple clean lines with a rockin' sink is what I call it.  the counter top is River White granite.  The tub and tub faucet is from
Vintagetub.com
Yes I got my clawfoot tub. Sure it's a small one, but isn't it adorable?  
People often ask where they can buy what I show here, so I found some similar items at Amazon if you are interested.
I thought the room called for a very old, antique gesso framed mirror.  
And if case you need them, I've got fluffy white towels rolled up under the sink in a basket from France. 
Anita