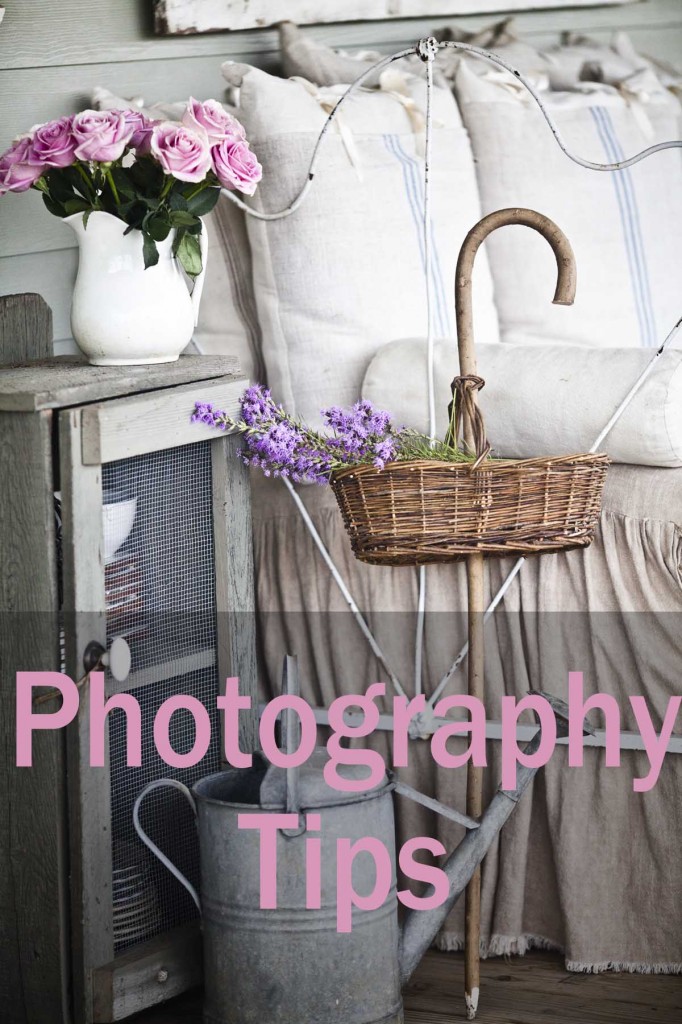 Previously I talked about how to take photos without using your flash, here. Let's talk about some more options you have so you don't have to use your flash. (These photos were taken in the old house. I'm working on photos of the new house this week.)


To recap

Option 1: Take the item outdoors. for more see the first post, here.

Option 2: Move the item near a window, for more see the first post, here.

Option 3: Adjust the ISO on your camera to the highest number.  The higher the number the less light needed for the photo.  If you are using a DSLR, there is probably an adjustment on it.  But as that ISO number goes up when using film, the photo is becomes grainy.  Oddly enough, even when you are not using film, the same thing happens with a digital photo.  With a high ISO, the photo is grainy, or has a lot of "digital noise".  I don't recommend this option, because the image will be grainy. 


Example of Grainy Photo

Option 4: Use a flash cover.  You can buy one from any camera supply store.  This will help but not fix the problem.  The photo below was taken with the flash bounced off of a silver photographer's "umbrella".  It was not taken with a flash cover but the effect is similar. 


Photo taken with Flash bounced off reflective surface

Option 5: Use a reflector. This requires an assistant so I rarely use this option although the reflector does help.  You can use a silver car window shade or a piece of foam core or buy the expensive professional photographer reflector for a lot more money (your choice.)  




Option 6: Okay this is what I ACTUALLY DO.  
Open the shades/shutters/curtains all of the way.

Make sure it is not too dark. (I don't shoot when it is a very dark, cloudy day or too late in the day.) 

Wait on shooting until the room is brightest. 

Use a tripod.

Set the ISO on your camera to 400. Although a higher number will require less light, it will cause you to have a grainy image.  

Use a shutter release.

Set your exposure compensation to 1 to 2 stops to OVEREXPOSE.  When you are taking the photos check to see if they look too white. If so, back off on the exposure compensation until they do look right. I check this every time I set up my camera in a different room.  This is imperative if you are shooting toward a very bright window. Your internal meter is adjusting the shutter speed and aperture based on all of that light when you want it to meter just on the room alone not the outdoors.  You can use a hand held meter but it is just easier to set your camera to over expose by at least one f-stop. 

The aperture I use is dependent on how much area I need to be in focus, so I will address this later. 

Edit in Photoshop.
Now when you take your photos you can use a very slow shutter speed. The slow shutter speed allows more light to be captured. With a remote shutter release, the camera does not move when the shutter opens like it might if you were pushing the shutter release on the camera directly. The tripod also keeps the camera steady and then you don't have to worry about hand shake. 
The old rule of thumb is that if the shutter speed is slower than 1 divided by lens length, then you need a tripod.  So for example, I like to use a 135 mm focal length lens, so if I am shooting slower than 1/125th of a second, when using that lens, I should use a tripod.  
When I had the photography business I shot using medium format film (yup the good old days.)  With medium format film, it is usually recommended that photographers use a tripod. The negative is so big, that even the slightest hand shake can make the image blurry. Now I am just in the habit of using a tripod all of the time.  


If you have any tips, feel free to share them in the comments, or ask any questions you have. 
Would you like to receive a preview of my posts in your inbox? Subscribe below.
Enter your email address:
Delivered by FeedBurner