I know we all love the Farmhouse French look, or at least I hope you do. But would you be here if you didn't?  I get asked all of the time how to get the look.  I'm going to tell you that it's the details that really make the difference. Here I'll show you 8 details in my living room. (4 today and 4 coming soon.)
1. This gorgeous authentic French table was $25 at auction. Yes I know, but it's true.  The rooster was another $25 at auction.  Notice all of the details too on the table and beneath it.  Everything was carefully chosen. Note the chippy antique spindles, the original oil painting (more on that later) the French tote, and even the stack of vintage books in the wire basket below.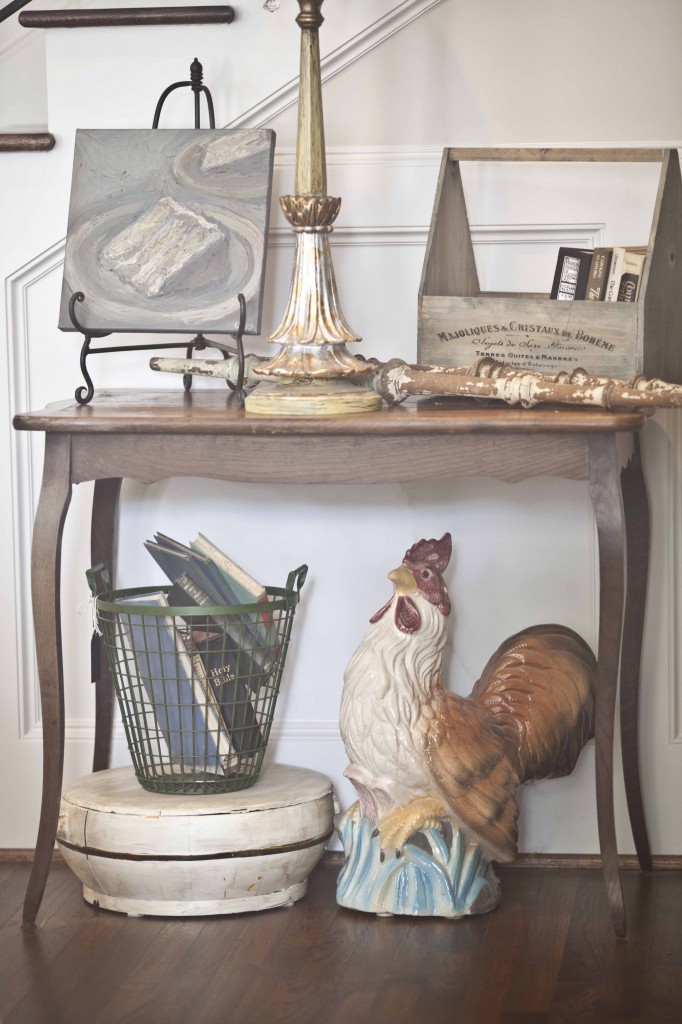 It all gives a sense of being collected over time. 
2. Yes I love fresh flowers, but I'm kinda crushin' on my gray floral concrete ones too.  There is just something about this that really appeals to me. 
3. The antique clock is Seth Thomas. I love the lines on this thing. I used to have a repro clock and here I'm going to be honest. It didn't hold a candle to this one. You can't find a new clock with this kind of detail.  It's heavy too. I found it on eBay.  The price?  I don't remember but it was under $300. I know that is a big expense for some, and certainly it isn't required, but if it is in your budget, it's worth the expense in my opinion.    
4. We selected iron stair rails and spindles for our house. They add so much character to the room. To layer even more detail I painted the rosettes with metallic gold paint.  


More details to come!  Stay tuned for part 2. Want to see more of the stairs? Click here, The living room? Click here.  
There are more Farmhouse French details to come!!