Midnight Tuesday – I wrote this post early on Tuesday. Since I wrote it, the sun came out, and we walked around the neighborhood. After being stuck in the house for days, it was great to be outdoors. Everything is still wet, but it was great to get out of the house. There were no planes overhead since the airports are closed. We only saw the Coast Guard flying helicopters doing rescues. I was so excited to see that our grocery store will reopen tomorrow. 
It's raining again as I write this. It's Tuesday afternoon, and the bayous and rivers are still rising. The water is still coming down and we've had a year's worth of rain (52 inches) in just a few days.  The roadways are underwater. The stores are closed. We still have power, but many do not. The floods have not come in our house, but many have had flood water in their homes.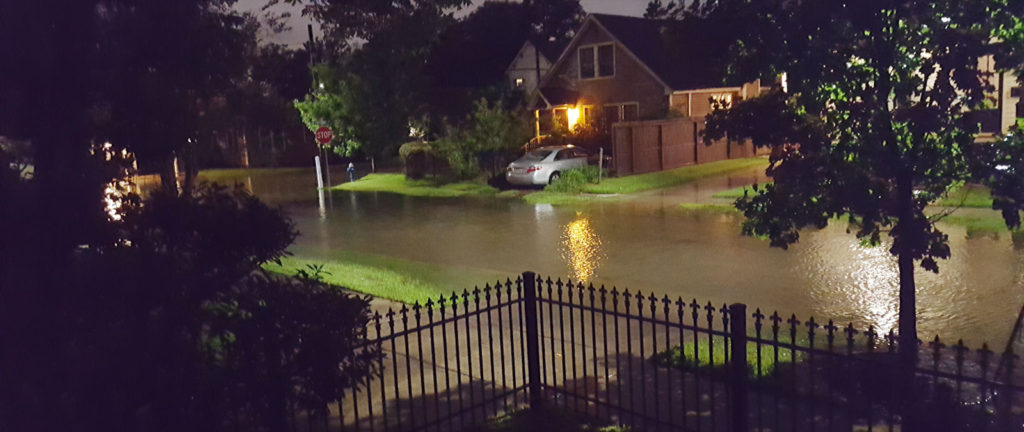 I've heard it's the worst rain event ever. I'm sure Noah would beg to differ. Still it's been horrible. We really have been so blessed and only have had a roof leak with damage to our ceiling. That's so minor. The airports are closed, still we hear helicopters often overhead. They are going to rescue people from their rooftops.
The city has asked people to stay home, and so we are. Some are donating clothing and supplies. We chose to donate money to Samaritan's Purse. If you would like to donate, here's the link.
It's so upsetting to see friends have to leave their homes. I feel I have nothing to complain about, and yet I'm exhausted. It takes a toll on your body when you are worried about people. Everything is still closed. My husband's office is closed, but should open later this week. My daughter's college will open after Labor Day. We are hoping the grocery stores will be open and running in a few days. I've heard the few that are open, have lines around the block. I am hoping that by the time we get low on food, they'll be back up and running.
We had a podcast episode ready for Monday on dream homes, and realized it just wasn't the time for that. Instead we wanted to honor those affected by Hurricane Harvey. We recorded a new episode to replace it Monday afternoon. This one is on emergency preparedness. It includes some lessons I learned this time. I also share my experiences and a few stories I heard.
EPISODE 91 IS YOUR HOME PREPARED? 
Hugs everyone. Thank you so much for checking on us. I truly, truly appreciate every sweet email and message. Thank you so much for your prayers. Please continue to pray for Texas. It's going to be a long road to recovery. I'm so proud of everyone here. People are volunteering and donating. The city is pulling together and people from all over the country are helping. I've heard from readers and friends all over the world. I wish I could hug you in person.