I've always said that decorating is a process not a destination. I try several things before I feel like I get it right. And then when I do feel like the room has arrived, I often change things again, because I am ready for something new. Let's just say our home becomes a revolving door at times.
Here is the mirror I had in the powder room at first. The embarrassing thing is my life has been so crazy, I have no idea where this 'before' mirror is right now. I was going to say, "Oh I moved it here." but nope I can't remember. I'll find it… eventually. (Update: I found it. It's in the going to Round Top stack!)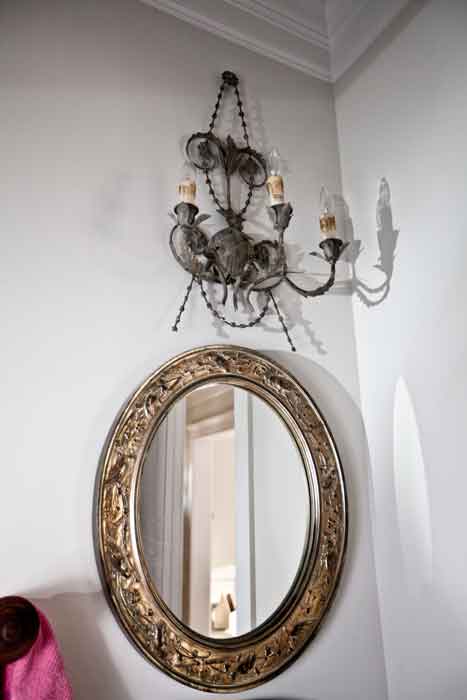 The whole musical chair thing with the mirror started when I got new sconces for Elise's room. As you can see, the sconces don't go well with that gold mirror, at least I don't think so.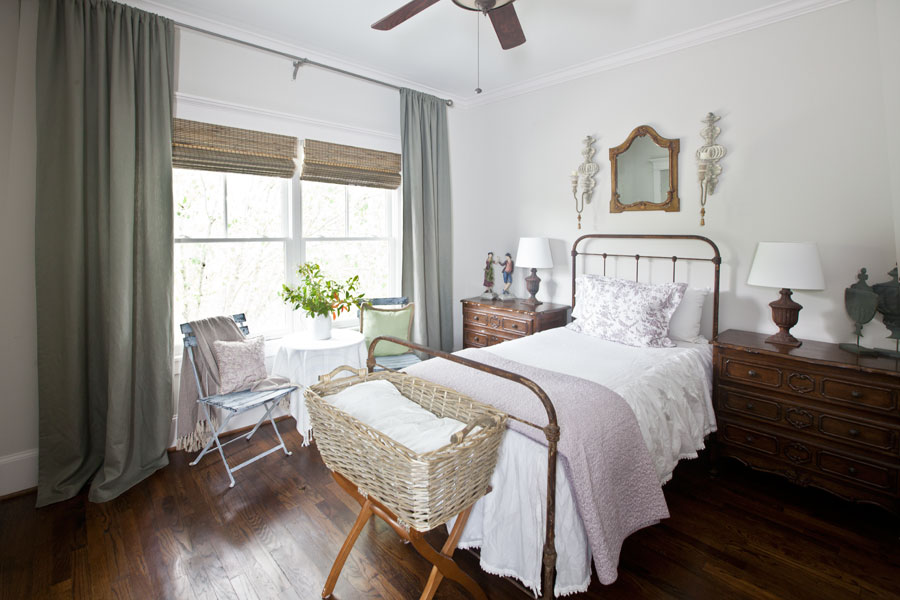 I dug up an old mirror from the closet, painted it and put it above this bed. You can see that transformation HERE. But that left an extra mirror.
I grabbed the old mirror and walked around the house with it. (This happens a lot.) I tried to figure out where it should go. And then the angels sang. I put it in the downstairs bath.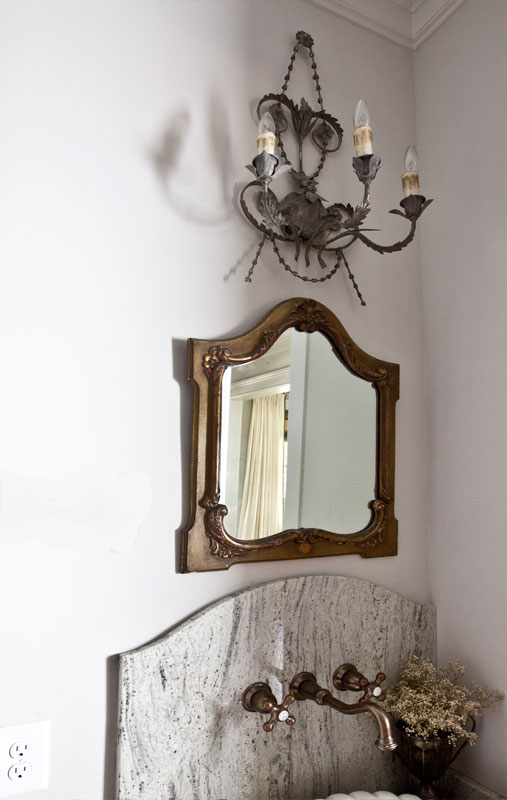 I love it here and I think it fits better than the oval mirror size wise. This old vintage mirror also has some gorgeous details that you can now see since in the bathroom you are only inches away from it.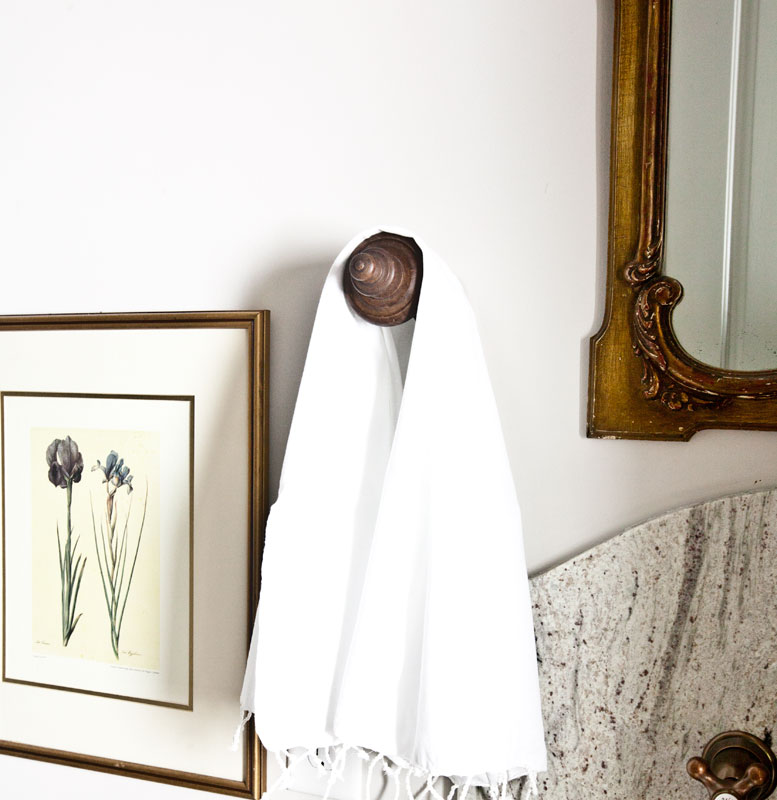 Do you like the towel holder? You can find out how I did it HERE.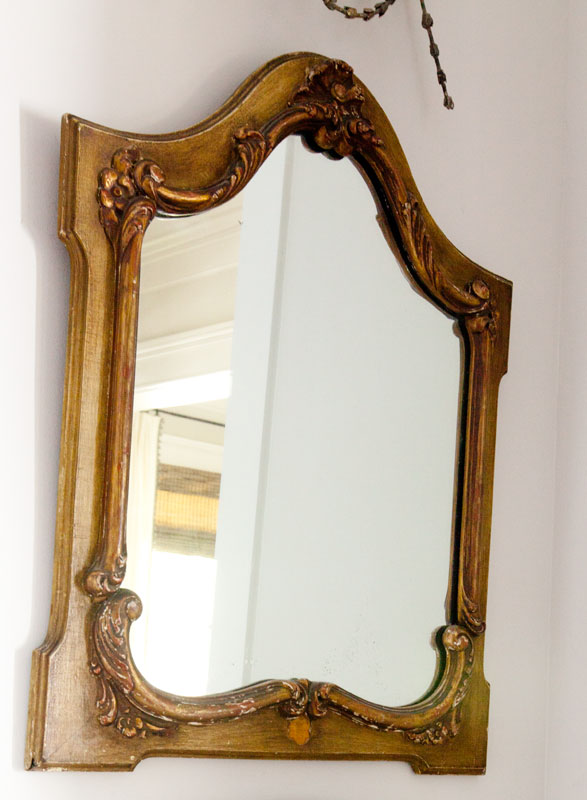 I also wanted you to see my sink dilemma. Because it does not have a faucet in the vanity, it does not have that thingy that covers the drain opening. I'm always concerned about a guest losing a ring down there, so I put a ceramic rock there to cover the drain hole. I also tried a sink full of rocks at first, but found that it looked pretty much like…. a sink full of rocks, well exactly like a sink full of rocks.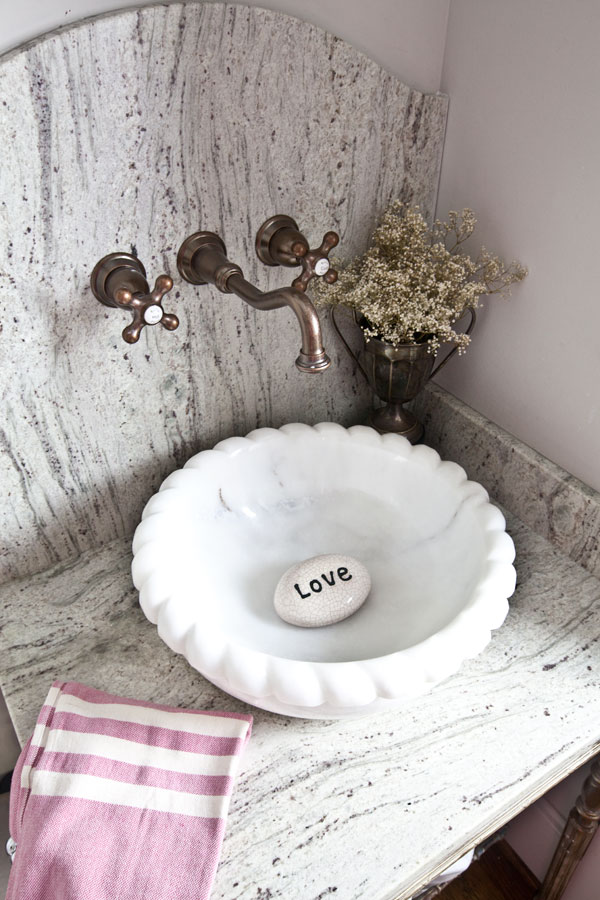 As is often the case, less is more. i had a very large antique mirror over the clawfoot tub. It was moved to the farm when I painted the bathroom cabinets there. You can see what it looked like HERE.
So the changes I made to the bathroom were to add the artwork above the tub and I put this new antique mirror above the sink. The mirror was nice above the tub, but really made it difficult to photograph the room.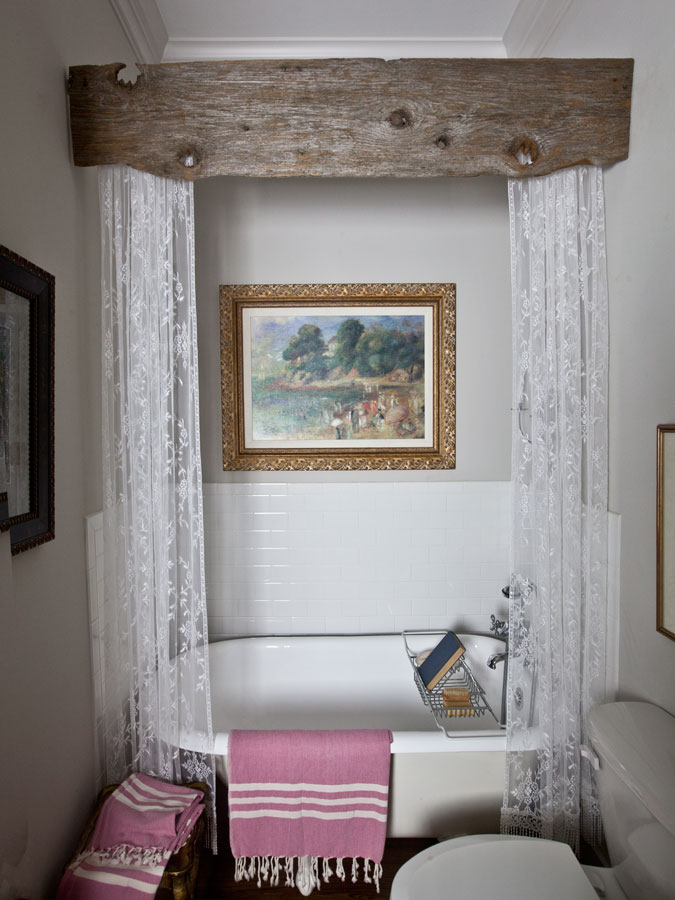 My 19 year old was shocked and horrified to see the mirror gone that was over the tub. This was not a happy discovery for her. Apparently just one mirror per room is 'pathetic' and 'lame'. Frankly I'm just thrilled she notices changes in the house. My husband rarely notices when I make changes to the house. In fact, he can walk in the door, and step over a 3 ft box without skipping a beat or asking what was in the box. This is actually one of the things I really like about him, so it works out fine. I too pretend it isn't there. If there are questions, I mumble something about it being a 'blogger thing' which could mean anything really like the company gave it to me or I bought something super big on the internet.
A DISCOUNT CODE JUST FOR YOU
Also my publisher did sell out of my book, but they have more being printed as we speak, errr, talk, or whatever we are doing here. I have a shipment arriving in 2 weeks.
As a thank you for your patience, I wanted to do something special for you. I've got 10% off my book for just a few days. It starts today, but HURRY, the sale ends SEPTEMBER 15, 2015. You'll need to enter the discount code happy10.  CLICK HERE TO PURCHASE BOOK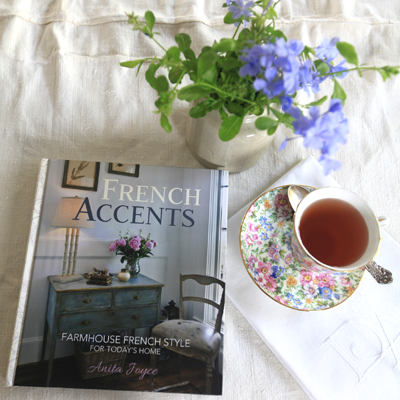 MY NEW ADVENTURE
Once again I have gotten off track. But I do have some news for you. I have a new adventure.
So are you ready to hear what my new adventure is? Am I doing too much? My family says, "YES!!" And I know they are right. I am trying to really focus on the things that best serve my audience, and I am letting the other things go. I have cut back on several things I was doing like writing for other websites. I'm doing very little design client work, and have cut way back on my photography work.
Want to guess the new thing I am doing?
What's black and white and red all over? Okay it's actually 'read' not 'red'. The newspaper of course. I'm going to be a columnist for the Round Top Register. I mean sure I could have pursued writing for the Wall Street Journal, but really, what's the fun in that? Round Top is my town. I love the people who live in Round Top and I love the visitors to Round Top. Oh I'm not going to be one of those investigative reporters that goes around solving crimes. We don't have much of that in Round Top. People don't lock their doors in Round Top. Whoops. Was I supposed to mention that?
I was interviewed for this issue of the Register, and my first column will be in the next issue. The best part is you don't have to go to Round Top to read it.
Am I nervous about my new gig? Heck no, I can do goofy with a side of decor any day of the week. Wait a minute that didn't come out right. I'm not saying they are goofy; I'm saying I am. Ah heck you know what I mean!