Today I asked Lory at Designthusiasm to share how she decorates and celebrates Hanukkah. I'm so excited she's here!  
Borrowed Traditions
Blue and white is one of the most popular combinations in home decor.  It also happens to be the pairing most associated with Hanukkah.  If you're looking for new design ideas, sometimes it helps to look in new places. One such place to look would be at other people's holiday customs.  Today I'd like to talk about borrowed traditions and using blue and white decor.
I'm Lory and I blog at Designthusiasm.com.  I am delighted to have been invited to guest post at Cedar Hill Farmhouse, one of my very favorite blogs!  Let's look at some of the design ideas I use in my Hanukkah celebrations and peek into the traditions that inform those decor decisions.  You will see how I borrow from other cultures and how you can apply these ideas to your own decor.
Tiffany Blue
My style can be summed up as French Country with a touch of casual elegance. I tend to decorate conceptually, so each of my styled spaces is influenced by an idea. In these first two photos I was inspired by Tiffany blue, the color that reminds us of that icon's old-school elegance.
Blues look wonderful balanced against silver, and the shimmer of the silvered bow, satin ribbon and the glittered box give this vignette a festive holiday feel.  The French cane back chair and the simple quilted tablecloth keep the look from going over the top.
Hanukkah is a holiday that celebrates overcoming oppression, when a small army of Jews were victorious over an aggressor. The menorah is a candelabra that signifies the Hanukkah miracle, as the oil in the Temple menorah stayed lit for 8 days, despite there being only enough oil left to burn for one day.
This beautiful silver menorah is one I found in Jerusalem and the use of blue in Jewish celebrations comes from the indigo dye that was used in ancient prayer shawls. You'll also notice jelly donuts on the table in the background, as part of our Hanukkah tradition is to eat foods cooked in oil.
If you love the look of Tiffany blue, you may be wondering how this idea can apply to you. Perhaps if Easter is a holiday you celebrate, you can use this lovely combination as it's similar to robin's egg blue.  To see more of this Tiffany blue you can visit: Elegant Hanukkah Decor Using Tiffany Blue
Don't forget my giveaway going on this month. Any comment automatically enters you to win!!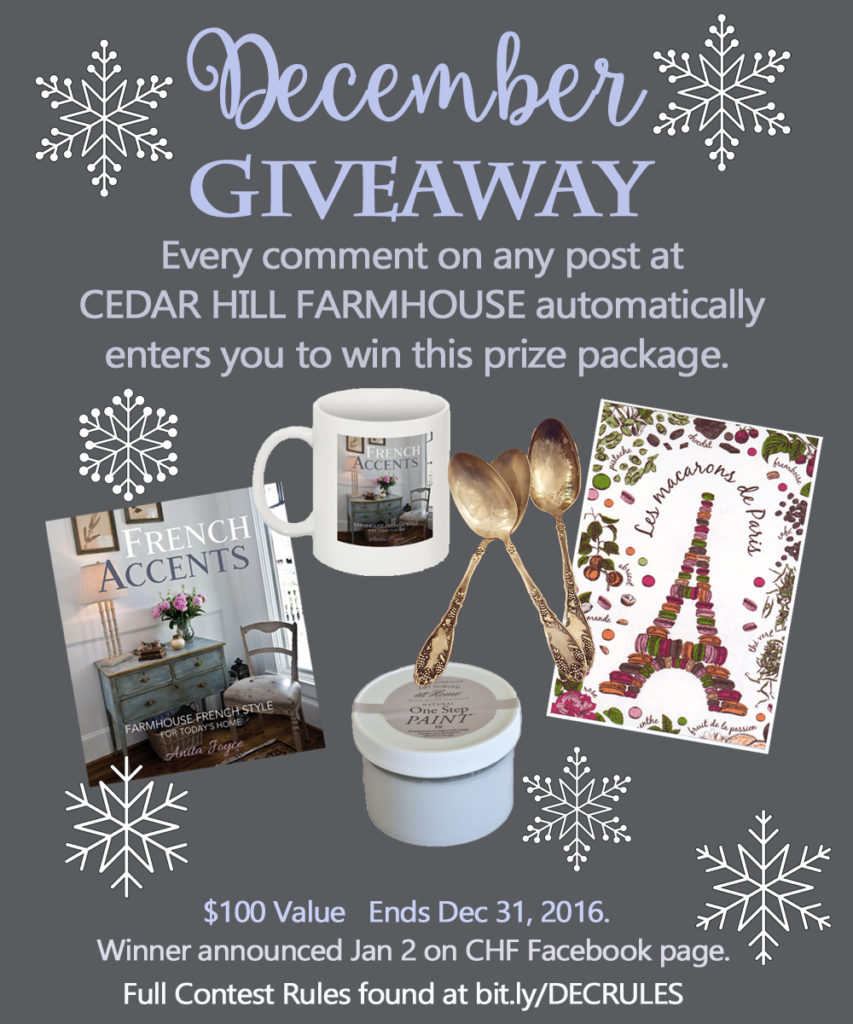 Blue and White Chinoiserie
Another one of my favorite concepts for blue and white decor is chinoiserie.  In this Hanukkah vignette I've actually borrowed from several other traditions to incorporate into my own. The first, of course, is the Asian art of blue painted pottery, which is also commonly seen in French decor.
Additionally, I've borrowed from the Christmas custom of using holiday ornaments, but I found some that utilized my chinoiserie theme, including these adorable pagodas.
Once again I mixed the blue and white with silver accents and kept my florals in the same color feeling. The pancakes you see on the little plate are "latkes", another traditional food prepared in oil.  For more on using blue and white chinoiserie see: Using Blue and White Chinoiserie for Holiday Decorations.
Country French Tea
As I mentioned above, I'm a huge fan of French Country decor and I can pretty much turn any holiday into a Country French celebration.  In this Hanukkah tea, set by the fireplace, I've mixed lovely vintage elements like the silver teapot and demi tasse cups with blue and white staples such as the floral sugar and creamer.  The country plaid pillow enhances the look, while the dreidel salt & pepper set and Star of David cookies, remind us of the Hanukkah occasion.
I've done the same look for Christmas celebrations and you can try this in your home with red and white transferware and red tartan plaids.  The French chairs were my grandmother's and the table is vintage.  For more on this look go to: Setting a Country French Hanukkah Tea by the Hearth.
Candlelit Dinner
You may have heard Hanukkah called the Festival of Lights.  This is because of the importance of the candlelight symbolism.  It is also a holiday that is meant to be celebrated at home, so I've styled a dinner table that is centered around that light.
From the flickering glow of the candles themselves, to the shimmer of silver that reflects the light, there's plenty of holiday bling on this celebratory table.  Glittered pillar candles, mercury glass plates, silver woven placemats and holiday ornaments all add to the joyous sentiment.
This one is a no brainer to utilize in your decor, because candles, and lights in general, are already a huge part of Christmas decorating.  But why not consider using various candelabras to take that look to the next level.  To see all the details from this tablescape, visit: Candlelit Festival of Lights Hanukkah Tablescape.
French Toile Table Setting
This final look is probably my favorite, because to me it reads as the most French.  I'm absolutely in love with French toile and I've used a toile blanket as a tablecloth underpinning.  The pretty blue plates are specifically made for Hanukkah, with tiny Stars of David laced into the pattern, yet they appear to have a completely French Country character.  Cut crystal stemware, embroidered linens, glimmered napkin rings and embellished silver chargers all come together to deliver a beautiful holiday table.
This new menorah fits perfectly with this table, gem encrusted with filigree detail. Blue hydrangeas are added as a lush final touch. This is certainly a look that can be adapted for any occasion and would look wonderful used for a spring celebration.  For more on this table including sources, see: French Blue and White Holiday Table Setting with Toile.
Thank you for visiting and letting me share my holiday traditions with you! Before you go, I'd like to invite you into my home to see my house tour.  You can see that below by clicking on the link or the photo. I wish you a wonderful holiday, a Merry Christmas and a Happy New Year!
If you'd like to follow Designthusiasm on social media, please join me at the links below: