I love decorating books, and so I'm excited to be talking about my favorites today. There are affiliate links in the post. Also did you hear the news? Yvonne and Kelly are writing books of their own!! I can't wait to get them in my hands! And now onto our favorites. The giveaway details are at the bottom of the post.
You can listen to the podcast episode on books right here.

I am going to start with my book because… well… I wrote it, hee, hee.  Yvonne and Kelly talk about it in the podcast. It's the book I wish I had when I was learning how to decorate and it's full of the things I've learned over the years.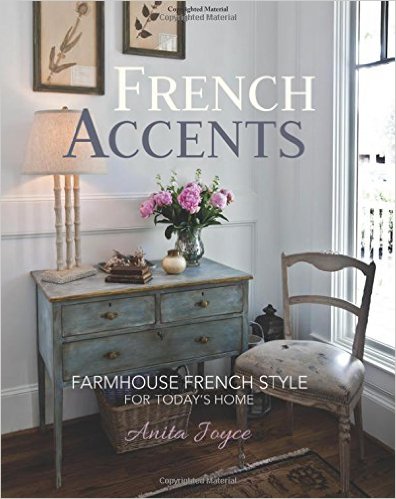 If you want to learn paint techniques for using calk paint, get one of these Annie Sloan books. They are chocked full of very helpful step-by-step instructions.
COLOR RECIPES FOR PAINTED FURNITURE AND MORE: 40 STEP-BY-STEP PROJECTS TO TRANSFORM YOUR HOME
QUICK AND EASY PAINT TRANSFORMATIONS: 50 STEP-BY- PROJECTS FOR WALLS, FLOORS, STAIRS
The Giannettis really do have the magic touch! They have two amazing books that both Kelly and I recommend. They too are filled with gorgeous rooms and ideas. Patina Style is full of furniture with amazing patina. If you want to distress furniture, I like to refer to these photos so you can see what the real deal looks like. Some distressed furniture looks overdone. Look to real antiques to the look you are going for.
PATINA FARM – BROOKE GIANNETTI
PATINA STYLE – BROOKE GIANNETTI
A touch of farmhouse charm shows you how to give your home a farmhouse feel no matter where you live. The projects included are simple but lovely.
A TOUCH OF FARMHOUSE CHARM – LIZ FOREZ
This is a gorgeous and very large book that is a reference guide for me. It's full of antiques and detail on detail. I don't add this much to a room, but I like to add the kind of real elements you see in the pages of this book. Charles Faudree was the master!
CHARLES FAUDREE COUNTRY FRENCH LEGACY – JENNIFER JORDAN
Kathryn's home is gorgeous and has been in many magazines.
CREATING A HOME KATHRYN M. IRELAND
This book is full of great ideas for how to fix up a space by styling rather than decorating it. Great ideas for inexpensive fixes.
STYLED: SECRETS FOR ARRANGING ROOMS, FROM TABLETOPS TO BOOKSHELVES – EMILY HENDERSON
I want to thank you for your support of our podcast. It's almost always in the top 1% of the Design category in iTunes and we owe all of that to you! We've had over 50,000 downloads within the first 20 days, which has made us speechless, and that's saying something. We know this is all because of you!!
To see all of my favorite books and favorite decor items, CLICK HERE.
We are a participant in the Amazon Services LLC Associates Program, an affiliate advertising program designed to provide a means for us to earn fees by linking to Amazon.com and affiliated sites.
————-GIVEAWAY CLOSED————-
So we want to give back to you. So we have a giveaway for you. It's a $100 VISA gift card.
If you listen to the podcast, then come back and leave a comment with one tip you got from the podcast, that's an entry. You can also enter by subscribing to the podcast in iTunes and if you rate and review the podcast in iTunes. Remember if you leave a review that it might not show up right away. If you have already left a review, rated it, or subscribed, that counts! Details below.
To subscribe, rate and review in iTunes, CLICK HERE.
I'm including the listen button again so you can easily find it.