Before I get into the tips for selecting a sofa, I want to thank my mom for giving me permission to tell the story of my first sofa. If you want to hear it, you'll need to listen to the podcast. If I tried to write it, it would do the story justice. My mom is one of the funniest people I know. She's lots of fun too.
Also just to let you know I love leather sofas and had one a few years ago. I think they can be quite nice, but don't recommend buying them online. I did and when it arrived it was orange. Lesson learned.
LISTEN BELOW
It's only because I love you that I am showing you my first sofa! I am sharing a picture of it because in today's podcast episode I promised to show a picture of it.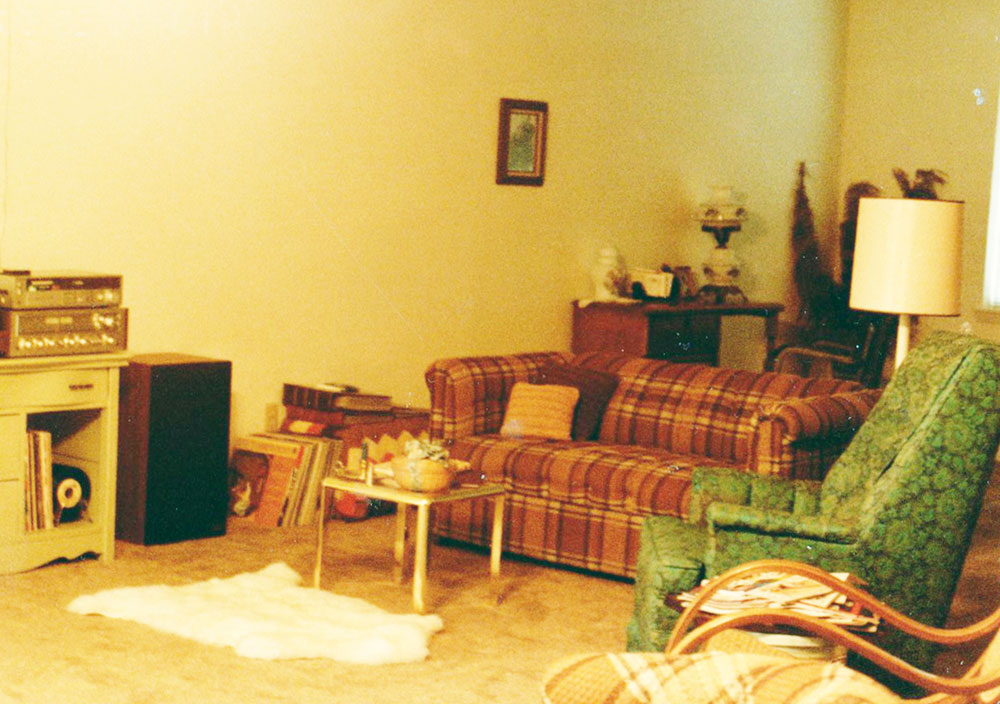 Today we are talking about sofas on the podcast, how to select them, a few tips, and a few hilarious stories. You can listen here. Seriously, I thought we were going to have to stop because Yvonne got so tickled. Of course this has a story about my mom in it. I asked her if I could tell the story and she said absolutely. If you haven't listened to the podcast yet, I chat with Yvonne of Stone Gable and Kelly of My Soulful Home about a topic on Mon, Weds, and Fri then we record it so you can listen in.
So there are so many choices when it comes to sofas. I think the first thing to consider is the size you need. If you need an 84 inch sofa, there is no point falling in love with a 72 inch sofa. We like to take naps on the sofa, so we look for a sofa long enough for napping. Also consider the depth. Will it fit through your front door? One time I ordered a sofa, and I did not thin it was going to make it through the front door. It does happen. If the feet come off that can help, but sometimes they don't.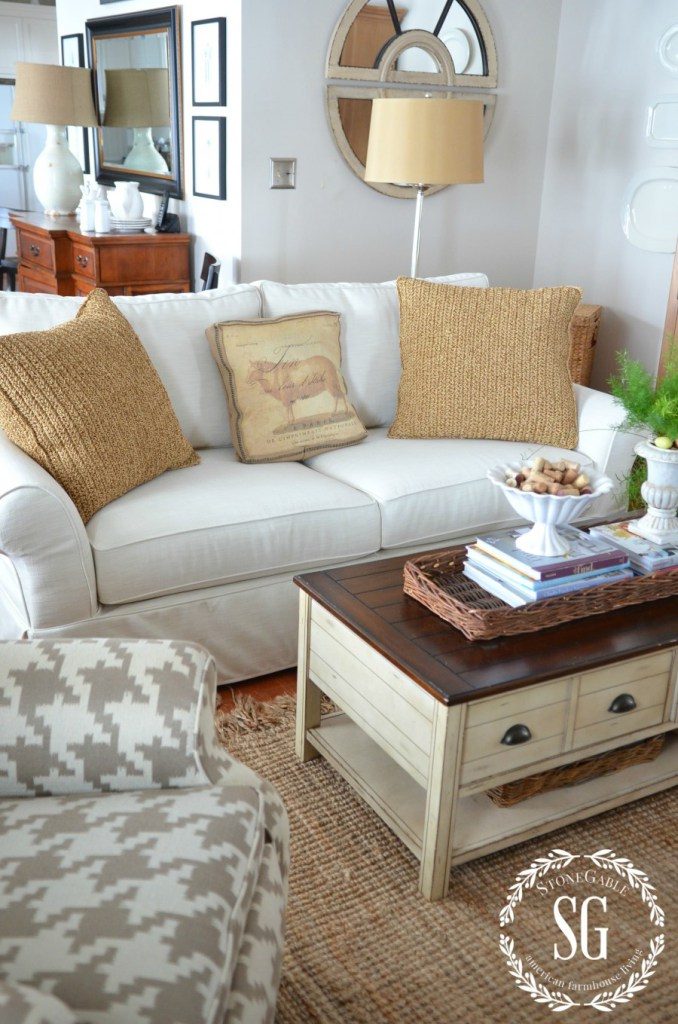 You can get foam, down or down covered foam cushions. Our favorite is foam covered in down – cushy but not too lumpy.
As for fabric, my favorite hands down is linen. Leather is great for durability, but do be careful. The sofas made from bonded leather do not hold up well, and they are very different from traditional leather.  There are many other fabric options. Slipcovers are always great because they are usually washable, but they can be quite expensive to have made.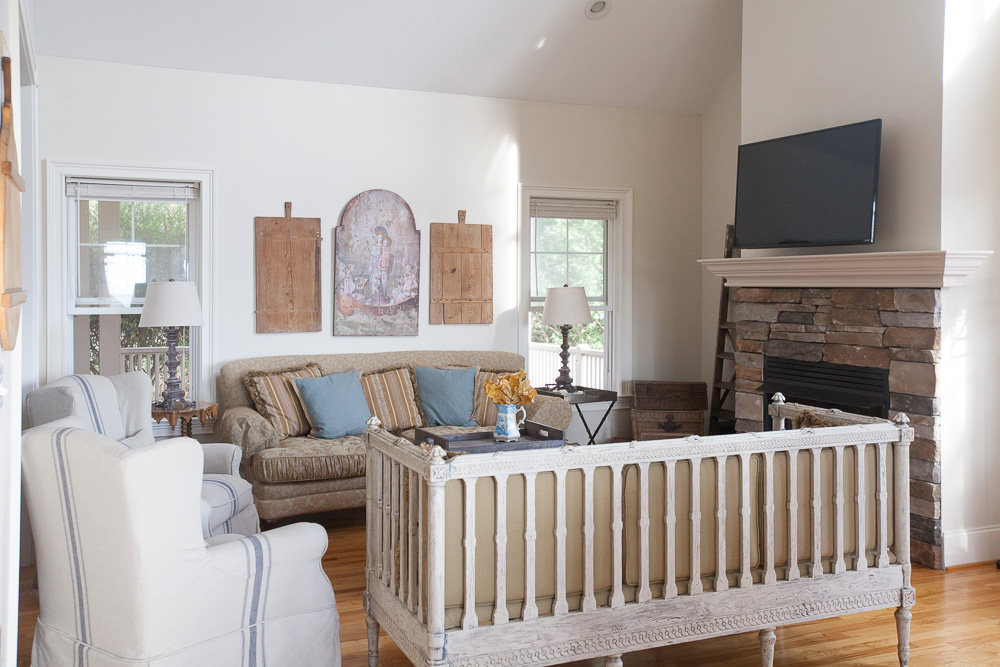 The height of the sofa back can vary greatly. A shorter back is going to make the ceiling feel taller. This is great for a room with 8 ft ceilings. If you have 10 ft ceilings, you might consider a taller back, since it fills the space better. There are also camel back sofas. They have a hump in the center.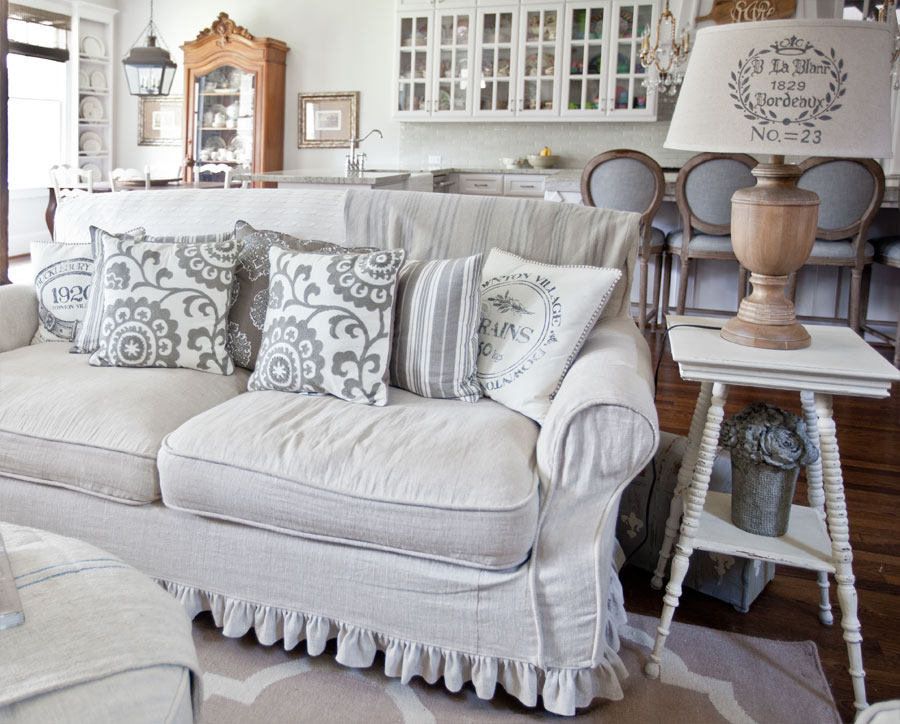 Definitely consider comfort when buying a sofa. You can order a sofa online, but if you do, I would definitely consider the reviews, since you won't be able to see it or sit on it in person.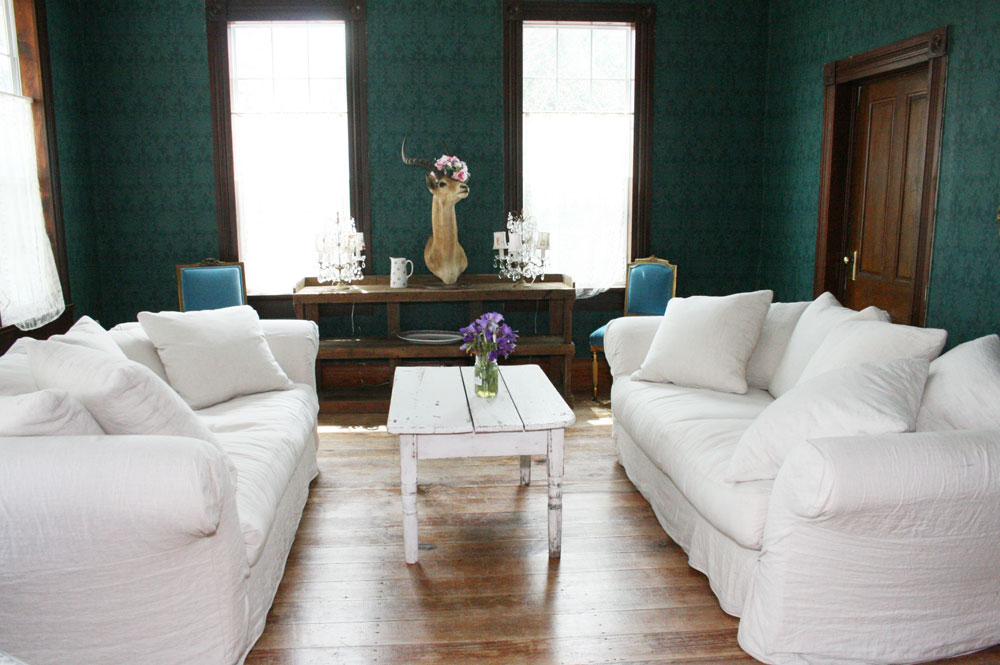 The sofas above are in the Prairie by Rachel Ashwell. Her BnB is around the corner from my farm! I love these wrinkled linen slipcovers she has! Very comfy. Below is another linen slipcovered sofa in my neighbor Cecile's house.
Be sure to think long and hard about any patterns on a sofa. Patterns can really date a sofa. If you plan to keep it for a long time, you'll do better going with a solid color. Neutrals are the most versatile and sometimes the best bet. But hey if you really want that velvet purple sofa, then go for it!
Some sofas have a kick pleat while others have none. I personally prefer the sofas that show their legs if they are pretty turned legs.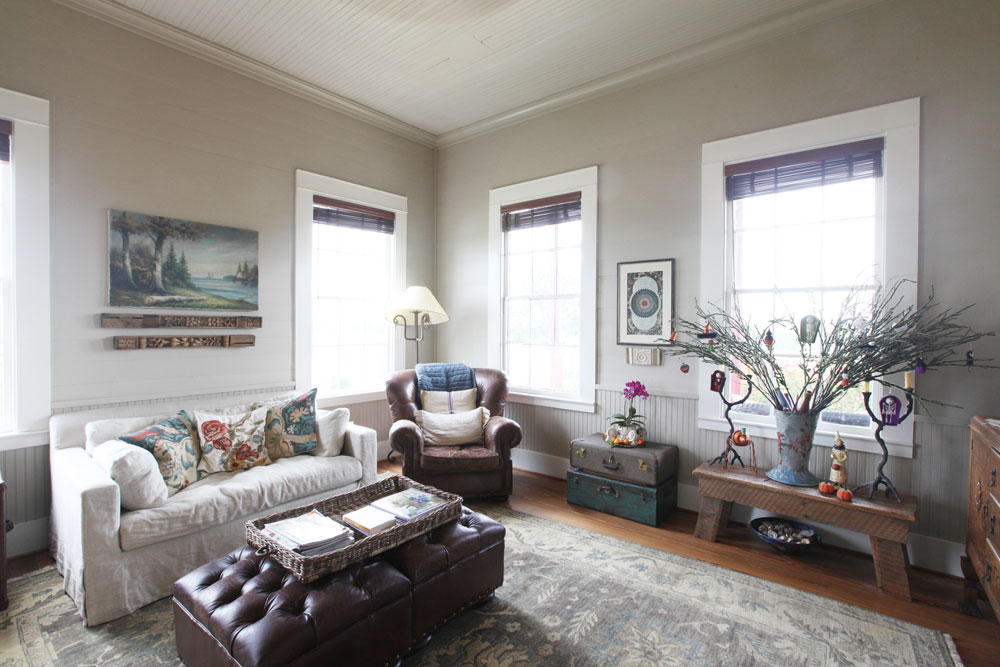 If you are in the market for a sofa, these are some I found that I thought were lovely in several different styles. Affiliate links.
To subscribe to the podcast in iTunes. CLICK HERE.
To listen to more podcasts, CLICK HERE.