Do you want to know my definition of the word 'CRAZY'?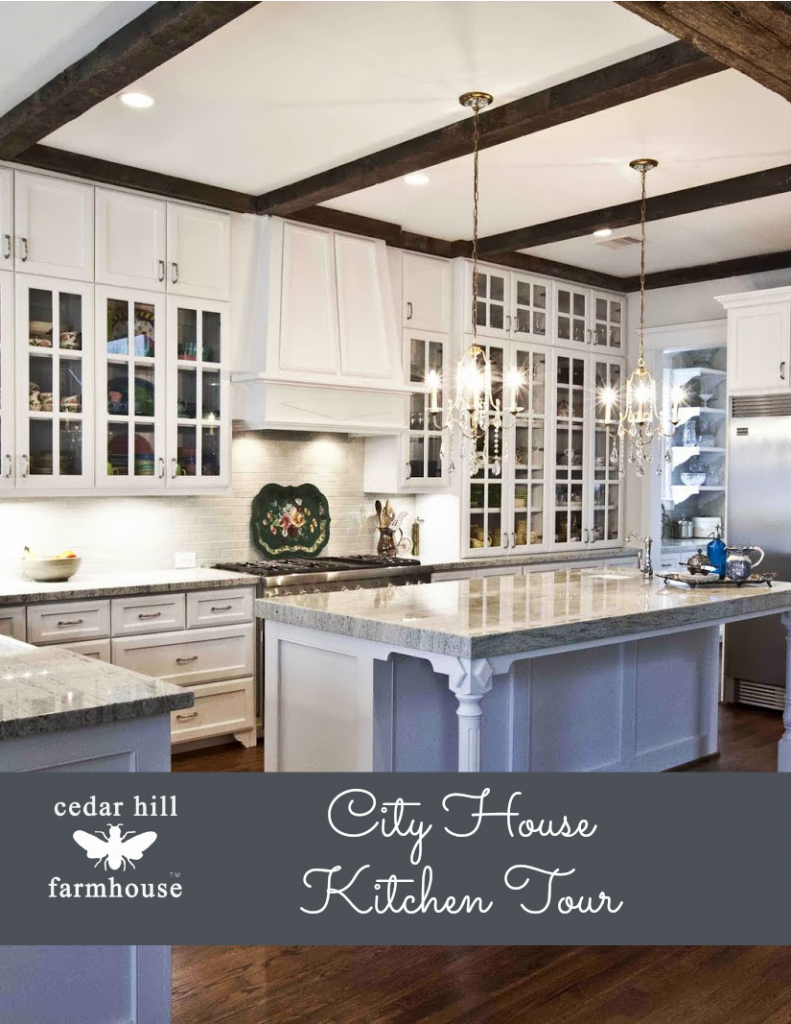 That would be someone who agrees to be part of a home tour a week after she has moved into a house.
Yup, and I just realized at the Wednesday that oh yeah, I need to take photos of my kitchen, edit them in Photoshop, upload them (somewhere other than home since I have no internet until Friday afternoon) write the post, and breathe.
It's like agreeing to be in a swimsuit competition the week after giving birth.  I will spare you any photos of me one week postpartum.
Well in my defense, our move was delayed at the last minute due to all of my plumbing fixtures being stolen and some other issues.  So I had no idea I would be cutting this so close.
I had planned to photograph my house before I moved in, and use those photos. Piece of cake, I thought that would be no big deal. Sounds good, right?  WRONG! I had no idea what a flurry of activity my house would be in the days leading up to our move. There were carpenters, painters, and electricians swarming my house from top to bottom. The kitchen island was piled high with paint cans and junk.
So here I am at Starbucks talking to you.  I'll share a few details about my kitchen that I thought you might want to know.
I used a silver water pitcher to hold utensils. It's tarnished I know. I might polish it, but then again… I might not.
I love these built-in plate racks. They are perfect for a dish nut like me.
My backsplash is a Walker Zanger crackle finish 2×6 subway tile in what they call Wedgewood blue, but it's really very gray.  It goes well with my White River granite which is also very gray.
The fridge and freezer act as an anchor on this wall. You can see through the butler's pantry into the dining room from here.
Notice I used a thick granite edge on the island… very worth the extra $$ in my opinion.
I opted for no special tile behind the range. I think I would tire of it, and besides, this way I can use my trays and change them out when I get bored with them.
I love the cool feet my carpenter made. Also you can see the reclaimed oak floors from this angle.
This is the hardware I used in much of the house.  I thought it was very Frenchy.
Another feature of this kitchen is the large drawer for two trash bins. I love that I no longer have a trash can sitting out.
I love these crystal door knobs I used throughout the house. Another investment, but so worth it!!
This is the butler's pantry. I wasn't sure what to put on these shelves but they seemed to need something big and tall. It looked like a great place to store some of my crystal.
This is a shot inside the pantry.  I love that they put a granite shelf in here.  I made Mr. CH put his Keurig in here. And that's a wrap!!
I want to give my builder, Ridgewater Homes another shout out, LOVE my house.
I hope you enjoyed the tour. (I plan to take a nap today, in case you are wondering…) I'll be sharing my entire house on the blog in the coming weeks, so if you want to see more, be sure to subscribe to Cedar Hill Ranch!!
Don't miss the rest of the kitchen tours this week!