Before I get to the cool things we love to have in our kitchens, I want to thank you so much for coming here to my blog. Today marks my 6 year anniversary of blogging. Six years! That's a long time, since the average blog lasts about as long as a fruit fly which I think is 30 days. They are a lot of work and it takes a long time to build an audience so most people just give up.
I knew nothing about blogging when I started. As I connected with readers and other bloggers I realized I had found my peeps. The people I connected to because of my blog shared my passion, unlike my local friends. Don't get me wrong. I love my friends I see face-to-face, but those friends that share my love of decorating, I knew they 'got' me, just like I 'got' them.
Thank you for being there for me, and for reading my blog. I am so honored you are here. This blog has taken me on a wild ride. Because of my blog, I have been blessed to connect with so many amazing people, I've had my work featured in 20+ magazines, I got a book deal, I get asked to speak at events, I've done some TV work with more planned, and I've started a podcast. Truly I've been very blessed!
The other exciting news is that today we should reach 100,000 downloads for our podcast. Again, thank you so much for your support. If you haven't listened yet, check it out!!!
Okay on to the kitchen…
I loved this discussion about the things we can't live without in our kitchens. Kelly of My Soulful Home and Yvonne of Stone Gable had so many great ideas.
You can listen to the discussion HERE.

Here is Kelly's gorgeous kitchen below.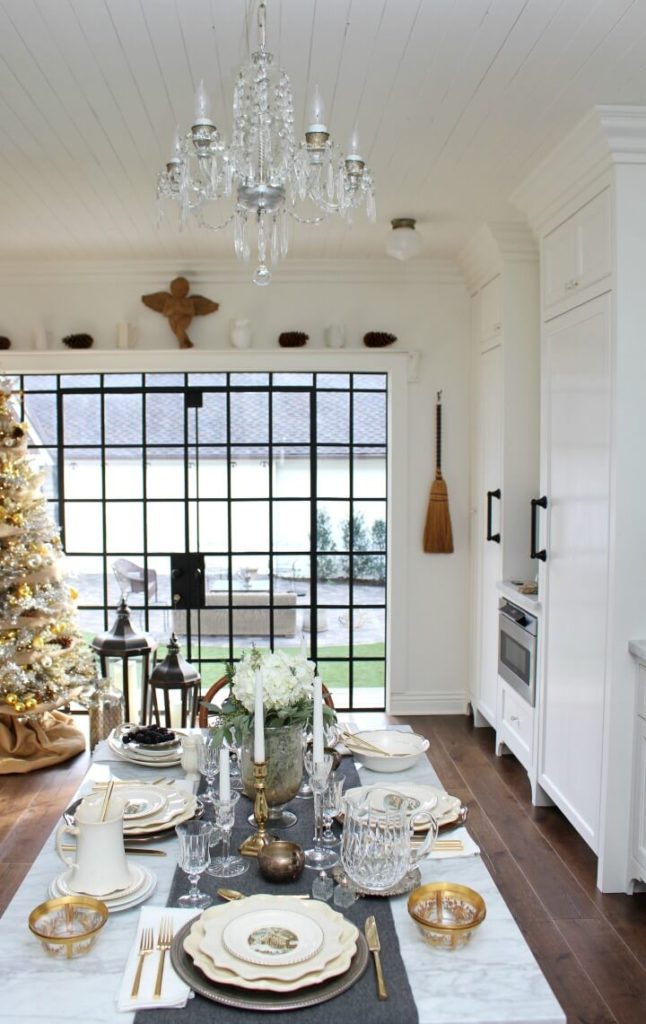 Let's get into what we all feel are must haves.
Bowl full of fruit
A bowl of fruit is great decor for your kitchen. It makes it look like you are about to bake a pie. You may not be, but still it gives that illusion. You could be ready to break out the rolling pin at any minute. The best part is the fruit is a healthy snack for your family.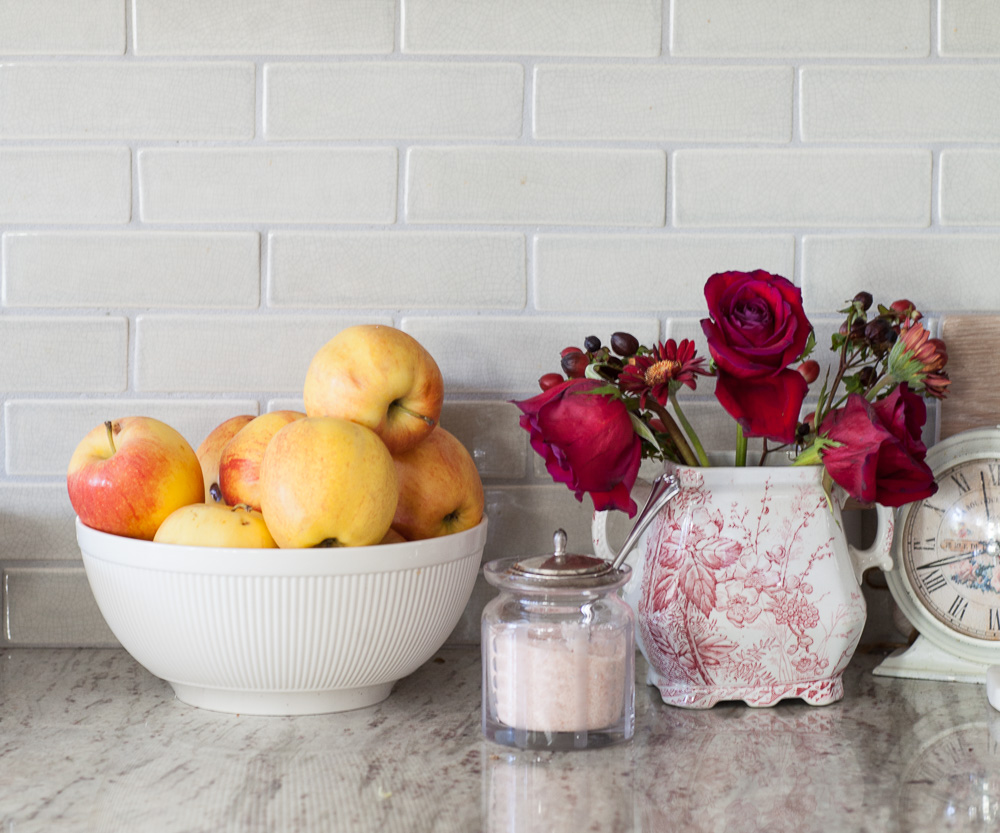 Pitcher filled with silverware
I love the look of a pitcher filled with silverware. It looks elegant, and like maybe you are getting ready for a party. And you can actually use the silverware if the mood strikes. Try using a silver spoon with your morning coffee or tea. I think it does make the morning ritual feel like a special event.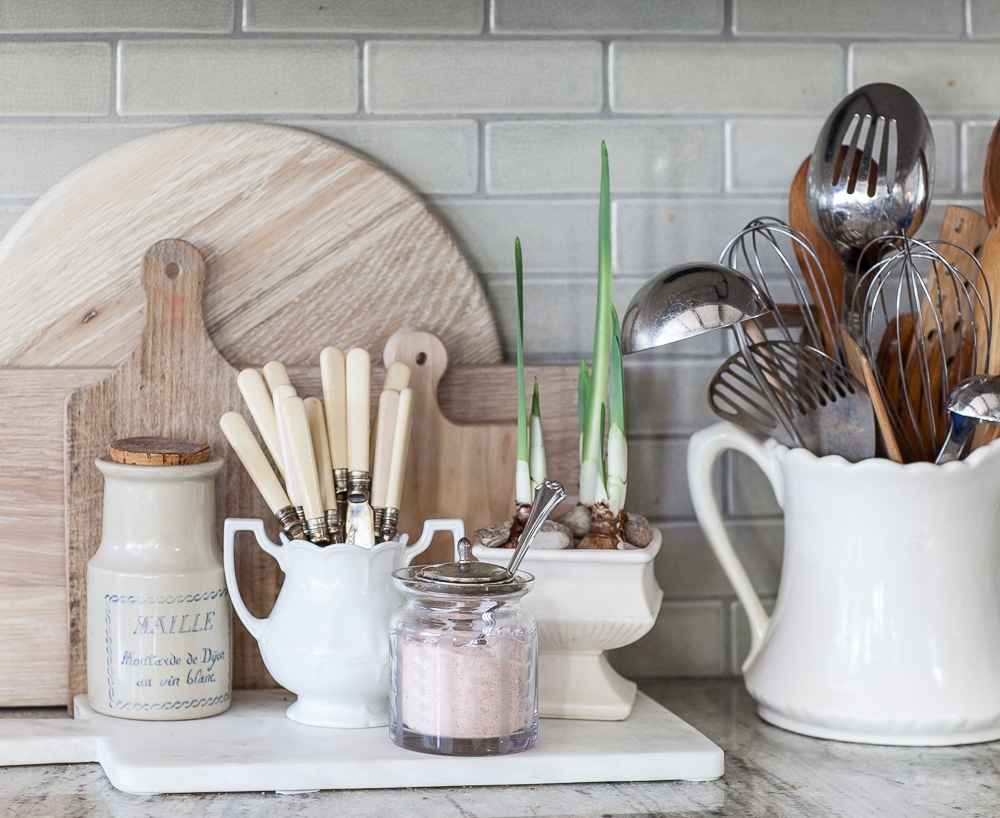 Bread boards
These look great, whether they are large or small, vintage or new. I love the look. I keep the smaller boards on my counter top, and the larger ones above my stove, but I've also used them in my dining room and on the tables.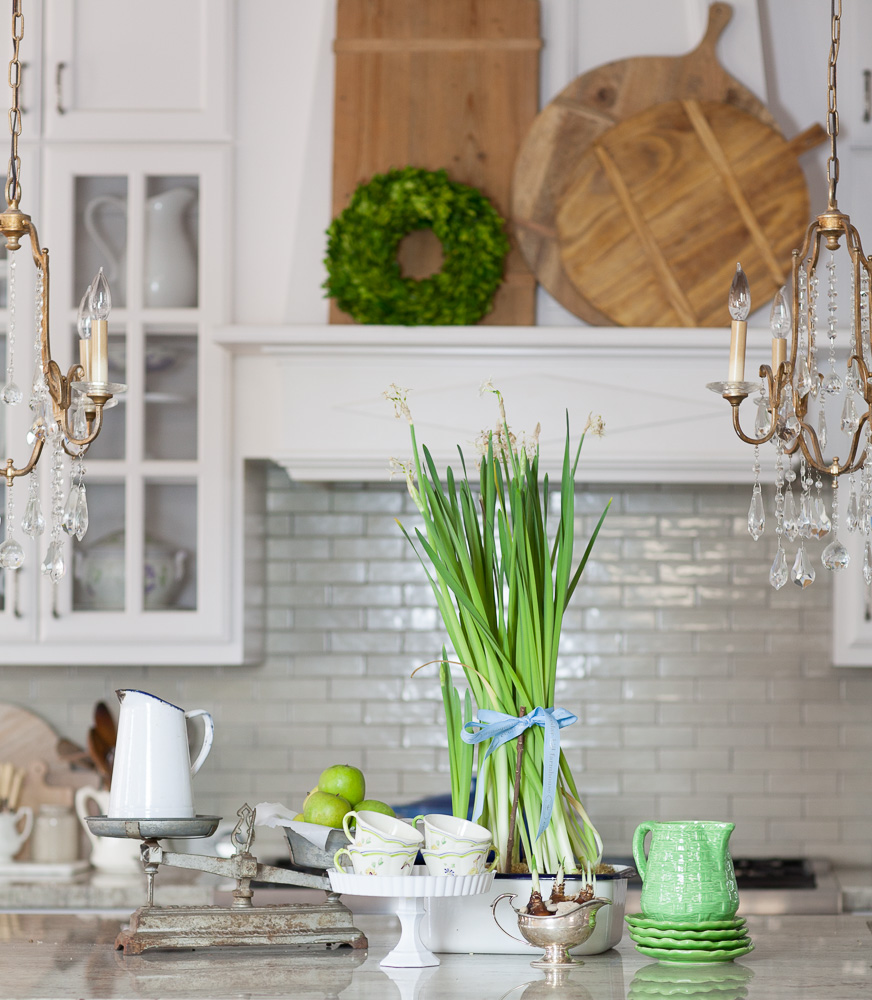 Maldon salt
This is Kelly's favorite. I use Himalayan salt and I love it. I haven't tried the Maldon salt yet. (affiliate link) You can buy it HERE.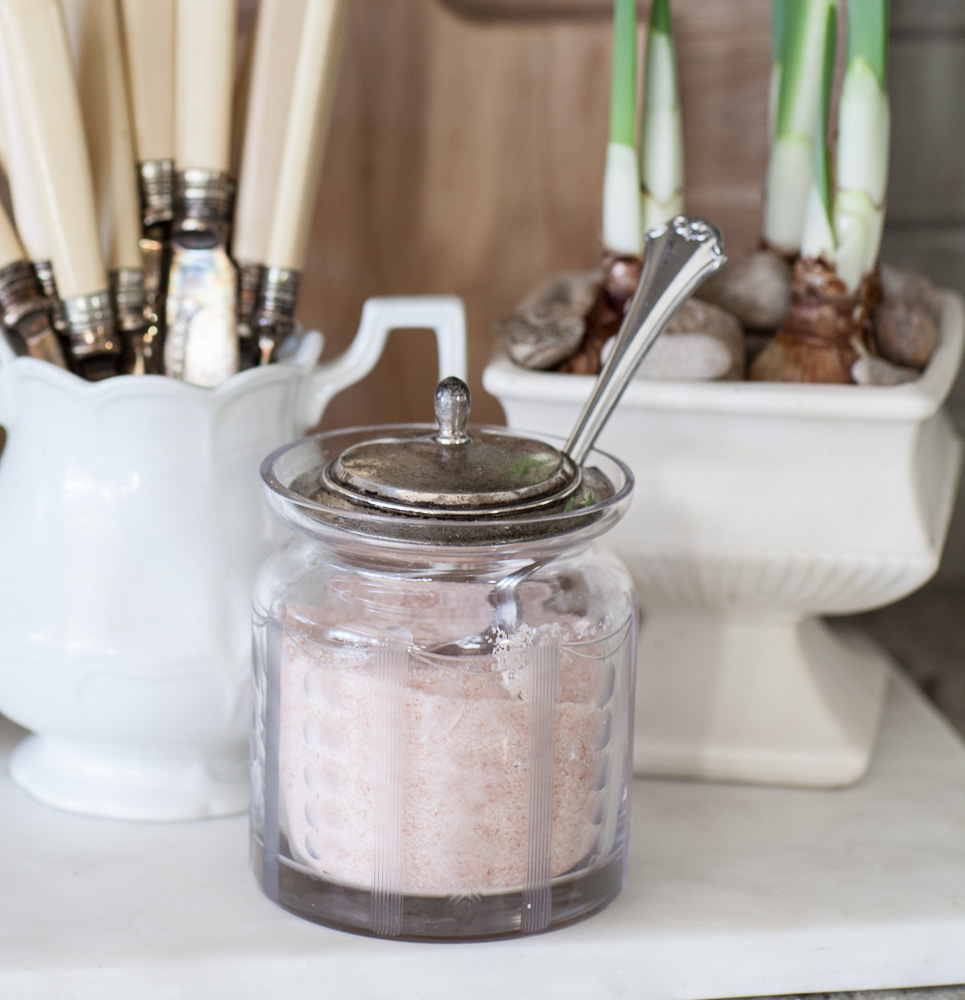 Kitchen lamp
Kelly loves to have a lamp in the kitchen. Great idea for ambiance!
Artwork
Yvonne loves to use artwork in her kitchen. I don't have a lot of wall space for artwork, but I love the idea.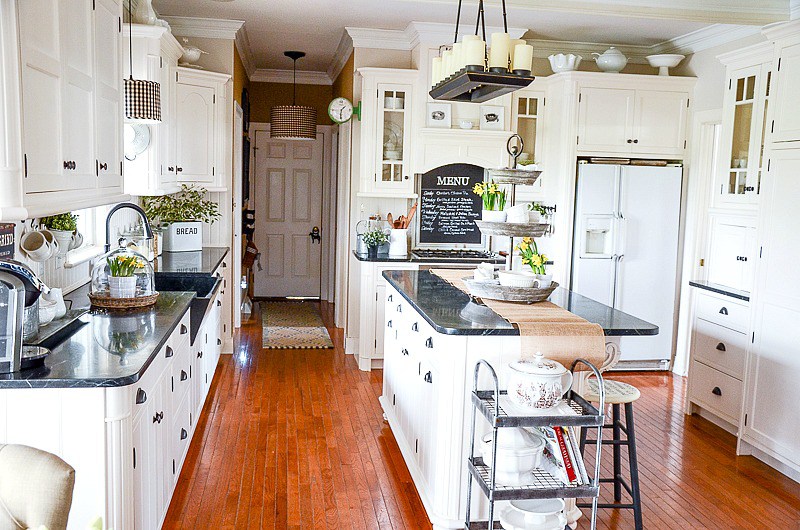 Photo from Stone Gable
Stack of white platters
Kelly enjoys a stack of platters in her kitchen and yes I love stacked platters as well! I've got some in my cabinets.
Pots of herbs
Fresh herbs are lovely to have in the kitchen, and you can snip some when you need them for a recipe.
Cookbooks
Yvonne loves cookbooks. (affiliate link) Well we all do! Here is one of my favorites! Ann Criswell's Houston is Cooking at Home CLICK HERE.
It's full of the best recipes from the best restaurants in town.
Plug molds
These are outlet strips that are hidden underneath cabinets. I wish I had done that when we designed our kitchen. I did have the electrician install the outlets down low and sideways to minimize their appearance. You can see on to the left in the photo below.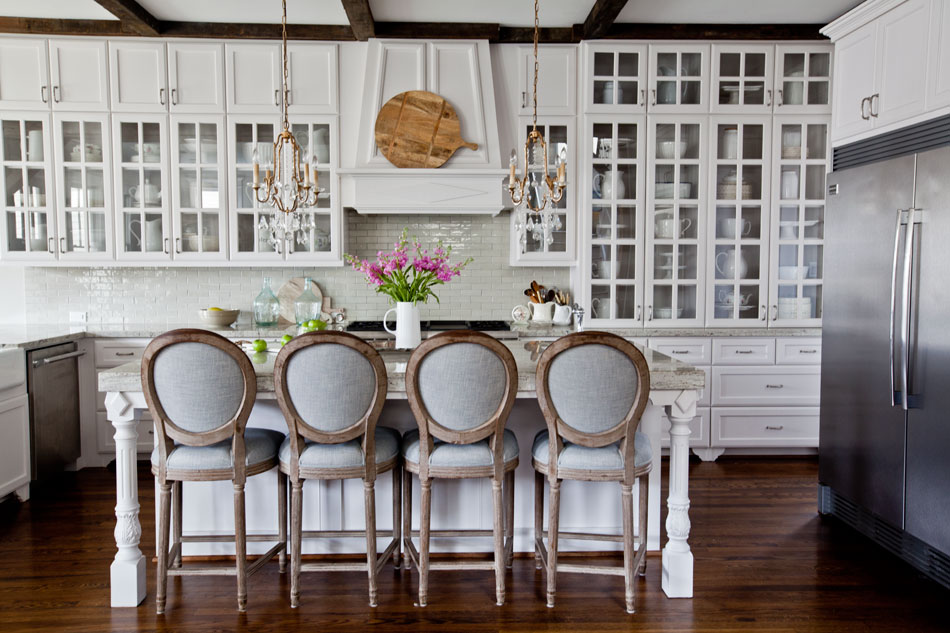 To listen to more podcasts, CLICK HERE.