Before I start on my topic today, I have a confession. When I saw my title, 6 Ways to Style a Bed, I couldn't remember what I was supposed to write about.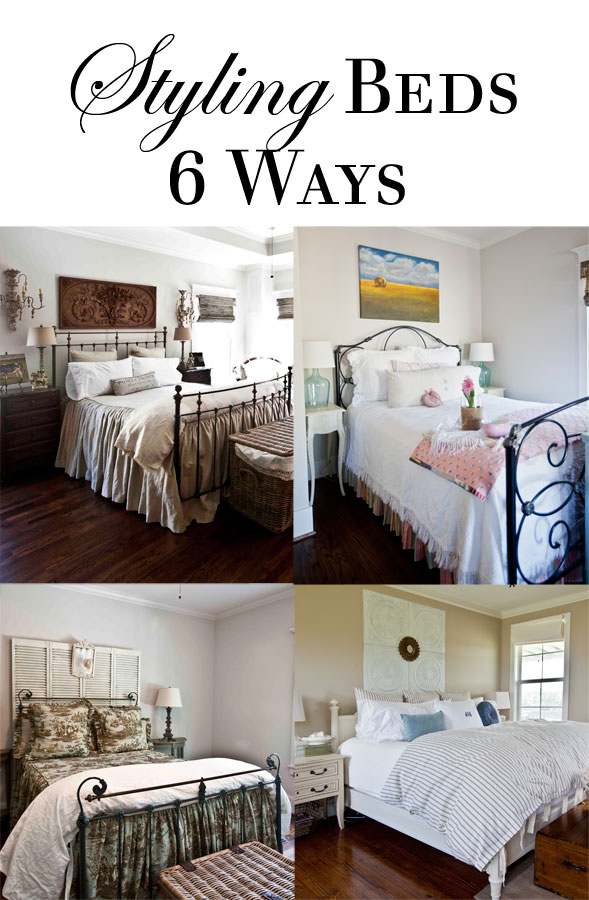 I wrote out my blog titles for 3 months of posts, with the thought that I would write the posts and add the photos later. The weeks went by, and when I sat down to write these posts, for the most part, I know exactly what I had in mind based on the title, but this one has me baffled. What was I thinking about?  Was the thought to show several different beds or one bed several different ways?  I am not sure, but not to worry, I'll come up with something.
Okay, I'm back.  I've made an executive decision to show you six different beds, pointing out a take away for each one. How's that?  Well, I didn't hear anything, so I'm going to guess you nodded your head there.
This is my favorite bedroom, and that's good news because I spend a lot of time in here. I really think it's important to have a bedroom you love. Don't ignore this room, just because your guests don't see it. It's your house, you need to have a fabulous room for yourself, just sayin…
What I like about the bedding is that it's linen.  I made this one, and this type of bedding I have found is not only difficult to find, it can be very expensive.  Sadly don't have a good source for you on this one.  The duvet at the foot of the bed is an antique French bedspread, and I found it on eBay. Sometimes they have bedding like this at Horchow. (Not a sponsored post, I'm just sharing my resources with you.)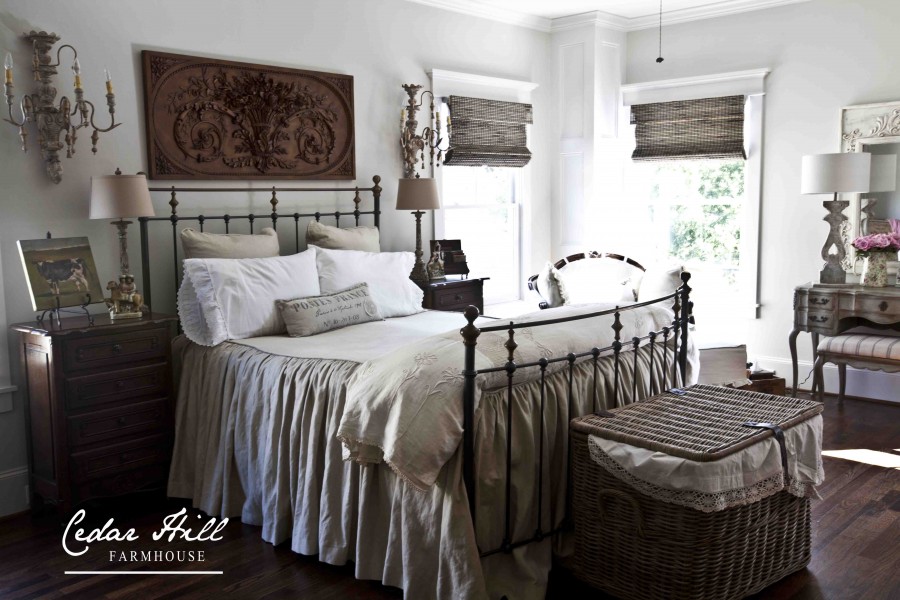 Now this bedding will be easier to find. It is a cream colored matelasse.  The pillowcases are vintage edged in handmade lace, and the euro pillows I made using vintage grain sacks.  Note that for a simpler look, you can have the pillows lying flat on the bed. I like this look a lot.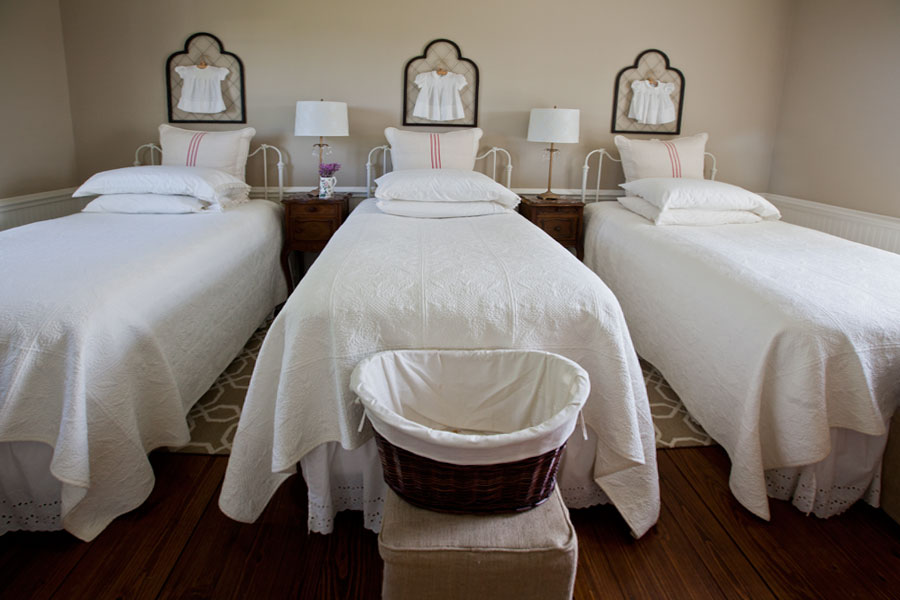 I really like this French ticking duvet a lot.  It's gorgeous, and you can find it at Ballard Designs.  They are one of my sponsors, but I have to say, I would brag on this bedding, even if they weren't. I went a little overboard with pillows in here, which I really am trying not to do. Too many pillows, and what do you do with then when you sleep?  They end up all over the floor, if you're not careful.  I like this bedding, because it adds some color to the room, but not too much. And it is as fluffy as it looks.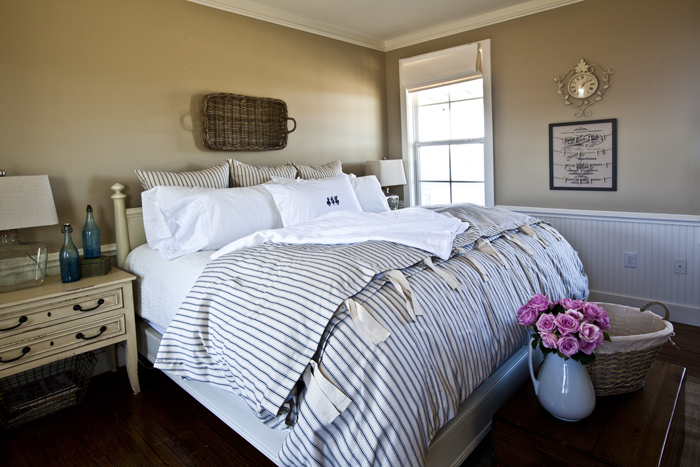 In the guest quarters, I used a pink striped bedskirt, but instead of using the matching quilt, I went for this vintage bedspread. It is meant to be a bedspread, but the beds are much taller now, so it works very well as a coverlet with the bedskirt. The euro-shams are vintage, and the long pillow is actually an antique grain sack filled with a king pillow.  The pink quilt at the foot of the bed, is a vintage family quilt. I'm seeing a pattern emerge… I love the euro pillows for adding a bit more height to the bed.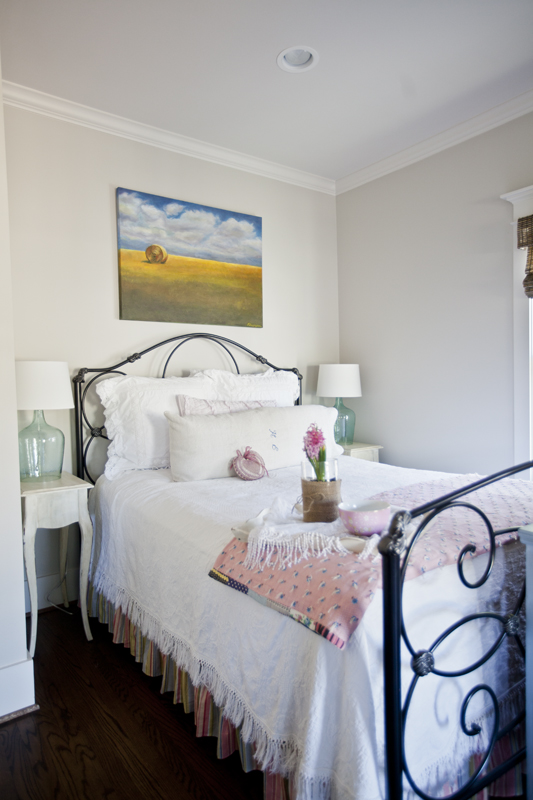 My daughter's bedding is a soft cotton bedspread that was actually a PBTEEN bedskirt.  It was used previously on an old daybed that I have since sold. The bedding doesn't go all the way to the floor, but that doesn't bother me at all. I went mostly white, with a bit of color.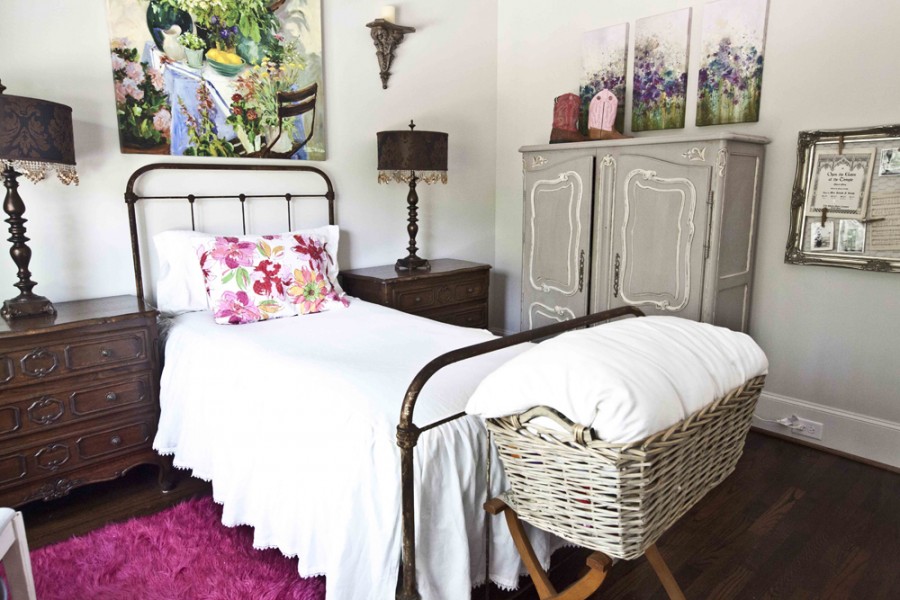 And of course I had to have one bed with toile. I made this bedding twice!  I made it for a queen bed, but when we inherited this full bed, I downsized the bedding to fit the new bed. I used a vintage linen sheet as a duvet cover for the duvet at the foot of the bed. I like the look of a blanket, quilt or duvet at the foot of the bed. It adds some interest and on cold nights, it can come in handy.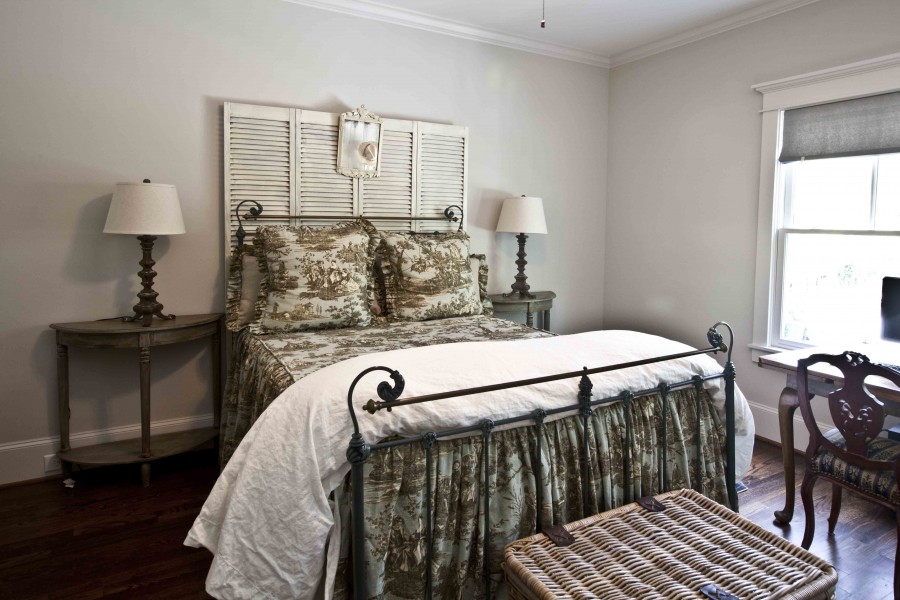 Well I hope that gave you some ideas.  Try euro pillows for height, add a duvet or quilt at the foot of the bed, try stacking pillows instead of standing them up, and try not to have too many pillows on your bed.