European charm is something that is always in style. Some people refer to it as 'old world'. It's a look that has been around for a long time, and still it endures. I predict with the popularity of the PBS series Victoria and the Netflix series The Crown, this look is going to explode in popularity. This is a look I charish, no matter whether it is 'hot' or not.
First what do I mean by European charm? It's a look that the room could have existed 100 years ago in a fine English Estate or maybe in another country like France. It's not specific to any country. It's okay to mix in new things with the European look for fresh take on it.
Today's podcast episode is all about ingenious ways to use glass containers.
Here are 5 elements that can give your home European charm.
A plant especially an ivy in a very high end container
I love ivy and it works beautifully indoors. Many plants don't do well indoors, or maybe that's just me. The exception is ivy that works even in a low light situation. I like to use unusual containers like this trophy. Since it does not have a drainage hole, I try to not over-water and I put rocks in the bottom of the container when I planted it.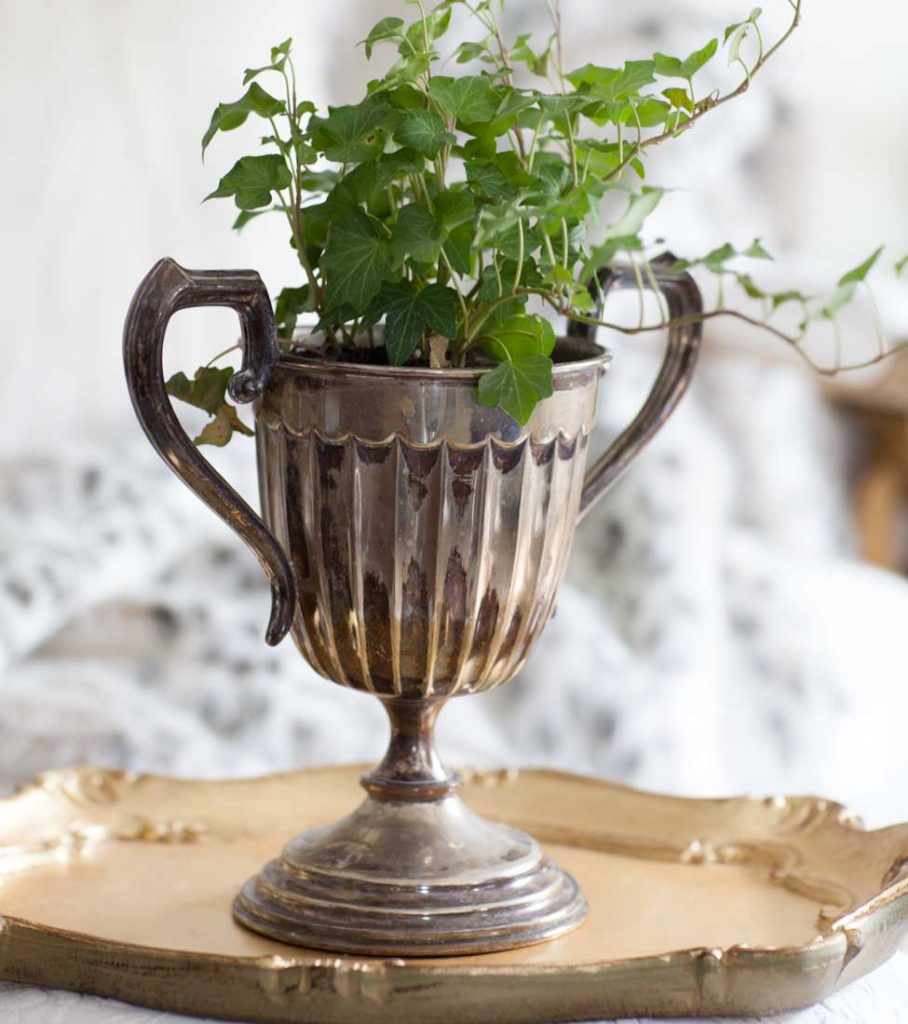 2. Distressed gold accents
These Florentine stacking tables have a faded charm of the old days. I like to sprinkle in a lot of gold in a room, but I rarely use a bright shiny gold color.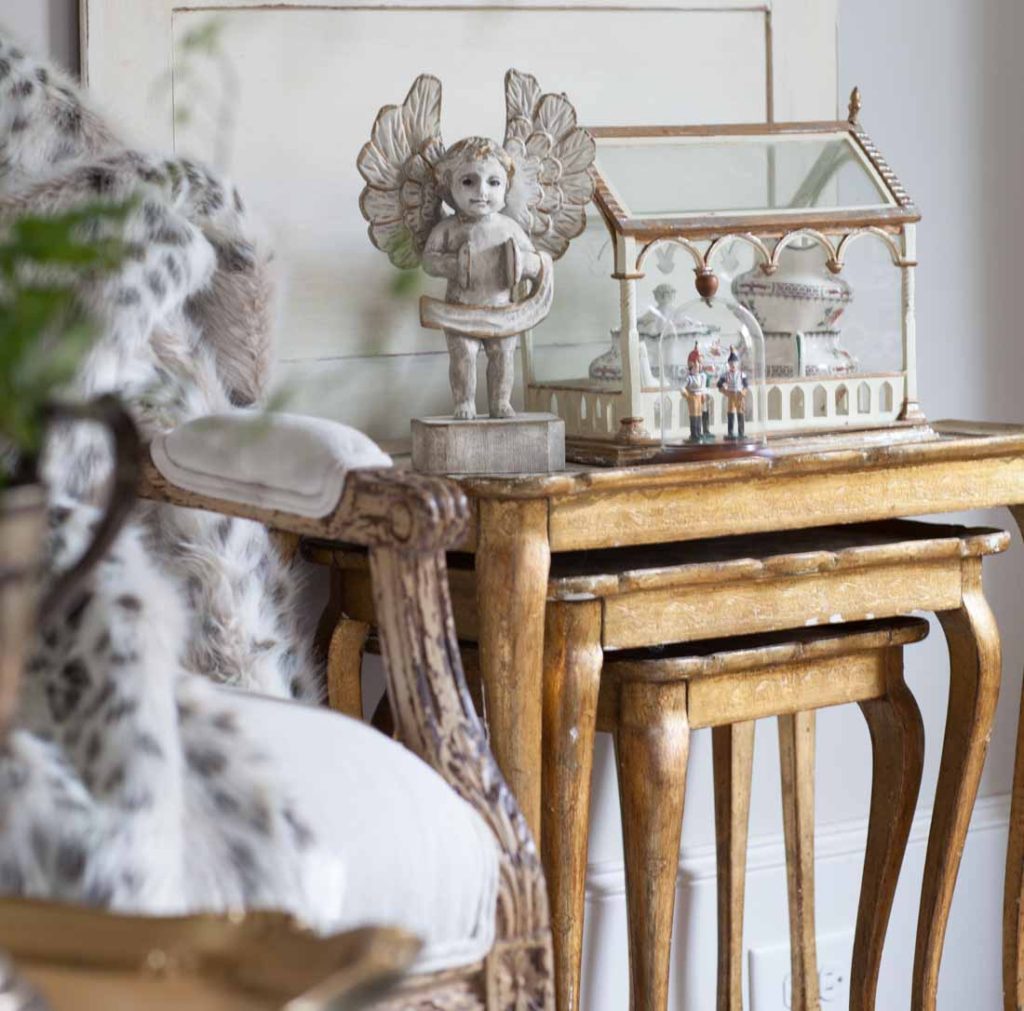 3. Old silver candlestickst
The new ones look very different. I love the old ones if you can get them. They tend to be ornate and delicate.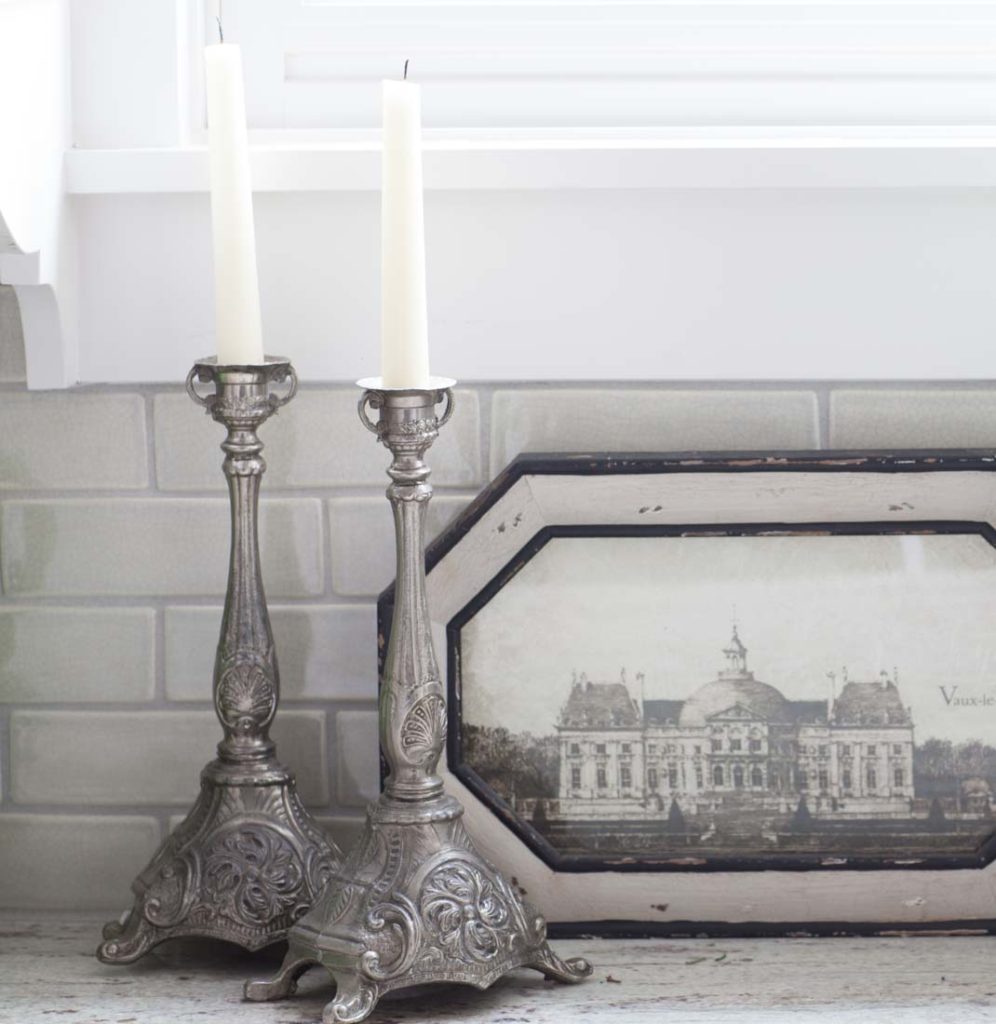 4. Vintage dishes in decor
I use them all over my house. No need to only use them in the kitchen. I tuck them in wherever I can. Here I used a gold and white monogrammed tureen.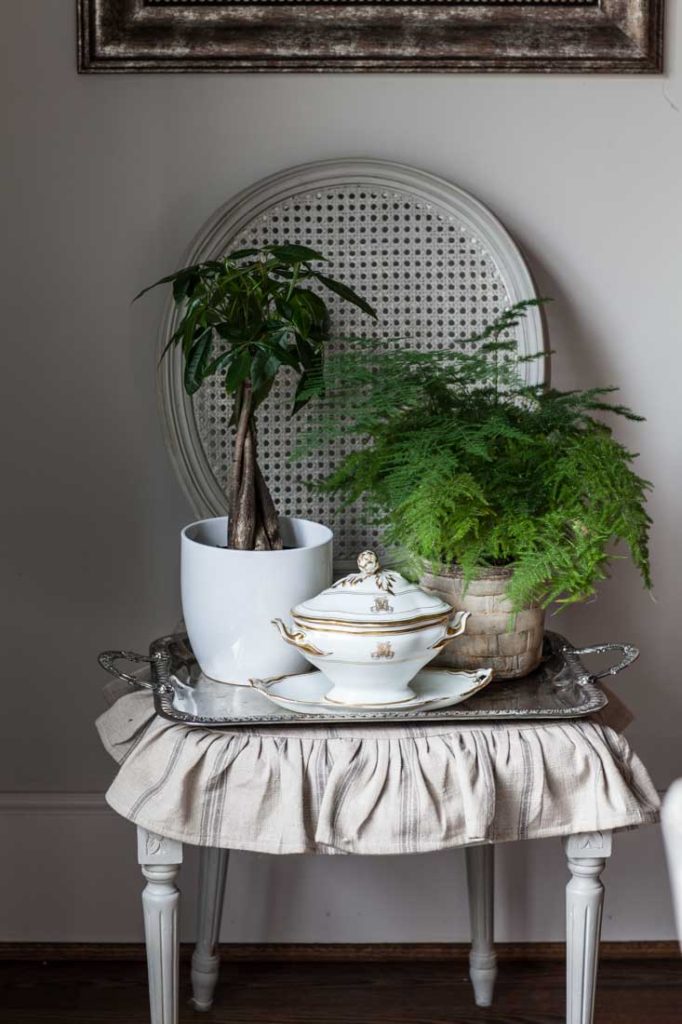 Don't worry about if the monogram is yours or not. Who knows if it was handed out from your Aunt Millie?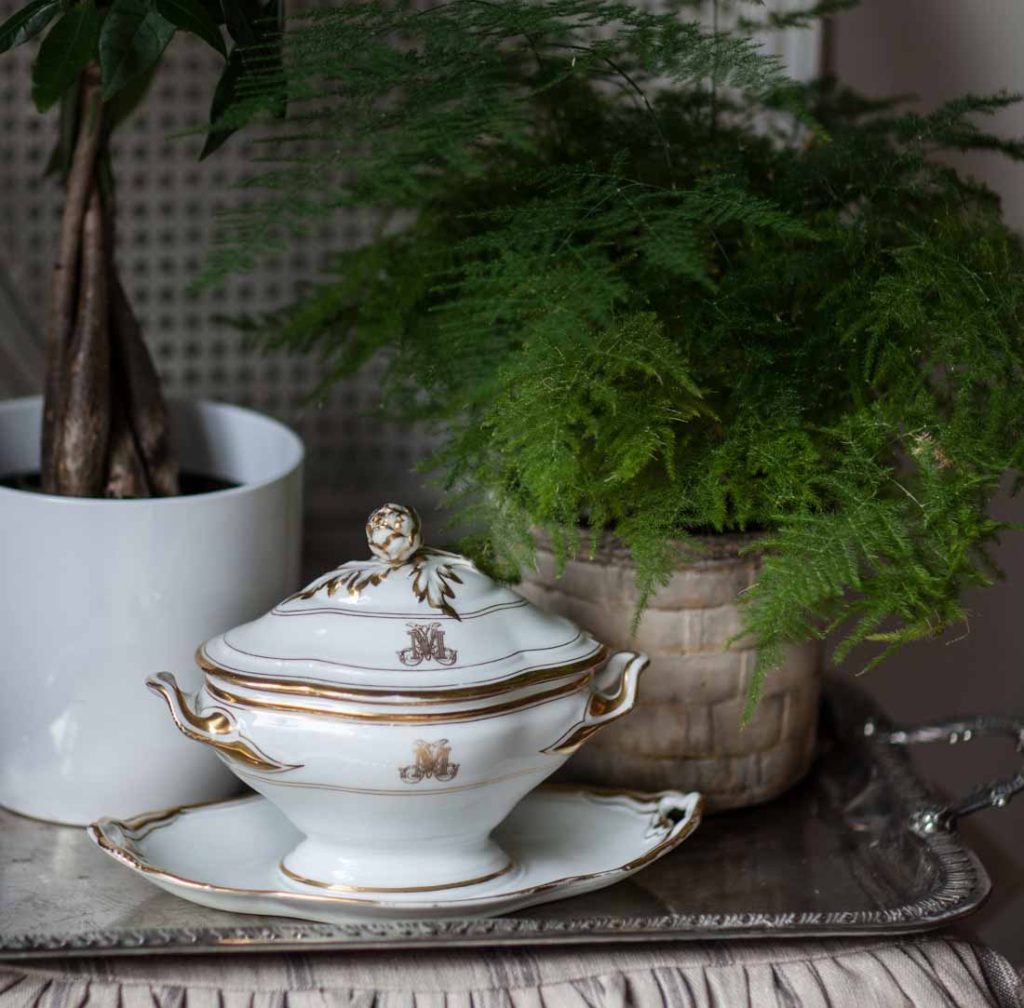 I've had these cabbage plates for years. I still love them 20 years later.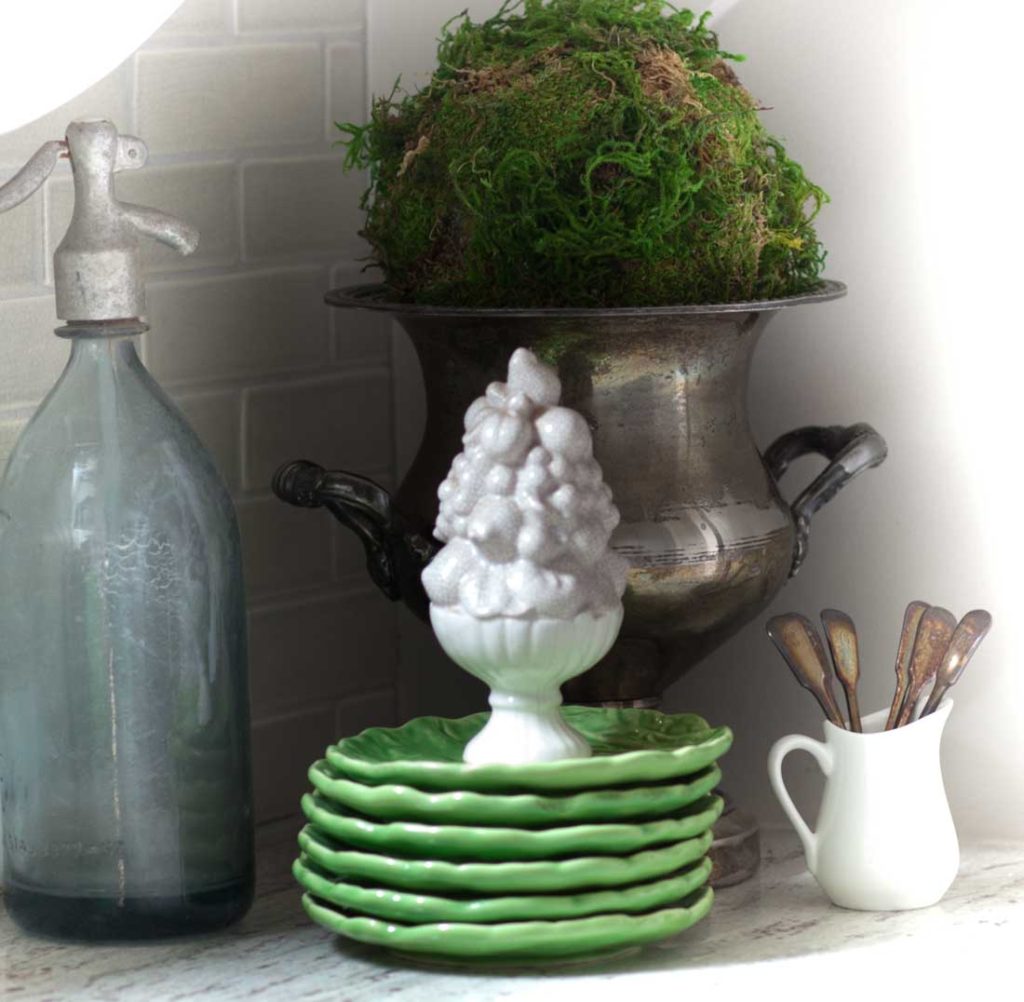 5. Vintage paintings in gilded frames
These can often look like inherited pieces, although mine are clearly purchased. The frame is just as amazing as the painting.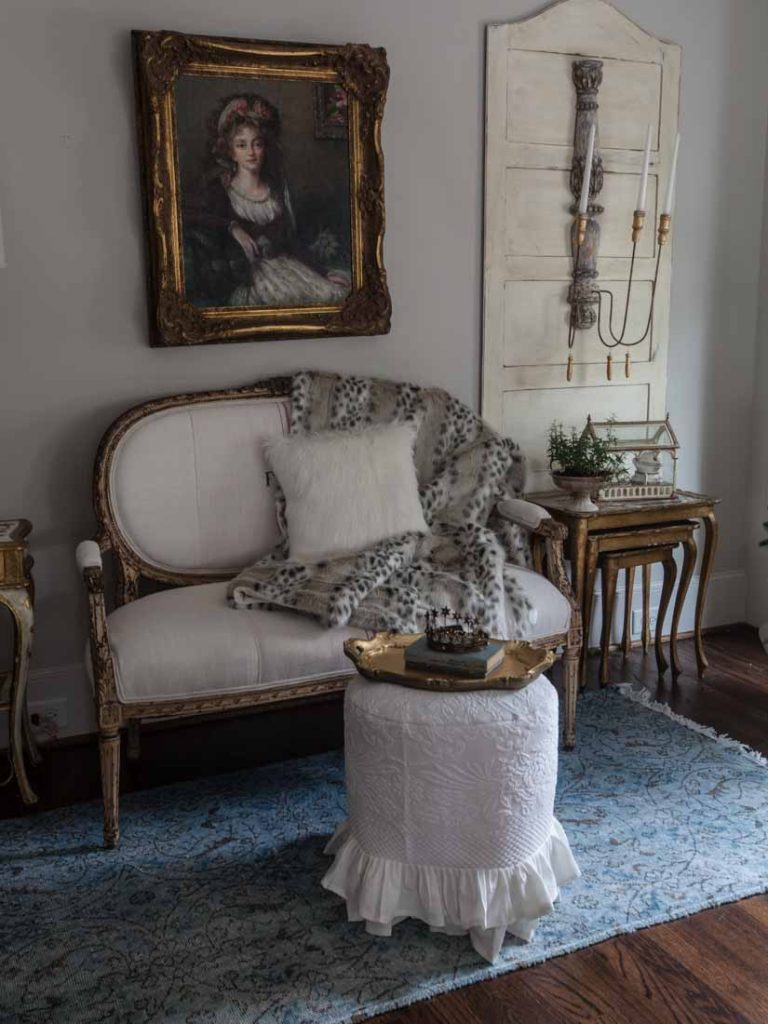 The gesso is cracked in places. That just shows how old the frame is and doesn't take anything away from it (in my book.)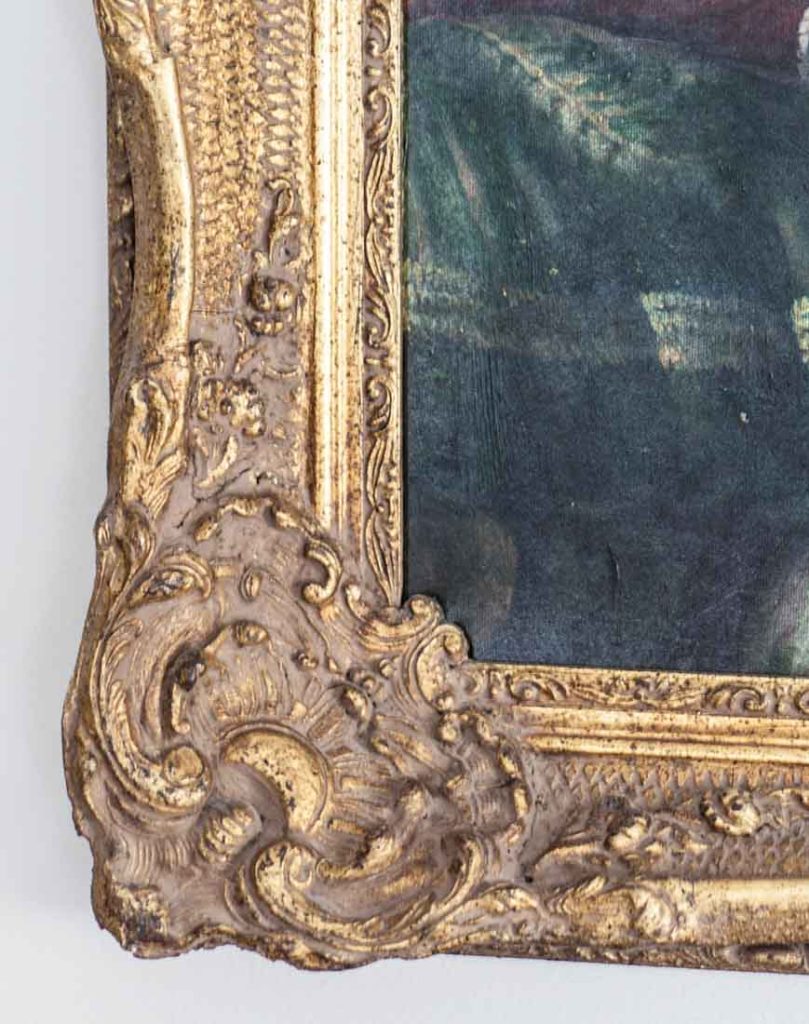 affiliate link
There are many, many more things you can add to your home to give it European charm. This is just a starter list. I would love to hear your suggestions in the comments. If you don't have a source for old things, or prefer to purchase new, then you can check out my recommendations on Amazon HERE.
We are a participant in the Amazon Services LLC Associates Program, an affiliate advertising program designed to provide a means for us to earn fees by linking to Amazon.com and affiliated sites.