Awhile back (adult talk for I can't remember when, but it was a long time ago) I did a post on 10 grainsack projects. Now for sure I had 10 projects included, but some were the same type of project. For example I think I had more than pillow project. They were different pillow styles, still someone criticized me for that saying I didn't really feature 10 different ways to use grainsacks. (That comment is no longer there, so I am guessing she removed it.) And today I say to my critic… GAME ON! (And I've got something for you at the end of the post.)
That's right I challenged myself to come up with 10 different ways to use grainsacks. Some of these are no-sew, and some require sewing. Are you ready?
1. Make pillows using the fabric. There are lots of different styles you can use, really the sky's the limit.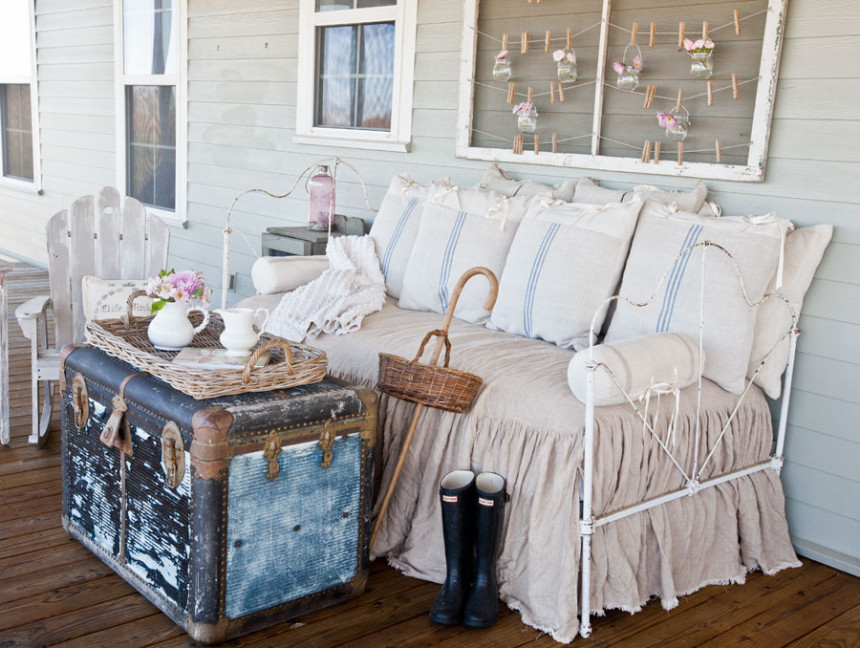 2. Upholster a chair using the fabric. Each grainsack is different so the chairs all end up looking different. Sometimes you can use one grainsack to upholster 2 chairs, so they match.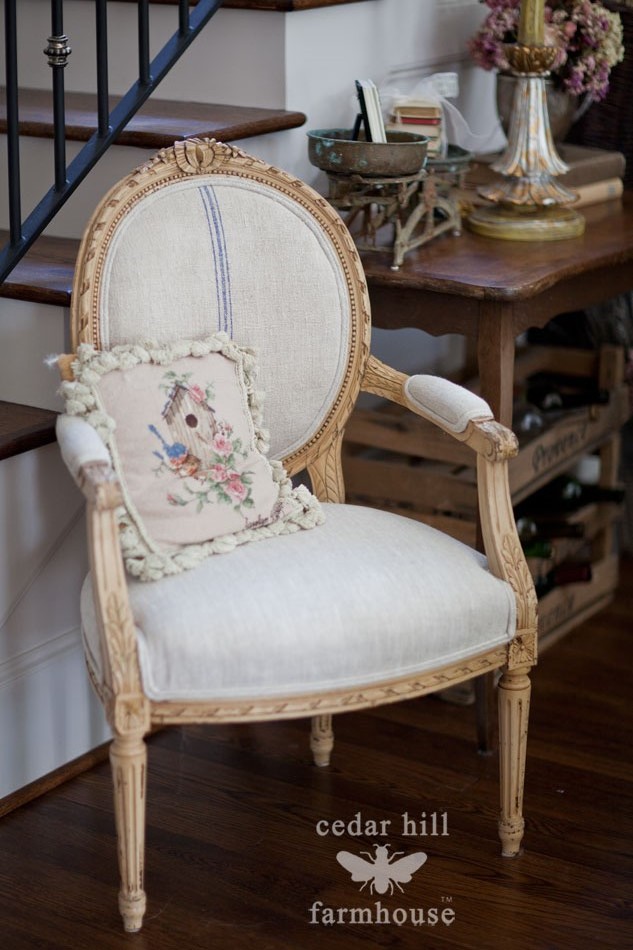 For the KJ chairs, I had to use two matching grainsacks.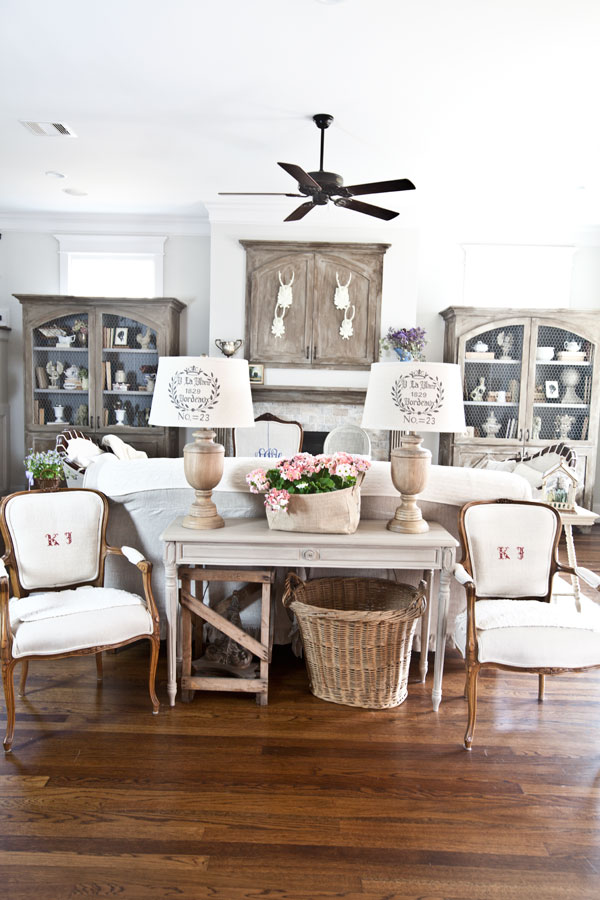 3. Upholster a fireplace screen using the fabric. I had a monogram shop add the script monogram, that is not original.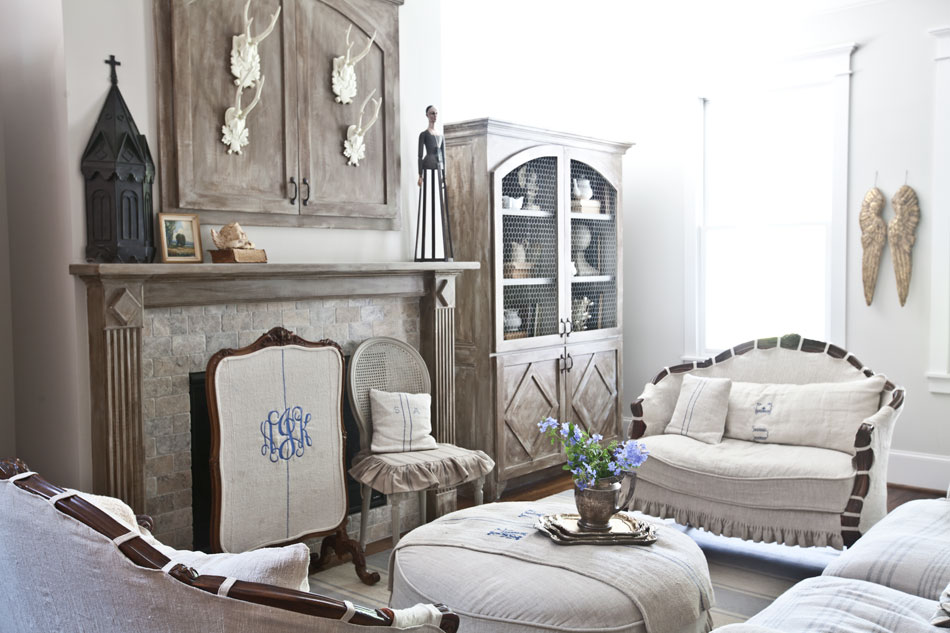 4. Stuff with a king size pillow. This really is one of the best and easiest ways to use a grainsack. They usually work well with a king sized pillow.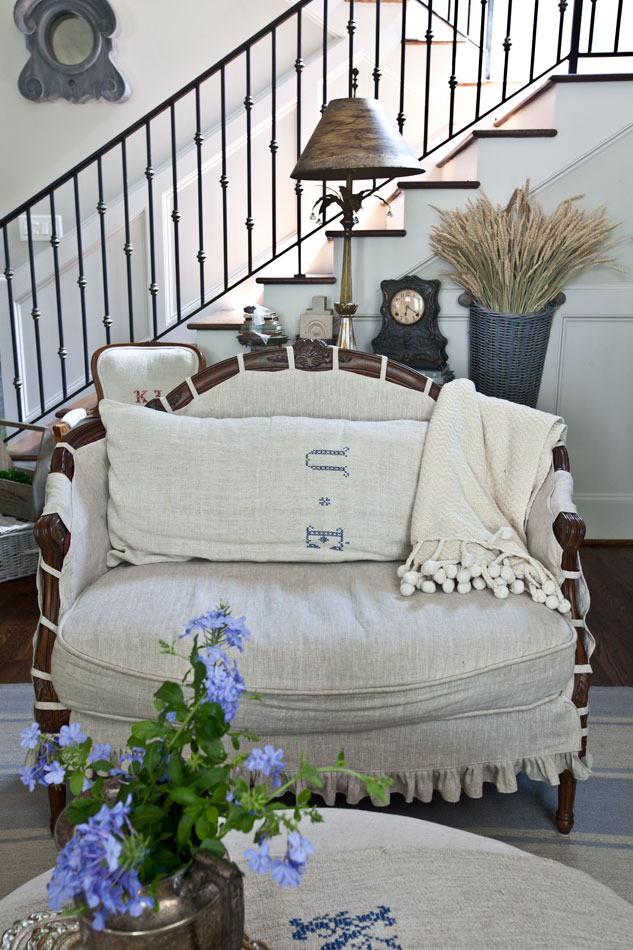 5. Hang on a ladder. This technique looks best when you have more than one grainsack to use.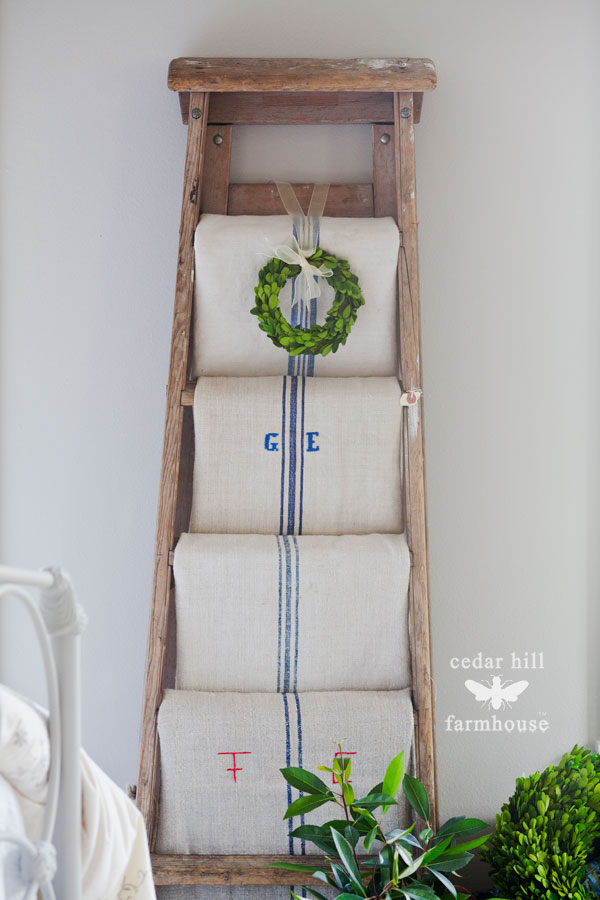 6. Make placemats. You could reinforce the edges, but I suppose you don't have to. These can be no-sew. I made 6 generously sized placemats from one grainsack.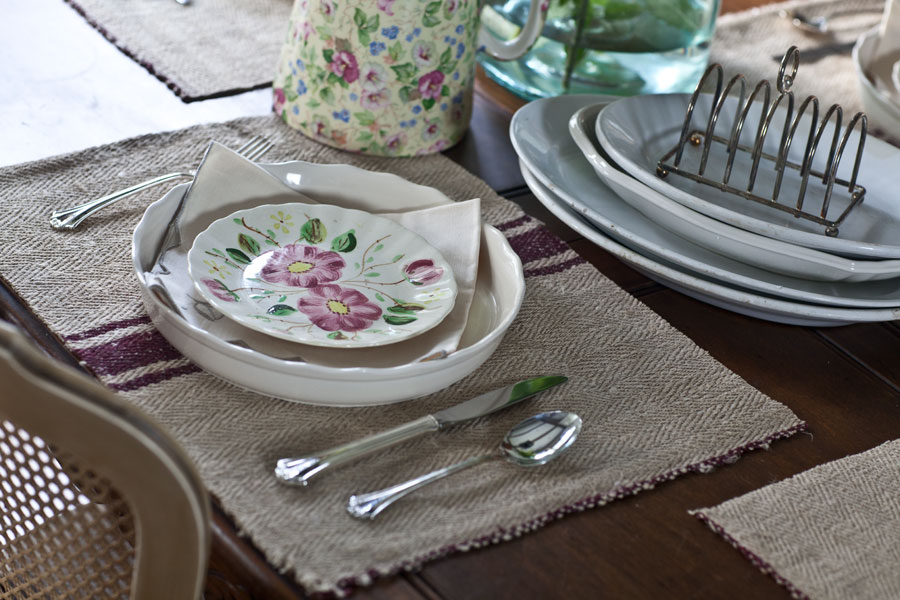 7. Use as a table runner. There are two ways you can do this. One is to simply place the grainsack on the table as is.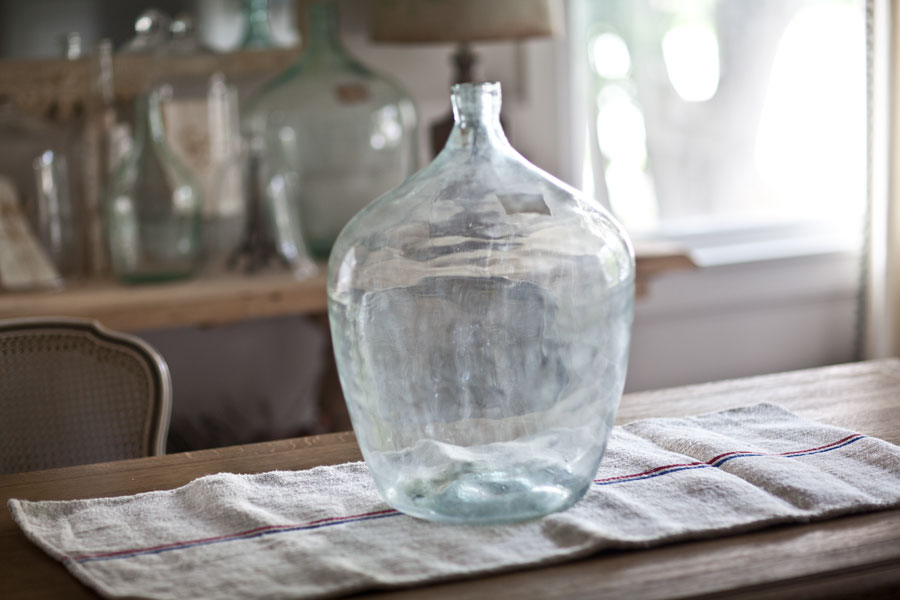 The second way is to rip out the seams, so the grainsack is twice as long.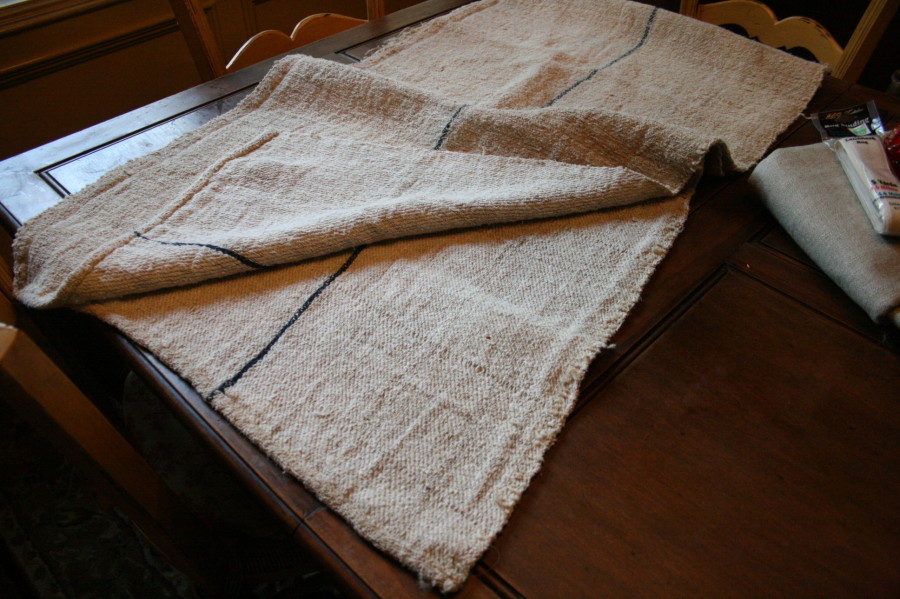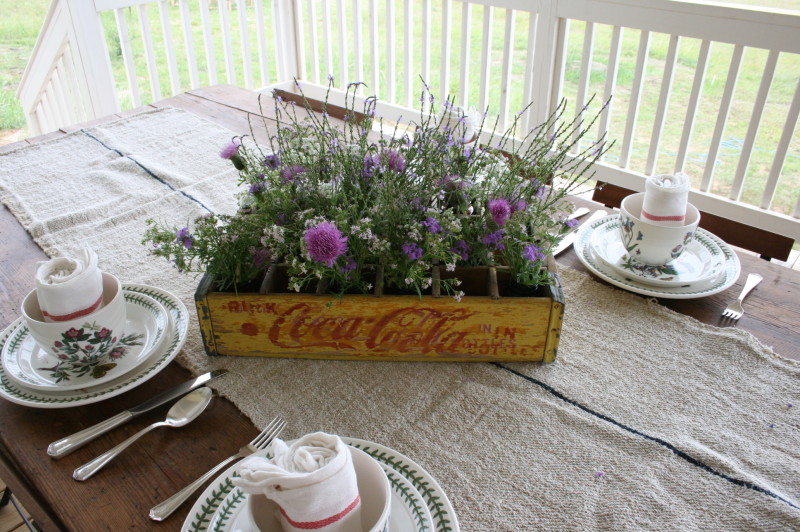 8. Make Christmas stockings. Some of these were made from grainsacks and the others were made using  a striped linen fabric.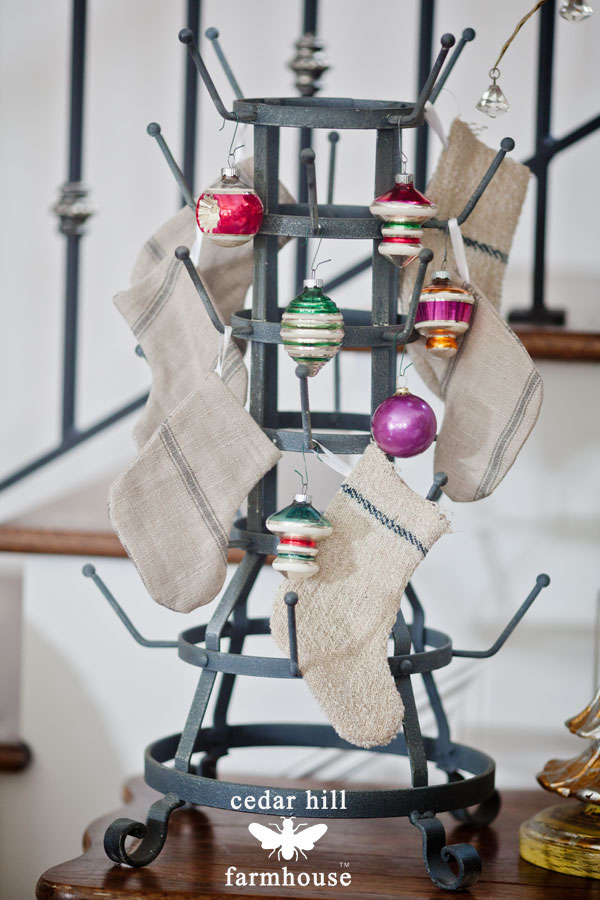 9. Drape across an ottoman or bench to act as a sort-of slipcover. But not a slipcover, because that is number 10.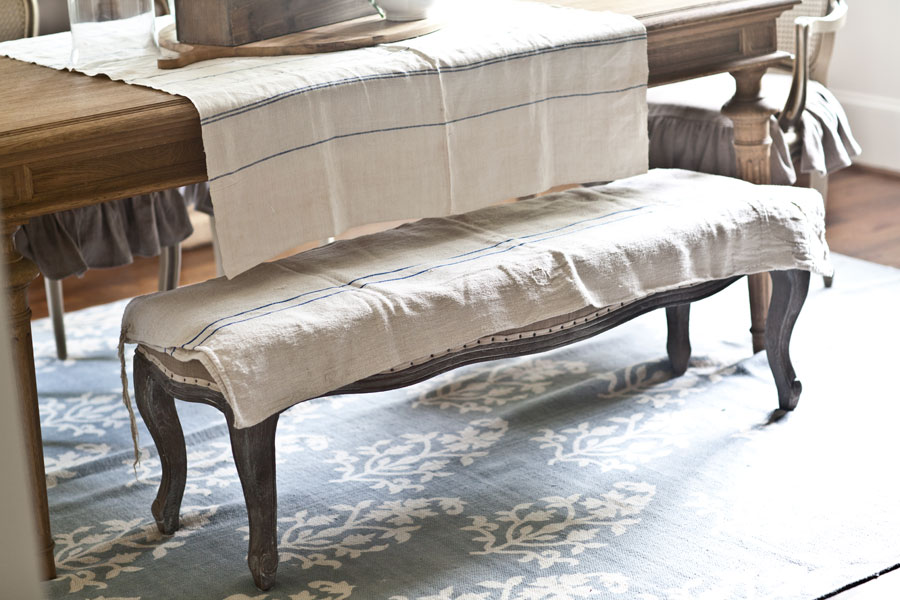 10.Make a slipcover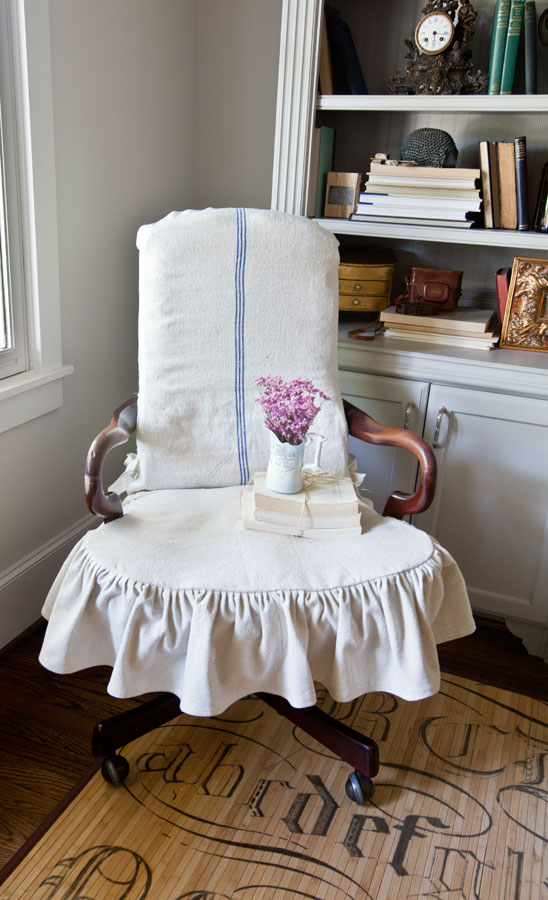 Okay I think I did, those are 10 different projects. There are so many ways to use grainsacks, and they add so much character to the room. They are really an integral part of Farmhouse French style.
I have been using grainsacks for years, and people have asked me so many times where to find them. I have bought them many places, but there aren't really many good sources for them on the internet. So recently I found some grainsacks for myself, and grabbed quite a few so I could share them with you.  Because I bought them at wholesale, I am able to offer competitive pricing for you. Still I know they are expensive. I really want you to have one, because I believe you will love using them in your home. So for my readers, I'm offering a 10% discount for a very short time.
To get the discount you need to use this promo code when it asks for your discount code. Use code PPQMGQVMX1SO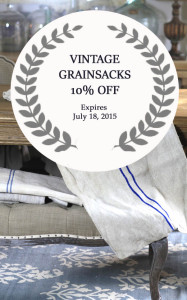 Be sure to get yours while you can. My supplier says she didn't buy any of the soft grainsacks this time when she was in Europe because the prices had gone up so much.  I'm not surprised.