True confessions: I have loved cloches for years, however, I never knew what to put in them. So many bloggers seemed to work with them so beautifully, and my ended up well.. empty. I felt a bit inadequate in the cloche department. But then a very respected magazine came to my home to shoot a story. Well you won't believe this, they shot one of my rooms with empty cloches. That's right, they were empty.
Then I thought, well OKAY then! Maybe I don't have to know what to put in them. Since then, I have fallen rather hard for cloches, bell jars, or glass domes, whatever you call them. So I thought I would talk about what you can put in them.  I came up with 10 things, although, really there are so many other things you can use. This is just a list to get you started if you have an empty cloche right now.
Ready? Here we go.
1. A mini spiral staircase. So what if you want one, but don't have one? I've got you covered. They're in my shop.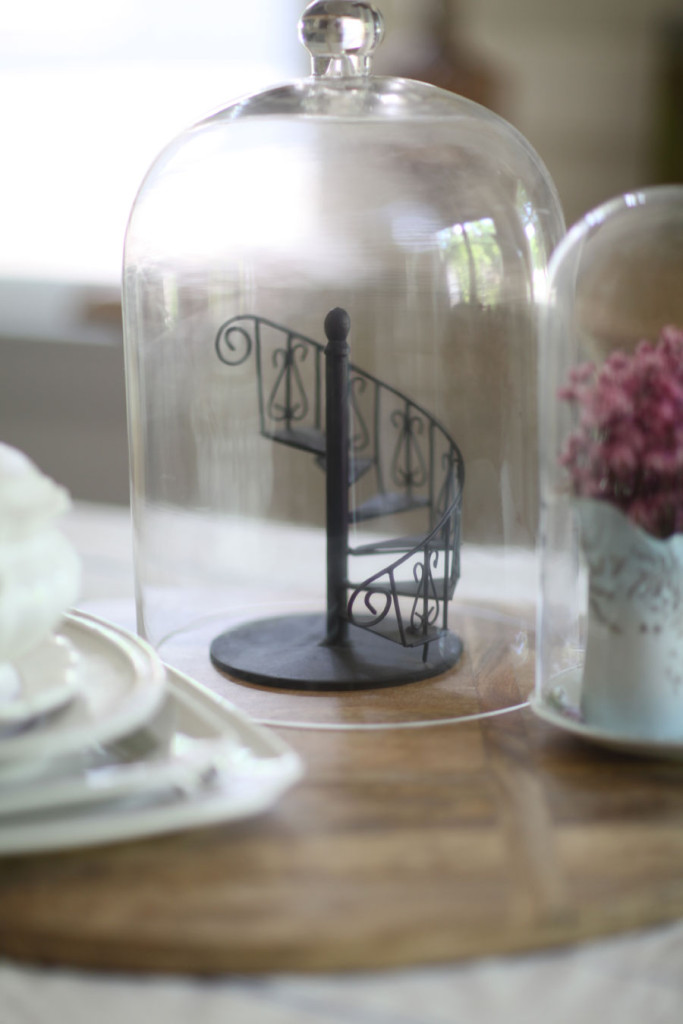 2. A pretty little creamer. Putting it in the cloche and on a pedestal  makes it appear even more special.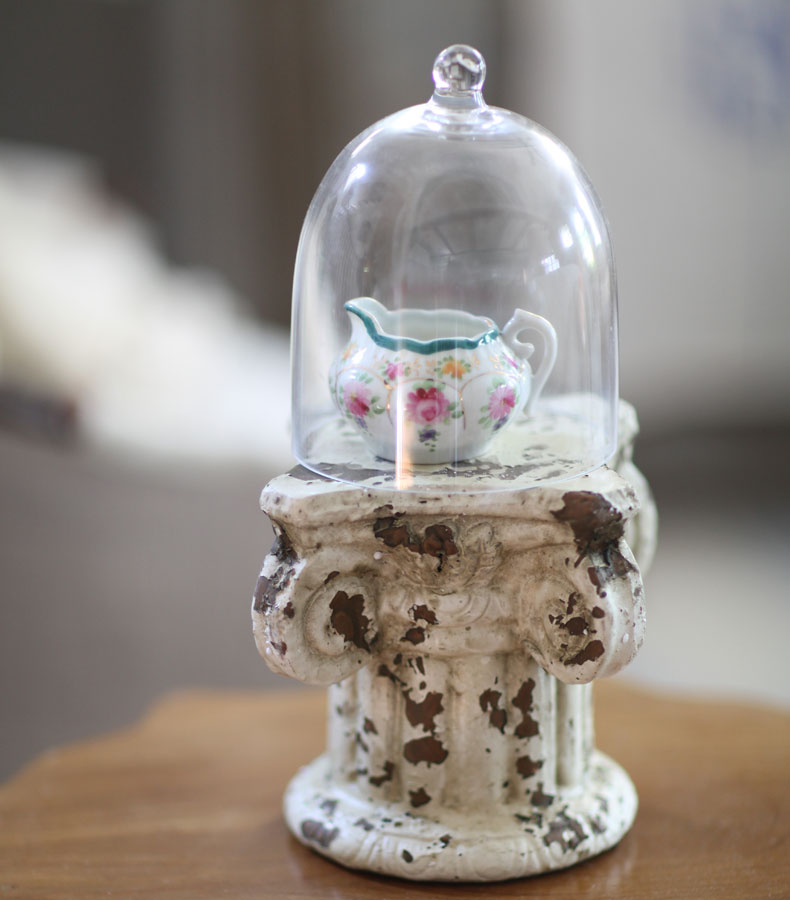 3. Sacred hearts on stands. I really love these hearts, and I stock them in my shop, but always keep several in my house too.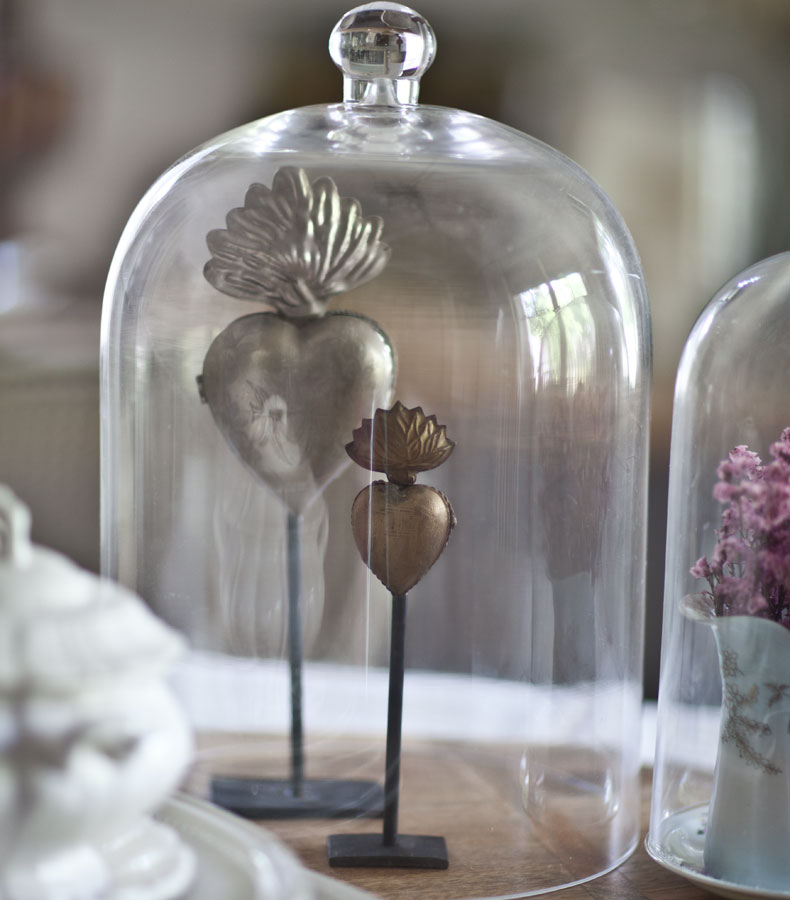 4. Dried rose petals. I used a book underneath the rose petals so that if I moved the cloche the roses wouldn't all fall out.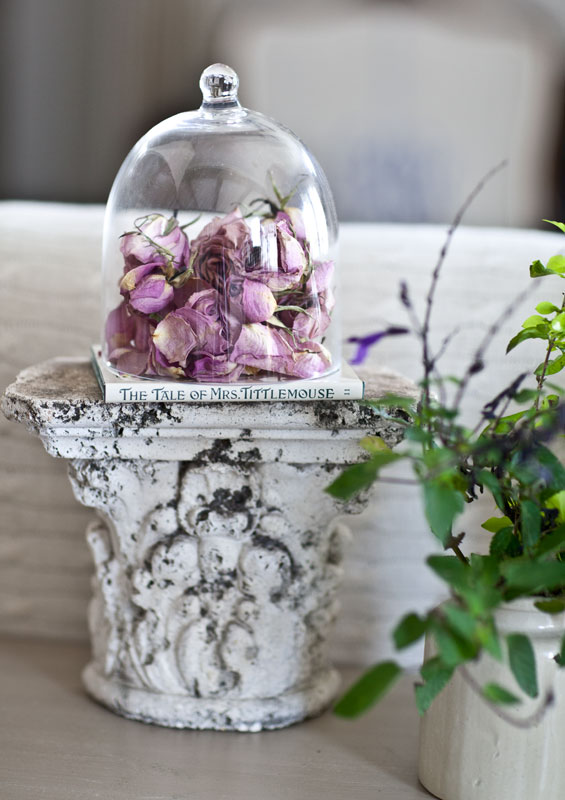 5. Pitcher with flowers. This time I used a litle basket underneath  the cloche.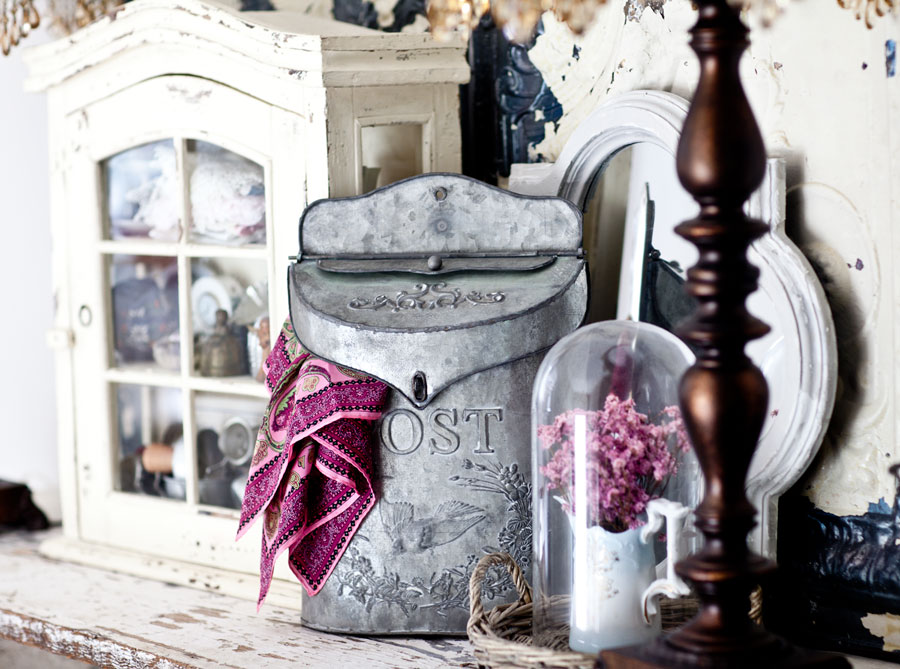 6. Rolled up vintage sheet music. No books were harmed in the project. I simply rolled up papers that had been copied years ago and were yellowed.  I tied them with twine.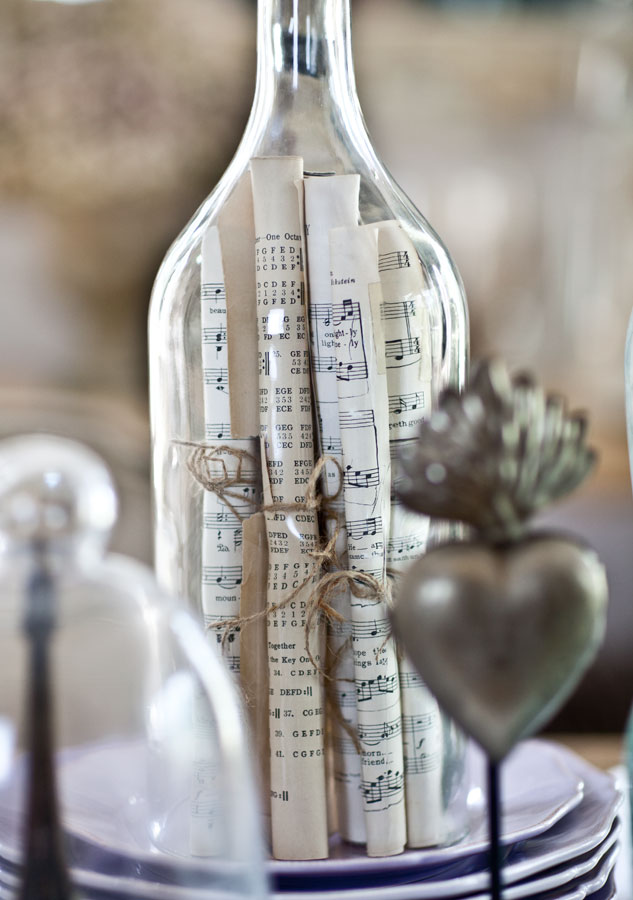 7. The Eiffel Tower. Well? Of course I have one!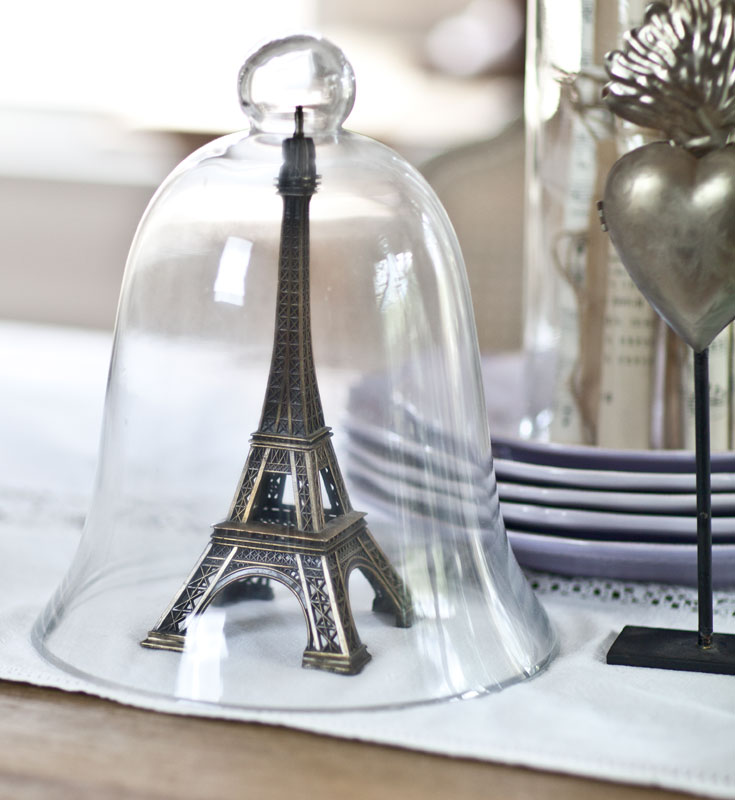 8. Book bundles tied with twine. I don't suggest you destroy perfectly good books to make these. But if you have some that are already falling apart that you don't want, this might be a nice way to re-purpose them.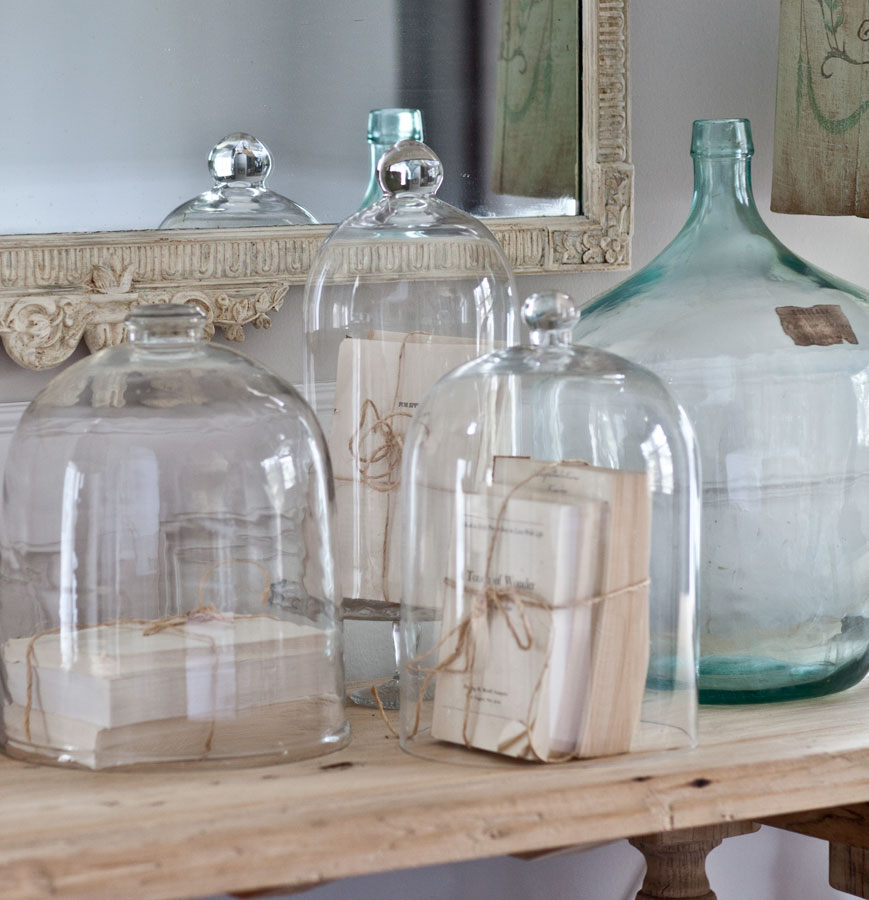 9. A chalkboard sheep. I adore these and I have them in the shop.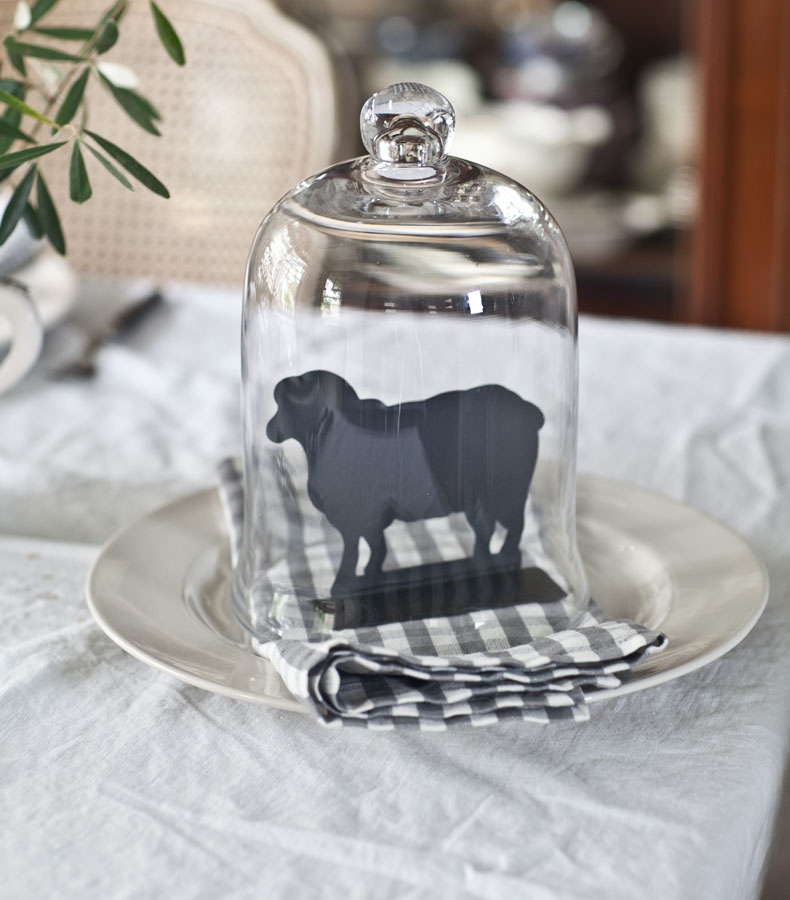 And lastly
10. Nothing
Below I used the cloche on top of a cheese server (available in my shop.)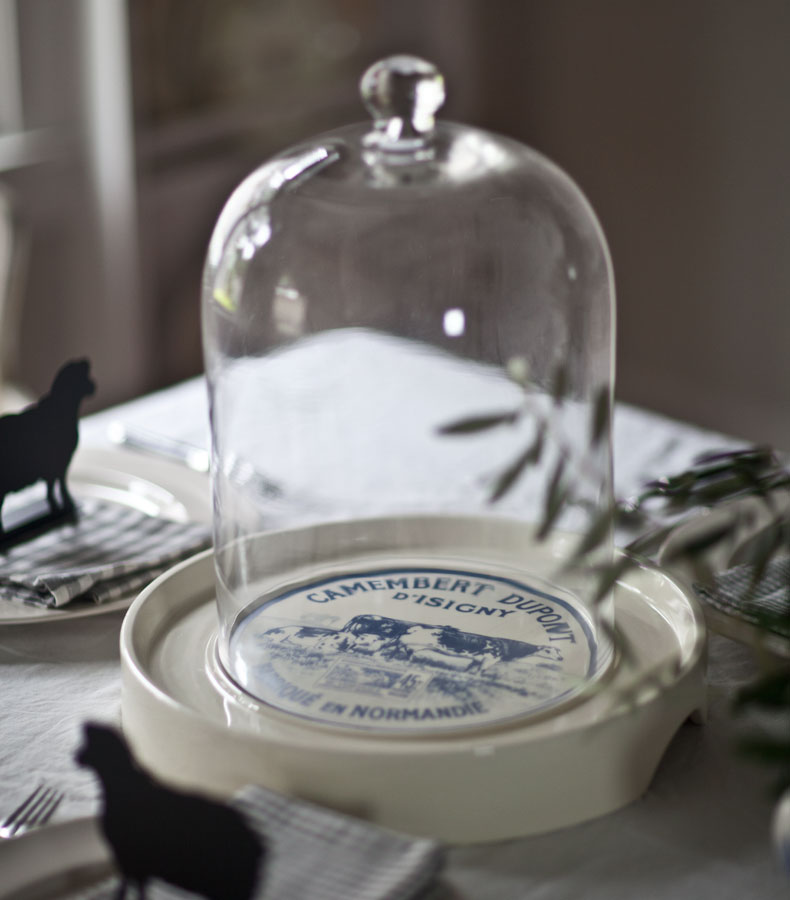 So where do you find a cloche? Well they can be found in my shop. CLOCHE
But you can also make a faux cloche, DIRECTIONS HERE.
How about you? What do you put in a cloche?