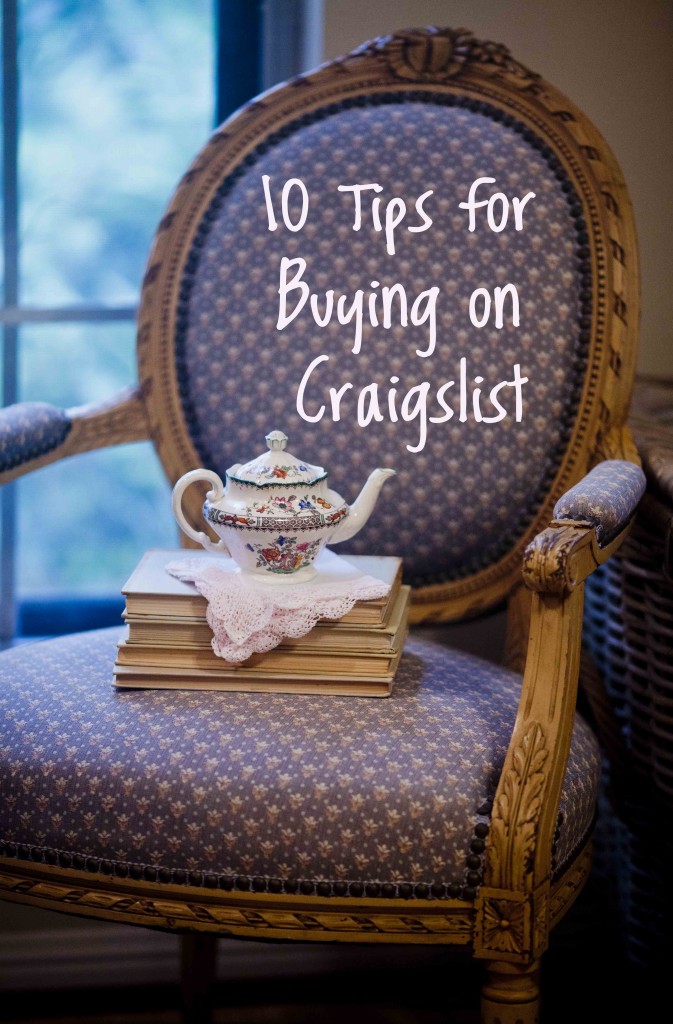 It's official, I love Craiglist.  Why?  Because I can find awesome things at a fraction of the cost I would pay in an antique store. 




Although I would not characterize myself as an expert, I have a few tips I would love to share with you about how to make the buying experience more successful for you.  
1. If there's a phone number in the ad, call, don't email. The seller will see you as a more serious buyer and you will be put ahead of emailers.  Emailers are often seen as lookee loos, spammers and scammers that aren't serious buyers.






2. Don't wait to call or to see the item, nuff said. I lost a gorgeous set of furniture ridiculously priced because I didn't get over there right away. Yes the owner was supposedly holding them for me, but didn't  You can read more that sad story here.  

3. Confirm with the seller right before you leave to go get it. Sometimes people forget you are coming or maybe it's already been sold, and you don't want to waste your precious time.



4. Be sure to get the seller's phone number before you leave so you can call if you can't find their house. That happened to me one time. When I called, the owner said people get lost going to her house all of the time.  I didn't mind though, she had a million dollar house in a breath-taking neighborhood, so I enjoyed my tour. 
5. Bring cash, many sellers won't accept checks especially on big ticket items.  And bring some small bills in case the seller will accept less.






6. Check out the item thoroughly. Look at the bottom, back, sides, and make sure it is in a condition acceptable to you.  I found a few tears on a settee I recently purchased, that I talked about here.  I wish I had noticed them before, but I still would have bought it any way.

7. Don't show up in your Mercedes if you want the best price.  If you are driving an expensive car, the seller is probably going to think *cha ching* before you get out of your shiny vehicle. They are not going to be sympathetic to what they suppose are your imaginary budgetary constraints.    






8. Ask if there is any negotiating room on the price; usually there is.  Every time I have asked, I have been offered a lower price.  I often pay full asking price if I think the price is already ridiculously low or if I can see the person needs the money. I would have paid full price on the settee and chairs, I bought recently but the person I was working with was not the owner and was not getting any of the money for selling the things.  I did try to give him some money for handling the sale, but he refused it.  He really looked like he could use the money, and I regret not insisting.  I like a good price, but I like to help people too.   

9. Don't point out all of the flaws to get a better price; this just annoys people.  Trust me here, I used to work in a furniture store, and the customers that asked for a better price got a better deal than those that started insulting the furniture.  If you find something that is troublesome and you feel you need to mention it, just be careful not to offend. The owner is probably aware of the defect and will adjust the price accordingly if he hasn't already done so.






10. If you feel uncomfortable going alone to see the item, get a friend to go with you.  If you can't find anyone to go with you, you can tell a friend when and where you will be, and ask them to call you at a certain time.  If you don't answer, then they'll know where to send reinforcements.
I know I finished the list, but I forgot something important… have fun!!  Better yet, call me next time!!! 


I wanted to give a big shout out to Kristin of Coupon Kristin for being my 1,000th like on Facebook this week. Thanks Kristin!!  I'm spending lots of time on Facebook trying to find and bring you gorgeous photos full of inspiration, so don't be shy, come join the fun.



Here's a list of the parties that I visit on a regular basis.  I might have shared this link at any number of these.