I'm so excited about this new photography course that is brand new! Jennifer from Celebrating Everyday Life has such amazing style and her photos have been in many, many magazines.
affiliate links
Today she's releasing an amazing photography class and it has a free mini-workshop! I was one of the lucky ones that got to take the class early to review it. Wow is all I can say! I used to teach photography courses, and I can say she's included all the important stuff without a lot of technical jargon.
Her photography is really very stunning, in fact she's become such a talented photographer, that she was offered her own magazine this fall (Celebrating Everyday Life) that is on stands now. In 2013 her table was on the cover of Southern Living so yes she's got amazing photography skills. I love that the course talks about camera settings but also how to style your photos.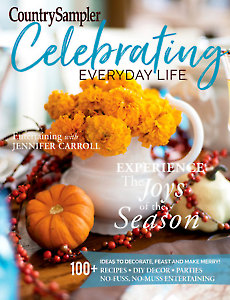 If you want to check out the free mini-workshop CLICK HERE.
If you are a blogger, it is vitally important that you know how to take a good photo. But let's say you are not a blogger. Does it matter? Well I know we're all sharing photos on Facebook and Instagram. It used to be that only the professional photographer had amazing photos, but now it's sometimes hard to tell the difference.  You don't need to be a professional photographer to take professional photos. This photography course shows you how. The good news is that it's not time-consuming to take the class!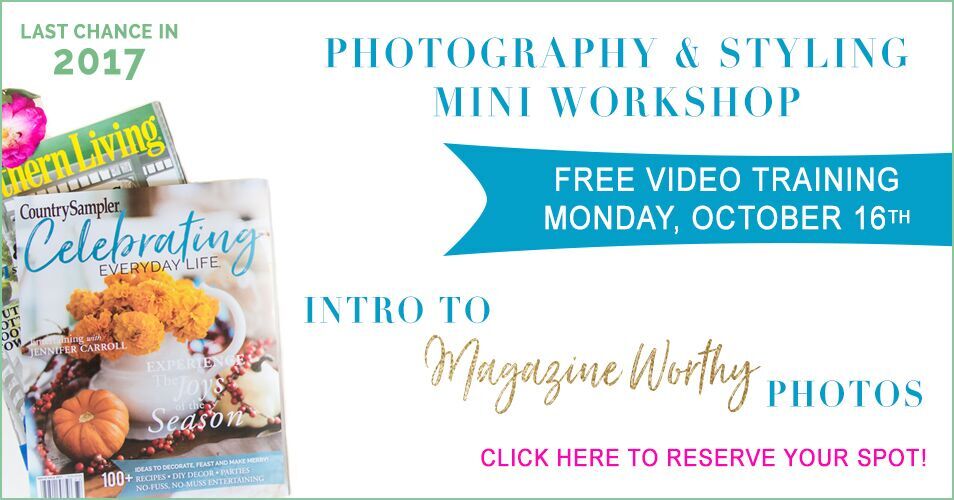 In her course Jennifer will help you:
• Take the seemingly overwhelming concept of "magazine-worthy" photography and break it down into an easy to follow framework for styling, capturing, and organizing great photos, even if you are brand new to photography.
• Gain an understanding of the key settings and elements of great pictures, so you can avoid the frustration and pain of images that are less than your best.
• Establish a photography routine and shot list that will make each shoot more efficient and productive without more effort.
• Organize your photos so that you can easily store and quickly find them.
• Become more purposeful with your time and your business by eliminating overwhelm, save money since you are taking amazing photos yourself, and become a more well-rounded and creative artist.
Jennifer's FREE mini workshop will introduce you to some of the elements that really helped her and that will help you too.
Click here to sign up and reserve your spot for Monday, October 16th at
12:00 pm EST! Even if you are seeing this a few days later, go ahead and sign up. You'll be able to see the free mini-workshop until Oct 27th.
Here's the link again CLICK HERE.
PODCAST EPISODE 112 HALLOWEEN DOS AND DON'TS