I sure hope you had a fabulous Christmas!! And now the new year will be upon us so soon. My hope is that you will have a fabulous, wonderful new year filled with blessings, prosperity, and good relationships.
I am taking some time to reflect on my year and plan to next year.  This last year was amazing for me, and I certainly hope it was for you too. One of my biggest blessings is having a job doing what I love. I am blogging full-time, and admittedly it's not the highest paying job I have had, but it's the best job I have ever had.
Next week will mark 100 weeks of the scoop, wow! The week before Christmas we had a record number of links at our party… over 400.   Wow again! Ya'll ROCK!! Onto the party…
Welcome back to The Scoop
The weekly linky party featuring the scoop on the best posts from around the web!
Barb from
The Everyday Home
Yvonne from
StoneGable
and Suzy from
Worthing Court
Hi! I'm Debbie at
Confessions of a Plate Addict
and I am excited to be your host this week…and the final host for 2013! Next week will begin a new year with lots more fun and inspiration and
our 100th Scoop!
Please be sure to come back to visit because we have a treat planned for you!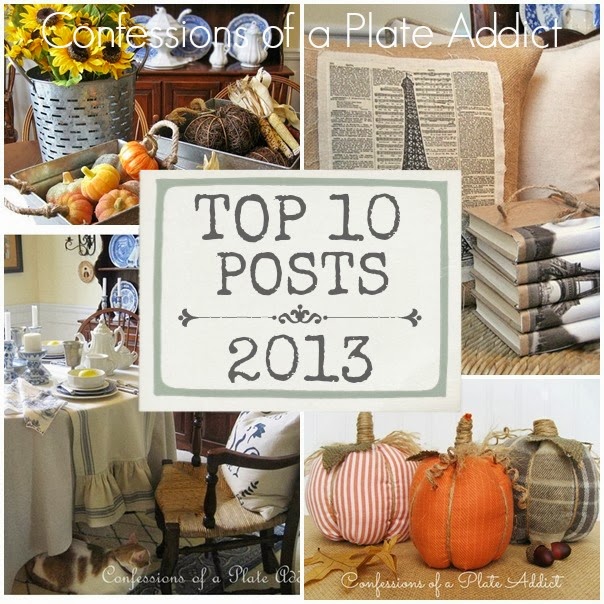 Also, once you have linked up and checked out all of the fabulous inspiration here at the Scoop, be sure to head on over to my blog where I am sharing my readers' favorite posts from this year…with some fun and inexpensive projects for you to try!
But now…let's get this party started! I am excited to introduce our guest host…Kirby from Kirb Appeal! If you have never visited her blog, be sure to head on over because you are in for a treat!
My name is Kirby and I'm an…oh, wait.  Let me start again.
My name is Kirby and I blog over at Kirb Appeal.  I am thrilled to be here at The Scoop, and here's the scoop on me:
I am a wife (of DL, my partner in crime) and two grown (when did that happen?!?) children.  I also teach high school English to at-risk students and have a small furniture and home décor business.
It was definitely a treat to look at all the great projects and recipes this week; I managed to check out all the posts (no school this week) and everyone did a wonderful job!  I have had fun choosing a few to feature.
First, as you may have predicted, Home Is Where the Boat Is had me at

candy cane vodka!
Just Not the Cakes had a yummy-sounding recipe for something called Banoffee Pie.  Yes, please.

Thanks so much to the ladies at The Scoop for asking me to participate…it has been fun checking everything out!

Thanks for joining us, Kirby! 
Thank you for linking up, friends!
Please read the guidelines before participating:
Follow and/or subscribe to your host blog.
Be sure to include THE SCOOP button or text link to in your linked post…mandatory to be featured!
By linking up you are agreeing that the photos are yours or that you have permission to use them, that we may use those photos to feature your project on a blog post, Facebook, Pinterest, or Twitter with a link back to your blog, of course.
Please go to the source of a photo to pin it to Pinterest so that the originator of the post gets the credit.